As the metaverse becomes increasingly integrated into our daily lives, it's imperative to explore the top metaverse crypto coins. The metaverse is a digital world that operates parallel to our physical world. But you can't imagine any universe without a currency, can you? The operation of this world depends on the metaverse coins that serve as its currency. These top Metaverse tokens operate on blockchain technology and have a limited supply.
Previously, people would purchase metaverse coins to acquire in-game items for blockchain games, but their usage has become more significant. You can now use the metaverse crypto coin MANA to purchase virtual real estate on Decentraland, which can be lent to others to open a virtual shop. This is crucial because big companies like McDonald's and Hyundai are already setting up metaverse restaurants and factories. Samsung also has a Metaverse outlet, indicating that this is the start of a trend.
People are already hosting events, exhibitions, meetings, and even dates in the Metaverse, and soon it will become a place for brands to advertise, connect, and sell through. Therefore, we have compiled a list of the top metaverse tokens that you can purchase in 2023.
7 Best Metaverse Coins and Tokens to Watch in 2023
The possibilities are endless when it comes to the top metaverse tokens. It can be challenging to select the best options when there are so many to consider from the Metaverse token list. Because of this, we have assembled a list of the best Metaverse coins for you.
1. ApeCoin (APE)
The APE ecosystem's community was strengthened with the creation of ApeCoin, a cryptocurrency. Which was derived from the NFT range produced by the Bored Ape Yacht Club (BAYC). It was developed by Yuga Labs and is used in the online role-playing game Otherside, which is based in the metaverse.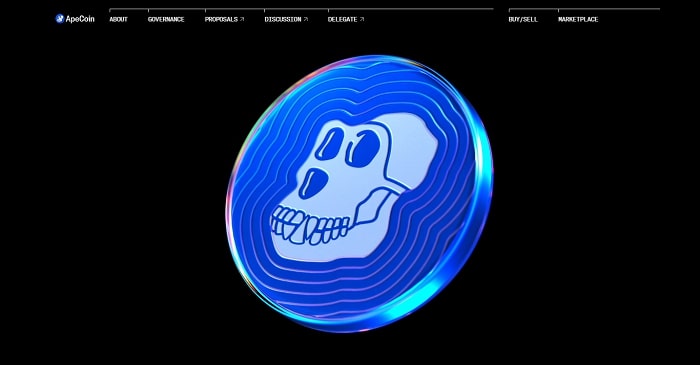 APE can be used to purchase virtual land in the Otherside metaverse. ApeCoin serves many purposes within the ecosystem. First of all, it makes it possible for owners of APE tokens to take part in voting via the ApeCoin DAO. where they can cast a group vote on governance matters like funding distribution, rule formulation, partnership formation, and project selection.
Secondly, ApeCoin users gain access to premium elements of the ecosystem, such as games, events, goods, and services. And finally, users can utilize ApeCoin as a medium of exchange. Which enables transactions between members of the ecosystem and perhaps with outside developers whose services, games, or other projects use the token.
Visit: ApeCoin (APE)
---
2. The Sandbox (SAND)
The Sandbox is a virtual world where users can create, acquire, and make money off of their digital assets and gaming activities. It offers a platform for game developers to create, distribute, and play games, as well as buy and sell virtual goods inside the Sandbox Metaverse.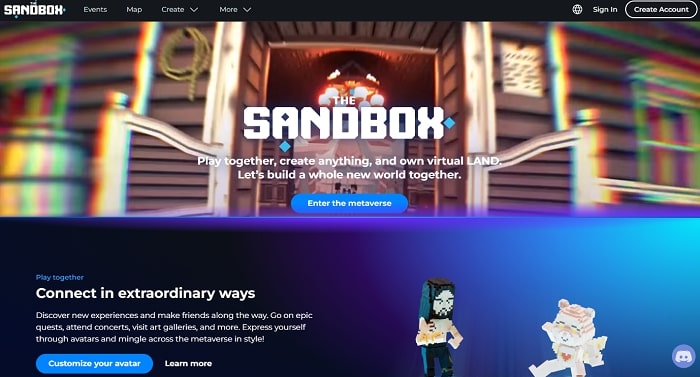 The initial development of what became The Sandbox began in 2011, and it began life as a mobile game in 2012. It was not until The Sandbox team announced their plan to embrace the metaverse concept in 2018 that it became one of the top metaverse crypto coins. By utilizing blockchain technology, the team intends to build a decentralized metaverse.
In order to ensure that virtual assets really belong to someone, the metaverse utilizes blockchain technology. The Sandbox uses NFTs to allow developers and users to trade, buy, and sell virtual goods safely through its native NFT marketplace. Without running the risk of fraud or duplication.
The Sandbox teamed up with well-known gaming companies in 2022 to introduce well-known IPs and characters to the virtual world, including Atari, The Walking Dead, and Binance. SAND is one of the most sought-after options on this metaverse coin list at the moment due to its ongoing development and role in the metaverse's growth. And the ability to draw in an increasing number of ardent creators and users.
Visit: The Sandbox (SAND)
Read Also: Metaverse Development Company in 2023
---
3. Decentraland (MANA)
A decentralized virtual environment called Decentraland was set up on the Ethereum blockchain. It allows users to create, discover, and make money off of digital experiences and content in a virtual reality setting. To ensure genuine ownership and scarcity of virtual land and assets, Decentraland employs blockchain technology.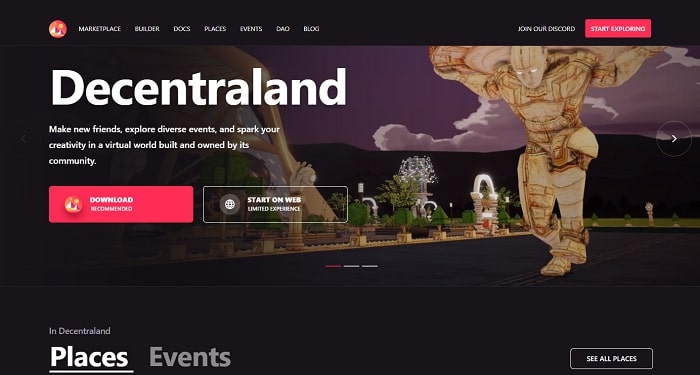 Decentraland is a comprehensive metaverse that includes land ownership, content creation, and a fully functional in-world economy centered on the MANA token. LAND refers to the virtual land parcels that make up the Decentraland virtual metaverse world. On the Ethereum blockchain, each LAND parcel is represented by a non-fungible token (NFT). Which enables users to securely own, acquire, trade, and sell metaverse plots.
Each user has the option to purchase a plot of land on one of the Decentraland servers. They can then build interactive 3D scenes and experiences using a native scripting language called the Decentraland SDK. LAND is at the core of the entire ecosystem. These inventions could be anything from video games and interactive art pieces to online stores and social networks.
To engage with the Decentraland metaverse, all you need to do is make your own avatar. You can look around different virtual worlds, communicate with other users, go to events, and take part in activities. Using MANA, you can also purchase virtual goods and services, as well as land and buildings. You can also earn money by renting out or selling your creations to other users.
Visit: Decentraland (MANA)
---
4. Enjin (ENJ)
Enjin is a blockchain platform that gives users access to a variety of tools and services for developing blockchain-based assets for the gaming sector. Enjin enables game designers to include decentralized ownership in their games, establishing distinctive virtual economies and enabling users to profit from their creations.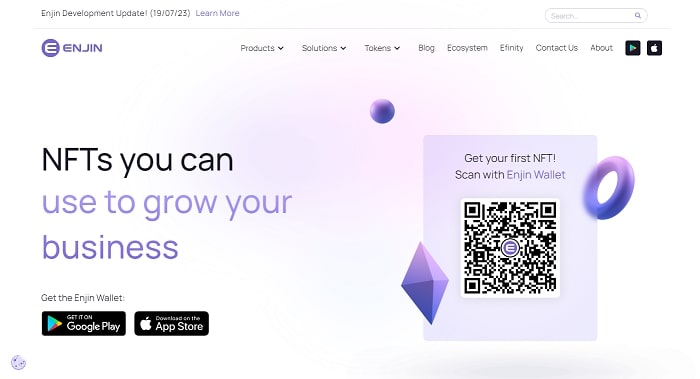 Developers can use Enjin's tools to generate digital assets within a metaverse platform, such as virtual goods, characters, or items for the game, and convert them into non-fungible tokens (NFTs).
You can use the infrastructure of Enjin to manage, store, and turn these NFTs into cash. Throughout various games and platforms in the Enjin ecosystem, the assets are easily integrable and interoperable. All of these digital assets have real-world value because you can exchange them for ENJ tokens.
Enjin makes it possible for game developers to build and incorporate virtual marketplaces that let users buy, sell, and monetize in-game goods. The platform helps create these digital items' value, rarity, and scarcity.
Visit: Enjin (ENJ)
Read Also: How to Buy NFTs (NON-FUNGIBLE TOKENS)? – A Step-By-Step Guide
---
5. Metahero (HERO)
A blockchain-based platform called Metahero combines the real and virtual worlds. It combines blockchain, artificial intelligence (AI), and computer vision to enable users to produce "Metaheroes," or superior digital 3D replicas of actual objects. Each Metahero is an NFT that is a distinct entity registered on the blockchain.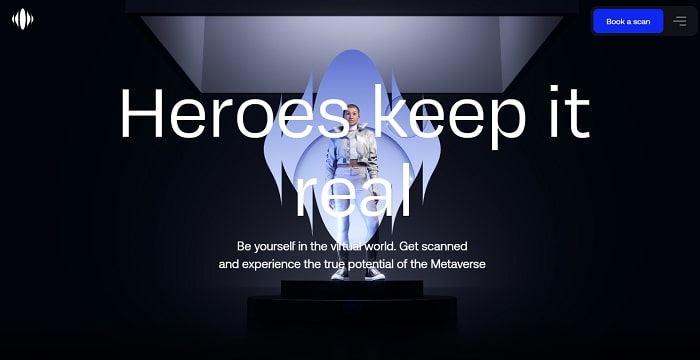 The purpose of Metaheroes is to link the digital and physical worlds. Because they see the metaverse as an extension of our everyday lives. This extends to your avatar as well. And enhance the immersion of virtual games played within the metaverse.
You can use each avatar for a variety of tasks, including online gaming, virtual try-ons, and e-commerce, among others. For the purpose of creating avatars, you must visit a real-world location. And in order to scan anything, you need HERO tokens.
Visit: Metahero (HERO)
---
6. Axie Infinity
Axie Infinity is a game built on the blockchain that brings together strategy, collectibles, and blockchain technology. It has a cutting-edge play-to-earn (P2E) model and includes adorable and distinctive Axies. Which players can collect, breed, battle, and trade.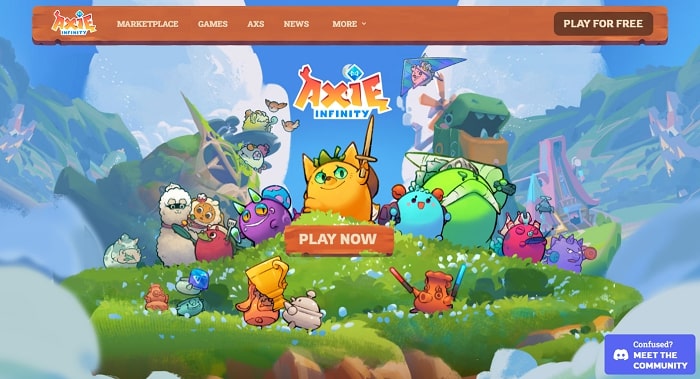 By playing the game and taking part in battles, players can earn in-game rewards and cryptocurrencies. This strategy is known as "play-to-earn". There are opportunities to earn money by selling these rewards or by using them to buy more Axies. Players have control over their digital assets thanks to each Axie's representation as an NFT.
The value of Axie Infinity's artificial reality token, AXS, will rise in 2021 due to its prominence in the gaming industry. Since then, it has kept innovating in the blockchain gaming sector by introducing new features and game modes.
Visit: Axie Infinity
---
7. Star Atlas (ATLAS)
Star Atlas is a metaverse of virtual worlds and games that incorporate space exploration, strategy, and blockchain technology. It provides a decentralized gaming and economic ecosystem in a sci-fi future setting. There are many different gameplay mechanics in the game. consisting of trade, resource management, and tactical combat.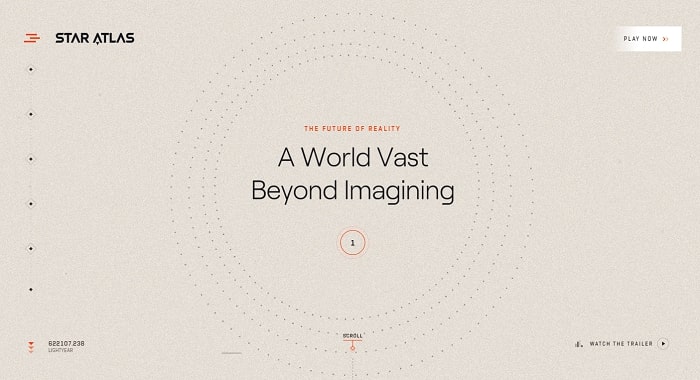 Players can own and control spacecraft, and establish settlements on other planets. And take part in player-versus-environment (PvE) or player-versus-player (PvP) activities.
To guarantee the confidentiality of in-game assets, Star Atlas uses blockchain technology, more specifically the Solana blockchain. Players can buy, sell, and trade NFTs. Which stands for virtual assets such as land parcels, items, and spacecraft on the integrated market.
With the help of player interactions, resource management, and trade, these resources come together to form a thriving in-game economy. The ATLAS token also functions as a governance token, giving users the opportunity to influence how the virtual world develops.
Visit: Star Atlas (ATLAS)
Read Also: BEST Crypto Wallet Apps
---
Conclusion
The metaverse is without a doubt one of the most ambitious and forward-looking industries. But it has not yet reached its full potential. However, a number of early adopters have shown what incredible opportunities the metaverse offers to both users and developers. Creating new opportunities for creation, shopping, socializing, work, and relaxation. There is a good chance that we will spend an increasing amount of time in the metaverse in the upcoming years.
With more and more cutting-edge projects hitting the market, the metaverse coin market is expanding quickly. However, there are a lot of speculative assets that may rise in popularity for a while. Before collapsing due to a value decline. It implies that you must search the market for the most reliable and best Metaverse coins.
Author: Snehil Masih
Snehil Masih is a professional technical writer. He is passionate about new & emerging technology and he keeps abreast with the latest technology trends. When not writing, Snehil is likely to be found listening to music, painting, traveling, or simply excavating into his favourite cuisines.