NFTs are the master art pieces of the metaverse era. At a time when the idea of a metaverse and its prospects are being scrutinized, NFTs and cryptocurrencies are acting as present doorways to reap the opportunities that prevail.
The masses gradually understand what are NFTs and how do they work. As a result, more and more people are curious and willing to buy NFTs at varied NFT prices and explore art and trade in the metaverse. However, they often find themselves perplexed or intimidated by the seemingly tedious process.
Since the concept of blockchain technology seems alien to many, people get skeptical about whether to buy non-fungible tokens or not? And if they decide to initiate an investment, other questions arise, such as where to buy non-fungible tokens from, the best place to buy NFTs or the steps to buy NFTs? In addition, they're also doubtful regarding the NFT prices at which they should purchase a crypto artwork and the best NFTs to buy.
These questions are the trails that, once resolved, would lead you to explore and master your way to buying NFTs. Who knows, you might even unveil the artist within you to create and sell your crypto art!?
So, without further ado, let us learn how to buy NFTs with the help of a step-by-step guide. Then the later section in the article will then cover a list of marketplaces where you can buy NFTs. Read till the end to learn more and become NFT-ready!
A Step By Step Guide: How To Buy NFTs?
If you plan to buy non-fungible tokens, let the truth be told, the procedure is quite simple. Yes, you read it right. It's easy to buy NFTs, easier than you think. So how to buy NFTs, you ask? Here's a step-by-step guide to help you buy NFTs at the OpenSea marketplace. Following the five steps enumerated below, you'd be able to easily buy or even sell your NFTs. So without further ado, take a read.
STEP 1. Go To An Online NFT Marketplace
You may go to any marketplace to buy NFTs. There are several options available. For the step-by-step guide, we've explained the procedure for OpenSea. However, the process is mostly similar, with slight changes here and there.
Also, before you buy an NFT online, ensure that you have a digital crypto wallet connected to your bank account. In addition, the wallet should preferably have some cryptocurrency funds. Then, you can use your bank account to get adequate cryptocurrency funds, be it Ethereum, Bitcoin, Litecoin or others.
You may open a crypto wallet in MetaMask since it's widely accepted and easy to use.
If you go to the OpenSea marketplace, you'll find a profile icon on the top-right corner of your screen. First, select the 'Profile' option from the drop-down list that will appear. After clicking on that option, the browser will take you to a new page.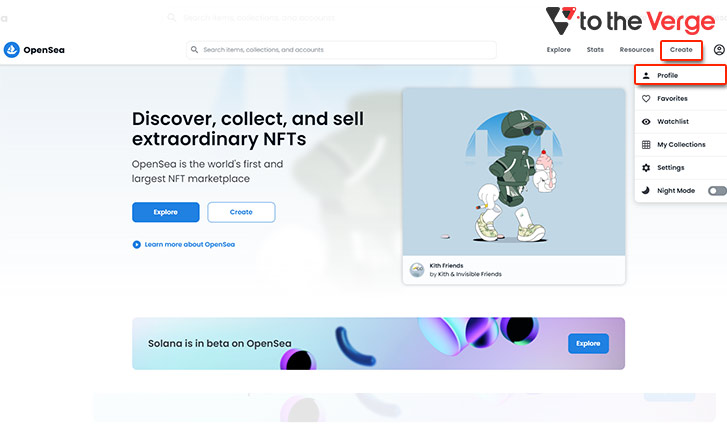 STEP 2. Connect Crypto Wallet To Your Profile
The next step in the process of buying NFT tokens would require you to link your crypto wallet to your profile on the NFT marketplace. The new page that the browser directed you to will display the 'Connect Your Wallet' window.
Here OpenSea will show you several crypto wallet options like MetaMask, Coinbase Wallet, WalletConnect, Phantom, Glow, Kaikas, Bitski, and more. Since MetaMask is the most popular option, you may choose that. Connecting MetaMask with the OpenSea marketplace is comparatively easy.
When you are done with choosing the MetaMask wallet, a small side window will appear, where you'll need to enter the password to unlock your wallet. This step will finally log you into the OpenSea marketplace.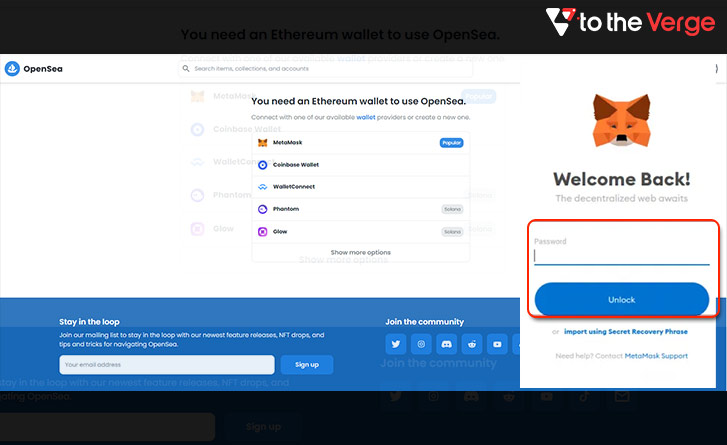 STEP 3. Browse And Explore To Find What You Like
By entering the password for the wallet, you authorize linking it to the NFT marketplace account. Therefore, you'll be signed into the OpenSea marketplace for NFTs, where you can begin exploring the various crypto artworks. Here you'll search for the NFTs to buy.
There are two ways to browse the marketplace. First, you may type any search keyword per your search intent directly in the 'Search Box,' located at the top around the center.
Alternatively, you may click on the 'Explore' tab that will display a list of categorized NFTs. Select any category that suits your preference.
After selecting a particular category, you would see the results that you may sort using different filters like price, most viewed, most favorited, recently listed, recently sold, oldest and more. With the help of these filters, you could find the best NFTs to buy.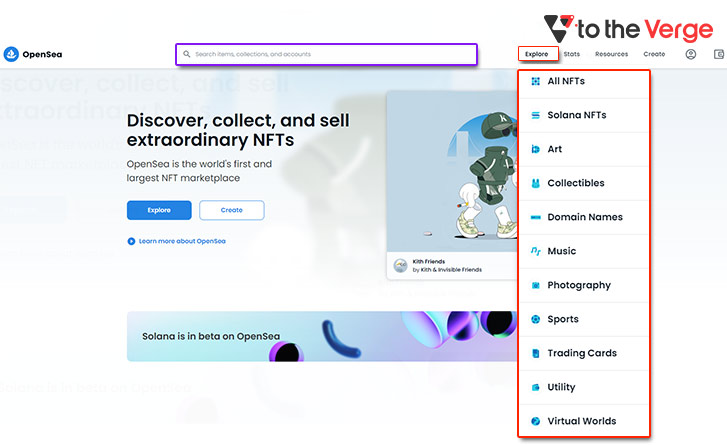 STEP 4. Proceed To Buy Your Favorite NFT
Here comes the step to own the NFT crypto art you would've selected after browsing and exploring.
There are two ways by which you can buy non-fungible tokens from the online marketplace. You may buy an NFT either at a fixed rate/price. Alternatively, you may also have the option to make an offer/bid if the seller has enabled it.
We'll elaborate on both options to give you a clearer idea.
Buy An NFT At A Fixed Price 
After finding an interesting NFT, click on it to get more details on that NFT buy which might include checking its price history, file type, creator's information, and other properties.
When done viewing the details, you may click the 'Buy Now' option.
If the crypto wallet you connected with the profile has enough funds for the purchase, you may complete the process by clicking 'Confirm Checkout.' Otherwise, you'll have the option to add funds instantaneously.
The kind of purchase where one is interested in making a bid or an offer to buy an NFT comes under the auction category. Most of the NFT marketplaces work in the auction sale format.
A fact to be kept in mind is that auction-based NFT prices are highly volatile due to the NFT market forces of demand and supply.
Under the 'Make An Offer' option, the seller quotes a minimum price threshold, letting the buyers bid against each other.
When you click the 'Make Offer' button, next to the 'Buy Now' option, a prompt will appear with the details of the selected NFT buy.
Some NFTs offer the bidder to select their choice of cryptocurrency.
An important point to note is that the new bidder must make an offer that is 5% more in value than the previous bid. In addition, if you're proposing a bid on an NFT in a cryptocurrency you've never purchased before, you might be asked to pay a gas fee, which is simply a network transaction fee.
Next, you can enter the offer amount you desire in a supported cryptocurrency. Also, you would need to mention an expiration date for your offer.
Lastly, click on 'Make Offer' to confirm your bid. Once you've successfully made the offer, you would have to wait for the seller to approve your bid request.
Remember a crucial point. If the NFT buy you've bid on is popular, you might have to stick around and update your offer quickly per the market response.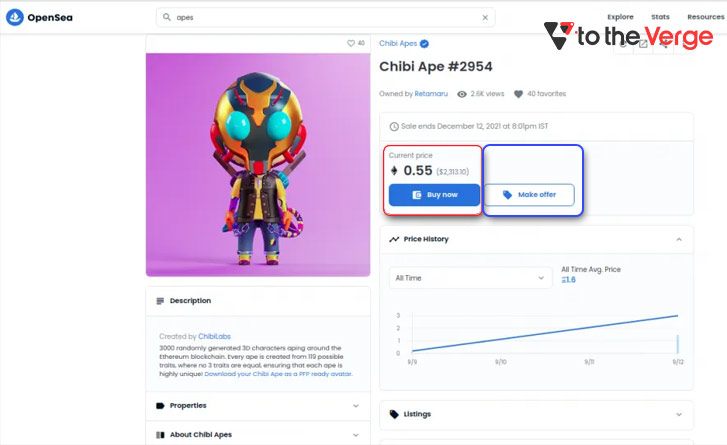 STEP 5. Check If The NFT Has Been Delivered To Your Wallet
The final step in the 'How to Buy NFT: A Step By Step Guide' would be to check your crypto wallet to ensure whether your NFT has been delivered to you or not.
In case of a fixed price 'Buy Now' purchase, you can see the NFT you've bought by clicking on the wallet icon at the top-right corner of the OpenSea marketplace window.
On the other hand, in the case of an auction format 'Make Offer' purchase, head back to your profile and select the 'Offer' tab on the screen. Then, from a small list that appears, choose 'Offers Made,' and you'll find your active bids.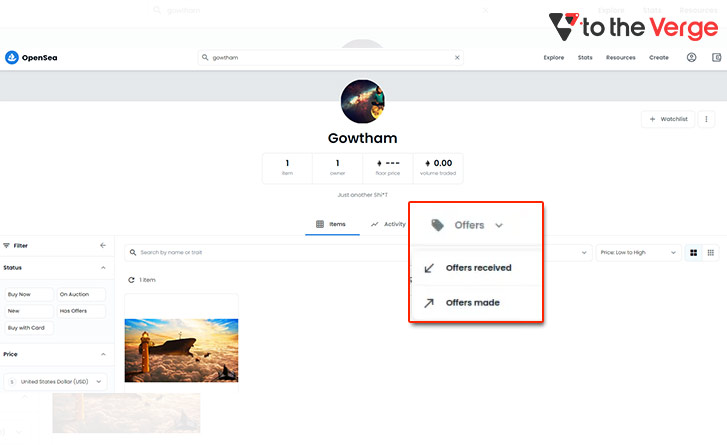 Where To Buy Non-Fungible Tokens?
The marketplaces offering unique and exclusive NFTs for sale are growing in number by the day. But, given the various options available, it's natural to wonder where to buy NFTs? Which is the best place or platform to buy & sell NFTs? So here's a list of NFT platforms that you could consider when planning to buy NFTs.
OpenSea
Rarible
SuperRare
Nifty Gateway
NBA Top Shot Marketplace
KnownOrigin
Foundation
Mintable
Portion
Crypto.com NFT
Bottom Line – How and Where To Buy NFTs
NFTs have captured people's attention from all over the world. This is because NFTs or Non-Fungible Tokens seem to offer value to all, whether an art lover, investor, creator or a commoner with an eye and appreciation for aesthetics. Therefore, people wish to learn more about how and where to buy NFTs. With a few simple readings and staying updated with the happenings in the NFT world, anyone can learn to analyze the market for the best NFTs to buy at good NFT prices and master the art of buying NFTs.
Author: Nitisha Lal
Nitisha Lal is a writer enthusiastic and curious to learn new things. Currently, she writes about the latest developments in technology, particularly around Web3 and the Metaverse. She enjoys nature walks, capturing the world around her on the phone, or reading books when away from work.