Living in a world where file-sharing is simple, collaboration has no limitations, and digital treasures are securely stored is not just a dream anymore. Free file-sharing websites have made it possible to share files with others quickly and easily, regardless of their location. In today's digital age, we no longer rely on traditional methods such as physical storage devices or email attachments.
These free file-sharing websites give you the tools you need to easily rule the digital landscape. That includes ample file storage capacity and seamless syncing and sharing. With a wide range of reliable, secure, and convenient file-sharing websites and tools available, sharing important documents and memorable photos or collaborating on a masterpiece has become effortless.
However, with so many file-sharing sites available, it might be challenging to choose the best one that fits your business requirements. But don't worry! Our list of the 7 best file-sharing websites will help you shortlist the best ones. These websites will not only make file-sharing easier but also revolutionize the way you handle your digital files. So, let's take a look at them!
7 Best Free File-Sharing Websites And Tools
If you're looking to share files with ease, there are several free file-sharing sites and tools available to you. In this article, we will discuss the 7 best file-sharing websites and tools that you can use to share your files safely and efficiently.
1.  Google Drive
The first entry on our list is Google Drive, a popular cloud storage platform that offers free storage space of up to 15GB. You can store, share, and access your files from anywhere, making it a reliable option for both personal and professional use. Additionally, Google Drive allows you to collaborate with others on documents in real time. Which makes it one of the best file-sharing websites or tools for team projects.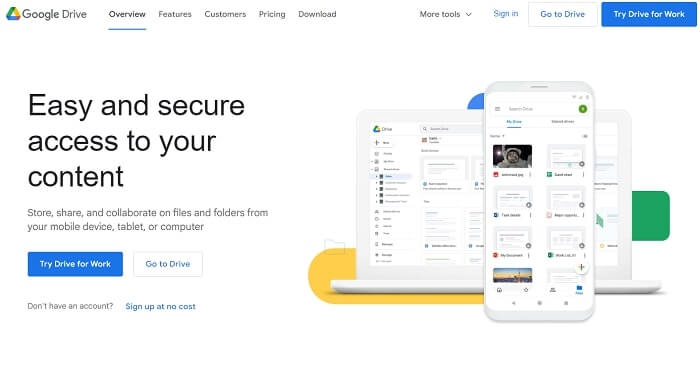 Features of Google Drive:
Integrates seamlessly with cloud-native apps like Sheets, Docs, and Slides.
Google Drive supports collaboration with Microsoft Office files without converting the file format.
It enables editing and archiving of almost 100 common file types, including PDFs, CAD files, images, and others.
Your team can locate files 50% faster thanks to Google's AI and search technology.
Simple file sharing with a file-sharing website.
With cloud storage, you can access your files from anywhere.
Compatibility with all operating systems.
Up to 15 GB of free storage is available.
Interface that is both convenient and simple to use.
Its lack of password security makes it a dangerous file-sharing tool.
Real-time sharing requires an active Internet connection.
Visit – Google Drive
---
 2.  Dropbox
Dropbox is another cloud storage platform that offers 2GB of free storage space and an additional 16GB of storage space when you refer friends. This free file-sharing website is known for its simplicity and ease of use. Which makes it a great option for those who want a straightforward file-sharing experience. Dropbox integrates with several other apps, which can streamline your workflow and make file sharing more efficient.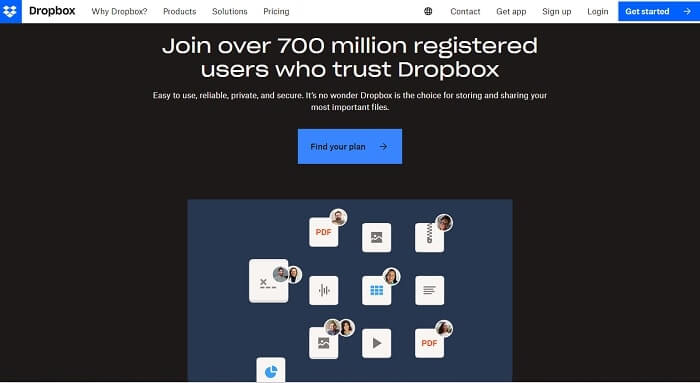 Features of Dropbox:
Dropbox allows you to organize traditional files, cloud content, and web shortcuts all in one place.
You will spend less time looking for files because the system can make personalized suggestions for files and folders.
This file-sharing site enables you to communicate with your team and advance projects using the tools you already work with every day.
Simple and secure file sharing.
a clickable link for direct sharing.
Automatic data synchronization and backup across all devices.
Plans with limited usage are available for free.
The freemium version only provides 2 GB of storage.
Pricing plans are prohibitively expensive.
Visit – Dropbox
Also Know: Best Free Duplicate File Finders And Removers For Windows 10, 11 PC
---
3.  WeTransfer
WeTransfer is a well-known online file transfer service that enables you to transfer files up to 2GB for free. Without requiring registration, you can send files to multiple recipients at once. Which makes it an excellent free file-sharing site for sending large files to multiple people. WeTransfer's simple interface and fast transfer speeds make it an attractive option for those who want a quick and easy file-sharing experience.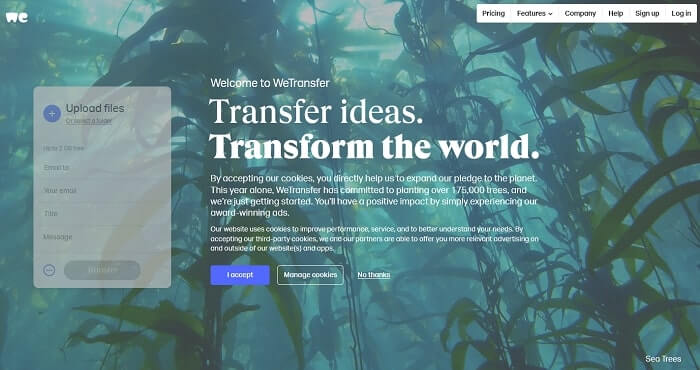 Features of WeTransfer:
WeTransfer will give you the option to select how long (a week, a month, or forever) the transfer should be kept available in storage.
It includes the 'Track downloads' feature. That will assist you with link transfers by displaying the number of times your transfers have been downloaded.
It offers tools for managing transfers, including the ability to resend, forward, or delete your transfers.
Password security and individual expiration times are both configurable with this free file-sharing site.
Control over who can view, edit, or share the files you have transferred.
Links that expire automatically are safe.
Transfers with password protection.
Easy-to-use user interface.
Unlike other free file-sharing websites, there is no freemium model.
There are no password security protocols.
There are numerous reports of people sending a lot of data to the wrong people.
Visit – WeTransfer
---
4.  Send Anywhere
Send Anywhere is another free file-sharing site for large files that prioritizes security and privacy. It allows you to send files up to 10GB for free without requiring registration. Send Anywhere's security features, such as end-to-end encryption and two-factor authentication, make it one of the best file-sharing websites for sharing sensitive information.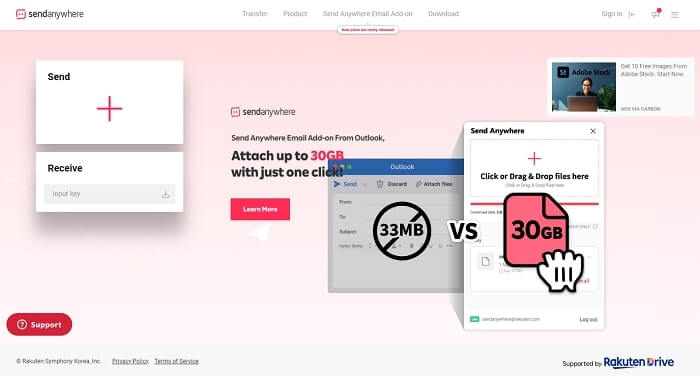 Features of Send Anywhere:
This free file-sharing site can send up to 10GB of data per send.
You can securely access the files using a six-digit code.
The program comes with cross-platform compatibility with Windows, Mac, and Linux.
File access is available through the iOS and Android mobile apps.
The tool contains a file and folder management service.
Lightweight and easy to operate.
10GB of free file storage is available.
Cross-platform compatibility.
User-Friendly Interface.
File Formats that are Versatile.
Visit – Send Anywhere
Also Know: Best Free AI Presentation Maker Tools To Try in 2023
---
5.  Mega
Mega is a free large file-sharing site that provides secure and end-to-end encrypted cloud storage. It serves as a user-controlled communication service and provides free storage of 50 GB. This free file-sharing website is known for its security and privacy features, as all files are encrypted and decrypted locally on your device. Mega's focus on security makes it an excellent option for those who want to share sensitive information securely.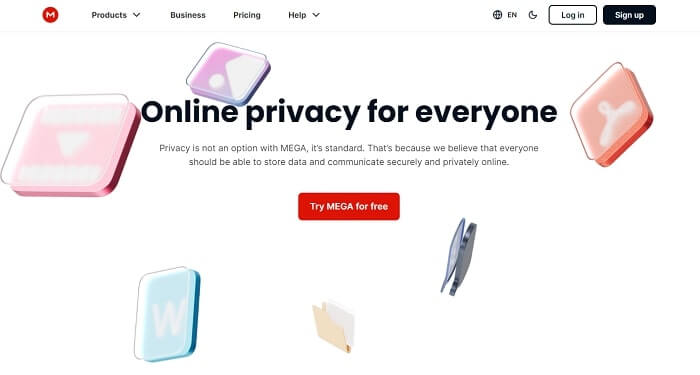 Features of Mega:
The program provides a free upload limit of 20 GB and a paid upload limit of 400 GB.
It allows for an unlimited number of transfers.
This application integrates seamlessly with browsers and Linux environments.
This free file-sharing site for large files provides end-to-end encryption.
It provides SSL and TLS encryption.
The transfer limit is unlimited.
supports regulatory compliance standards like the GDPR.
A suitable free large file-sharing site.
Offline accessibility.
Mobile applications for iOS and Android devices.
Password security.
It does not have two-factor authentication.
It can be slow, especially when dealing with large files.
Visit – Mega
---
6.  OneDrive
OneDrive is one of the best file-sharing websites and cloud storage platforms that integrates with Microsoft Office. It offers 5GB of free storage space and up to 1TB of additional storage space with a Microsoft 365 subscription. OneDrive's integration with Microsoft Office allows you to collaborate with others in real-time on documents, spreadsheets, and presentations.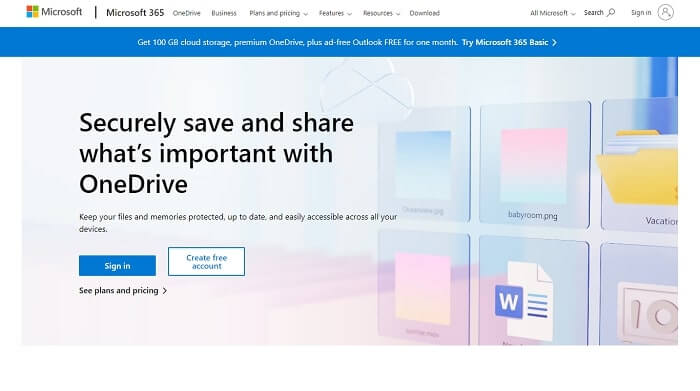 Features of OneDrive:
OneDrive is helpful for storing your documents and photos so that you can access them from any location and device.
You will be able to access certain files even if you are not connected to the internet.
Your files will remain safe with this free file-sharing site even if your device is lost.
Large files can be shared by simply sending a link via email or text.
Data can also be accessed offline after it has been stored.
With the simple-to-share method, you can secure data.
Bandwidth restrictions to stop teams from abusing them.
There may be a risk to privacy.
There is a special character limit on file and folder names.
Limit the size of paths and synchronize them.
Visit – OneDrive
Also Know: Best Free RAR File Extractor Software to Open RAR Files
---
7.  Box
Box is a free large file-sharing site and a cloud storage platform that offers 10GB of free storage space. It is known for its enterprise-level security and privacy features, making it an excellent option for businesses and organizations. Box's security features, such as data encryption and two-factor authentication, make it one of the safest cloud storage platforms available.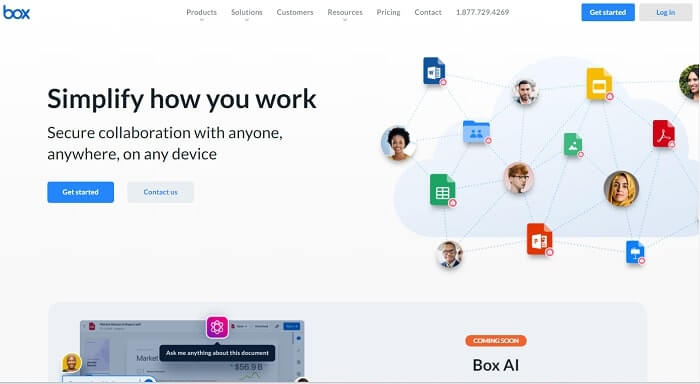 Features of Box:
Box has comprehensive information governance, advanced security measures, and intelligent threat detection.
It is compatible with over 1400 apps, including Office 365, GSuite, and Slack.
It offers a variety of security features and allows you to share files with confidence.
This free file-sharing website will safeguard your most sensitive information, regardless of industry.
Sharing sensitive data with advanced security.
In comparison to other cloud storage, the upload limit is higher.
It is simple to recover lost data.
Supports a variety of languages and all geographical areas.
Desktop sync might take longer than anticipated.
The user interface can be made faster and easier to use.
Plans are costly.
Visit – Box
---
Conclusion
These free file-sharing websites and tools offer a variety of features and benefits that can help you accomplish your goals. Whether you want to share files with friends, family, or colleagues, there is a platform that can meet your specific needs.
And, once you have found the best file-sharing website for your workflow, you will be able to send your content with ease. And guess what? When it comes to enhancing team communication and increasing productivity, the type of content you decide to produce can make a significant difference. Pick the one that best suits your needs, then start sharing files now!
Author: Snehil Masih
Snehil Masih is a professional technical writer. He is passionate about new & emerging technology and he keeps abreast with the latest technology trends. When not writing, Snehil is likely to be found listening to music, painting, traveling, or simply excavating into his favourite cuisines.