The metaverse could be a future reality that would blur the boundaries between the virtual and the real world. Experts suggest it could fully materialize in more or less than a decade. However, how can common people see it coming or comprehend what metaverse really is?
For this very reason, platforms such as Decentraland and many others are helping people have a look at virtual social environments and understand what the metaverse could be like.
Decentraland has been in the news for virtual events and talks related to the metaverse. This might leave one wondering – What Is Decentraland? Not only that, there could be a lot of other questions that might follow, such as – How Does Decentraland Work? Or How To Use Decentraland?
The answer to all of these questions and more have been covered in this article for you. So read till the end to learn about Decentraland, how it works and other interesting things about Decentraland!
Decentraland Explained: What Is It Really?
Decentraland is a blockchain-powered virtual reality platform within which people can create and monetize their content and applications or experience what others have made. These creations could include virtual environments, different locations, games, or NFTs.
The earlier versions of the internet and traditional online spaces don't enable the users to own the data or content shared by them. However, Decentraland was among the first projects to try and build a decentralized internet where people would have the liberty to own digital assets.
In addition, one could also explore the platform and communicate with other people from all over the world on Decentraland. Hence, it enables users to immerse themselves in social virtual reality experiences.
What makes Decentraland truly progressive is how it leverages blockchain technology to power everything from purchasing land to transacting Decentraland MANA.
The ultimate aim of Decentraland as a VR platform is to create an open-source system that would enable its users to build whatever they want within this decentralized virtual space. People could build stores, casinos, social networking portals or anything else they may like, monetize their creation and share it with the decentralized Decentraland community.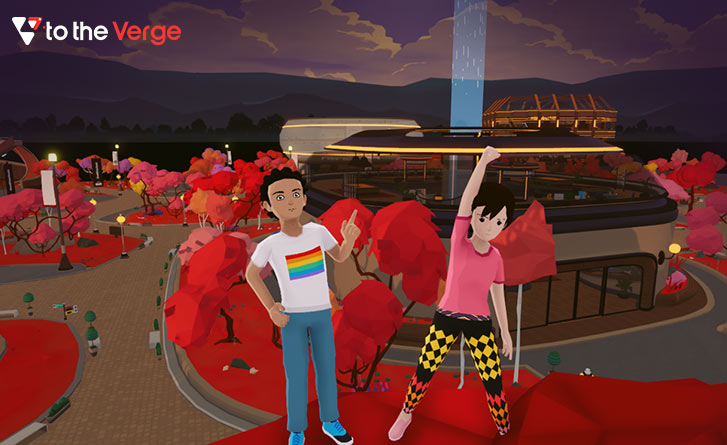 How Does Decentraland Work?
Now that we're done with understanding the basics by answering the top query of "What is Decentrland?". It's time to look at the answer to another main question circling this decentralized VR platform: "How does Decentraland Work?"
As learned above, Decentraland seeks to create a shared digital space owned and controlled entirely by its inhabitants. Unlike traditional social media platforms, users will own their digital content on Decentraland. Therefore, on Decentraland, users can sell or give their avatar to another user using MANA.
Decentraland uses Ethereum blockchain technology to establish shared and decentralized digital spaces. For this purpose, it runs its blockchain called Ethereum Aland. It allows users to exchange and transact on the blockchain. As a result, the content is secure and free from suppression of expression.
Additionally, because Decentraland is built on a peer-to-peer network with strong cryptography, no one can change or alter the content being shared on the Decentraland platform unless a majority of the community wants to do the same.
Besides the general information on how does Decentraland work, a categorical approach to understanding the same could be quite helpful.
1. ARCHITECTURE
The architecture of Decentraland is based on three essential components, namely, the Ethereum blockchain, Ethereum smart contracts, and consensus mechanisms.
Several other layers of the Decentraland platform are built using these components. Some of these layers are enumerated below.
CONSENSUS LAYER – The consensus layer keeps a record that tracks land parcel ownership on Decentraland. Each LAND parcel has a distinct coordinate in the virtual space, an owner, and a link to a description file that represents the content of the land parcel.
CONTENT LAYER – The content layer includes Content Files reference all static audio and visuals on Decentraland; Script Files define the location and behavior of the referenced content; and Interaction Definition holds all peer-to-peer interactions on Decentraland such as gesturing, voice chat, and messaging. Essentially, the content layer governs what happens within each LAND parcel on the Decentraland platform.
REAL-TIME LAYER – Finally, through user avatars, including voice chat and messaging, the real-time layer facilitates social interactions within Decentraland.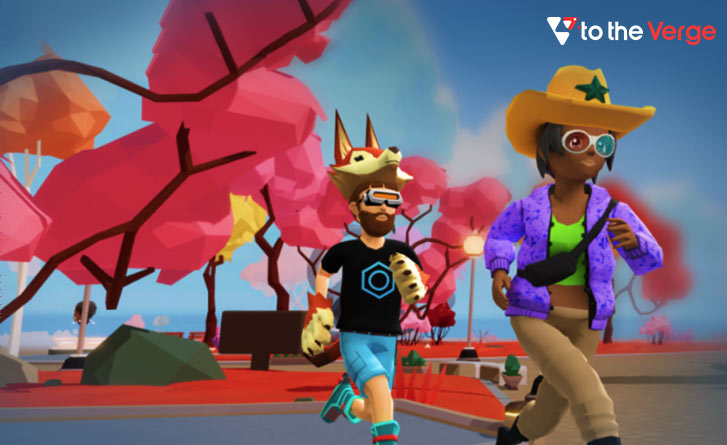 2. MARKETPLACE & BUILDER
On the Decentraland platform, there is a marketplace and a drag-and-drop editor for builders to use outside and inside of the gaming environment to create scenes.
Using MANA, participants can use the marketplace to manage and exchange tokens and collectibles on Decentrland. Owners can also use the marketplace to trade or transfer virtual digital land pieces and other in-game items such as wearables and other accessories.
The builder tools on the Decentraland platform enable owners to create a one-of-a-kind experience within their LAND parcels. In addition, the developers can access customization libraries and payment implementations through the editing tool that helps create interactive scenes in Decentraland.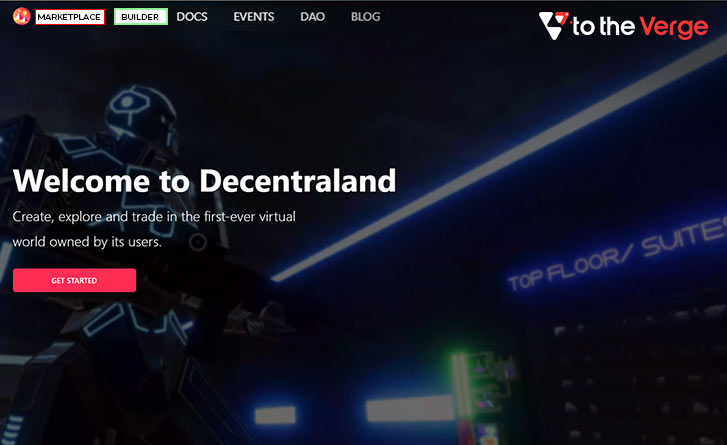 Features Of Decentraland Explained: A Decrealized Virtual Reality Platform
The decentralized virtual reality platform – Decentraland, has a wide range of benefits and advantages, which are as follows:
1. FREEDOM OF CREATION
Virtual reality platforms allow users to have interactive and immersive experiences. With advancements in VR technology, the requirement for improved management methods for constantly upgrading content would increase.
Decentraland addresses this by giving the users complete freedom to create what they desire and manage their creation however they may like. For instance, they can exchange, trade, sell, or keep their collectibles with them in Decentraland.
2. PRIVILEGE OF OWNERSHIP
Decentraland uses blockchain technology to power everything from land purchases to platform transactions.
The approach of Decentraland in this regard is groundbreaking because it gives users what they deserve: ownership of their digital assets without fear of a centralized company seizing control or charging exorbitant fees for items.
In other words, Decentraland democratizes virtual reality by making it available to everyone through blockchain while also ensuring that people retain complete ownership of their creations.
3. REGARD OF PRIVACY
The Virtual reality experience in Decentraland is designed in compliance with privacy standards. On the Decentraland platform, the user has complete control over their activities, which implies that no one can control or alter the user's information or see what they do in Decentraland.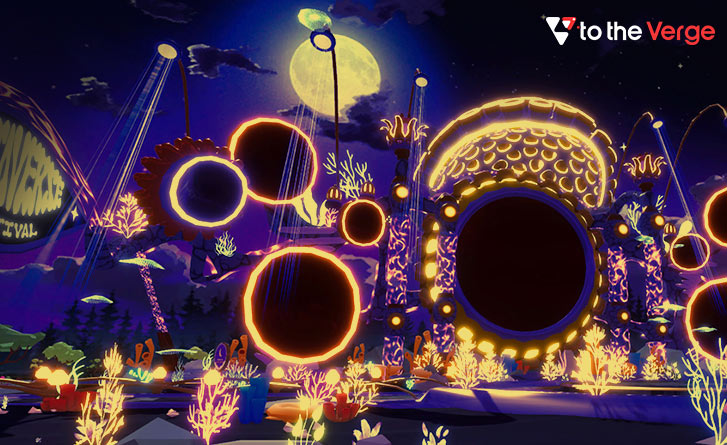 How To Use Decentraland?
Decentraland is a user-friendly platform. Therefore, it isn't too difficult to configure how to use Decentraland and navigate through the different tabs and options on the platform.
One can simply access Decentraland by visiting the website. Next up, one may either create an account or use a guest account to roam around and explore the platform and its features.
Another point to remember is that Decentraland is not available on mobile devices. Therefore, you would have to download it on a desktop computer. Alternatively, one may simply use Chrome or Firefox web browser to visit the Decentraland metaverse.
We've elaborated on exploring Decentraland by using the 'play as guest' option or the 'play using your wallet' option.
1. PLAY AS A GUEST 
Under this option, the user will not have full access to Decentraland. Hence their experience would be limited. Also, the user's general information would be stored locally and not on the Decentraland blockchain.
The 'play as a guest' option will exclude features like participating in events, receiving rewards and creating an identity in Decentraland. Therefore, this option would be ideal for those who just want to experiment and see the Decentraland virtual environment.
2. PLAY USING WALLET 
The other option available for the people interested in and curious about Decentraland is the 'play using your wallet' option.
In this case, having a digital wallet will be essential to open a Decentraland account. Digital wallets like MetaMask, Exodus, and Torus store all cryptocurrency-related relevant information and digital assets in the form of NFTs.
If one intends to interact with the Decentraland platform and earn money regularly, one should consider opening a digital wallet account. Also, there should be adequate cryptocurrency balance to participate in trades and other activities on Decentraland.
For enjoying the best experience, installing a crypto digital wallet and Decentraland on the desktop would be great.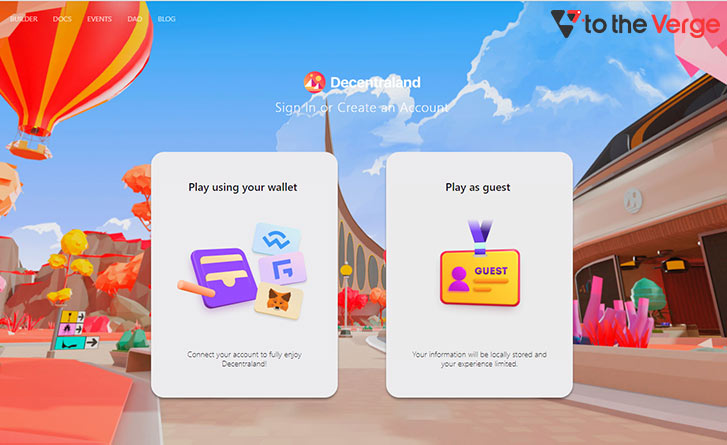 What Is Decentraland Coin?
Now that we've covered so much on Decentraland, you might have wondered – what is Decentraland MANA, a term that is quite frequently used when talking about Decentraland. Another commonly used symbol is LAND. What are these two, and how are they used in Decentraland? Let's learn about that.
Two kinds of tokens govern operations like buying and selling on Decentraland or performing other activities in Decentraland. These two tokens are MANA and LAND. Both are used for different purposes.
LAND is a Non-Fungible Token or NFT used as proof of the ownership of digital real estate or land parcels in Decentraland.
MANA is a cryptocurrency that helps purchase LAND and other virtual goods and services in Decentraland.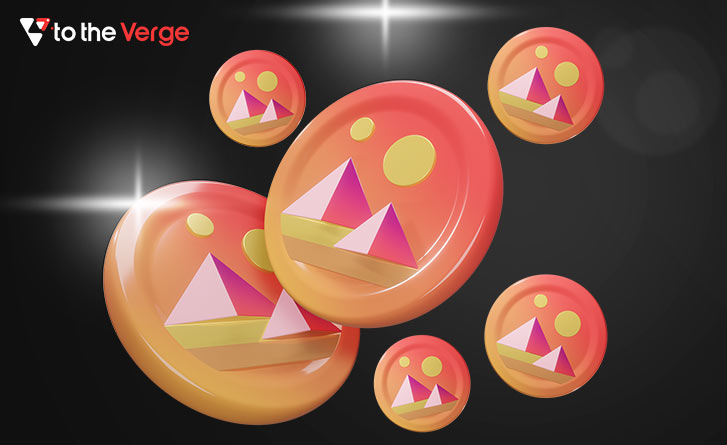 FAQs — Decentraland
Here are a few questions about Decentraland that would clarify your understanding of one of the most popular metaverse-virtual reality platforms.
Q.1 What Are The Things To Do In Decentraland? 
Amongst several things, one can invest in digital real estate, play games, participate in challenges, earn rewards, attend virtual events and trade NFTs in Decentraland.
Q.2 What Is Decentraland Marketplace?
The Decentraland Marketplace is a completely decentralized and open marketplace where one can find, buy, sell, and manage their LAND parcels and other NFT collectibles.
Q.2 What Is The Decentraland SDK?
The Decentraland SDK gives more experienced creators the tools to populate the Decentraland virtual world with social games and applications. In the Decentraland Marketplace, users can purchase and sell LAND parcels, wearable Avatars, and other digital goods and equipment backed by the Ethereum blockchain.
Q.3 What Is Decentraland Release Date?
The Decentraland platform was launched on 20 February 2020 on the Ethereum blockchain network with two of its tokens: MANA and LAND.
Wrapping Up — Decentraland Explained: The Meaning and How It Works
Anyone who desires to comprehend how metaverse would unfold could begin by exploring Decentraland. This virtual reality platform brings to the forefront a sneak peek at all the exciting aspects of the metaverse.
Additionally, by understanding how Decentraland works, people can get a fair idea about some of the technologies that would make the metaverse. These would include blockchain technology, cryptocurrency and NFTs.
The curiosity to explore Decentraland and other similar platforms could grow if the concept of metaverse will gradually gets greater attention. Then, they could learn how to use Decentrlannd, LAND, MANA, and other platform features and not stay oblivious to technological advancements in the metaverse and related technologies space.
Author: Nitisha Lal
Nitisha Lal is a writer enthusiastic and curious to learn new things. Currently, she writes about the latest developments in technology, particularly around Web3 and the Metaverse. She enjoys nature walks, capturing the world around her on the phone, or reading books when away from work.