If you are in the tech field, then I am sure you have to deal with compressed files daily. The compressed files may come from a variety of sources, such as email, social networking site file attachments, downloading websites, etc.
To unzip these files, one needs software, and no software is better than WinRAR. WinRAR is free and leading, with over 500 million users all over the globe, and anyone can use it to compress and decompress files. But what if it fails? Do not worry If WinRAR fails to function on your computer, then here are some free WinRAR alternatives that you can use without fail. One will enjoy using these alternatives to WinRAR because of their user-friendly interface and security.
Further in this article, we'll see a selection of seven user-friendly alternatives that won't cost you a rupee. These software options offer a wide range of features, making them suitable for various tasks, from compressing large files to extracting archives effortlessly. So let us start without wasting your time.
7 Free WinRAR Alternatives
Below, we will list the best free WinRAR alternatives that can compress and decompress the file.
1.   Zipware
Zipware is perfect if you're searching for an easy and cost-free alternative for Windows. For Windows, Zipware is one of the free WinRAR alternatives that supports almost every important archive format.
You can quickly extract ZIPX, ZIP, 7Z, RAR, ISO, RAR5, and other types of files using Zipware. Furthermore, you can also create a ZIP file. Users of Zipware can also generate password-protected archives.
When compared to WinRAR or other archive software, Zipware is significantly less popular yet highly powerful. Although Windows 10 is the version that the tool is officially compatible with, Windows 11 also works just fine.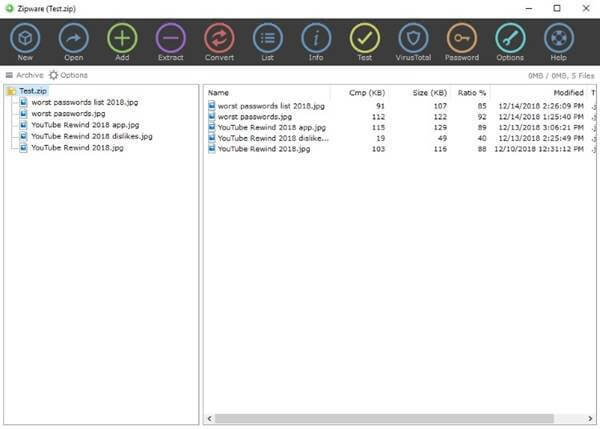 Features
The simplicity, speed, and stability of Zipware allow it to handle both tiny and big archives containing millions of files.
Zipware also supports a number of Linux archive formats, including tar and gzip.
Zipware is free software for both personal and professional use.
Visit – Zipware
Also Know: Best Free Duplicate File Finders And Removers For Windows PC
---
2.   WinZip
WinZip is one of the best WinRAR alternatives that can archive and compress files, despite not being as well known as WinRAR. Additionally, it's the oldest file-compressing software on the internet.
You can unzip all popular file formats, including ZIP, TAR, 7Z, RAR, GZIP, XZ, VHD, and more, using WinZip. This software also offers some file management features.
With time, WinZip introduced advanced functions, including the capacity to convert PDF files into various formats and interact with cloud services like Microsoft Teams. It can also share download links to social networking platforms and cloud services.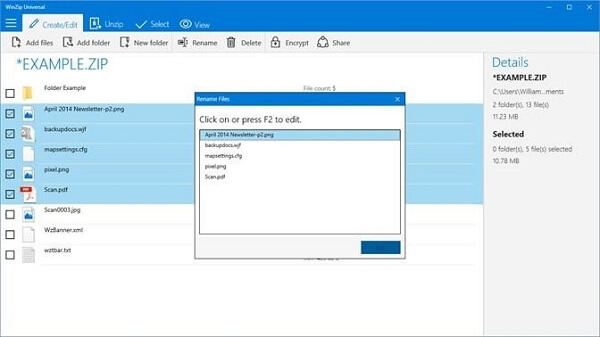 Features
Individuals can compress data to make it smaller and easier to transfer via email or other channels.
For increased security, these files can also be encrypted.
File backup, password security, and interaction with cloud storage providers are additional features of WinZip.
Visit – WinZip
---
3.   7-Zip
7-Zip is open-source and totally free to use, in contrast to Winrar, which requires users to buy a license. The main benefit of 7-Zip is that it provides a file compression ratio that is up to 10% better than that of any other software.
One of the best WinRAR alternatives 7-Zip can unzip and zip compressed file types like RAR, TAR, ZIP, GZIP, and 7z in an instant. It is compatible with Windows 7, 8, 0, and 11.
When installed on a Windows device, 7-zip takes up less space and is lighter than WinRAR. In general, 7-Zip is among the best and lightest archive tools available for Windows.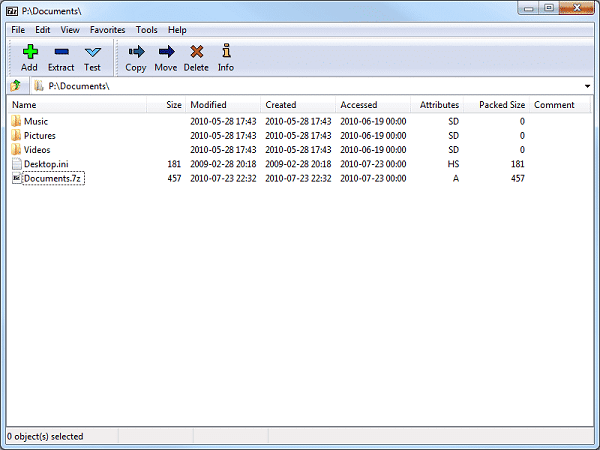 Features
Durable AES-256 encryption.
Using any type of encryption, conversion, or compression technique.
Enabling files up to 16000000000 GB.
Visit – 7-Zip
---
4.   ExtractNow
ExtractNow can be one of the best Winrar alternatives for Windows if you're looking for a simple file compression application.
With its attractive UI, ExtractNow is a very user-friendly utility. The only limitation of ExtractNow is that it can only unpack files.
The ability of ExtractNow to extract several files at once sets it apart from its rivals. All versions of Windows, even the most recent, Windows 11, are compatible with ExtractNow.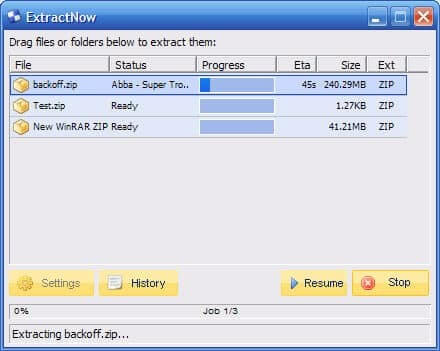 Features
Support for multilingual user interfaces.
control over what occurs after extraction.
Support for advanced changes using Lua scripting.
Visit – ExtractNow
Also Know: Best Free RAR File Extractor Software to Open RAR Files
---
Another top compression file tool on the list, jZip, is known for its user-friendly design. However, jZip includes an Ask toolbar, which is regarded as adware. Therefore, during installation, be careful to deselect the "add Ask toolbar" option. You may organize your tools and conserve space with the help of the practical archive and file compression application jZip, one of the best free WinRAR alternatives.
In terms of its features, jZip provides higher compression ratios than other competing software. Additionally, the tool supports the RAR, 7-Zip, Zip, TAR, and GZip file formats.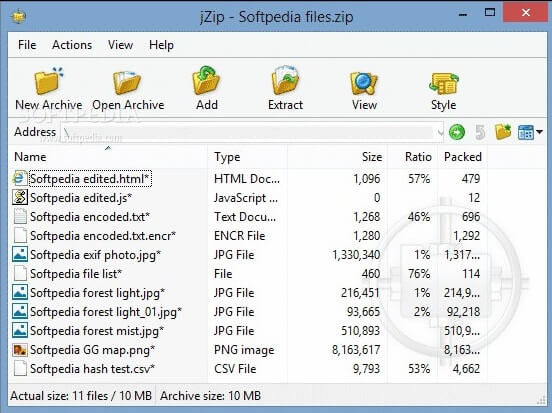 Features
Copy a few files from the archive without extracting the whole thing.
It automatically checks for new software updates.
In addition to English, other languages such as Japanese, German, Russian, Spanish, and others are also supported.
Visit – jZip
---
Another software on the list of top free WinRAR alternatives is PeaZip. The amazing thing about PeaZip is that users can make encrypted zip files in addition to compressing and decompressing files.
PeaZip has an excellent user interface and supports practically all popular file compression formats.
Even though PeaZip is less well-known than WinRar, it still processes data more quickly than all other file archive programs. Aside from that, PeaZip provides all the capabilities you need in archive software.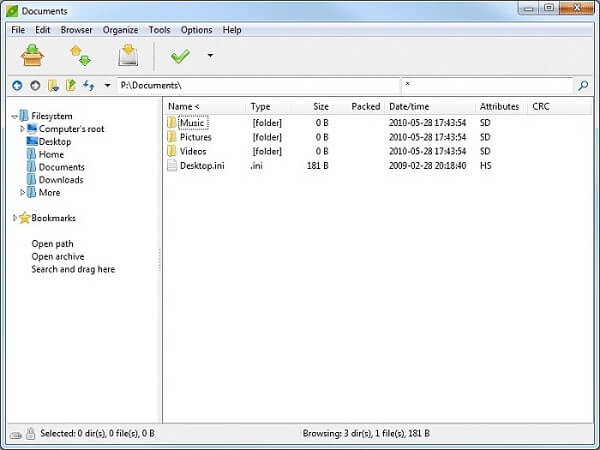 Features
Drag and drop is all it takes to use PeaZip.
Dropping an ordinary file enables the archiving screen to open.
Applying strong, multiple search filters to archives is possible with PeaZip.
Visit – PeaZip
---
7.   B1 Free Archiver
One of the most advanced and best-compressed Winrar alternatives for Windows 10 appears to be B1 Free Archiver. Compared to other file compression programs, B1 Free Archiver supports the most file formats.
Important file types, including b1, txz, rar, arj, xpi, jar, zip, and many more, are supported. B1 Free Archiver, however, makes an attempt to install adware during the installation. So use caution while installing.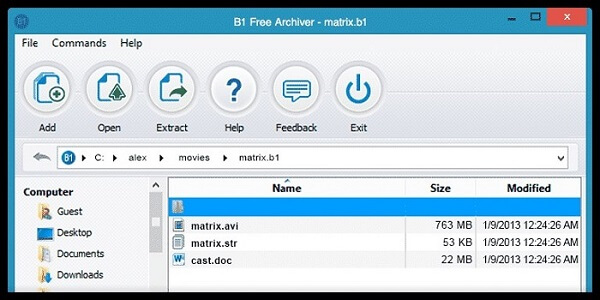 Features
More than thirty different languages have been translated into B1 Free Archiver.
Adding new files, removing files from the archive, and changing files in the archive are all supported by desktop applications.
Keyboard shortcuts, hotkey navigation, and complete drag-and-drop functionality are all included in B1 Free Archiver.
Visit – B1 Free Archiver
---
Conclusion
Nowadays, tech users have the option to explore other alternatives instead of depending solely on WinRAR for zipping and unzipping files on their computers. There are several top free WinRAR alternatives available on the market that offer a variety of features and functionalities. These alternatives are equipped with drag-and-drop features that make the zipping and unzipping process much easier.
Additionally, they also offer a secure and user-friendly interface that ensures a hassle-free experience for users. It's worth trying out these alternatives to see which one works best for your needs. Moreover, one can utilize the best archiver/unarchiver apps for a better experience.
Author: Snehil Masih
Snehil Masih is a professional technical writer. He is passionate about new & emerging technology and he keeps abreast with the latest technology trends. When not writing, Snehil is likely to be found listening to music, painting, traveling, or simply excavating into his favourite cuisines.