If you run a business or are a YouTuber, use these top free YouTube banner-makers online to design awe-inspiring YouTube banners in just a matter of minutes and stand out from the competition.
Are you a business owner who wants to promote your brand on YouTube? Well, it is a crucial first step in promoting your company! As we know, over time, YouTube has developed into one of the most successful marketing platforms. A visually appealing and professional-looking banner can go a long way in promoting your brand or business on YouTube.
An eye-catching YouTube banner serves as the most visible marketing material. Your YouTube channel will stand out and subsequently draw more visitors if you include important information in your banner, such as the name of your business, key products or services, a catchy slogan, etc. However, not everyone has the necessary design skills or resources to create a custom banner from scratch.
So, how would you create an engaging YouTube banner? Fortunately, there are several free YouTube banner-makers available that can help you create stunning banners without breaking the bank. In this article, we'll be taking a closer look at 7 of the best free YouTube banner-maker online tools that can help you create high-quality banners in a matter of minutes.
7 Best Free YouTube Banner Maker Tools To Use in 2023
When a user visits your YouTube channel, a banner is what they initially see. Therefore, a YouTube banner is crucial to promoting your brand on YouTube. However, it is a bit confusing to choose the best one from the numerous online YouTube banner creators available. This article will teach you about 10 of the best YouTube cover photo makers that are simple to use, inexpensive, and efficient. So, let's get started.
1.  Canva
First on our list is Canva, a popular graphic design tool that offers a vast library of design templates for YouTube banners. With its user-friendly interface and easy-to-use design tools, Canva is one of the best free online YouTube banner-makers for beginners who want to create professional-looking banners. With this YouTube banner creator, users can choose a template that suits their brand and customize it with their own text, images, and colors.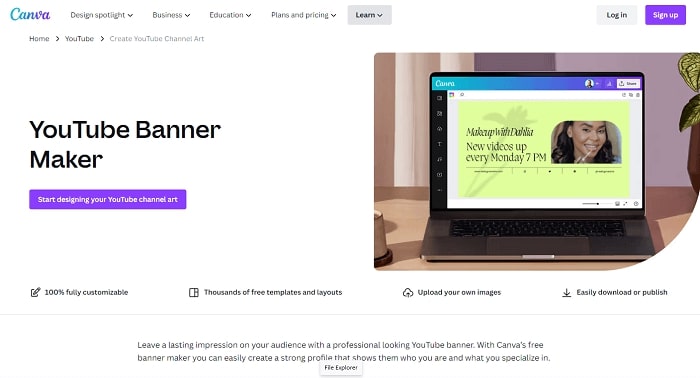 Features:
You are free to use your own media.
A sizable collection of GIFs, illustrations, videos, pictures, and other visual media.
Templates that have been expertly created.
It comes with a simple drag-and-drop editor.
Cloud-based data storage.
It is extremely easy to use.
You receive templates that are the appropriate size for use on various social media platforms.
It is cost-effective.
Templates are easily customizable.
Problems with alignment.
Templates and export settings are limited.
Also Know: How to Unblock YouTube Videos in 2023
---
2.  Adobe Creative Cloud Express
Another great option is Adobe Creative Cloud Express, previously known as Adobe Spark, a simple and free online YouTube banner-maker. It allows you to make polished videos, collages, animations, graphics, banners, flyers, etc. With this online YouTube banner creator, you can create stunning YouTube channel art, including the banner, in just five easy steps. Further, you can also use YouTube subtitle downloaders to make the video more compelling and engaging. You can choose from a variety of beautifully designed YouTube banners and channel art templates.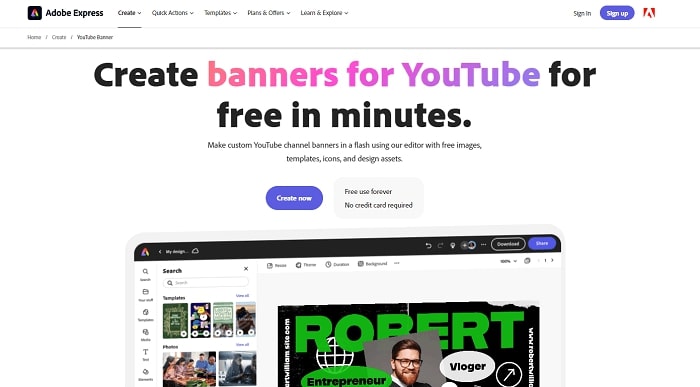 Features:
A decent selection of templates.
Editor with drag and drop functionality.
Animated text.
Automatic incorporation of the brand's colors, logos, and fonts.
GIPHY animated stickers.
The cost of entry is affordable.
It is not necessary to pay for upgrades.
Accessible from any location.
A variety of creative tools are available.
There is no guarantee that subscription pricing will remain consistent.
Not all Adobe applications are upgraded at the same rate.
Visit Adobe Creative Cloud Express
---
3.  Snappa
Snappa is a web-based YouTube banner creator tool that makes it easy for users to create high-quality graphics, including YouTube banners. With its drag-and-drop interface and library of pre-built templates, Snappa is one of the best free online YouTube banner-makers for those who want to create custom banners quickly and easily. Users can select from a variety of pre-built templates, add their own text and images, and alter the design to fit their brand.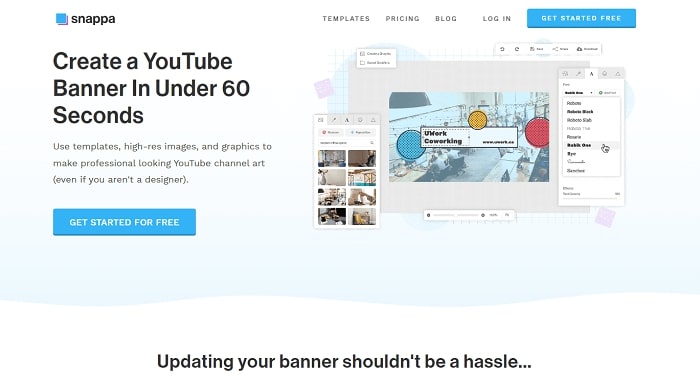 Features:
YouTube banners can be reused on a variety of social media sites.
Assets that can be modified.
Massive library.
Upload your own fonts.
It enables you to quickly create professional designs.
It is very user-friendly.
Extensive image gallery.
A good collection of templates, fonts, and design tools.
The user interface is a little cluttered.
For a free account, there are not many options.
Also Know: Best YouTube to MP3 Downloader Chrome Extensions of 2023
---
4.  Bannersnack
Bannersnack is an excellent YouTube banner creator tool that offers a plethora of options to create stunning YouTube banners effortlessly. Its user-friendly interface allows you to design both static HTML5 and animated banners with ease. This free YouTube banner-maker tool offers a wide range of features to add text, graphics, shapes, and animations to your banner. Additionally, you can save your designs in various formats, such as HTML5, JPG, MP4, PNG, and even GIFs. With Bannersnack, you have the freedom to unleash your creativity and design your own creations or select from extensive templates.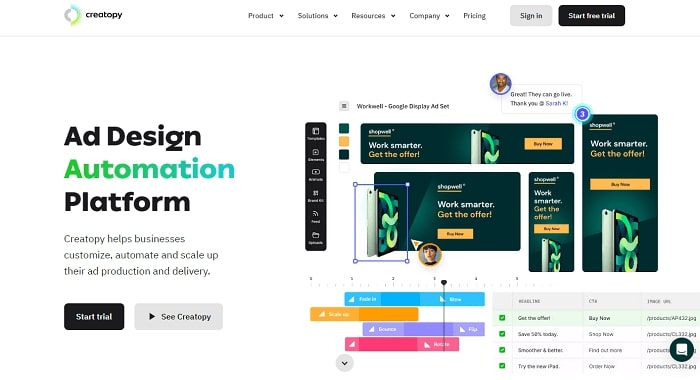 Features:
A sizable collection of stock images and videos.
It comes with an editor with drag-and-drop functionality.
Professionally created templates.
integration of color schemes, logos, imagery, typography, etc.
Design with animations.
User-friendly and intuitive.
creates HTML ads and banners of the highest quality.
There are numerous automation and design features.
It is extremely cost-effective.
limited design resources.
There are a few options for image manipulation.
---
5.  PicMonkey
PicMonkey is a YouTube banner creator tool from Shutterstock that allows for quick and simple editing. It provides excellent tools to assist you in creating all of your branding materials. This YouTube cover photo maker tool includes branding templates with complementary color, font, and style combinations and provides a step-by-step tutorial for beginners on how to build a brand kit from scratch. Additionally, it has complementary template sets so that the artwork for your banners, thumbnails, and social media posts all coordinate. This online YouTube banner-maker tool has a substantial collection of YouTube channel art templates. It also includes empty templates for more seasoned designers.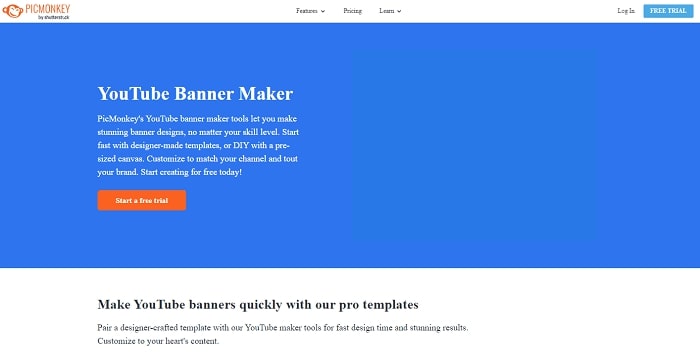 Features:
A vast collection of editable templates.
Cloud-based data storage.
Easy to customize.
Add a logo, graphics, and style to the banner to make it more appealing.
It includes sophisticated animation tools.
In a matter of clicks, you can create stunning designs.
Allows you to design your own layout.
enables the upload of pictures from various sources.
cloud-based storage options.
No auto-resizing of images.
The background image cannot be added.
Also Know: Best Free AI Presentation Maker Tools To Try in 2023
---
6.  BeFunky
BeFunky combines the functions of a photo editor, a collage maker, and a graphic designer. Users can choose from a sizable selection of fully customizable fonts in the graphic design module. Any font you select for your banner art can have a drop shadow, a text curve, a highlight, a bold font, and different color combinations added. This online YouTube cover photo maker tool includes channel art templates that are professionally designed. You can add your own images to any template or use a stock image from BeFunky's collection to make it your own.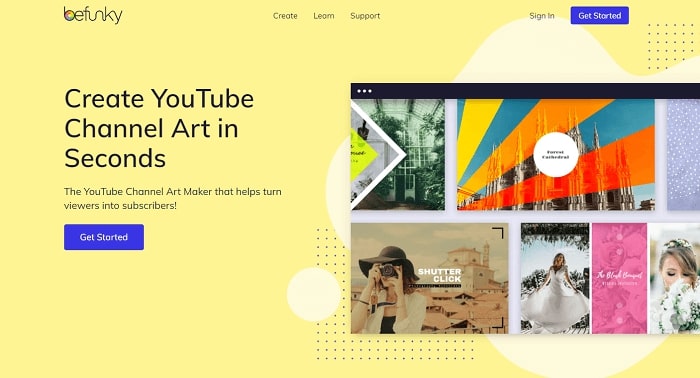 Features:
The biggest online collection of photo effects.
Editor with drag-and-drop functionality.
Smart image enhancement tools.
Removal of the background.
Tools for cutting and cloning.
The user interface is extremely simple.
There is no need to register.
Allows for full-screen photo editing.
It is simple to share.
There is a lot of advertising.
There are many paid services.
---
7.  Fotor
Fotor is one of the best free YouTube banner-maker tools that is compatible with every device, regardless of your location. Additionally, the best part about Fotor is that if you have internet access and are not near a desktop computer, you can use its online or mobile versions. By downloading the Windows or Mac versions, you can work on your laptop while traveling or in an area with spotty internet. With Fotor, there are no restrictions on where, when, or how you can design. You can choose any ready-to-use, cost-free design template to quickly create a YouTube banner that meets YouTube's requirements for size.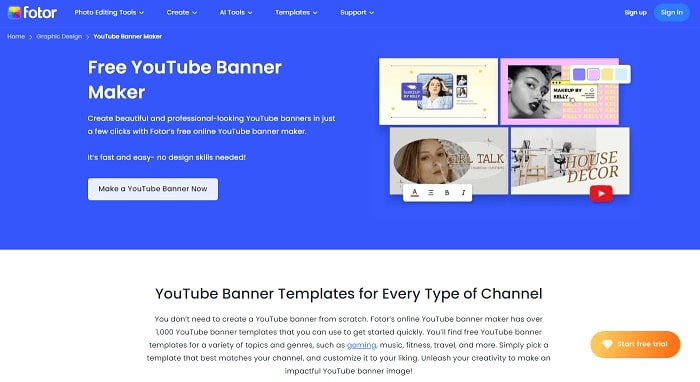 Features:
There is a built-in library.
Customizable templates.
Editing tool with a drag-and-drop interface.
Automatic design resizing.
A wide range of editing tools are available.
Making a YouTube banner with Fotor is a quick and easy process.
There are millions of stickers and emojis.
There are numerous third-party advertisements.
There are no sophisticated tools for editing and retouching fine details.
---
Wrapping Up
Creating a professional-looking YouTube banner does not have to be a difficult task or an expensive investment. Through the use of these free YouTube banner-maker tools, anyone who has a basic understanding of design can create beautiful banners. That will allow them to market their company or brand on YouTube in an efficient manner.
These YouTube cover photo makers provide templates along with an editor and designer, which makes it simple to customize those templates. You can use them to make beautiful channel art and posts for a variety of social media platforms. So, regardless of which online YouTube banner maker tool you use, you will be able to create a banner that will leave a lasting impact on the viewers.
Author: Snehil Masih
Snehil Masih is a professional technical writer. He is passionate about new & emerging technology and he keeps abreast with the latest technology trends. When not writing, Snehil is likely to be found listening to music, painting, traveling, or simply excavating into his favourite cuisines.