Technological advances have been exceedingly challenging because they defy conventional thinking. It is overwhelming to think about the transition from the original World Wide Web to the metaverse, which is still evolving. Embracing the new buzzword of the decade, Metaverse allied with multiple giants like Google, Facebook's Meta, and Microsoft.
The metaverse will generate $800 billion in revenue by the end of 2024, according to the market analysis. The gaming business has been capped at $400 billion thanks to the significant assistance of crypto-related metaverse development companies.
Businesses are keen to create their own metaverse ventures. Since the number of active users is rising daily and more and more people are investing in them. Gartner predicts that 30% of global organizations will use goods and services aimed at preparing for the metaverse by 2026.
So let's look at the top 10 metaverse development companies for 2023. We conduct in-depth research and analysis to compile this list in order to aid businesses in choosing the best provider for their particular needs.
Top 10 Metaverse Development Companies
In recent years, the Metaverse – a shared virtual environment. Where users can communicate with one another and exchange virtual items in real-time, has gained popularity. Additionally, more companies are now participating in the metaverse development market. In this article, we'll be looking at the top 10 Metaverse development companies of 2023.
1. Appdupe
One of the top metaverse development companies at the moment is Appdupe. This company joined the technical world in 2007 with its first-rate mobile app development. It quickly ascended to the position of establishing some of the best blockchain-based initiatives in the cryptocurrency space since 2017. And finally, this compelled them to look further into the metaverse.
Their foray into the metaverse connects them with the real world through their 3D-made virtual worlds. Which they created in partnership with numerous business titans and well-known brands. The prominence they attained on the platform demonstrated their immersive quality. And the digital assets they traded speak eloquently about their extraordinary accomplishment. They are experts at everything, even creating avatars and the virtual environment.
---
2. Decentraland
Decentraland is a decentralized metaverse marketplace that lets consumers purchase and sell virtual land. Businesses that want a platform in the metaverse have the opportunity to buy a piece of virtual land. That can be customized into a business center, meeting room, lounge, or anything else they need. Decentraland has about 90,000 land pieces, many of which are sold out and many of which remain vacant.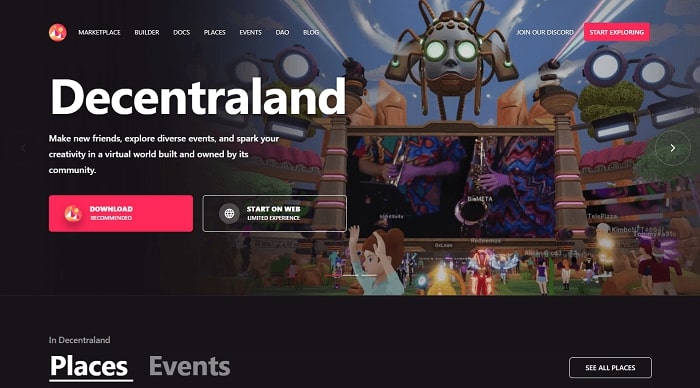 Decentraland, which was introduced in 2017, is a public platform. Where anyone can sign up and engage in games in order to acquire MANA, the site's native coin. MANA is used to purchase real estate, avatars, wearable technology, and other virtual assets in Decentraland. MANA enables you to build interactive experiences, social gatherings, and content with unrestricted monetization potential.
Also Know: Decentraland Game Guide and Review: How to Play the Decentraland Game?
---
3. Aetsoft
Aetsoft – a software development company that has been operating since 2014. It delivers business automation for organizations through the effective delivery of blockchain as well as digital transformation technology. To help organizations looking for automation, they offer a variety of blockchain and Metaverse development services. Including NFT & DeFi development, machine learning, artificial intelligence (AI), big data services, robotic process automation (RPA), and more.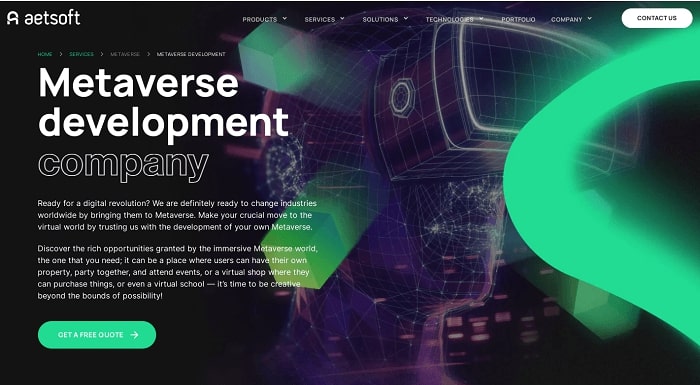 Aetsoft, which has delivered 50+ successful blockchain projects, is a master at developing metaverses and providing services. That includes developing metaverse NFTs and marketplaces, creating digital assets and avatars, creating games, and building decentralized platforms.
Fashion, retail, e-commerce, travel, social media, education, and other sectors are among those to which Airsoft offers its metaverse development services. In addition to delivering solutions tailored to each customer. Clients are able to select the necessary blockchain technology to create their own metaverse.
---
4. Accubits
Accubits, a Crunchbase company, was founded in 2012 and has a distinguished history. Technology advances to new horizons faster when there is knowledge in the consulting and artificial intelligence fields. With 30,000 USD at the start of its web3 journey in 2016, Accubits, a provider of AI and blockchain-based solutions, significantly expanded its reach among cryptocurrency enthusiasts.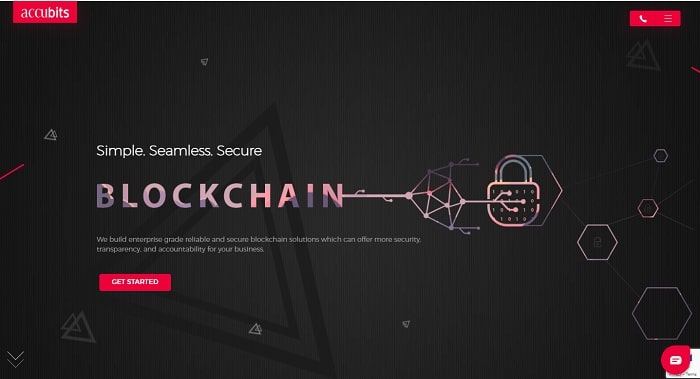 This multimillion-dollar blockchain-based project is gaining more and more interest in the virtual world, or metaverse. This metaverse development company is a deal maker since they can build a space from scratch using 3D technology.
They offer a variety of unique services, such as metaverse 3D modeling, virtual reality development, metaverse conceptualization, metaverse integrations, etc., for your idyllic world. Launching a metaverse app using white-label solutions is now feasible.
---
5. Infinite Block Tech
With its extensive array of carefully chosen marketing and development services, Infinite Block Tech is advancing up the cryptocurrency food chain. They recently added the Metaverse to their list, and it is now on par with others. Their technological foundations create the finest environment for users to socialize while having fun and also making millions of dollars.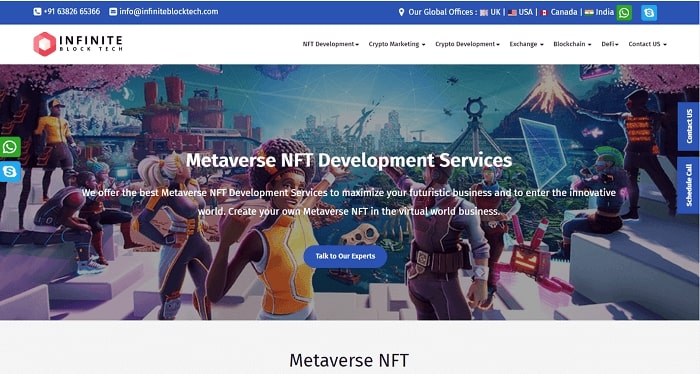 The technological team offers a 3D environment for you to develop your futuristic concept, elevating the forum to entirely novel levels. They market the platform in addition to creating a virtual environment using cutting-edge AR-VR technology for a seamless marketing experience. They use a variety of marketing techniques. Including influencer marketing, social media management, conversion rate optimization, and site optimization.
Also Know: Role of AR/VR in the Development of the Metaverse- Explained!
---
6. Spatial
Spatial is among the best Metaverse development companies. It helps companies and creators establish their own virtual spaces in the Metaverse. The 2016-founded company Spatial offers a wide range of features and aids in office cooperation. You can use it to create original, custom metaverse worlds. You are free to create and include whatever realistic-appearing geographic features, plant and animal life, the environment, and weather elements that you desire.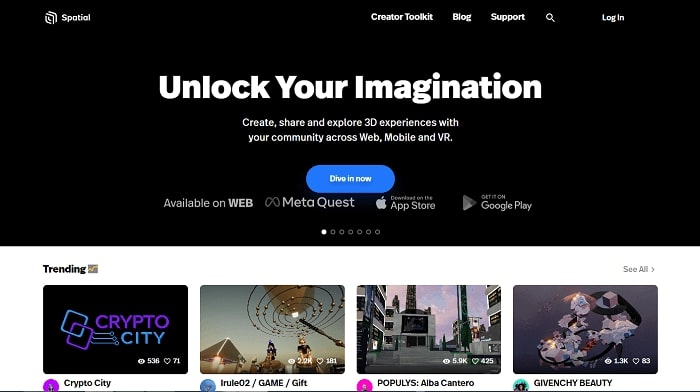 With the Spatial metaverse, you can organize events for NFTs and real estate, meetings, business settings, or merely recreational ones. Thereafter, 50 people may use the newly created public space. As an additional incentive, you can mint your 3D virtual world as NFTs or rent it out to others while earning passive revenue.
---
7. Blockchain App Factory
As a metaverse development company, Blockchain App Factory focuses on harnessing its power to build a convincing 3D environment that will captivate consumers. Because it offers consumers a variety of services required to operate a marketplace with assets to glorify, the packed-with-features development is a tough competitor in the crypto society.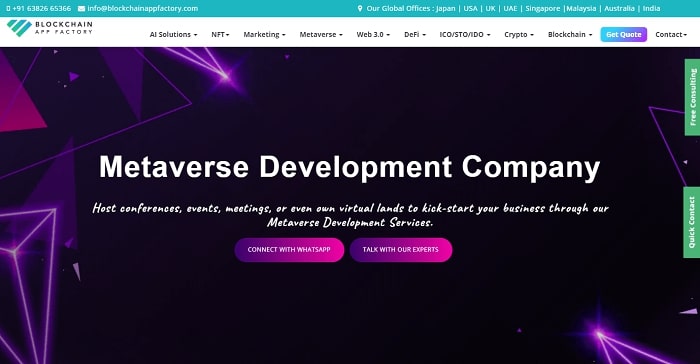 NFTs are available as in-game items, accessories, weapons, and digital collectibles. The talented programmers who run your domain-based metaverse marketplaces will provide all of this and much more.
Decentralized apps (dApps), non-fungible token creation, and decentralized finance (DeFi) innovations. Which span nearly all of the crypto world's verticals, are only a few of their other explicable offerings.
Also Know: Things You Need To Know About The Metaverse 
---
8. LeewayHertz
With outstanding services and a workforce that is value-driven, LeewayHertz has built an excellent track record in the app development business with over fourteen years of expertise in developing various web3 and enterprise solutions. LeewayHertz offers a comprehensive variety of solutions needed to accelerate your company's digital transformation, from blockchain to augmented reality (AR) and artificial intelligence (AI).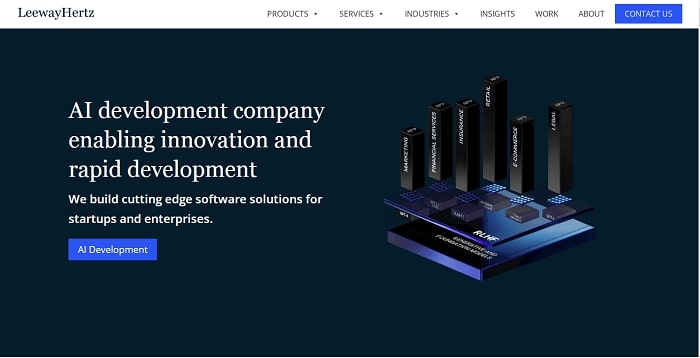 Being a leader in Web3 solutions and services, LeewayHertz offers complete metaverse development services. It includes Metaverse gaming environments, integration services for the Metaverse, rental facilities in the Metaverse, 3D avatar development, and Metaverse app development.
With over 250 full-stack developers onboard, LeewayHertz can create a unique metaverse for your company using their in-depth expertise in numerous metaverse tools for development and technology. They help with the integration of decentralized networks, smart contracts, open standards, crypto-wallets, and NFTs needed to carry out your metaverse endeavor and also support its upkeep and improvement.
---
9. Webllisto
Webllisto is a leading software development firm with specialists in blockchain technology. They started their venture into cryptocurrency in 2016, relying on their income from various parts of the world. Their initiatives are underway with a focus on the metaverse, an imaginary virtual environment, and the future utility of blockchain technology.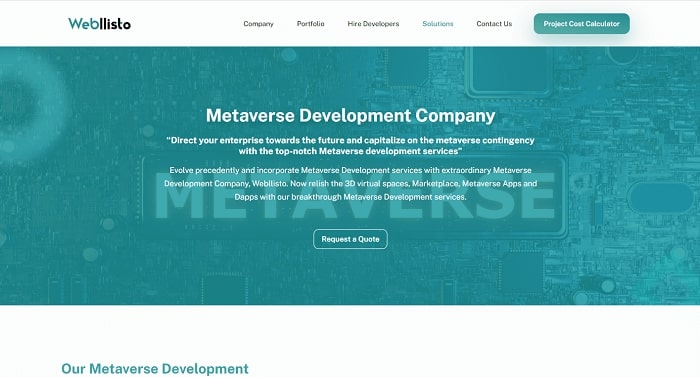 Webllisto assumes the role of a metaverse development business and familiarizes its consumers by providing the greatest user interface/user experience (UI/UX) design, prototype development, etc. in the market. You can leverage their software development services for all of your 3D virtual world design, API integration, gaming, social media, and metaverse NFT marketplace requirements. Build a lavish NFT-filled metaverse project by using Webllisto's metaverse development services!
---
10. Inoru
Inoru is one of the best Web3 development companies, offering excellent blockchain, and Metaverse development services, including everything from DeFi platforms to NFT marketplaces to developing white-label wallets. With more than 250 successful projects under their belt and 12 years of practical expertise, Inoru is proud to be able to provide clients with a wide range of blockchain development services for a variety of sectors, including manufacturing, supply chain, medical care, and finance.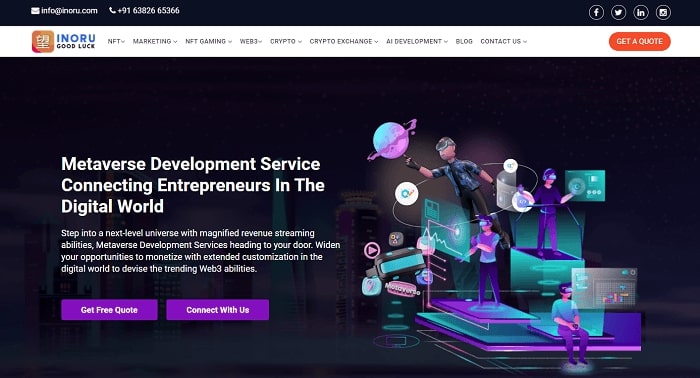 The creative team at Inoru, which consists of more than 150 skilled individuals, is very adept at designing the ideal metaverse setting for you. They provide a range of metaverse services for your company, including the creation of DeFi and DAOs, integrated metaverse services, game development, decentralized trade marketplaces, social networking platforms, metaverse e-commerce services, and much more.
They also create metaverse projects in order to launch a metaverse project that is ready for the market through market research, collections and collectible ability, requirement analysis, programs and functionalities, development of digital smart contracts, etc.
---
Final Takeaway
The Metaverse is a fascinating and rapidly changing realm. And these Metaverse development companies are setting the standard for developing engaging and immersive virtual experiences. Whether you're interested in developing a game, a virtual world, or a social network. These Metaverse app development companies can assist you in making your idea a reality.
Even though the list of top metaverse development companies we put together is based on in-depth research and data backed by facts. It is usually advisable to carry out your own study before choosing a particular business. Despite its growing popularity, the metaverse continues to be in its formative stages and is constantly evolving. As a result, more reliable organizations that meet the criteria for the top metaverse development companies might constantly emerge.
You can always visit a company's website to learn more about the extensive range of services they offer. Additionally, their working methodology, their work portfolio, their abilities, and their experience in developing various projects. Their adaptability in developing niche projects, the range of solutions they have built, and the types of technology they use. And other factors to help you decide if a company is the most suitable option for your business.
Author: Snehil Masih
Snehil Masih is a professional technical writer. He is passionate about new & emerging technology and he keeps abreast with the latest technology trends. When not writing, Snehil is likely to be found listening to music, painting, traveling, or simply excavating into his favourite cuisines.