McDonald's and McCafe trademark applications suggest a significant step into the Metaverse, with plans to bridge the physical world with the virtual world. American restaurant chain McDonald's looks like it is preparing to enter the Metaverse by registering for ten trademarks in the virtual space.
Josh Gerben, trademark attorney and founder of Gerben Intellectual Property, tweeted that McDonald's applied for a trademark, including intends for "a virtual restaurant containing real and virtual goods" and "managing a virtual restaurant including home delivery." In addition, based on the application, the restaurant chain will provide "downloadable multimedia files" for artwork, audio and video files, and NFTs.
McDonald's has also involved its McCafe brand in the metaverse trademark application. As a result, the company would be all set to provide entertainment services "such as online virtual concerts and events." So, could McCafe turn out to be the newest branded virtual destination to catch a sponsored concert from your favorite acts? These virtual concerts eliminate geographical barriers that have maintained fans to see their favorite acts perform and dramatically reduce touring.
The golden arches join bakery and cafe chain Panera Bread to shift into the Metaverse. Panera Bread applied for a similar trademark application on Feb. 3 for a virtual restaurant and cafe chain named Paneraverse.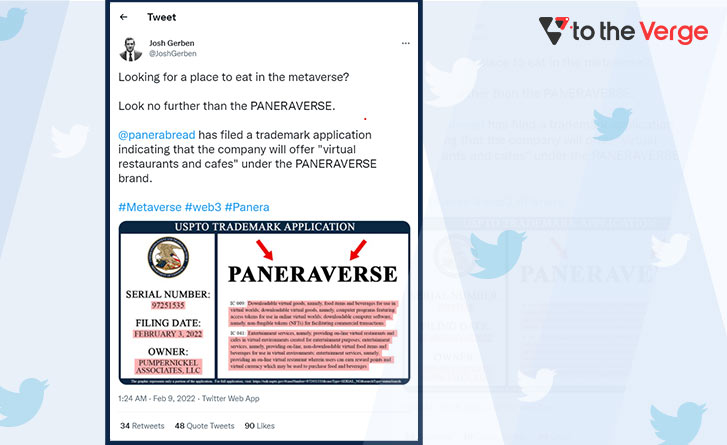 George Hanson, a chief digital officer of Panera, explained to Forbes: "Panera is always working to be at the forefront of technological advancement. As a brand, we are constantly looking to find new ways to boost our guests' experience, both in our cafes and in the metaverse". Its plans also consist of downloadable content, NFTs, virtual food and beverage objects, and virtual services where users can assemble.
The two fast-food chains follow in the paths of many other large companies, such as Nike, Ferrari, Walmart, Nvidia, Adidas, Epic Games, Microsoft, and Apple, and Facebook's big plan to utilize the Metaverse for its social networking business in the future.
Josh Gerben told Forbes, "I believe that every brand that you can imagine will be making these filings in the next 12 months. I don't think anybody wants to be the next Blockbuster and entirely overlook a new technology that's approaching."
The standard time for the US Patent and Trademark Office to analyze an application for a trademark is around nine and a half months. Still, Gerben believes that neither McDonald's nor Panera Bread will have any problem acquiring approval for their trademarks.
The emergence of these big brands into the Metaverse shows that the future seems bright for immersive technologies. Let's hope this vital step turns into a significant growth factor for the company.
Author: To The Verge Team
Our aim is to chase the future, innovations, and the latest trends of all things tech. We love to interact with industry experts, understand their diverse and unique perspectives, and spread their ideas.