In the vast world of social media, a new and beautiful phenomenon has emerged – the Metaverse. It's like a magical digital universe where virtual beings called "virtual influencers" capture people's attention with their charm and uniqueness.
They are not real people, but their colorful personalities and captivating content have won the hearts of millions of followers on Instagram.
So, in this blog, we will take you on a journey to explore the fascinating world of the Metaverse. Also, we will introduce you to some of the most beautiful and famous virtual/metaverse influencers on Instagram.
These virtual personalities have created a whole new way of connecting with people and sparking conversations that go beyond the boundaries of the real world. So, let's get started!
Top Metaverse/Virtual Influencers To Follow On Instagram
Read the following list to find out the best and most beautiful influencers of the Metaverse on Instagram. All of the following influencers are very famous and possess a good number of followers.
1. Lil Miquela
Lil Miquela is one of the most loved and top virtual influencers. She first appeared on Instagram in April 2016 and currently has more than 2.5M of followers. Miquela is represented as a half-Spanish, half-Brazilian teenager who is 19 years old. Also, she is living her music goals in Los Angeles.
Lil Miquela was created by the Los Angeles-based company called Brud. She gained popularity by joining the Black Lives Matter movement and advertising designer brands like Prada. Also, she virtually attended Coachella, and virtually posed with celebrities like Diplo & Millie Bobby Brown, and many others.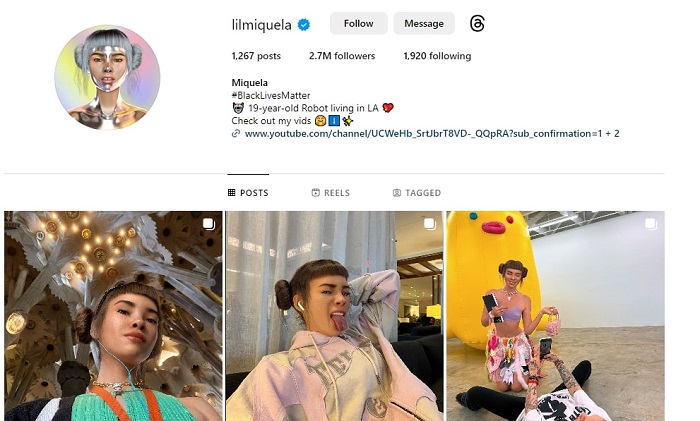 Instagram Profile – @lilmiquela
---
2. Kyra
TopSocial developed India's first virtual influencer Instagram – Kyra. She is a 22 years old Delhi girl who has a love for both traveling and modeling. Moreover, she has over 250k followers on Instagram. And she uploads social media posts featuring some famous locations from around the world.
On Kyra's page, there are a few pictures of her standing on beaches and in front of famous buildings like the Hawa Mahal in Jaipur. She frequently appears eating delicious exotic foods with amazing scenery serving as the background.
Also, she encourages overall wellness while performing yoga by the pool. This metaverse human virtual influencer was introduced by TopSocial India in the month of March 2022. And since then, she has grown her fan base.
Moreover, Kyra was featured in the MVFW. It was held on Decentraland from March 24-27, 2022 as a virtual reality fashion model.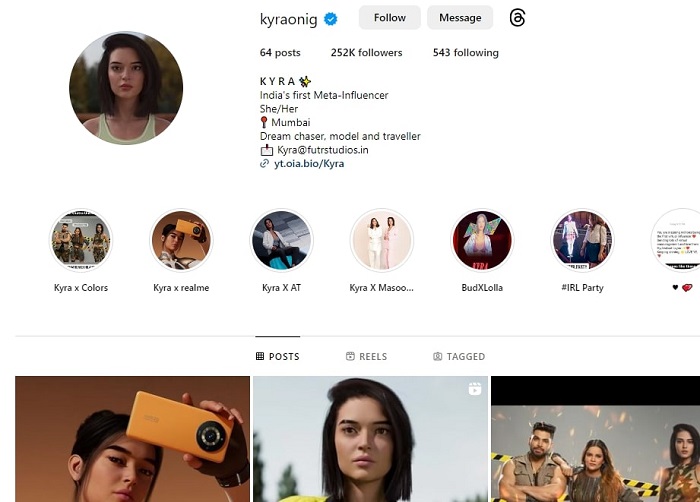 Instagram Profile – @kyraonig
Read Also: Fix Instagram Music Not Working in 2023 (Quick & Easy Tips)
---
3. Shudu
Shudu is one of the top virtual influencers of the metaverse. Cameron-James Wilson, a British photographer developed and designed her. And she is a part of the #BalmainArmy of metaverse models by the creative director of Balmain, Olivier Rousteing.
Shudu is a girl from South Africa and she made her first public appearance in 2017. She became famous after Rihanna's Fenty Beauty shared a photo of her on their Instagram profile. They assumed she was an actual individual using a Fenty product. Hence, Shudu is well-known for promoting products.
Moreover, she calls herself "The World's First Digital Supermodel" and is in fact made to look like one.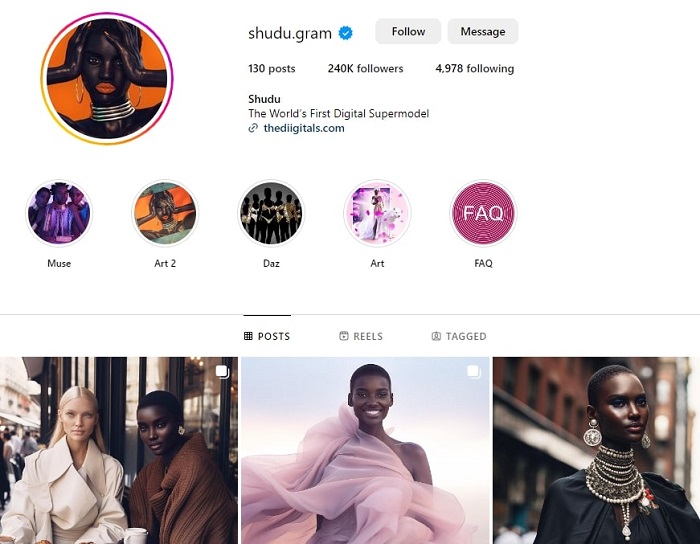 Instagram Profile – @shudu.gram
---
4. Imma
Imma, who is originally from Tokyo, debuted in July 2018 and holds the honor of becoming Japan's first virtual model. Aww Inc designed Imma, the first virtual influencer metaverse firm in Japan to represent Asia. She is known as the "virtual queen of cool."
Imma sets herself apart from other Metaverse influencers with her unique pink bob. Moreover, her TikTok and Instagram feeds are constantly booming. Hence, leading companies and artists are attempting to work together with this fashionista avatar.
Imma creates relatable and funny TikTok videos to bring her online identity to life. She always keeps up with the most recent fashions. Hence, this gives the impression that she is an actual person rather than merely an AI production.
Moreover, Imma is a fashionista on Instagram, sharing OOTDs, and behind-the-scenes photographs from photo shoots. And also delicious travel and food photos.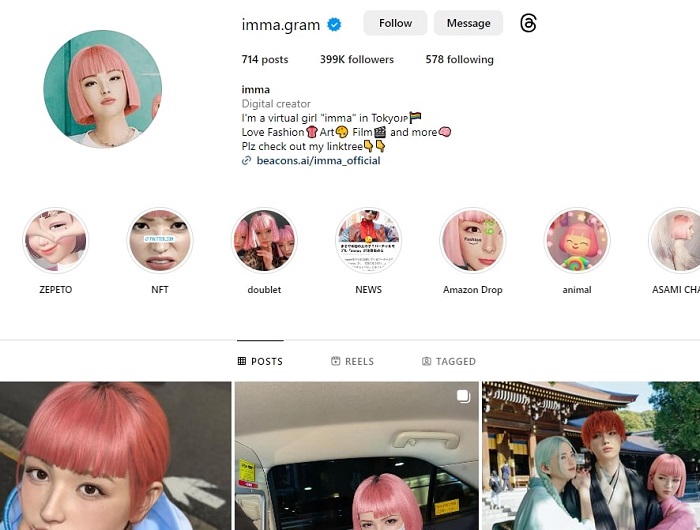 Instagram Profile – @imma.gram
Read Also: How to Mass Unfollow on Instagram [Latest 2023]
---
5. Rozy Oh
Rozy Oh is among the top and most popular Metaverse influencers on Instagram. She was first seen in 2020 and the Korean media firm Sidus Studio X created her. Moreover, she is the first virtual/metaverse influencer in South Korea. Also, her entire name in Korean represents "one and only."
Rozy is defined as a 22 years old girl who never ages. She recently celebrated her '2nd 22nd' birthday with her Instagram followers.
Moreover, she is so popular that her admirers call her "GamSeong JangIn." It is a Korean word for "expression expert." Also, she poses for her fans and uses a mixture of facial expressions.
Also, she has appeared in photographs alongside Korean celebrities and athletes. Moreover, she has posed for international brands like Calvin Klein. Additionally, she encourages her supporters to take part in democratic activities like submitting votes in general elections.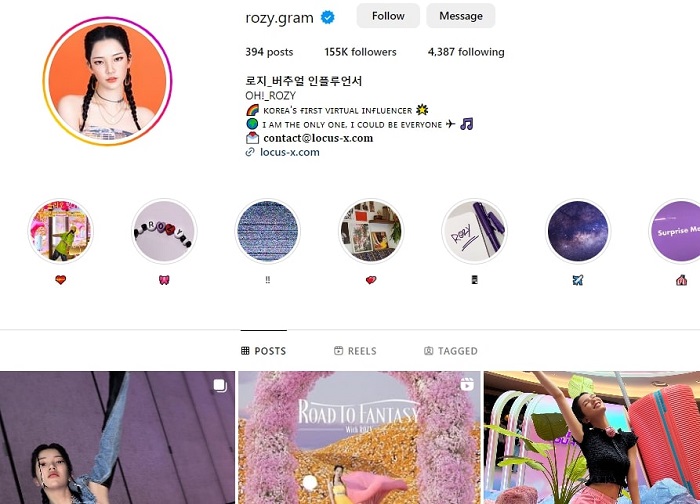 Instagram Profile – @rozy.gram
---
6. Lucy
Lucy is a South Korean-born virtual influencer on Instagram with more than 100k followers. Lotte Home Shopping created Lucy. The goal of her creation is to help in the metaverse's promotion of Lotte Home Shopping's goods.
She is renowned for appearing as "forever 29 years old," making her the ideal ageless model with an industrial design.
Hence, Lotte Home Shopping firm specifically created Lucy in order to inspire people to achieve their goals. Therefore, she is the perfect example of how companies can use online influencers to build trust with their target market.
Instagram Profile – @here.me.lucy
Read Also: How to Fix Instagram Couldn't Refresh Feed Error [Solved]
---
7. Gary Vee
Gary Vee is one of the best and most followed influencers of the metaverse. He has the ability to grab your focus with his enthusiasm, power, and passion. Gary Vee is well-known in the metaverse field for his expertise in VR subjects like NFTs.
Gary is a valuable resource for organizations and people who are new to the platform. Hence, there are millions of people who follow him on Twitter and YouTube. Also, many people have benefited from his education on topics like the metaverse, Web3, and NFTs.
Moreover, recently, Gary and Mark Zuckerberg discussed how the metaverse and Web3 might change society. So, if you want to learn more about Non-Fungible Tokens, Web3, the Metaverse, and similar topics, Gary is your man.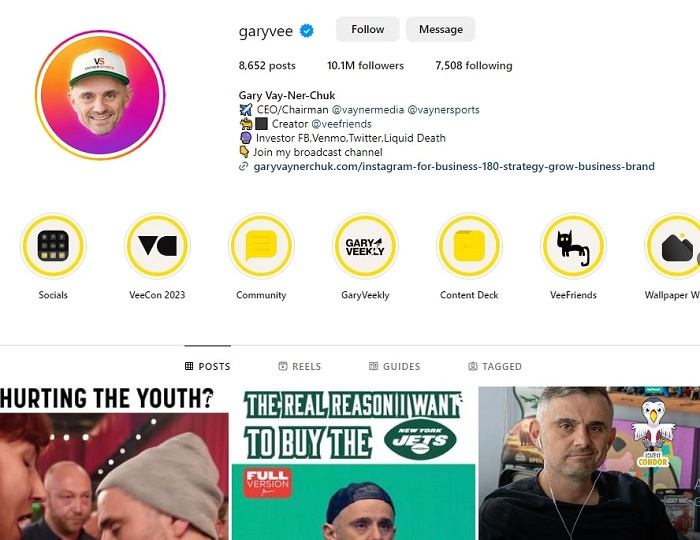 Instagram Profile – @garyvee
---
Wrapping Up: Beautiful Metaverse/Virtual Influencers on Instagram
In conclusion, the growth of metaverse influencers on Instagram is changing the field of influencer marketing. These new categories of influencers give brands the chance to interact with their target audience in new ways. All the above-listed are the top virtual influencers on Instagram with a huge follower base and popularity.
Hence, you may follow all these influencers to keep yourself updated with the world. Also, drop your views about this article and your favorite influencer in the comments section below.
Author: Snehil Masih
Snehil Masih is a professional technical writer. He is passionate about new & emerging technology and he keeps abreast with the latest technology trends. When not writing, Snehil is likely to be found listening to music, painting, traveling, or simply excavating into his favourite cuisines.