Instagram story music not working is a common issue faced by a lot of IG users. If you are experiencing the same problem, read on to know how to fix it in the best possible ways.
What makes Instagram different from other social media platforms? Well, it is the only social networking app that helps you make your stories even interesting. Unlike most other apps, it has a music feature that lets you add your favorite songs to your stories to make them fascinating. However, many users recently took to Twitter to blow up about the Instagram music not working.
Here is a snapshot of the storm of anger that came on Twitter due to the IG music not working.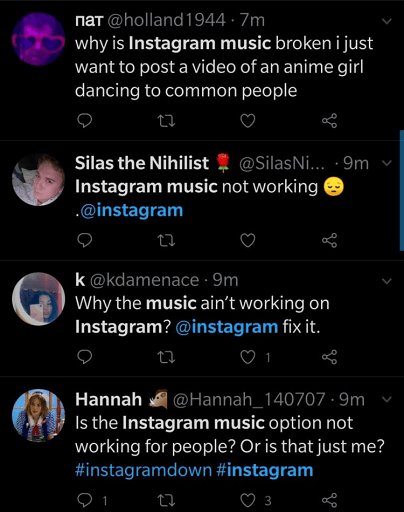 If you are also facing similar challenges as the people in the picture above, this article is for you. Through this typewritten note, we acquaint you with how to fix the issues if music is not working on Instagram.
Without taking much of your time beating around the bushes, let's jump straight to the ways to fix the music not working issue on Instagram.
Fixes for Instagram music not working
Below are some solutions you can try to fix the Instagram story music not working issue effortlessly.
Fix 1: Use a personal account
If you are using a business account, Instagram music may not be working due to copyright issues. Thus, you can switch to a personal account to make the IG music work again. Here is the complete process to do it.
Make a click on the menu icon to open Instagram's Settings.                                                                                                                                                                                                                                         
Go to the Account setting.                                                                                                                                                                                                                                                                                                         
Switch to Personal Account.                                                                                                                                                                                                                                                                                 

Give your consent by accepting the prompt to switch back to the personal account.                                                                                                                                                                                                   
After switching to the personal account, check whether the music is working or not on the Instagram story.
Also Read:- Top 14 Best Free Movie Apps for Android | Free Movie Streaming Apps [2022 Updated]
Fix 2: Sign out and sign in to Instagram
Sometimes, simple hacks like logging out and logging in again fix complex problems like the music not working on Instagram stories. Therefore, below is how you can sign out and then sign in to the IG application.
Navigate to your Profile.                                                                                                                                                                                                                                                                                           

Select the hamburger menu (three horizontal bars) from the extreme right.                                                                                                                                                                                                                       
Navigate to the Settings menu.                                                                                                                                                                                                                                                                                               
Select the Log out option.                                                                                                                                                                                                                                                                                                         
Save your credentials, if you want, and then log out of your account.
Login to your account using the same details.
Check whether the problem is solved or music is still not working on Instagram.
Fix 3: Install Instagram again
Uninstalling the application and installing it again can also fix random bugs like IG music not working. Thus, you can also reinstall Instagram to solve the problem. To do so,
Uninstall Instagram from your device.
Open Google Play Store or App Store depending on whether you use an Android or iOS device.
Install the IG app.                                                                                                                                                                                                                                                                                                                         
Fix 4: Update Instagram
Metaverse hears all your problems and often releases Instagram updates to fix them. Therefore, installing an Instagram update (if available) may also solve the problems if Instagram music is not working. Here is how to do it.
Connect your phone to a WiFi network.
Open Play Store or App Store. 
Search for Instagram to check whether an update is available or not.
If there is an update available, download and install it by clicking on the Update button.                                                                                                                                                                                         
Fix 5: Make use of a VPN to get Instagram music
Due to some licensing issues, Instagram music is available only in a few specific countries, including the UK, Canada, New Zealand, Sweden, Denmark, US, Romania, Slovakia, Australia,  Finland, France, Netherlands, Norway, and some parts of India.
However, you can bypass these restrictions with the best VPN software available for Android/iOS devices. The Virtual Private Network or VPN changes your IP address to any country where Instagram music is accessible.
Fix 6: Convert the soundtrack to a video file
A song may not be available on Instagram if it is unavailable in your place of residence or the song's artist has removed it. You can circumvent these limitations by converting the song to an MP4 file. There is plenty of software present on the internet that can help you do it.
Fix 7: Get in touch with Instagram
Instagram pays heed to user complaints quite seriously. Hence, if none of the above fixes work to fix the not working IG music, you can make Instagram hear your concern. Here is the way to do it.
Launch Instagram's Settings.
Navigate to the Help section and Report a problem.                                                                                                                                                                                                                                         

Briefly explain what happened, i.e., Instagram music not working issue, and click on the done (tickmark) icon to finish the reporting process.                                                                                         
Above were the top ways to fix the IG music not working problem. Now, let's try answering a few interconnected questions to help you solve the issue more efficiently.
Also Read:- 8 Best Game Booster Apps for Android 2022
Frequently asked questions
Below we answer a few questions users often ask about the Instagram story music not working issue.
Q1. How to put music to the Instagram story?
You can take these steps to add music to your Instagram stories to make them more impressive.
Click on your profile picture. 
Choose the option to add your picture or video and swipe up.
Find and choose the Instagram music sticker. 
Search for and tap on the desired song. 
Lastly, tap on the Done option.
Q2. How to make my favorite music available on Instagram?
If your favorite music is unavailable in your region on Instagram, you can use a VPN to access it. VPN, i.e., Virtual Private Network masks your IP address and lets you use the address of another country where that music is available.
Q3. Why is my Instagram music not working?
Your music may not be available, or Instagram music may not be working for any of these reasons.
Music copyright restrictions imposed on business accounts
Random bugs
Removal of music by its artist
Location-based restrictions
Q4. Does Instagram limit the duration of music that can be posted on it?
You can use music on your Instagram story as long as its artist has made it available for use on the application. Moreover, IG lets you add a soundtrack of a maximum of 15 seconds to your story.
Q5. How does music feature work on Instagram?
In June 2020, Instagram launched the music feature to help its users create impressive stories. Using this feature, you can choose from a variety of soundtracks to create a different vibe among your followers through your IG stories.
Instagram music not working fixed
Through this post, we learned how to fix the issues if IG music is not working. You can apply the above solutions sequentially till the problem gets solved.
If you know other better fixes to the issue, enlighten everyone through the comments section.
To learn how to solve other tech issues, keep reading our blog.
Author: To The Verge Team
Our aim is to chase the future, innovations, and the latest trends of all things tech. We love to interact with industry experts, understand their diverse and unique perspectives, and spread their ideas.