Instagram has become one of the most popular social media platforms for sharing photos and videos. However, its limitations in terms of downloading content have always been a concern for users who wish to save videos for offline viewing.
Fortunately, there are several free and online Instagram video downloaders available in 2023. They make it easy for you to save your favorite videos from Instagram.
So, in this blog post, we will look at the 7 best Instagram video download apps that are reliable, user-friendly, and efficient.
These tools are simple to use, and they will help you build up a collection of videos that you can watch anytime, even without the Internet. Continue Reading!
List of 7 Best Instagram Video Downloader Apps
Here we have compiled a list of top Instagram video download online tools for downloading videos and photos easily. You may go through this list and pick any tool considering its features.
1. Inflact
With an incredibly simple user interface, Inflact aims to download any kind of Instagram content. Including photos, stories, and videos from IGTV. Hence, this best Instagram video downloader lets you download any kind of content quickly in a couple of seconds.
Additionally, there are no limitations on its compatibility. The tool allows you to download content from anywhere in the world to any device you choose. Also, the download process itself is rather simple to understand.
Even though this tool is free to use, you may access additional interesting features with its affordable paid version. Features include the capacity to download numerous photos and videos at the same time. Also, the ability to save videos from an infinite number of Instagram accounts.
Features of Inflact
It has an easy download process using the copy-and-paste URL option.
It works on any Mac, Windows, and Android system.
This Instagram video downloader tool enables content downloads in bulk.
Also, it can produce hashtags.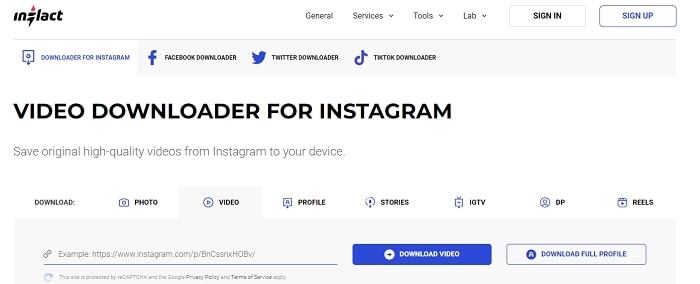 ---
2. DownloadGram
DownloadGram is the website you should visit if you're searching for an Instagram video download online tool. It can assist you easily with downloading Instagram videos and images. Moreover, the website's layout is simple and interactive.
Additionally, there aren't any advertisements or extra instructions that would distract you. To download, you just have to open your Instagram account and then copy the URL link. Then, simply paste the link into this Instagram video downloader tool and click the download button.
Additionally, keep in mind that clicking on the URL field may result in the opening of a new tab. But don't stress over it. Simply close the tab, go back to your home page, and enter the video link.
Features of DownloadGram
It is a user-friendly web tool that functions well on Windows, Linux, Apple, Android, iOS, iMacs, and other OS devices.
It requires no registration or shows any ads.
This tool offers unlimited downloads.
It is a rapid and cost-free tool.

Also Read: Best Free Video Editing Software
---
3. 4K Stogram
4K Stogram is another best Instagram Video downloader tool. With the help of this tool, you can save high-resolution videos, pictures, and stories.
Additionally, using the 4K Stogram is very easy and simple. All you require to do is enter the username or link of the content you wish to download and the program will handle the rest.
Also, you can download content in bulk using the app. Hence, this makes it simple to keep all of your best Instagram posts in one location.
Additionally, 4K Stogram is compatible with various operating systems including Windows, macOS, and Ubuntu. Moreover, the tool will automatically download both the most recent and upcoming posts of your favorite subscribed Instagram users, hashtags, or places.
Features of 4K Stogram
This Instagram video download app helps in downloading private Instagram images, videos, and more.
It includes options for downloading each highlight from Instagram into its own different subfolder.
It offers the tools necessary to back up an Instagram account.
Also, it has the ability to export and import subscriptions and save Instagram posts by date.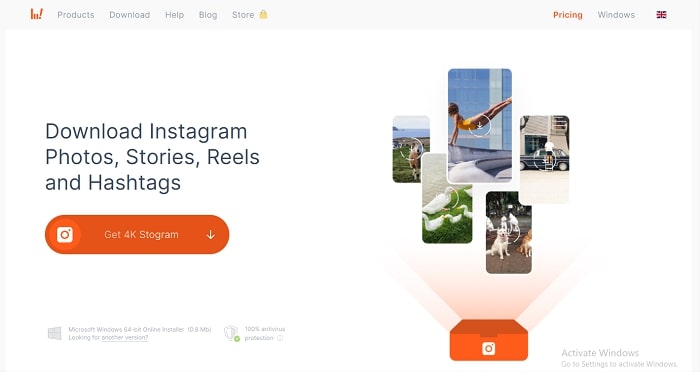 ---
4. VideoHunter
The VideoHunter performs very well as a fully functional Instagram video downloader with great compatibility. Currently, it allows users to download any video or audio from more than 1,000 websites. Including YouTube, Instagram, Twitter, Facebook, SoundCloud, Bilibili, Niconico, and others.
This tool strives for high-quality output with amazing offline video playback. Hence, this Instagram video download without watermark app is in the trend. Moreover, it can provide content in resolutions as high as 1080p, 4K, as well as 8K.
Additionally, VideoHunter places a high value on the user experience. Thus, you'll notice that it features a simple user interface.
Features of VideoHunter
This tool offers a simple method of copying and pasting URLs.
It has support for Windows and Mac and allows downloading videos from more than a thousand websites.
It gives you access to high-quality output quality, including 1080p, 4K, and 8K. Hence, you can enjoy great and smooth offline playback.
Also, it provides 6X better download speeds for audio and video.
It provides lifetime free software updates.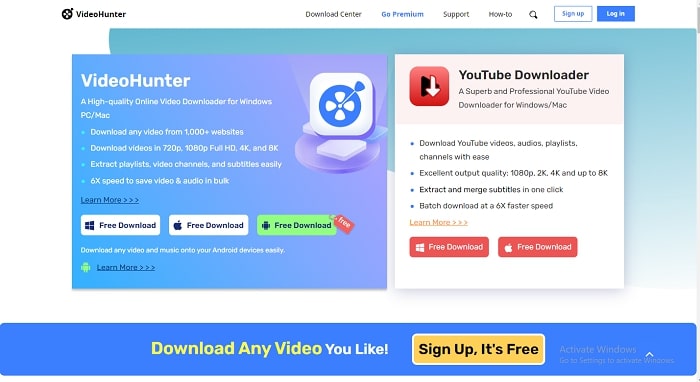 Also Read: Fix Instagram Music Not Working (Quick & Easy Tips)
---
5. Leawo Video Downloader
Leawo is a complete Instagram video downloader app that works with Instagram and many more platforms. It's a useful tool for saving Instagram content because of its extensive features. Hence, with the Leawo Instagram video download app, you may easily store movies, pictures, and stories.
However, the best thing is that you can save videos from a variety of websites. Including YouTube, Twitter, LinkedIn, Facebook, Twitch, Tumblr, Vimeo, and TikTok.
Moreover, Leawo Video Downloader has a 6X faster download speed for 720P/1080P videos. Hence, it has hardware acceleration technology and advanced video loading technology.
Features of Leawo Video Downloader
It offers a live video downloader that allows users to download live videos from sites that offer live streaming, including Instagram Live.
With smart download settings, it offers a better user experience.
It has a built-in video player that makes playing downloaded videos simpler.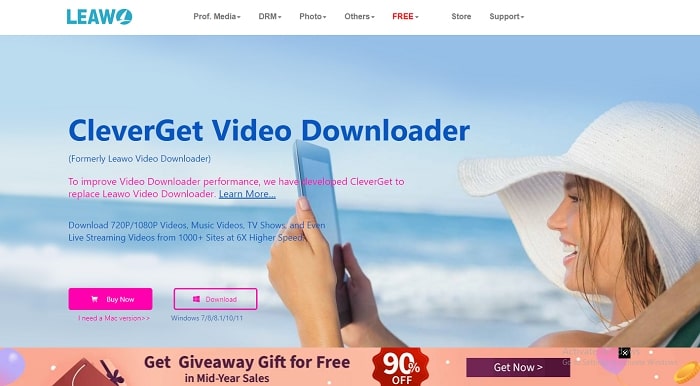 ---
6. iTubeGo
iTubeGo is one of the most popular and all-in-one Instagram video downloader apps. The app is simple to use and accessible. Hence, making it simple to download Instagram videos and photos right away.
You just have to simply copy the URL of the Instagram video or image you wish to download and put it into iTubeGo to download it. That's it, the app will save the content to your device easily!
Hence, for those searching for a quick and simple method to download Instagram content, iTubeGo is a great choice.
Moreover, the software is excellent for downloading audio and video content from various well-known websites. Such as Facebook, YouTube, Fansly, Vimeo, and more.
Therefore, iTubeGo is a fantastic and trustworthy video downloader program with all-in-one capabilities and a user-friendly layout.
Features of iTubeGo
With one click, you may download YouTube playlists, channels, videos, and audio.
It enables YouTube conversion to mp4, mov, mp3, m4a, avi, and other formats.
It makes it easier for you to download videos from websites like YouTube, Facebook, Instagram, DailyMotion, XVideos, TikTok, SpankBang, and xHamster.
Also, you can download many videos at once.
It offers the ability to cut audio and video from YouTube videos.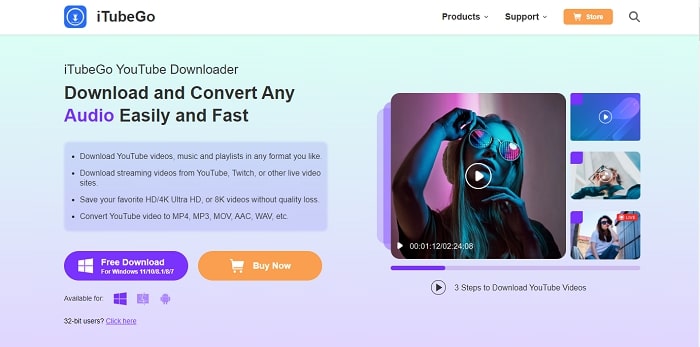 Also Read: How to Fix Instagram Couldn't Refresh Feed Error [Solved]
---
HashtagforLikes is a unique Instagram video downloader tool compared to others we've listed on this list. Although it provides an easy-to-use Instagram photo and video downloader, the app has a lot more to offer.
Moreover, the program provides a user-friendly and attractive interface for downloading publicly available videos and photos. All you require to do is copy and paste the link of the video you want to download. Then, you may click the downloading button and save the video to your device.
It has no limit to downloads.
It can optimize your Instagram profile.
Moreover, it allows swift and error-free Instagram video and photo downloads.
It is easy to use and secure.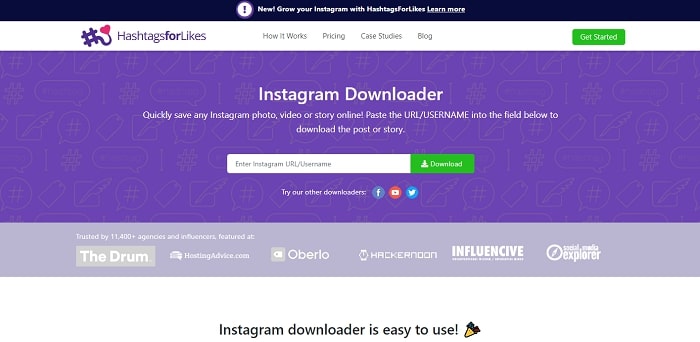 ---
Wrapping Up: 7 Best Instagram Video Downloader Apps/Websites
In conclusion, using numerous web tools, mobile apps, and browser extensions makes downloading Instagram videos simpler than ever. Hence, all of the Instagram video downloaders on our list are completely free to use, have excellent user reviews, and are recommended by users. Therefore, you can choose any option that suits you and benefit from features that will improve your social media experience. Also, drop your favorite tools or websites in the comments section below.
Author: Snehil Masih
Snehil Masih is a professional technical writer. He is passionate about new & emerging technology and he keeps abreast with the latest technology trends. When not writing, Snehil is likely to be found listening to music, painting, traveling, or simply excavating into his favourite cuisines.