Use the best free video editing tools for Windows PCs to produce amazing and captivating videos for any occasion.
Video content dominates the world today. Everybody is dabbling in creating video content, whether it be through making videos for Vimeo or YouTube, creating catchy bits for Instagram or TikTok Reels, or developing training videos for your staff or students.
As per Wyzowl's 2020 State of Video Marketing research, 92% of marketers who employ video think it is an essential component of their marketing plan. There are numerous valid justifications for that. Videos help users comprehend more about our products and services, boost traffic and revenues, and decrease support requests. But editing is necessary for every video to be finalized.
With an increasing number of the best video editing software for PCs out there, you might be unsure about which one to use. But don't worry; we've done the research for you and prepared a list of the best free video editing programs available right now. So, without further ado, let's begin.
10 Best Free Video Editing Software For PC
Here, we will introduce you to the 8 best video editing software for Windows 10 computers. Using these free video editing software, you're able to produce amazing and stunning videos for every purpose.
1. OpenShot
OpenShot is one of the best video editing software for PCs available on the market right now, with a lot of amazing features and an easy-to-use user interface. Although more complicated editing programs might provide a wide range of editing options, OpenShot's user-friendly interface and intuitive design make it the best choice for basic editing.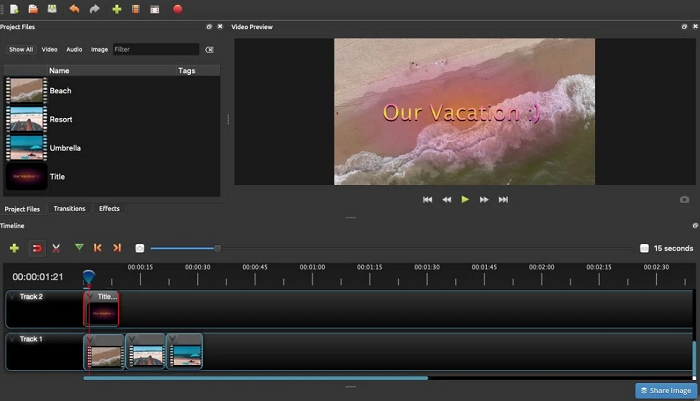 OpenShot is a powerful clip resizing, trimming, scaling, rotation, and snapping tool that is suitable for small businesses. It also offers a live preview, audio editing, time mapping, frame stepping, and credit scrolling.
Features:
It includes multiple layers for audio tracks, background videos, and watermarks.
Templates for custom title cards.
The ability to drag and drop allows you to quickly add images, audio, or video files.
Green-screen effects can be achieved using digital video effects such as hue, brightness, grayscale, gamma, and chroma key compositing.
Strong key-frame animation capabilities for making animated videos.
---
2. DaVinci Resolve
Due to the fact that DaVinci Resolve integrates professional 8K editing, visual effects, color revision, and post-production audio in one production tool, numerous professional editors of movies, television serials, and commercials prefer it over other free video editing software.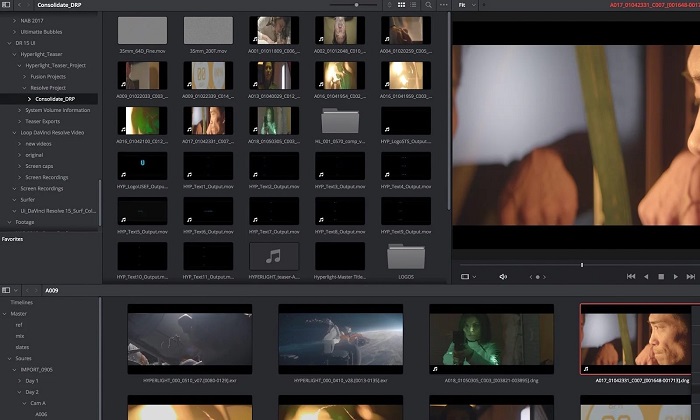 Even for files with high processing requirements like RAW and H.264, DaVinci's powerful playback engine dramatically accelerates the process of trimming and editing. This is among the best free editing software that also supports offline and online editing. Some people may find DaVinci Resolve's extensive features to be too much to handle, but for more challenging jobs, the program's free trial is ideal.
Features:
The use of a dual timeline makes cutting, navigation, and trimming quick.
With a dedicated trim interface, you can make incredibly precise edits.
Smart auto-editing that synchronizes your video and audio clips
Integrated tools for text, audio, retiming, stabilization, dynamic zoom, and picture-in-picture effects
By identifying faces in your videos, facial recognition automatically creates bins based on the subjects of each shot.
For realistically and quickly speeding up or slowing down clips, use high-quality frame rate conversions and speed changes.
Also know: Top Designing & Engineering Software
---
3. Lightworks
Lightworks has an intuitive user interface that makes it simple to get started. One of the more accessible and easy-to-understand free video editing software solutions on this list is Lightworks, which provides a variety of comprehensive instructional videos.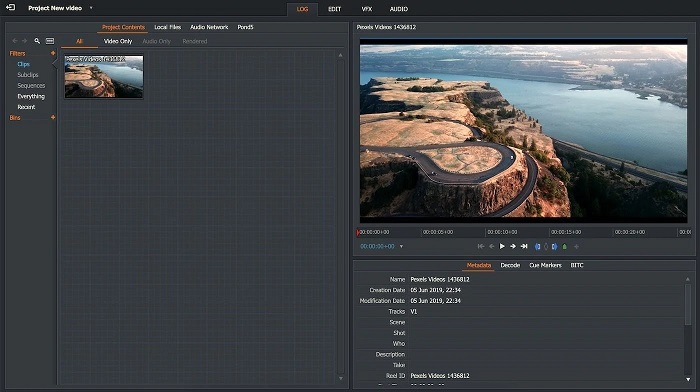 Lightworks offers a collection of distinctive stock movies and audio recordings that are allowed to feature in all videos you modify with the tool, making it possible to give your promotional video a polished look.
Features:
High-quality, easy trim tools for quick, accurate video editing
Speed optimization enables you to carry on editing while adding fresh content.
Multicam editing allows you to sync clips from several cameras
Real-time collaboration on projects with complete control over who has editing access
Simple video sharing with quick export to Facebook, Instagram, YouTube, and Vimeo
Wide-ranging video format support.
---
4. HitFilm Express
HitFilm Express, which is utilized in the production of Hollywood-style movies, may initially appear to be somewhat complex if you don't have a lot of expertise in video editing. Yet the learning process is worthwhile because HitFilm Express is one of the best free video software programs readily available.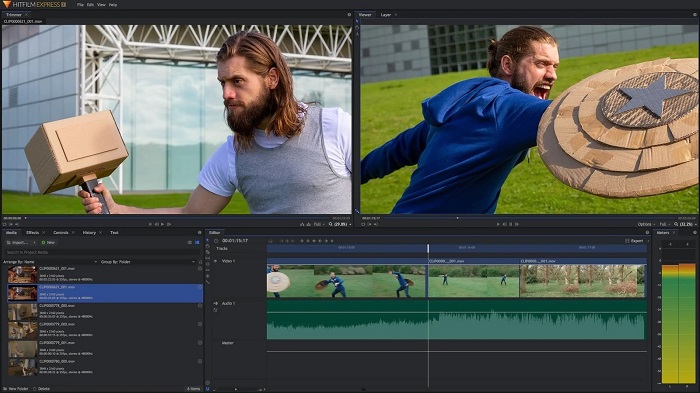 Following the installation of the application, it asks that you publish a social media status update, but it is just a small cost to pay. When editing videos or films, HitFilm's animating features are able to rapidly build and modify video and audio transitions, removing the requirement for composite shots.
Features:
Professional-grade video editing including features for trimming, color selection, and motion tracking
Composite shot improvements that let you combine two independent views to create extraordinary video effects
An automatic stabilizer to make the jerky video appear smooth
Infinitely makeable music and video timeline tracks
Once your clips have been added to the timeline, an adaptive trimmer allows you to reframe them.
Ability to immediately apply a group of qualities from one video clip to another or to an entire project.
An audio mixer can be used to perfect the sound for a professional-caliber output.
There are several transition choices, including push, dissolve, and zoom.
Also know: Best Blur Photo Background Apps of 2023 (Android & iPhone)
---
5. VideoPad
If you want to make videos of excellent quality without spending any money, VideoPad is one of the best free video editing software. To get creative with different kinds of video compositions, VideoPad offers a variety of basic and user-friendly tools, including 3D editing tools and an audio effects library.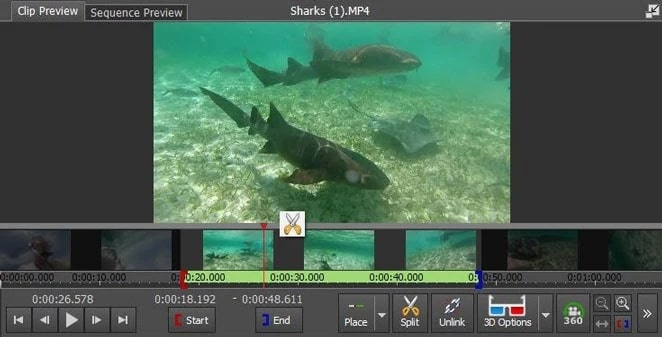 You can add transitions, texts, overlays, and special effects to your movies while also adjusting the color and adding sound effects. After that, export each of your completed movies quickly and efficiently to Google Drive, Facebook, YouTube, and other mobile platforms.  Although it does not have certain advanced functions that are offered by other free video editing software included in this list. However, the ability to adjust colors, add light effects, overlay images, and add text is sufficient to make it worthwhile to download for free.
Features:
Editing is simple and intuitive thanks to the two built-in screens (one to preview selected clips, the other to the entire sequence).
Transitions that are already made can be customized for outstanding competence.
Easily make video files that are optimized for a certain format by exporting presets.
Platforms—like Facebook and YouTube—and publish them straight from the program.
Instant video sharing using social media technologies.
A big collection of graphic effects and transitions for video customization.
Tools for stabilizing videos are examples of such techniques.
---
6. VSDC Free Video Editor
VSDC free video editing software can be downloaded in both paid and free versions. While the free version has fewer features, it retains all of the features of the VSDC video editing suite, including chroma key functionality and a mask tool for effects such as green-screen video.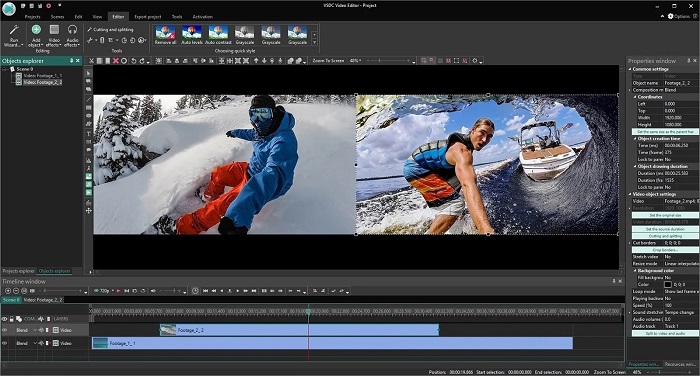 If you have the money to buy the full version, the toolkit grows to include effective post-production enhancements, video stabilization, 3D diagram templates, slideshow/presentation capabilities, and posting to social media directly.
Features: 
It also includes a full range of transitional effects.
Easy-to-use image filters are akin to those on Instagram.
Tools for masking certain elements so they are hidden, blurred, or highlighted.
Upload videos to Facebook, Twitter, YouTube, Instagram, and Vimeo using this link for social media.
For processing 4K and HD files, it is imperative to use HEVC/H.265 (an advanced video-compression standard), which maintains the highest quality at the smallest file size.
---
7. Blender
Blender video editing is an open-source, cost-free 3D creation tool. It is one of the best free editing software that includes tools for modeling and rendering 3D animations. Blender's software has a large number of tools thanks to its large user base.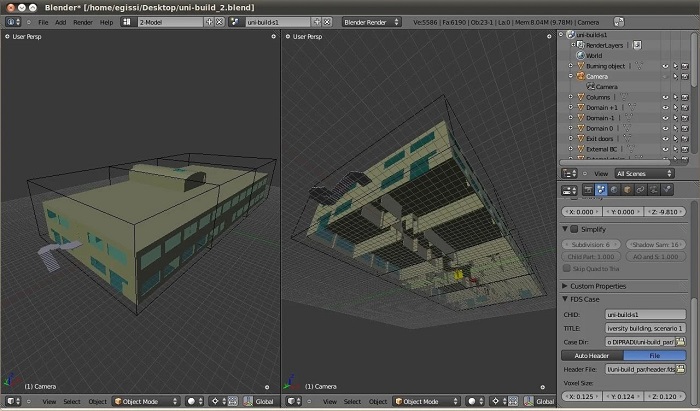 Although Blender is intended to be a 3D animation suite, it also includes a capable video editor feature that ought to be sufficient for the majority of users. Blender is versatile and the best video editing software for both inexperienced and seasoned users, making it a great choice for more sophisticated projects that can incorporate 3D animation. Blender can also handle more complex edits, including video masking.
Features:
Realistic rendering of animated objects using a path-tracer engine.
Advanced rendering techniques to speed up project saving and exporting.
Option to incorporate game logic directly into game development software.
Tools for advanced character animation with realistic kinematics.
A huge variety of vignettes and visual effects.
Also know:[FIXED] Adobe Premiere Pro Keeps Crashing in Windows PC
---
8. Shotcut
Shotcut is a cross-platform, open-source free video editing software for PC with a huge library of instructional videos. It also supports a wide range of formats, including DNxHD, FFmpeg, ProRes, and 4K. But beware—Shotcut was initially made for Linux, so some people might find the user interface a little odd. Despite this, it is still one of the best video editing software. Shotcut is perfect for audiophiles because it offers a variety of audio editing options. Users can adjust the bass and treble, make bandpass filters, change the gain, add dynamic compression, and adjust many other audio parameters using its wealth of fine-tuning tools.
Features:
FFmpeg, the top multimedia framework, provides assistance for the most recent video and audio formats.
With native timeline editing, users can add video files directly to their project file in place of using a media library.
Multiple-format timeline for combining and contrasting resolutions and frame rates within a project.
Compensators, balance filters, bass and treble filters, bandpass filters, and other advanced audio filters.
---
Choosing a Best Free Video Editing Software
Video editing software is necessary for all types of video production. With the help of these programs, you can edit your raw video files to make the necessary aesthetic improvements.  Since you have an understanding of your options for the best free video editing software, you might want to start by testing out a few of your alternatives. Every choice has advantages and disadvantages of its own. Now that you know which free video editing software is best for your requirements and the outcomes you want, hopefully, you will be able to make an informed decision.
Author: Snehil Masih
Snehil Masih is a professional technical writer. He is passionate about new & emerging technology and he keeps abreast with the latest technology trends. When not writing, Snehil is likely to be found listening to music, painting, traveling, or simply excavating into his favourite cuisines.