Looking for the best Revo uninstaller alternatives for Windows PCs? Then you are in the right place. Continue reading to find some of the most effective and similar software like Revo Uninstaller.
Uninstalling outdated, unnecessary, and unwanted programs manually from the Control Panel on your Windows computer is undoubtedly an old-fashioned way of doing so. Modern tools like Revo Uninstaller can complete the task for you more quickly and easily.
Revo Uninstaller is a lightweight and quick uninstaller for Windows. It has excellent functionality for managing or removing unwanted files from your device. Additionally, it includes extended scanning for leftovers and sophisticated scanning algorithms. It is an effective tool that does not take up much space and allows you to quickly delete unwanted programs and files.
However, this program has its flaws and appears to be lacking in several respects when compared to some of its rivals. So, if Revo Uninstaller is causing you particular issues or you simply want to explore similar software like Revo Uninstaller, here are a few of the most recommended alternatives.
Best Alternatives To Revo Uninstaller
If Revo Uninstaller no longer serves your needs or you want to try similar software like Revo Uninstaller. Then here are some of the best Revo Uninstaller alternatives to give a shot:
1. IObit Uninstaller
IObit Uninstaller is one of the best Revo uninstaller alternatives that has a similar level of popularity. It has more than 20 million downloads, which is close to the number that Revo Uninstaller has achieved over its entire lifespan. The tool is extremely quick and has a contemporary appearance. Additionally, it has a small toolbox that you can use to access your preferred apps or settings right away.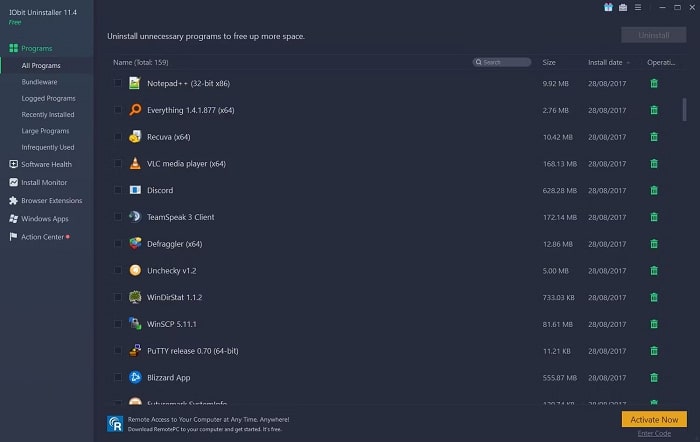 With its special features, IObit Uninstaller can uninstall programs, improve the performance of your system, and guard it against malware. Additionally, it can assist you in removing obstinate apps that even Revo Uninstaller is unable to remove, etc. You can even use it to remove Microsoft Store applications. With the aid of this tool, you're able to handle your startup items.
To uninstall software, all you need to do is click on the item and choose to uninstall. You can also use it to prevent programs from starting up automatically. It has an integrated task killer that enables you to quickly end all unnecessary processes, freeing up memory for your preferred programs and games. Revo Uninstaller takes much longer to load than IObit, which is also much lighter. With just one click, it will instantly speed up your Windows PC by uninstalling programs, clearing browsing history, and more.
Read Also: How to Uninstall Apps on iPhone and iPad in 2023 (Quick & Easy)
---
2. Absolute Uninstaller
Absolute Uninstaller is the next entry on our list of the best Revo uninstaller alternatives. Absolute Uninstaller may suit your needs if you are looking for something portable and lightweight. Absolute Uninstaller is quite similar software like Revo Uninstaller, which contains a more conventional interface. Which reminds you of the Add or Remove Program menu from earlier software.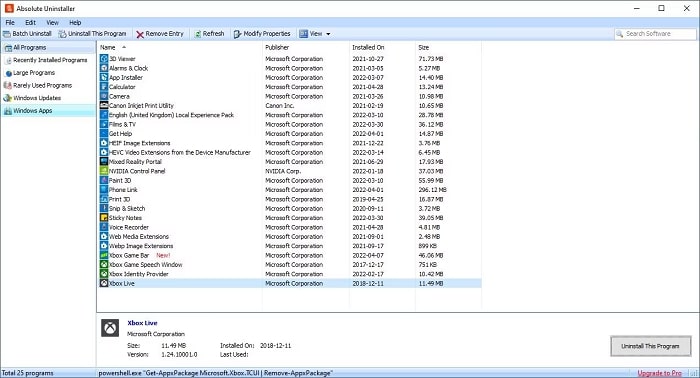 But Absolute Uninstaller has significantly fewer capabilities than Revo Uninstaller. No additional tools or Hunter Mode are available for you to use to clean your machine more thoroughly. But with its incredible speed and usability, Absolute Uninstaller more than makes up for this flaw.
When it comes to browsing through recently installed programs, Absolute Uninstaller outperforms Revo Uninstaller, and it even finds some programs that Revo missed. Additionally, if you want to uninstall multiple programs at once, the Batch Uninstall feature of Absolute Uninstaller can accomplish that. Something that Revo Uninstaller sadly lacks.
---
3. Wise Program Uninstaller
Wise Program Uninstaller is additionally referred to as Wise Care 365. It is another great Revo uninstaller alternative that contains a complete set of PC system maintenance tools that can assist you in clearing out unnecessary files, deleting invalid registry entries, and repairing file extension issues. The first screen of Wise Uninstaller displays a list of the computer's installed programs, along with two tabs labeled "installed programs" and "installed updates." The cross icon located next to every program lets you choose whether to uninstall it.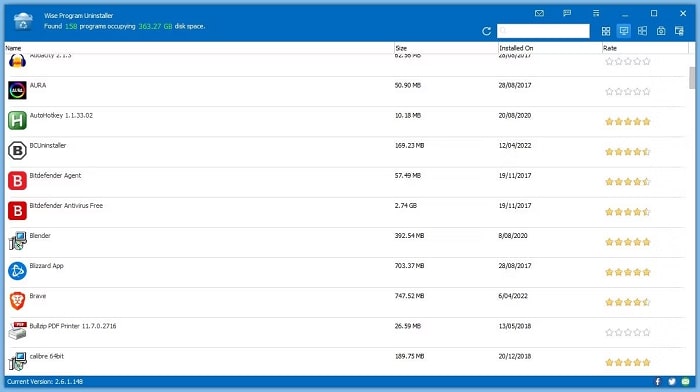 It only takes a single click for Wise Uninstaller to remove registry entries. For novice users who are still getting the hang of PC maintenance. The capability to alter the Windows Registry backup policy is a great addition. This program also eliminates unnecessary files and maintains a list of recently used programs and documents called "Temporary Files."
Wise Uninstaller falls short of Revo Uninstaller in terms of speed and features, making the latter a superior option for power users. But Wise Uninstaller is still a great option if you want to stick with freeware and save money. While maintaining simplicity, Wise Care 365 provides a wealth of features that are crucial for enhancing your PC's performance. It displays startup items, searches for junk and temporary files, and removes programs with a single button click.
Visit Wise Program Uninstaller
Read Also: How to Uninstall Nvidia Drivers on Windows PC
---
4. Geek Uninstaller
Geek Uninstaller is yet another excellent and effective Revo uninstaller alternative. Despite not being as widely used as Revo Uninstaller, it has all the features required to remove software from your computer. One of its best features is the ability to delete any file from a user's home directory. That too without removing Windows files or registry entries. This makes Geek Uninstaller incredibly helpful when attempting to remove a program that has been damaged or corrupted.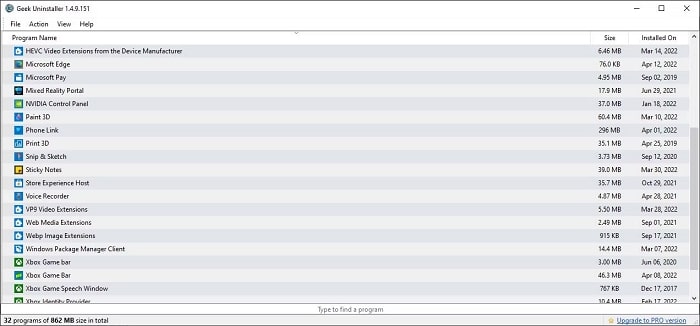 Another positive aspect of this similar software like Revo Uninstaller, is its user-friendly interface. Which makes it simple for beginners to use and comprehend. Additionally, it provides everything you require, so seasoned users do not need to look elsewhere. It's the best of both worlds. Geek Uninstaller also has a right-click context menu, which is another feature that accelerates the removal of programs.
Overall, it is a complete removal tool that completes your work without getting in the way or requiring you to think too hard. Geek Uninstaller can remove programs that are malfunctioning, damaged, or otherwise inoperable, just like Revo Uninstaller can. Its minimalist interface makes it very easy to use. However, this Revo uninstaller alternative provides all the features users would expect from a reliable program removal tool.
---
5. Bulk Crap Uninstaller
The Bulk Crap Uninstaller might be the best Revo uninstaller alternative you can use if you are looking to uninstall software in bulk. After all, the clue is in the name. Bulk Crap Uninstaller excels at multi-program removal, whereas Revo Uninstaller is incapable of doing so. To remove multiple programs at once, you can choose as many as you want. Additionally, Bulk Crap Uninstaller will display a confirmation box that allows you to change the order and mode of the uninstallation as you go.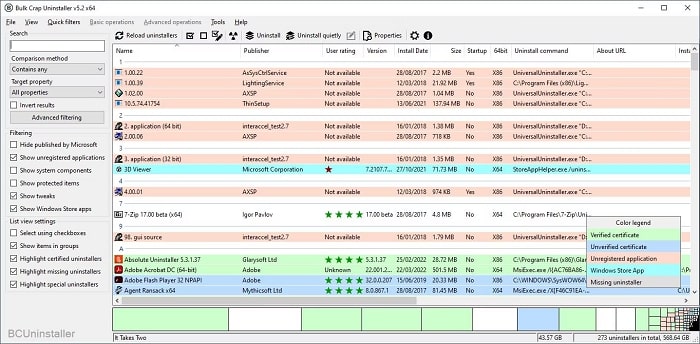 It is much similar software like Revo Uninstaller, which establishes a restore point prior to your uninstallation. Once installation is complete, you can use it to search for any missing files. However, Bulk Crap Uninstaller does more than just get rid of all of your unwanted programs. Revo Uninstaller conceals a variety of programs that need to be removed. Such as those that various system components or publishers do not want you to remove.
This is due to the possibility that deleting these files could endanger the functionality of a program or your computer. However, if you know better, Bulk Crap Uninstaller can assist you in getting rid of anything you desire. If you want to eliminate unused files from other people's computers, Bulk Crap Uninstaller is also offered in a portable version. It is one of the most advanced and effective Revo uninstaller alternatives on this list.
---
6. Ashampoo Uninstaller
Ashampoo Uninstaller is a free alternative to Revo Uninstaller that enables users to remove, manage, or uninstall installed programs on Windows. Along with performing other helpful tasks, it is also possible to clean the hard drive of different useless files. Its user-friendly interface includes quick-access buttons for all the Ashampoo Uninstaller tools.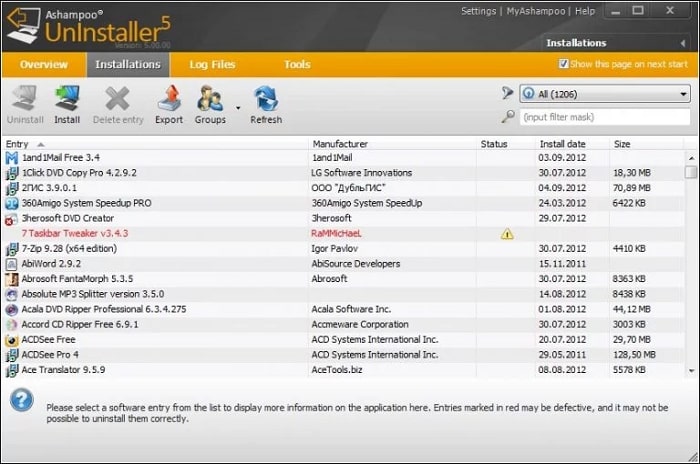 The ability to remove junk files from the hard drive is another fantastic benefit of this similar software like Revo Uninstaller. There are several options for file deletion with this feature, which is directly accessible from Ashampoo Uninstaller's interface. The extra tools include a Startup Manager, File Recovery, System Information, and various options for Registry Cleanup.
Additionally, there are specialized tools for uninstalling particular software. There is also a specific module called Startup Manager for people who want total control over their installed programs. Ashampoo Uninstaller differs from Revo Uninstaller in part because of its filters and search capabilities. It makes finding a specific program much simpler.
Also know: Best RAM Cleaner, Optimizer, and Booster
---
7. Puran Uninstaller
Puran Uninstaller is a powerful uninstaller that works with Windows versions that are 32-bit and 64-bit. It is a fantastic Revo Uninstaller alternative because it functions essentially in the same way but in a more user-friendly manner. The new tabbed user interface of Puran Uninstaller displays a list of all the installed programs on your computer.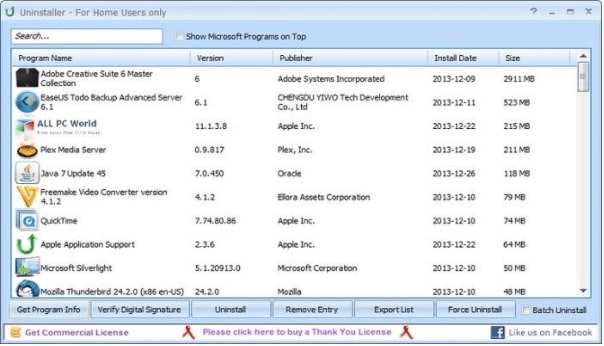 Despite having an outdated appearance, the interface is still simple to use. The program also includes a registry cleaner. Which is quite effective and does not slow down your computer as many other cleaners do. When you need something very straightforward, Puran Uninstaller is a great alternative to Revo Uninstaller.
Despite being the most potent uninstall tool available for Windows. Revo Uninstaller has a steep learning curve and high system requirements, making it unsuitable for everyone. With just one click or by using the search bar at the top of the list, you can quickly uninstall any program that you no longer need after obtaining it. Puran Uninstaller's capacity to delete all remaining files and registry entries from programs that were uninstalled several days ago ensures that your computer will never be able to run those programs again.
---
Final Takeaway
We frequently have a tendency to download numerous apps at one time that are either useless or have limited use later. Therefore, these programs just sit there taking up storage space and clogging the Windows operating system. Therefore, if you find yourself in this situation, you can use one of the top 7 Revo Uninstaller alternatives listed in the article above to remove unwanted apps right away.
These tools are tried and tested and are efficient in removing unwanted programs from a system without any harm or damage. Use them to improve your computer's performance, add more security, and make it simple to uninstall third-party programs.
Author: Snehil Masih
Snehil Masih is a professional technical writer. He is passionate about new & emerging technology and he keeps abreast with the latest technology trends. When not writing, Snehil is likely to be found listening to music, painting, traveling, or simply excavating into his favourite cuisines.