Do you enjoy watching videos on YouTube that have subtitles? But, not really sure how to add subtitles to YouTube videos. Well, you're in luck! In this article, we've compiled a list of the best YouTube subtitle downloaders that can transform the way you watch videos on YouTube.
A movie or music video is better to watch with subtitles. Additionally, subtitles are also helpful in situations where it is difficult to hear due to background noise. You might not enjoy a movie as much if it is in a foreign language. However, the story becomes more compelling and enjoyable when you watch the same thing with subtitles.
With the help of free YouTube subtitle downloaders, you will never miss out on the fantastic videos that YouTube has to offer. Additionally, you can also watch videos in different languages and better understand what the videos are saying. These tools make it simple to download YouTube videos with subtitles in a variety of languages, enabling you to view and understand videos from all over the world.
If you enjoy watching movies with subtitles, you have come to the right place. Here's a handpicked list of the best YouTube subtitle downloader tools to download YouTube subtitles as text for TV shows and movies for your convenience. So, let's get into it.
7 Best YouTube Subtitle Downloaders & Extractors
We have compiled a list of the 7 best YouTube subtitle downloaders and extractors to streamline your life. These applications are easy to use and can help you save time and effort. But bear in mind that these YouTube subtitle extractors are only designed to download YouTube videos with subtitles.
1. DownSub
DownSub is a unique platform that's compatible with numerous other streaming video websites in addition to YouTube. You can download captions and subtitles in the SRT, VTT, and TXT formats via the online app. As a result, they can be used with nearly any media-playing program that is set up on your PC. DownSub now supports over 50 different languages and enables you to get subtitles in all or any of them as necessary.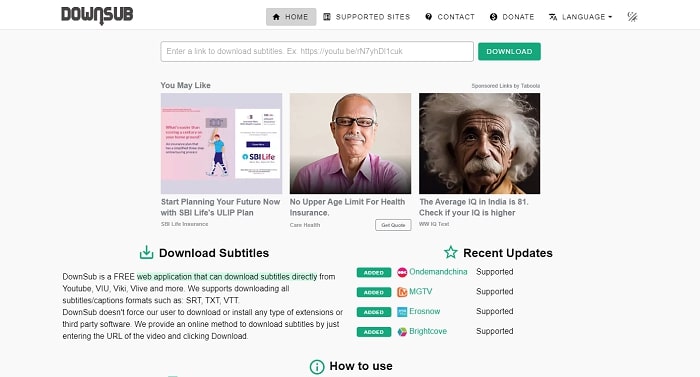 Open the Downsub website to get captions using this YouTube subtitle downloader. As soon as you have copied and pasted the YouTube video's source link into the box provided, click Download. Select the desired language on the following screen, then click the format you prefer. To download subtitles to your PC, select a location and then click Save. Alternatively, depending on the computer platform and web browser you are using, select a different option or button.
Key Features:
User-friendly interface.
Download subtitles in various formats, such as srt, ass, vtt, etc.
Supports downloading HD-quality subtitles for YouTube videos.
Fast download speed.
Search for subtitles using the video's title, language, and uploader.
Language selection for the subtitles before downloading.
Multiple subtitle providers are supported.
---
2. DVDVdieoSoft
You can download YouTube subtitles as text in the default TXT format using this free YouTube subtitle extractor. If necessary, you can remove timestamps from the web app, and you can also modify them to suit your tastes. The website's creator also provides two further applications called "YouTube Downloader" and "YouTube to MP3 Converter". That allows users to download and convert YouTube videos to MP3 formats, respectively.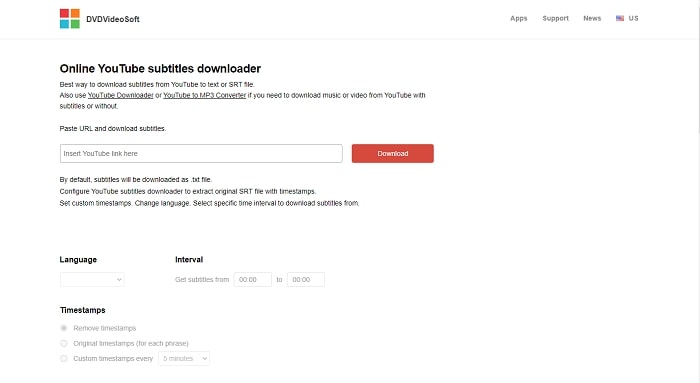 Returning to the YouTube subtitle downloader, you can use the tool rather easily by just pasting the YouTube video's URL into the text input area and selecting Download. Once DVDVideoSoft has identified the appropriate subtitles, you can utilize the provided options to set your own preferences before you download YouTube videos with subtitles to your computer.
Key features:
Supports all popular video formats
It has the capacity to download subtitles from popular websites like YouTube
Formatting options for subtitles are available.
Multiple subtitles can be downloaded simultaneously
Subtitles can be saved in a variety of formats, including SRT, SUB, TXT, etc.
You can view subtitles online before downloading
Read Also: How to Unblock YouTube Videos in 2023
---
3. Savesubs
Savesubs supports numerous websites through which it can obtain subtitles. It has a user-friendly interface in addition to the developer's promise that the web software will always be free. Additionally, you can submit videos from your computer to the portal and have it automatically extract the captions. Furthermore, Savesubs is capable of translating the captions into a wide range of languages and roughly 14 subtitle formats, making the film available for international dissemination.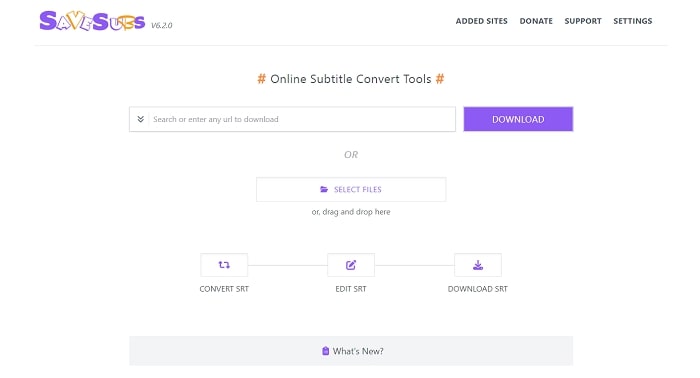 To utilize this free YouTube subtitle downloader, simply copy and paste the YouTube video link, then click Download. Then, select your favorite subtitle format and choose Download Now. You may also utilize the drop-down menus located beneath the Translate Subtitle button to convert the subtitles to a different language.
Key features
User-friendly interface.
Supports a variety of file formats and languages.
Download subtitles in different languages.
Subtitles are automatically converted to the appropriate format for your device.
Download YouTube CC and subtitles in bulk at once.
Provides assistance with tools for translating subtitles into various languages
Configurable settings for downloading subtitles for specific videos
---
4. YouTube4KDownloader
Using YouTube4KDownloader is not difficult, despite the fact that it is overrun with annoying advertising banners, deceptive masks on the crucial settings, and links that take you to different websites. This YouTube subtitle extractor allows you to download YouTube videos with subtitles in a number of languages and supports the SRT, TXT, VTT, and DFXP file formats.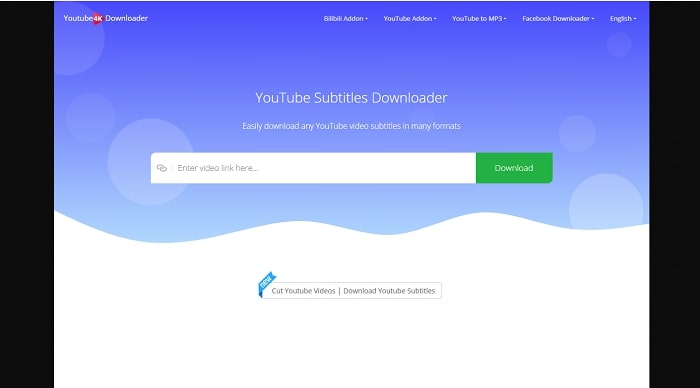 You can use this YouTube subtitle downloader by simply copying and pasting the video link from YouTube into the input area. Then wait while YouTube4KDownloader identifies and displays the various formats and languages. You can now click SRT to download YouTube subtitles as text to your PC in *.srt format. You may also choose to download the subtitles by selecting SRT (or a different format option) next to your chosen language.
Key features
Download 4K resolution YouTube videos.
Supports a variety of video formats, including MP4, MKV, and AVI
Download the video's subtitles
The capacity to download whole playlists
It has a feature that allows you to download a video's audio only
Simple and intuitive user interface
Read Also: YouTube to MP3 Downloader Chrome Extensions of 2023
---
5. EasySub
Another best YouTube subtitle downloader that works with many other websites is referred to as EasySub. The program can download subtitles in the SRT, TXT, ASS, and VTT file types. This online YouTube subtitle downloader program supports numerous languages in addition to the various extensions that the captions may be downloaded in. It allows you to broaden the reach of your intended customer base internationally.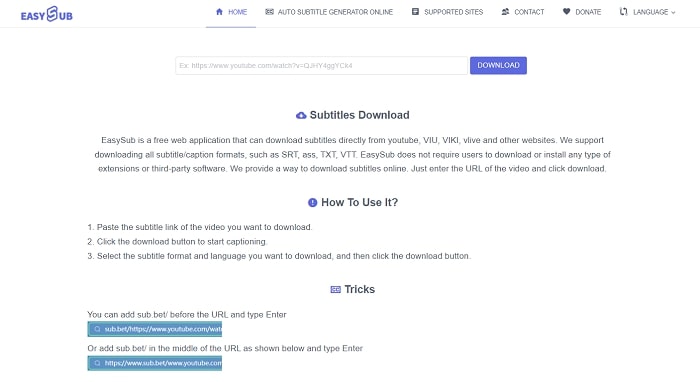 With EasySub, you may download subtitles by pasting the YouTube video link into the appropriate field, selecting Download, and selecting the button that suggests the format you want next to the language you want. The subtitles are downloaded by default in English.
Key features
Convenient and simple to employ
Download YouTube CC and subtitles in SRT format.
Exporting subtitles to a local file
Synchronize the subtitles with the video automatically
Supports more than 100 languages
---
6. YouSubtitles
The free YouTube subtitle downloader from YouSubtitles supports multiple languages, and its website is free of advertisements. However, the portal can only download them in the SRT and TXT formats.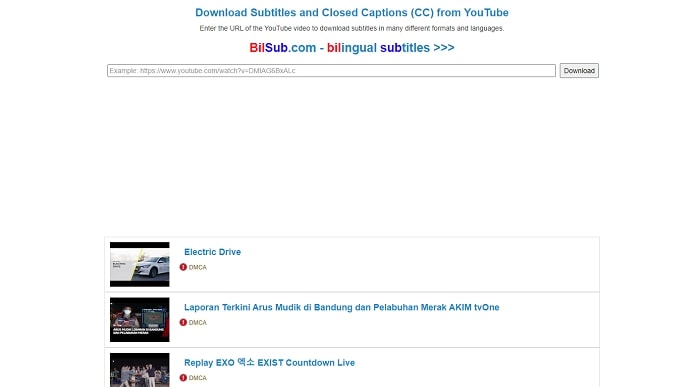 By pasting the YouTube video's URL into the text input area and selecting Download, you can download the captions from YouSubtitles to your computer. To save the subtitles in SRT format to your local computer, click the "Download" option next to your desired language on the following page. As an alternative, you may download YouTube subtitles as text by using the Download Text button in the top bar.
Key features
Save subtitles in VTT and SRT formats.
Option for bulk downloading of video subtitles.
By using the title and language, subtitles can be found quickly.
Automatically determine language and synchronize subtitles.
For simpler viewing, embed subtitles into videos.
Read Also: Video Editing Software For Windows
---
7. YouTube Subtitle Downloader
Due to its extensive functionality and simplicity of use, YouTube Subtitle Downloader is one of the most effective subtitle downloaders available. You may quickly and easily download subtitles for a variety of languages from the website so they can watch their preferred videos without losing any of the material. With the help of this program, you can download subtitles in a variety of languages, such as English, French, Spanish, German, and many others.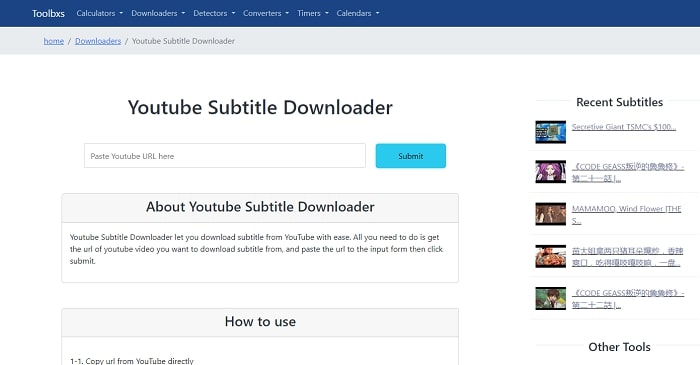 You may quickly locate the subtitle in the language of your choice, download it, and save it for later viewing with only a few clicks. Additionally, a sizable collection of subtitles can be instantly accessed and downloaded from the website. You can always find the most recent subtitles for your favorite videos thanks to the website's constant updating of new subtitles.
Key features
Simple to use.
Supports a variety of languages.
Supports a variety of video formats.
Customizable.
Automatic synchronization.
Search options.
Visit YouTube Subtitle Downloader
---
The Bottom Line
Subtitles have an important role to play in the engagement and conversion of videos, and anime is a great example of this. Due to the fact that most anime is in Japanese and does not include a dubbed version, subtitles are incredibly helpful and popular. Therefore, subtitles have a bigger role in engagement and conversion.
This article covered the best YouTube subtitle downloaders that make it simple for users to download YouTube videos with subtitles. We hope you found this information useful and can now quickly download YouTube sub-files for your preferred YouTube film.
Author: Snehil Masih
Snehil Masih is a professional technical writer. He is passionate about new & emerging technology and he keeps abreast with the latest technology trends. When not writing, Snehil is likely to be found listening to music, painting, traveling, or simply excavating into his favourite cuisines.