Is there any particular YouTube video that you cannot access in your country? It may be because of geographic restrictions and network filtering. However, you do not need to worry about it, as we will cover some of the most effective and easiest methods in this article to unblock YouTube videos in your country.
YouTube has grown to be a crucial aspect of our lives in the current digital era when online content is abundant and easily accessible. YouTube has transformed how people consume media because of its limitless selection of videos, which range from instructive tutorials to fun vlogs. But regional limitations frequently make it difficult to access specific videos, leaving users angry and desperate for a fix.
Due to licensing restrictions or filtering, certain YouTube videos can only be accessed in certain locations. Similar restrictions have been placed on YouTube in many businesses and educational institutions to stop students and staff from becoming careless.
Fortunately, assistance is within reach. To enable you to unblock YouTube and view the videos and YouTube unblocked Google sites you desire, we've compiled some effective tips and tricks in this tutorial. We're here to assist you, whether you decide to watch YouTube through a VPN, proxy, or another method. So continue reading to learn everything you need to know about unblocking YouTube. But before that, let's first understand why YouTube videos get blocked.
Why Do YouTube Videos Get Blocked?
YouTube may have restrictions for various different reasons, depending on the nation or organization that enforces the limitations. Some of the typical explanations for YouTube blocks include the following:
In order to prohibit access to video content that is not appropriate for children, age limitations have been set in place. Videos that do not violate YouTube's policies but are not suitable for viewers under 18 based on their community standards may still have age restrictions.
Age-restricted content covers topics including child protection, harmful or risky behaviors, nudity and sexually explicit material, violent or graphic material, and foul language. This safeguards children against offensive material.
---
YouTube is a useful tool for both students and workers, but it may also serve as a big distraction that hinders their work efficiency and exposes them to inappropriate material. For this reason, network managers sometimes impose network-level restrictions to limit access to YouTube throughout an entire network at educational institutions, colleges and universities, and workplaces.
---
Videos containing content that violates YouTube's strict guidelines against infringement of copyright may be restricted or removed. The objective of doing this is to safeguard the rights of content makers and stop the unauthorized transmission of protected content.
---
Due to licensing rights, video owners occasionally forbid particular regions from viewing their movies. As a result, viewers in some locations might not be able to access specific videos. "Geo-fencing" refers to this method. The makers impose these restrictions. YouTube has no control over them.
---
According to YouTube policies, it is also forbidden to post inappropriate or offensive material, such as hate speech, violent videos, and sexually explicit material. The guidelines cover a range of contents, including regulated goods, misinformation, violent or harmful content, sensitive content, spam, and deceptive practices. These restrictions allow for the removal or blocking of certain videos.
---
Over time, YouTube usage has become illegal in many countries. North Korea, China, Iran, Eritrea, and Turkmenistan are some examples. A few other nations have occasionally restricted YouTube for political or religious reasons.
This is because the government wants to regulate the dissemination of information and keep the public from obtaining materials that the governing body considers unsuitable or damaging. These types of content involve hate speech, breaking the law, violent videos, and defaming leaders, religion, or the government.
Also know: Best Free Movie Apps for Android [2023 Updated]
---
Ways To Unblock YouTube Videos
You can unblock YouTube videos and take advantage of uninterrupted video streaming by following a few simple steps. Here's how to unblock YouTube videos in different ways:
1. With a VPN
A VPN makes it look as though you are using the internet from an alternate location by encrypting your connection to the internet and routing data via a remote server. You may watch Youtube unblocked videos from any part of the globe using this program, which hides your IP address, safeguards your privacy on the internet, and enables you to get over any local limitations or filters.
Here is a simple guide on how to use VPNs to unblock YouTube videos:
Select a trustworthy VPN provider that supports YouTube. Some of the most popular VPNs available include Windscribe, ExpressVPN, NordVPN, and Surfshark.
Install the VPN application on your device after registering for the service.
Open the VPN application, then join a server that is not blocking YouTube.
Once you are connected, launch your web browser and navigate to YouTube to view the restricted videos.
However, using a VPN has some limitations. VPNs can be vulnerable to spyware and malware attacks since they are not completely secure. Free VPN services might not provide the same level of protection as commercial VPN services and might have constrained bandwidth and sluggish speeds.
Consequently, you should think about spending money on a paid VPN because cheap VPN providers could potentially disclose user data or show malware-infected advertisements. It's also crucial to do research on local regulations before utilizing a VPN because certain nations have strong laws that either forbid or restrict the use of VPNs.
---
2. Using the Proxy Server
You can access the internet using a proxy server as an intermediary. By changing your IP address, you can access restricted content while avoiding geo-restrictions. Obtain a web proxy server from an area where YouTube is accessible if you simply want to use the service. In the settings of your browser, type the port number and IP address of the proxy server. The proxy server is now forwarding your traffic using a different IP address. Choose the YouTube video that you want to unblock.
To avoid having your connection throttled, you should pick a reliable proxy provider with quick speeds, high uptime, and limitless bandwidth. We advise employing HTTPS-enabled proxies as well. This implies that nobody can see the websites you're browsing because they encrypt their internet traffic.
On the other hand, if you want to swiftly unblock any particular YouTube video, you can choose web proxies. One kind of proxy server that may be accessed via a website is a web proxy. Web proxies interact with a site on your behalf by passing requests from the server to a proxy server. You may make the procedure easier by using some web proxies that are dedicated solely to YouTube.
However, there are a number of drawbacks to employing a web proxy server to make Youtube.com unblocked. Frequently, proxy websites lack encryption. Your personal data, including passwords, usernames, and payment details, could thus be compromised. That could ultimately end up in the wrong hands. Instead, using a VPN will provide greater privacy and security.
---
3. Using a Browser Extension
An add-on or extension for your browser enables you to extend its functionality. You could search for and install a plugin or add-on that enables you to unblock YouTube videos. For well-known web browsers like Chrome or Firefox, these plugins are accessible.
Do thorough research before downloading extensions to avoid getting an add-on that is unsafe, insecure, or even contains malware that might damage your device. In addition to security issues, certain extensions could wind up slowing down your browser and using up more resources, which might affect how you surf.
Also know: Best YouTube to MP3 Downloader Chrome Extensions of 2023
---
4. Using Tor Browser
The Tor Browser is a wonderful choice if you'd prefer to access blocked YouTube videos via a web browser. With the help of the open-source, free Tor Browser, you can browse the internet anonymously and get around geographic limitations. You need to download the program from the official site in order to use Tor Browser.
The main advantage of Tor is that it can provide an exceptional level of confidentiality. But when compared with VPNs or proxies, this usually means that browsing rates are slower. It's important to keep in mind that the Tor Browser actually has a bad image. Because it has been linked to unlawful activity because of its use for browsing the dark web. However, Tor is secure and legal, so you should use it with caution.
---
5. Using Google Translate
A well-known free online resource for translating data and web pages between languages is Google Translate. You can truly utilize this tool to access restricted YouTube content. Even though the technique appears a little awkward, it is quite effective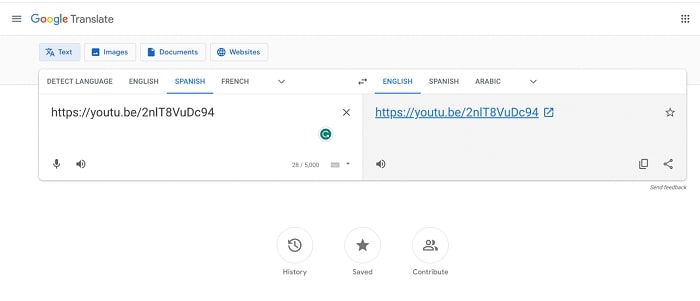 Here's a step-by-step tutorial on how to unblock YouTube videos using Google Translate:
Visit the Google Translate website.
Set English as the output language.
Enter the invalid YouTube link in the search box on the left side of the page.
Click the link that appears in the right output area, and then copy it.
But not every video will respond well to this technique. Additionally, the translation process might lead to lower-quality and slower-loading videos.
---
6. Download YouTube Videos
Although it is a frequent hack, doing so is illegal and could lead to legal action. We do not advise downloading videos from the website, even though it can be a practical technique to unblock YouTube videos. Despite how widespread this technique is, YouTube considers it illegal and a violation of its Terms of Service to download videos through third-party services.
---
7. Modify Its URL
This is a smart and efficient way for employees and students to unblock YouTube videos. By including their URLs in a blocklist, network administrators frequently block websites. If the YouTube home page, http://www.youtube.com, is blocked, you can attempt getting around it by entering https://www.youtube.com in your browser's address bar. This might deceive the firewall on your network, allowing you to make YouTube.com unblocked.
Although this approach might work in some situations, it is not always successful. Additionally, network administrators may restrict YouTube's HTTPS URL, making this technique worthless. Additionally, since that approach is more comprehensive, it won't work for anything that is geo-blocked or banned in your area.
Also know: Best Free Video Editing Software For Windows PC
Frequently Asked Questions
Q1. How do I unblock restricted videos on YouTube?
There are a number of ways to unblock YouTube, including installing the Tor browser, connecting through a browser extension or proxy server, using a VPN, or even "translating" the website you want into another address using Google Translate.
Q2. How do I unblock YouTube on Chrome?
To unblock YouTube on Chrome, make sure you have administrator privileges. To do so, follow the steps below:
Launch the Chrome application.
From the three vertical dots on the right, choose More.
Select Settings from the menu.
Click on Privacy and Security.
Choose Site Settings.
Unblock the website you would like, such as YouTube.com.
Q3. How do I unblock YouTube at school or the office?
To unblock YouTube, use a VPN. The best method for unblocking content while at school is by far a VPN. With a VPN, you can easily get around network restrictions on any network, not just ones at school.
---
Bottom Line
When unblocking YouTube, security and privacy are still major concerns. The methods listed above can be used to watch free YouTube unblocked videos. However, using VPNs is typically the best option to access unblocked YouTube and Google sites. A VPN is well-known for offering high-grade security. However, this is highly dependent on the service's quality. Your internet security may be in danger and your personal information may be accessible to hackers if you use a free or substandard VPN. It also pertains to add-ons and web browsers that keep track of your internet activity.
However, you can avoid all of these by going with a trustworthy VPN provider that has a solid reputation for offering the highest levels of security and anonymity. So, what are you still waiting for? Use the solutions provided to watch free YouTube unblocked videos and Google sites without any geographical restrictions in your country.
Recommended:
Author: Snehil Masih
Snehil Masih is a professional technical writer. He is passionate about new & emerging technology and he keeps abreast with the latest technology trends. When not writing, Snehil is likely to be found listening to music, painting, traveling, or simply excavating into his favourite cuisines.