The Metaverse continues to entice people into its realm. With everyone trying to experience this next big thing, even the real estate market didn't leave behind. Now everyone is looking to buy land in the Metaverse. Although, the idea of investing in a plot of land owned virtually sounded absurd a couple of years ago. However, now Metaverse virtual real estate is among the hottest properties people can buy.
According to reports, Metaverse virtual real estate sales in 2021 reached $500 million, with approximately $85 million sold in January 2022 alone. Furthermore, it is expected that Metaverse property sales could reach nearly $ 1 billion in 2022. As a result, you could earn an early-access advantage in this fast-moving and high-growth sector by buying real estate in the Metaverse.
Buying a virtual land in the Metaverse has become the next big thing after the NFTs become manifest, and we may see a surge in this concept very soon. However, the major question that must be coming into your mind is How to buy land in Metaverse? Are there any standard protocols that we need to follow to buy real estate in the Metaverse?
So, if you are interested in buying virtual land in the Metaverse but still unsure about how to buy Metaverse Virtual Real Estate, here's our comprehensive guide. But first, let's understand what Metaverse land is?
What is Metaverse Land?
Before deciding to buy land in Metaverse, it is crucial to understand what Metaverse virtual real estate is and why it has been gaining so much popularity lately.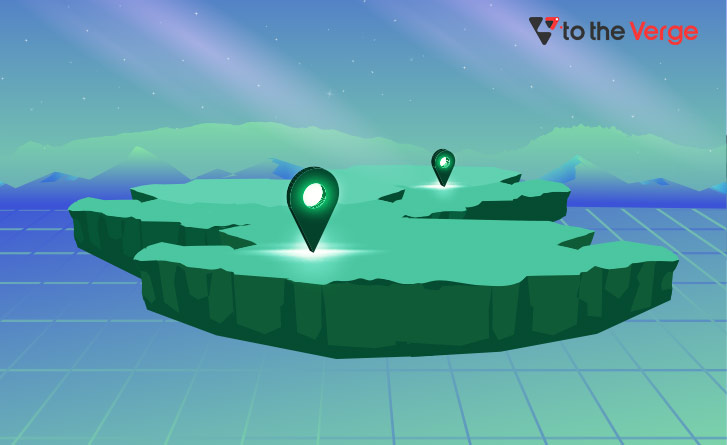 The idea of metaverse virtual real estate gains prominence as the Metaverse showcases the better potential for serving as a virtual replica of the real world. This virtual land is purchasable and programmable, and it's bought, sold or exchanged in the form of non-fungible tokens (NFTs) in exchange for a cryptocurrency with authorization.
Each parcel of Metaverse property is on the blockchain and can be easily verified for authenticity. Like land in the real world, virtual land is purchased mostly for cryptocurrency. This Metaverse virtual space is valued as users can create memorable experiences, play games, socialize, host events, etc.
As they are in the form of NFTs, the ownership over the Metaverse virtual real estate and the digital assets can be easily proven. Therefore, all transactions involving Metaverse property are equally public records. Users can normally buy real estate in the Metaverse through the platform's marketplace or opt for third-party NFT platforms such as OpenSea and Rarible.
Understanding what Metaverse land is, brings up many other equally crucial questions: Why should you buy land in the Metaverse? Why is so much hype all around? How can you buy land in the Metaverse? So, let's find out.
How to Buy Land in the Metaverse
Fortunately, purchasing land in the Metaverse is not as complex as buying property in the physical world. However, you have to follow a few basic steps to buy land in the Metaverse.
Step 1: Make A Digital Wallet
Before you set on to buy land in Metaverse, the first and compulsory thing is to have a digital wallet. But, of course, you cannot just swipe your credit card for the payments in the Metaverse. However, we cannot say anything with conviction. Maybe in the near future, you can! But, as of now, you cannot.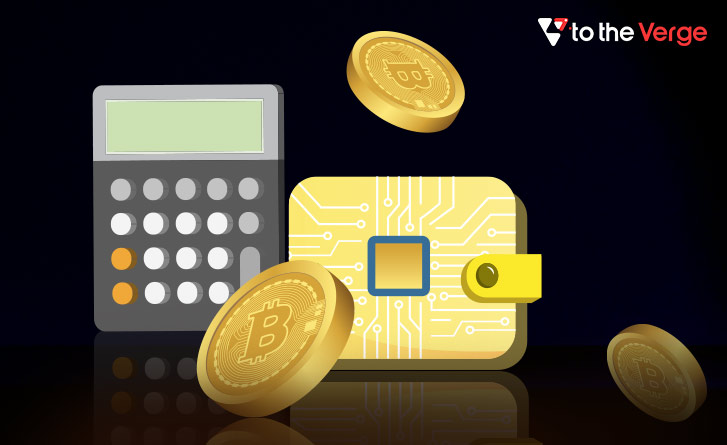 If you wish to make a purchase in the digital world, you need to have a digital wallet to complete the transactions. For example, if you want to buy the land in the Decentraland Metaverse. Then you need to have the in-game Crypto called the "MANA," and to get the Crypto; you need to have the digital wallet.
The digital wallet you created to buy land in Metaverse will be hosted from the outside and connected to the account.
2. Select Your Real Estate Platform
There are many virtual metaverse platforms on which you can buy Metaverse property. The two most well-known options involve Sandbox and Decentraland. However, if you want to purchase through a third party, OpenSea is a great option.
OpenSea is a great idea for first-time buyers as it allows you to shop around without continuously switching between platforms. In addition, you can compare metaverse property prices and amenities and assess the value based on the virtual neighborhood the land plot is in.
If you want all-inclusive information about where you're buying real estate in the Metaverse, it's best if you go with Sandbox or Decentraland. You will also get a better understanding of your neighbors this way. For this guide, we will be using Decentraland since the steps are almost similar across all platforms.
Scroll down to the "Trade" option and click on the "Start Browsing" button from the Decentraland website. However, before buying anything on Decentraland, your Metamask must be funded with a cryptocurrency called MANA. You can purchase MANA from Coinbase, KuCoin or Binance and transfer it to your digital wallet.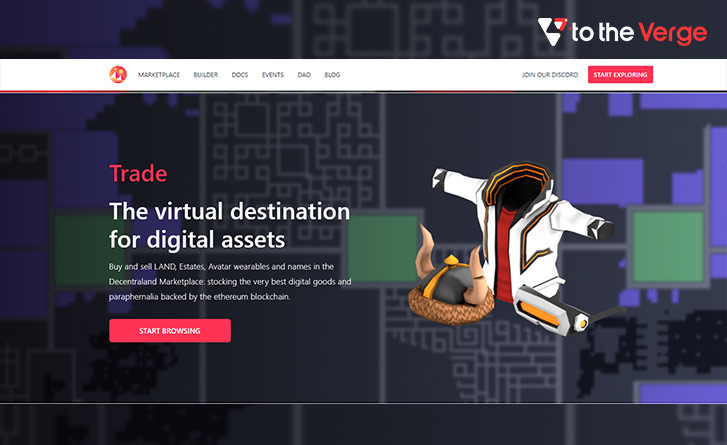 You have to browse through different available pieces of land from the Decentraland Metaverse land map and select the one you wish to buy. You can see how far your property is from more well-known locations. Prices tend to increase for Metaverse properties that are close to popular places.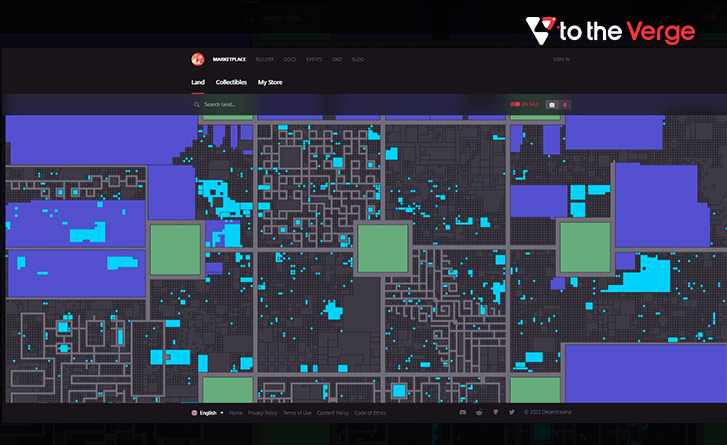 3. Browse and Select a Plot of Land
Once you choose a piece of Metaverse property you wish to buy, click on it to see available information. On Decentraland, you can purchase Metaverse virtual real estate using either ETH or MANA. Then, you can view the metaverse property prices and place a bid or buy outright. But, before you can purchase, you have to connect your digital wallet to the platform.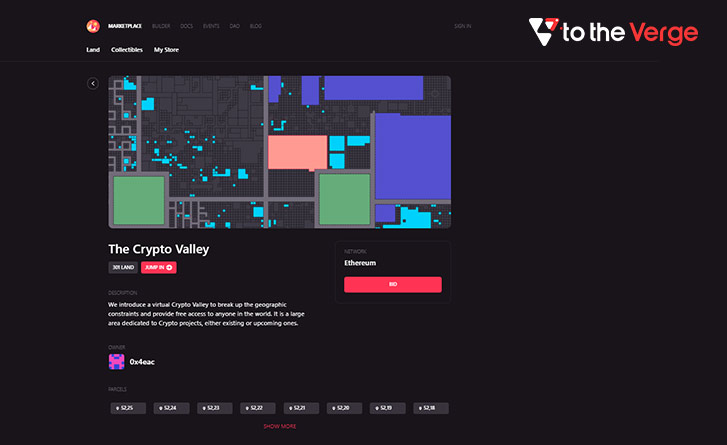 4. Connect Your Wallet
You must connect your digital wallet to your account to confirm your purchase. Then, just click on Jump In and sign up using your wallet. Once you are logged in and verify your purchase, your Metaverse virtual real estate will be sent to your digital wallet. You will become the authorized owner of that Metaverse property, and anyone can confirm its legitimacy on the blockchain.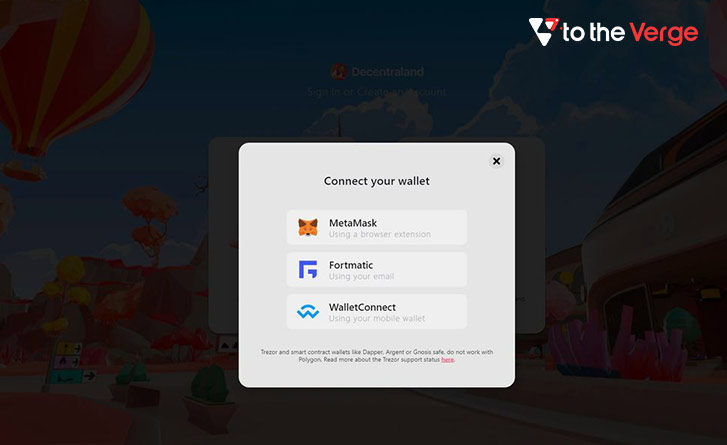 It's significant to note that a gas fee is also involved, so ensure you have a little extra than the amount mentioned on the screen. Or else, if you wish, you can also make a bid. Again, this provides you some room for negotiation, as owners can make a decision whether to accept or reject it.
5. Confirm Your Purchase
The purchase will get through, given that you have sufficient funds in your digital wallet and the Metaverse property prices are agreed upon. In addition, you can confirm your Metaverse virtual real estate in your wallet. If you're using Trust Wallet, then go to Collectibles. For the MetaMask wallet, go to NFTs to get authorization for your purchase.
Remember that location is as important in the Metaverse just like it is in real life. Landholdings alongside plazas (green areas) and districts (blue regions) have more value than plots on the outskirts of Decentraland. The downside is that they're the most costly on the Metaverse land map, but there's a probability that they can gain the quickest and make better profits for owners.
Where Can You Find Virtual Land for Sale?
We've already mentioned some of the top metaverses that sell Metaverse property. However, before we get into some of the details, it's worth noting that most platforms will have a limited amount of plots available. For example, Decentraland is allocated into 90,601 individual virtual land plots of equal size, while the Sandbox is made up of 166464 parcels, which the platform calls LANDS.
But there are many other options available, each offering Metaverse Property appropriate for all activities, like events, advertising, services and business. So the top metaverses include:
The Sandbox – The Sandbox land can be found through the Sandbox's own platform or can be purchased second-hand on some third-party NFT exchanges, such as OpenSea and Rarible. However, these have conventionally been more costly than land in official sales.
Decentraland – The Metaverse Property from Decentraland has ranked at the top of most expensive sales, with land plots going for millions. A lot of the attraction of Decentraland is related to the platform's high-profile partnerships with brands and its celebrity and influencer tenants.
CryptoVoxels – This is a digital world that ranks amongst the smallest, initially involving just 3,026 parcels. Those can be bought through direct sales or OpenSea for USD and ETH. Unlike other Metaverses, CryptoVoxels has kept growing and currently features 7351 plots. The lowest price for a plot of land is presently around 1.899 ETH (approximately $5,335).
Somnium Space – This Metaverse first came into the scene in 2018 and had hefty attention on virtual reality offerings, and it's known for its games and NFT art. As of 2022, 5,000 unequally divided land parcels were on the platform. However, more land is estimated to be released in the future. The currency of Somnium Space is $CUBE, and plots can easily be found on OpenSea.
Why Would You Buy Metaverse Virtual Real Estate?
Like real estate in the real world, your intentions for buying virtual land in the Metaverse may differ according to your requirements. However, most people buy it for either entertainment or investment purpose. From popular celebrities like Snoop Dogg and Will Smith to many other big brands such as Standard Chartered Bank are buying land in Metaverse these days. Recently, Indian Singer Daler Mehendi also jumped on the bandwagon and named his land "Balle Balle Land." All they have different plans for their Metaverse property.
Additionally, it is also important that you know how to use that virtual land for entertainment and gain profit from it like you can host events like Snoop Dogg, who calls his land Snoopverse. In which he can host concerts for his fans on his virtual land. Buyers can even choose to be a neighbor of their favorite celebrity for hefty Metaverse property prices.
Notably, the first metaverse fashion week has also been organized in Decentraland. However, some people buy virtual land in the Metaverse for investment purposes. Metaverse users are quickly buying up parcels in virtual projects, causing their Metaverse property prices to increase even further. So a user buying up land in the Metaverse can then sell it for a pure profit.
There is a high possibility that the Metaverse property prices will increase dramatically in the near future. So without any delay, let's dig into how to buy land in the Metaverse?
Final Thoughts
As with any other emerging technology, there are risks and rewards associated with any investment you might think of making. And certainly, Metaverse virtual real estate might seem like a mind-boggling concept to many. Still, the potential of virtual worlds and adjacent technologies like virtual and augmented reality and artificial intelligence can be uncertain.
Only time will tell whether the Metaverse is just another hypothetical investment filled with high-priced Metaverse properties or if virtual worlds are the future of the internet.
Author: Snehil Masih
Snehil Masih is a professional technical writer. He is passionate about new & emerging technology and he keeps abreast with the latest technology trends. When not writing, Snehil is likely to be found listening to music, painting, traveling, or simply excavating into his favourite cuisines.