Decentraland is here with the biggest virtual fashion week. From 24th March till 27th March, visitors can enjoy multiple events and activities in the Decentraland's Metaverse Fashion Week. One can access it through Decentraland's application and join in either by linking their wallets to enjoy all the features or as a guest where the information would be locally stored, and the experience would be slightly limited.
The MVFW entails four days of runway shows, fashion experiences, pop-up stores, panel talks, afterparties, and more, featuring a plethora of luxury labels and digital brands.
Reportedly, 60+ brands have participated in the flamboyant event to showcase their exclusively curated NFT collections in one of the most popular and pioneering blockchain-based virtual worlds. David Cash, the guest panel talk curator for the MVFW, said about the events, "We've sought to present fashion in every form possible, from runway shows to retail experiences, fashion presented as art, film, photography, and even fashion presented in ways that extend beyond the confines of reality—as, in the metaverse, anything is possible."
Some exciting areas to check out in the MVFW would be The Luxury Fashion District, presented by UNDX and Vogue Arabia, will entertain a masterpiece of fashion houses, brands, designers, and fashion devotees. Brands like Docle&Gabbana, Etro, Elie Saab, Frank Muller, and more will debut in the Web3 space. In addition, Rarible Street will be a temporary space that will host several pop-up shops by brands such as Placebo Digital Fashion House, The Fabricant, and more. Another thing to look forward to is the debut of flagship stores of Forever 21, Philipp Plein, and Estee Lauder. Not only this, expert panel talks on digital fashion, NFTs, Web3, and the future of metaverse are also a gripping part of the event.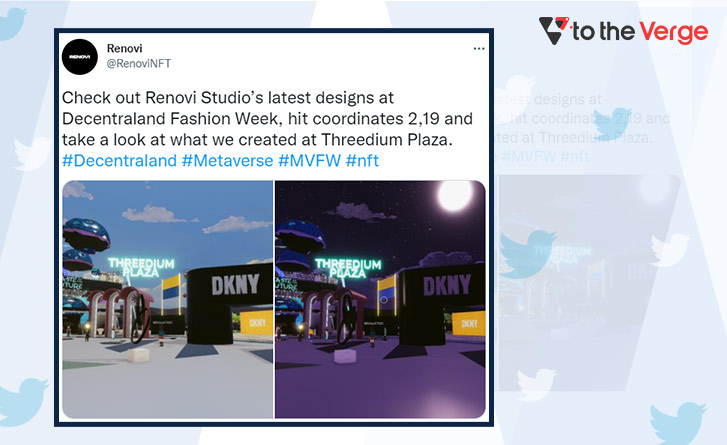 Moreover, London-based architect, 3D design, and developer-centric NFT marketplace, Renovi designed virtual stores for companies like DKNY, Phygicode by WyldFlwr, General Motors, Lion, Taste of the Future, Prive Porter, and Charles and Keith, that will be showcasing their brands and products in the Decentraland's fashion week. Reportedly, DNKY will offer avatars a unique and immersive experience that is themed around its Spring 2022 Campaign "Do Your Thing." In addition, General Motors will showcase its latest electric vehicle innovation, highlighting the vibrant look of the company's future. And "Taste of the Future" will feature virtual socializing, exclusive cocktail serves, iconic custom virtual wearables, and more exciting experiences. All of these would be available within the Threedium Plaza in Decentraland.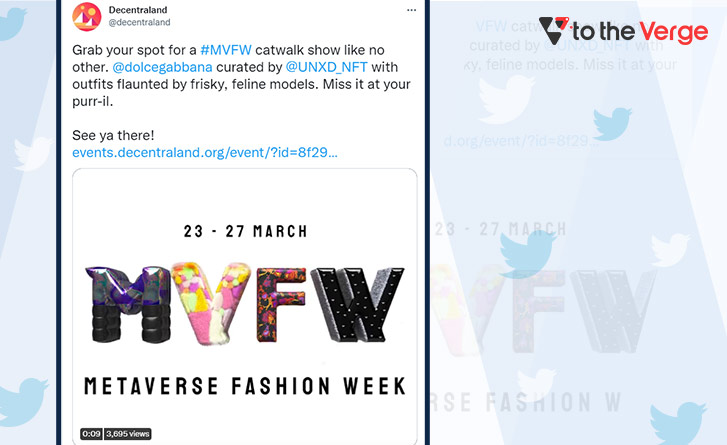 The co-founder of Renovi Studios, Andy Charalambous, said, "We're delighted to have worked with some of the world's leading brands to bring their vision to life in the Metaverse. We have worked hard to create some truly unique stores and spaces for the show."
Author: To The Verge Team
Our aim is to chase the future, innovations, and the latest trends of all things tech. We love to interact with industry experts, understand their diverse and unique perspectives, and spread their ideas.