Indian singer, songwriter, and record producer, Daler Mehndi became the first Indian to acquire a virtual property in the Metaverse. He has named it 'Bale Bale Land.' The artist had launched the metaverse land built on PartyNite, a Made-in-India metaverse platform, on the occasion of Holi. He had posted updates regarding the same on his Instagram handle.
Earlier this year, on Republic Day, Daler Mehndi had performed in an event on the PartyNite metaverse platform. He became the first Indian artist to perform a gig in the metaverse then and now owns a metaverse land. The artist said in an interview, "I went with an open mind on PartyNite Metaverse, and it was a very rewarding experience. Audiences have moved online, and I believe it is going to stay. The physical world has its charm, but with Metaverse, the sky's the limit. I really enjoyed performing on PartyNite, and I wanted a permanent presence & hence created Balle Balle Land."
The artist, best known for his contribution to making Bhangra and Indian Pop music, independent of Bollywood, famous globally, said that the idea behind the Bale Bale Land is to promote Punjabi and Sufi music further. In addition, he wishes to support the artists' community and the industry.
The metaverse's land price has not been disclosed, though. Reportedly, it will host movies, concerts, and other entertainment events. Moreover, exclusive Bale Bale Land Passport NFTs were dropped during the event, and soon a Daler Mehndi store would open in the Bale Bale Land to sell more merchandise as NFTs for the fans.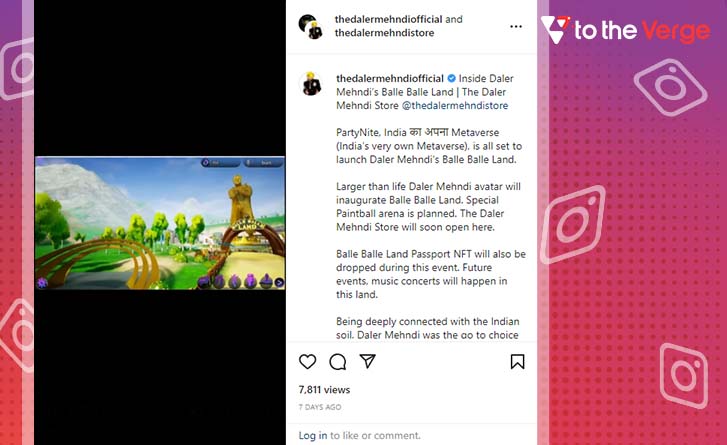 The platform features a colossal statue of the artist in gold. In addition, a special paintball arena is planned, and around that arena, the Daler Mehndi store is expected to be opened soon. He shared a video of how the platform looks on his YouTube channel and Instagram handle that then saw several comments congratulating him on becoming the first Indian to buy land in the metaverse.
YouTube Video Link – Daler Mehndi's Balle Balle Land Inauguration | Metaverse | Holi in PartyNite
PlayNite is an Indian Metaverse platform built by Hyderabad-based game studio Gamitronics. It is a digital parallel universe with playable NFTs powered by blockchain. The platform enables users to hang out with friends as customizable avatars, meet new people, explore new worlds, join parties, and enjoy several games and events.
Author: To The Verge Team
Our aim is to chase the future, innovations, and the latest trends of all things tech. We love to interact with industry experts, understand their diverse and unique perspectives, and spread their ideas.