Art is a form of self-expression that evolves with time. Artworks have found their way through graphic designs, animations, NFTs, crypto art, and other states as the world proceeds toward greater digitization.
Earlier, most people associated art with traditional canvas paintings made with paintbrushes and other artistic tools, using a wide variety of mediums ranging from acrylic to oil pastels.
However, art and other forms of creative expression have now begun exploring the various technological mediums that they could utilize to enhance the qualities of the art industry.
Amongst numerous mediums, NFTs, Crypto Artwork and Visual Arts like Photography, Filmmaking, and Design top the list.
In this article, we've covered the meaning of crypto art, the difference between crypto art and NFT, crypto art technology and how you can create crypto art. So, without further ado, read till the end to learn more!
What Is A Crypto Art? 
Crypto Art is essentially a form of Digital Art that, to a great degree, is on a technical level, requiring certain specific skills and knowledge.
With the applied know-how of blockchain technology and its functions, digital artists, visual artists, and even sculptors with digital and physical artworks like paintings and installations could turn these into crypto artwork.
Drawing a connection between the terms blockchain and crypto, you can therefore perceive that crypto artwork would be a form of art shared, visible, and traded on a blockchain network.
Furthermore, concepts like coding, cryptography, and digital currencies also have a role to play in the distribution of NFT crypto art.
What Is The Difference Between Crypto Art And NFT?
A swirl of terminologies have originated since the idea of metaverse rose to popularity and blockchain technology came into the limelight with its subsidiaries – Cryptocurrency, NFTs, DeFi and more.
Given this, it is only natural to find oneself in a state of puzzlement with various interpretations of these new terms around. So, if you wonder how crypto artwork is different from NFTs, the truth be told, both are the same.
Simply put, crypto art is an extension of digital art that becomes an NFT when published on the blockchain. Hence, one may call it NFT Crypto Art, Crypto Artwork, or plainly an NFT. They all would mean the same.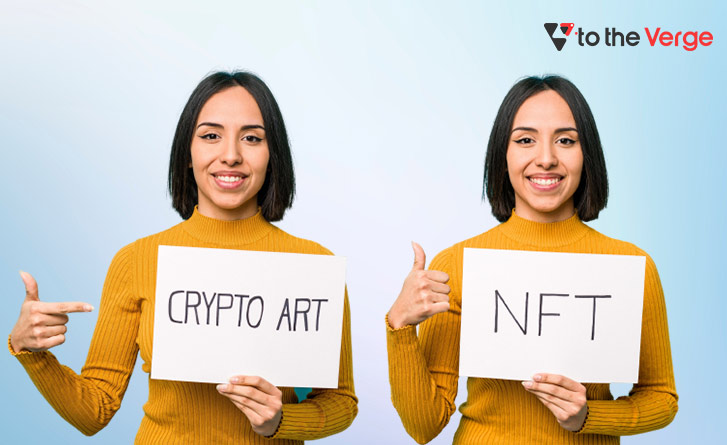 How Does Crypto Art Work?
Now that we're clear with the meaning of crypto artwork and that it is the same as NFT, let us understand the technology behind this new form of art called NFT crypto art.
The technology that governs crypto art is none other than blockchain. Crypto art functions on the same lines as NFTs.
Digital artworks like images of different formats – GIFs, PNGs, JPEGs, musical pieces, and other collectibles in the forms of gaming avatars' skins and accessories, and digital fashion pieces could be published on the blockchain network.
Every block/piece of information or data on the blockchain, in this case, crypto art NFT, receives a unique cryptographic code that establishes its identity on the network. In addition, the owner of the crypto art NFT has a public and a private key that they can use to transfer the ownership of their work.
Public keys are like the address of the NFT art crypto that is publicly known and used for identification. An abbreviated form of the public key is further generated to be used in transactions of the NFT art crypto to represent the long cryptographic private key.
On the other hand, private keys are like codes to a safe that is kept secret and only used when NFT crypto art transactions have to be authenticated. It is the private key that grants the cryptocurrency user the authority to a piece of crypto art.
In addition, every public key matches a single private key. Therefore, the trade of NFT art crypto gets its element of security and authenticity from this mechanism.
How To Make Crypto Art?
After understanding how crypto art NFT works, it's time to learn how to make crypto art.
Creating a crypto artwork wouldn't be as technical as the technology behind it might seem.
The best way to create NFT crypto art is with the help of certain crypto art NFT generator applications that don't necessarily require coding or designing skills. Thus anyone with a passion and enthusiasm for making crypto artwork can now easily pursue it.
Following are the steps in which certain crypto art applications could assist you to make crypto art NFT: 
From a comprehensive library offering various crypto art NFT templates, you may choose any design that suits your imagination.
Next, you may use your artistic skills to customize your selected NFT or crypto art design. NFTs are known for their uniqueness. Therefore, changing the look of the NFT crypto art template and adding your touch to it would make your crypto artwork distinct.
Lastly, you'd need to export the crypto art file you created on the NFT generator application. Then you may upload it to any online marketplace linked to your crypto wallet, and you'll be good to go.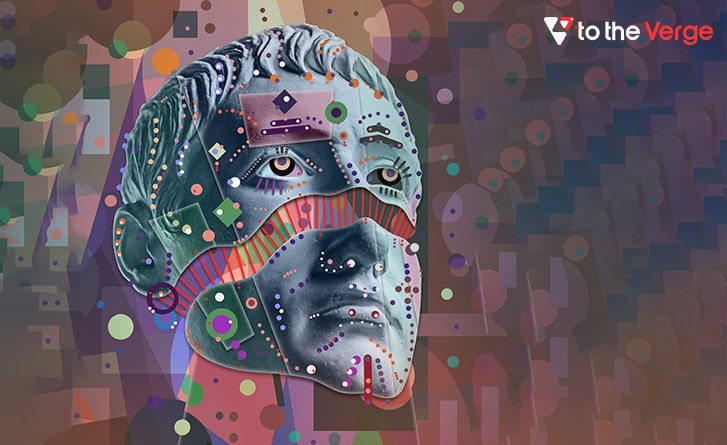 There's another way to create and trade your NFT crypto art.
Suppose you already possess digital designing skills and have experience creating digital artwork. In that case, you may simply upload the file on online NFT crypto art marketplaces like OpenSea, Rarible, SuperRare, BakerySwap, and more.
Fortunately, there are many file types that an artist may choose from to craft a crypto art or NFT. The only point to remember is that it will be possible to upload your crypto artwork to the marketplace as long as the file doesn't exceed the maximum size limit.
Let us quickly summarize how to create a crypto art NFT file and sell it on a marketplace in five simple steps: 
STEP 1. Create A Digital Wallet and Fund It With Cryptocurrency.
Besides having an eye for art to create crypto artwork, you'll also need cryptocurrency to deal in them. There are platforms where you can buy cryptocurrency that also provide digital wallets to hold crypto funds.
STEP 2. Add Cryptocurrency To Your Wallet and Connect It To An NFT Platform.
When you are done with setting up a crypto digital wallet and adding funds to it, you may proceed to link your crypto wallet to any chosen crypto art NFT marketplace.
STEP 3. Upload A File To Make It An NFT Crypto Art.
In this step, you simply have to choose the digital artwork you wish to trade as NFT art crypto. Usually, the platforms offer two options to create crypto artwork. You may select "Single," which highlights the uniqueness of your NFT crypto artwork by selling an exclusive item. On the other hand, if you wish to sell one collectible multiple times, the "Multiple" option is also available.
STEP 4. Choose The Kind Of Sale You'd Prefer For Your Crypto Art NFT.
Next, you may choose whether you wish to sell your NFT crypto artwork at a fixed price, at an unlimited auction price, allowing bidders to bid until you accept one, or at a timed auction price that will only last for a set time.
STEP 5. Add A Description For Your Crypto Artwork.
Adding a description for your crypto artwork entails giving a title to your artwork and maybe briefly putting across what your crypto art NFT signifies to attract people who might relate to it and make the purchase.
STEP 6. Lastly, Pay A Fee For Listing Your Crypto Art NFT.
Before your digital artwork is finally listed as an NFT crypto art on the marketplace, you would be required to pay some fee for listing your crypto artwork. The fee could differ depending on the platform you choose.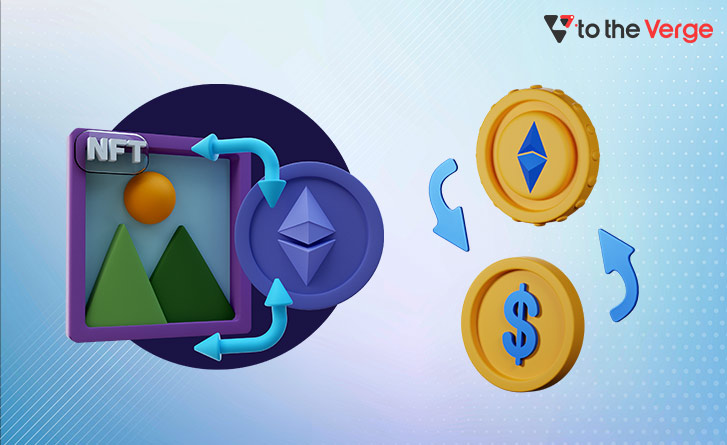 What Software Is Helpful To Create Crypto Art?
You may create NFT crypto art without coding using certain software and polishing your design skills if you're a beginner. Here's a list of software that could be helpful:
MediBang Paint Pro
SuperMe
Inkscape
Blender
FAQs – Crypto Art
Q.1 What Is The Value Of Crypto Art? 
The idea of digital scarcity determines the value of crypto art. According to a study by Statista, as of 15 May 2022, the aggregated sales value over 30 days amounted to roughly $77.5 million. The data was collected from 15 April 2022 to 15 May 2022, tracking the total sales of crypto art NFT in the art segment for 30 days.
Q.2 How To Buy and Sell Crypto Art?
You should have cryptocurrency funds and a digital crypto wallet to trade in crypto art NFT. The rest of the process is quite easy.
Wrapping Up: Crypto Art And Everything You Need To Know 
Crypto art creation is easy once you understand what it means. If you have a passion for art, using digital mediums to express your imagination can help you create crypto art NFTs. Once you get a hold of how NFT crypto art works and the process of creating and selling your crypto artwork, there are various opportunities that you can explore as art in the metaverse.
Author: Nitisha Lal
Nitisha Lal is a writer enthusiastic and curious to learn new things. Currently, she writes about the latest developments in technology, particularly around Web3 and the Metaverse. She enjoys nature walks, capturing the world around her on the phone, or reading books when away from work.