Do you enjoy playing PC games, but the sluggish performance annoys you? Don't worry! We have listed some of the best game boosters and optimizers for PCs. Read on to have a glitch-free experience while playing games on your computer.
Over the past few years, the world of professional gaming has grown tremendously and is now a viable source of income for countless individuals. However, dealing with freezes, slow loading, stutters, crashes, and other problems when you're playing a game can be very annoying. These problems are not unusual, though. A lot of gamers use standard laptops and desktop computers, which are not built to handle the power of the most recent, complex PC games.
You will need to make technical adjustments to your PC to enhance its gaming capabilities. That includes defragmenting your hard drive, updating drivers, terminating pointless background services, making space available, and more. This is where the best game boosters for PC come in handy. These game optimizers can help you take care of all these complicated tasks and maximize the performance of your computer's hardware.
However, it can be challenging to find the right PC optimizer for gaming that delivers on its promises. To make it easier to make the right choices, we have compiled some of the best game boosters and optimizers for PCs. But first, let us define what game boosters are.
What is a Game Booster or Optimizer?
Game boosters and optimizer tools provide a stress-free gaming experience in addition to helping your device perform better during gameplay. While playing top-notch games, the software enables you to maximize your FPS and stop background processes and other unnecessary Windows services.
Additionally, users can free up RAM and CPU power with the aid of the PC optimizer for gaming, which will increase frame rates and eliminate lag during gameplay. Some paid tools support excellent features like FPS counters, Live performance status, and Gamecaster, while many free game optimizers only offer basic features.
7 Best Game Boosters and Optimizers For Windows 10/11
Selecting the best game optimizers is crucial in order to play games without experiencing problems such as lagging, slow PC performance, and others. Here, we have put together a list of the best game boosters for PC, so you can play without interruption.
1. Bit Game Booster 
Bit Game Booster is the first name on our list of the best game optimizers for PC. It was skillfully designed to help users maximize the capabilities of their graphics card to improve their gaming experience. It is one of the best PC game boosters with many alluring features, including excellent gaming performance and a very user-friendly UI.
With numerous appealing features like exceptional gaming performance and a super-intuitive user interface, the lightweight Bit Game Booster tool is worth trying if you're interested in updating your out-of-date game components easily.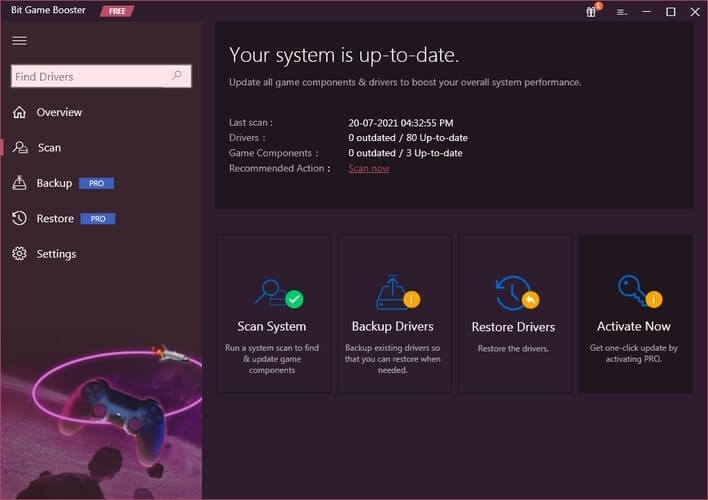 Key Features:
It can update the game components automatically.

Has a built-in driver update and repair tool. 

Utilizing this app, you can backup and restore data.

Enables you to create a complete backup of the current settings.

Built-in driver repair and update features to maintain the gaming hardware's peak performance.
---
2. Wise Game booster
Wise Game Booster is another widely recognized and reputable game booster for PCs. In order to achieve a quicker, uninterrupted gaming experience, it can stabilize your device. The software also offers junk file cleaning to free up memory and storage, which is a useful feature. 
It enables efficient background process management to lower RAM and CPU usage for non-gaming tasks, which will significantly increase your in-game FPS. The interface of Wise Game Booster is simple to use, so even if you are using this game optimizer for the first time, you can easily figure out how it works.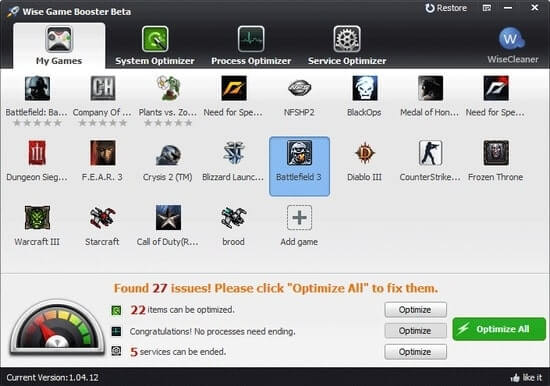 Key Features:
With a single click, it temporarily disables unnecessary Windows services and other programs.

By adjusting boost and other important system settings, it enables you to switch your PC into game mode.

Allows you to quickly check the pertinent game information and manage your games.

Allocates more CPU and system resources to the game you are playing while also freeing up RAM.
Also read: Best Free Virtual Games to Play on Zoom 
---
3. Razer Cortex
If you're looking for the best game booster and optimizer for PCs, the Razer Cortex is the ideal choice for gamers. This popular game optimizer app increases Windows PC performance by managing and shutting down programs and background services that are not needed for gaming.
Additionally, this game optimizer can significantly raise your frame rate to ensure the best possible performance in your video game. To create a bug-free gaming experience for yourself, you can alter the program's settings to choose your preferred priorities or services.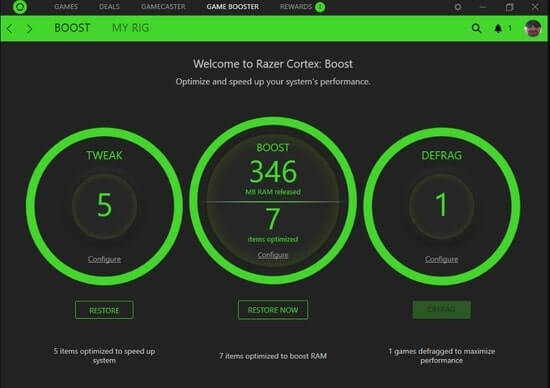 Key Features:
It frees up storage space and other crucial resources needed to play top-tier games.

You can use it to defragment your PC games to improve their performance.

Analyze your system's frames-per-second in real time.

Your CPU, RAM, and GPU, are all directed solely toward the game you are currently playing, which increases FPS.

With just one click, you can live-stream your games using the tool's built-in Gamecaster feature.
---
4. WTFAst
Another well-known name on the list of the best game boosters for PC is WTFast. In order to improve your connection data without modifying your network configuration or IP address, this game booster software offers a Gamers Private Network (GPN). By doing this, you can ensure that your gaming connection is always fast and uninterrupted while you play.
This PC optimizer for gaming finds and selects the optimal traffic route for your online games with the help of machine learning. It lowers ping and latency to increase the speed of your PC and provide a more rapid gaming experience. Due to the fact that it reduces lag, it is even perfect for multiplayer games.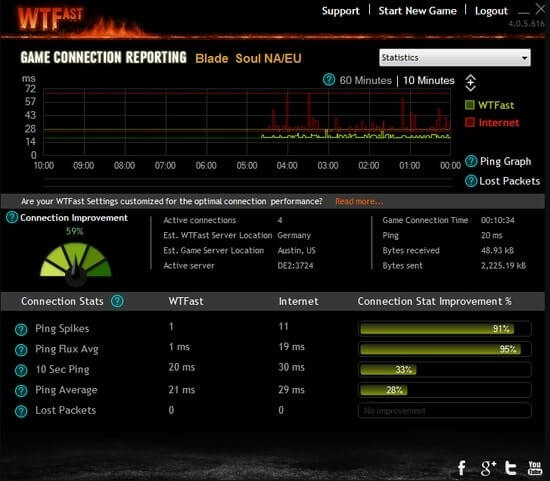 Key Features:
By utilizing machine learning technology, it selects the most efficient traffic route for your game.

Players are also able to modify the settings according to their preferences.

By reducing latency and ping, the tool speeds up gameplay.

Provides real-time analysis of the data transfer between your PC and the game servers.

WTFAst increases the frame rate to provide players with a fluid gaming experience.
Also read: Best Virtual Reality Games
---
5. Game Fire 6
Game Fire 6 is one of the best game boosters for PCs that includes a variety of performance-enhancing capabilities to provide you with the ultimate gaming experience. Game Fire does wonders for lowering crashes and lags and increasing the frames per second of your in-game experience. 
This PC optimizer for gaming can optimize your RAM, defragment your files, block unused programs, increase your internet speed for quicker online gaming, and more. Additionally, Game Fire enables you to keep an eye on the temperature and clock speed of your GPU and CPU, as well as the functionality and overall health of your system, in real-time.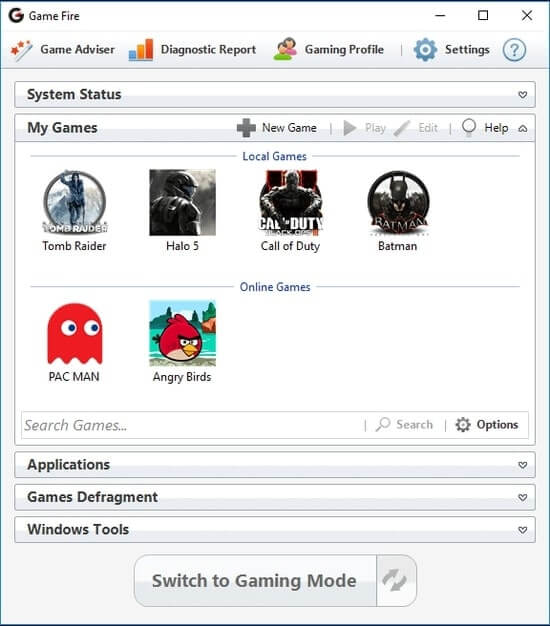 Key Features:
The software contributes to improving system performance and game FPS to give you lag-free gameplay.

Provides a wide variety of potent optimization tools, including a disk defragmenter, application optimizers, system settings tweakers, etc. 

It functions as an automated tool for improving game performance, letting you optimize RAM and improve game performance in real-time.

Monitors the CPU clock speed and temperature in real-time as well as on the system's performance and health.
---
6. GameBoost 
GameBoost is the most sophisticated game optimizer program on the list. In addition to assisting you with in-game optimization, GameBoost can increase your overall speed, allowing your internet connection, CPU speed, screen drawings, frame rate, animations, and refresh rate to all run more quickly.
The great thing about this game booster for PC is that it does not necessitate a lot of your involvement in the optimization procedure. The only things you need to do are select a platform, internet speed, and CPU, then click the "Optimize" button. GameBoost will take care of the rest.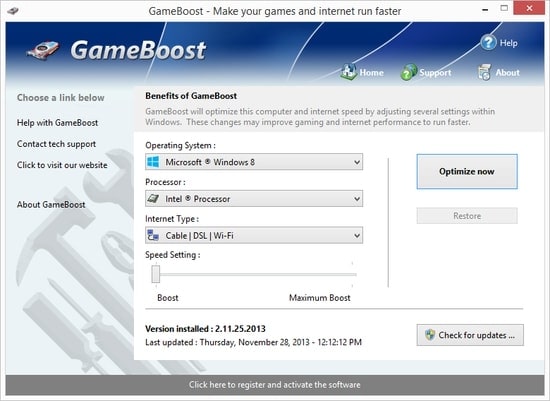 Key Features:
It makes your Internet faster so that you can play games steadily.

It enables you to boost your laptop's or PC's frames per second without having to spend money on a new graphics card.

You can adjust the hardware on your PC to make online gaming and other tasks run more quickly.

In order to reduce latency, it instructs the CPU core to prioritize gaming.
---
7. Mz Game Accelerator
Without addressing Mz Game Accelerator, the list of the best game boosters and optimizers for PCs won't be complete. The Mz Game Accelerator will speed up your CPU performance, reduce processor usage, shut down any unnecessary processes, and clean up your RAM to ensure that your gaming experience is quick and fluid.
The Mz Game Accelerator provides everything you require to improve the gaming performance of your PC if you have an older system. No matter how outdated your PC is, you can still play top-tier games on it with the help of this game booster for PC.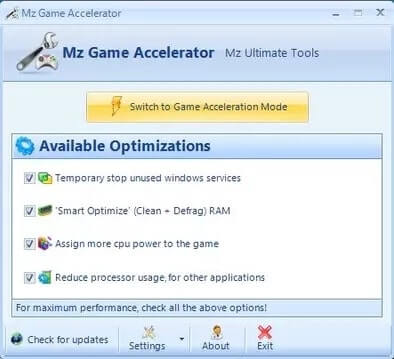 Key Features:
It is an excellent tool for boosting game performance with a straightforward, approachable interface.

Intensifies CPU performance, cleans RAM, and temporarily disables pointless services.

It does not modify the system registry or overclock your hardware.

Offers a variety of customization options to produce efficient results.

It aids in system drive cleaning and defragmentation.

It offers options for supporting numerous languages and has an interactive user interface.
Also read: Best Game Booster Apps for Android Users
---
Conclusion
These are the top free game boosters and optimizers for PC that you can use to improve your gaming experience. You can enhance the performance of your PC by using these programs to manage its RAM, frame rate, graphics, and other components. Therefore, take into account all of the features that we have listed before choosing a game-boosting program for your PC, and then opt for the option that most closely matches your needs.
We hope this article was helpful in helping you solve your gaming problems. Please comment below with your opinions on the aforementioned applications. Visit our blogs frequently to get updates like this.
Author: Snehil Masih
Snehil Masih is a professional technical writer. He is passionate about new & emerging technology and he keeps abreast with the latest technology trends. When not writing, Snehil is likely to be found listening to music, painting, traveling, or simply excavating into his favourite cuisines.