Are you a fan of playing online games but don't like the idea of paying for them? If this is the case, you are not alone. A recent study found that more than 80% of online gamers prefer free-to-play games over those that cost money. However, where can you locate the best free online games that are entertaining, diverse, and accessible? The solution is Poki.com.
Poki.com is a website where you can play tens of thousands of free online Poki games at any time, on any device. Poki.com has something for everyone, whether you enjoy action-packed Free Fire Poki games, adventure games, puzzles, racing games, or any other genre. Additionally, poki.com adds the newest and most well-liked games from across the web every day, so you can always find new games to play.
With so many options to choose from, it can be challenging to determine which Poki games are the cream of the crop. Do not worry; we have got your back. In this article, we will discuss the best poki games that you should try right now. We chose these games based on their gameplay, graphics, features, and popularity. So without further ado, let us begin.
7 Best Poki Games to Play Online on the Web
In the world of online gaming, Poki stands out as a popular platform offering a vast collection of games. In this article, we present you with a list of the 7 most exceptional and best Poki games to play online on the web.
1.  Fireboy and Watergirl
First on our list is Fireboy and Watergirl, a timeless puzzle game that has been entertaining players for several years. You have to control two characters in this online poki game who have opposing attributes. The watergirl can walk through water but not through fire, and the fireboy can walk through fire but not through water. You must use their abilities to collect gems, activate switches, and complete levels.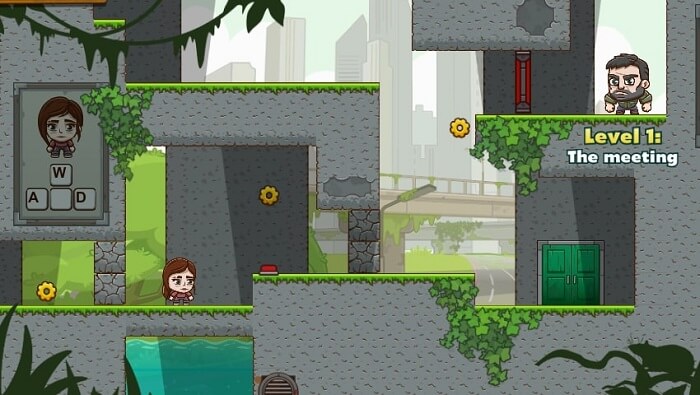 Additionally, it is one of the best Poki games that has a number of themes with various mechanics and challenges. You can have fun in the forest temple, the light temple, the ice temple, or the crystal temple, for instance. The game supports both single-player and two-player modes. So you can play by yourself or with a friend on the same device. Fireboy and Watergirl is a cooperative and imaginative game. It's easy to play yet challenging to master, with colorful graphics and enjoyable music, making it a great Poki game for all ages.
---
2.  Subway Surfers
Subway Surfers is another Poki online game that has stood the test of time. It offers endless running gameplay that requires players to avoid obstacles such as trains and barriers while running as far as possible. Along the way, you must also gather keys, coins, and power-ups that you can use to unlock new hoverboards, boosters, outfits, and characters. The game features stunning 3D graphics, fluid animations, and catchy sound effects. Additionally, it features numerous locations, themes, and events that switch up every few weeks.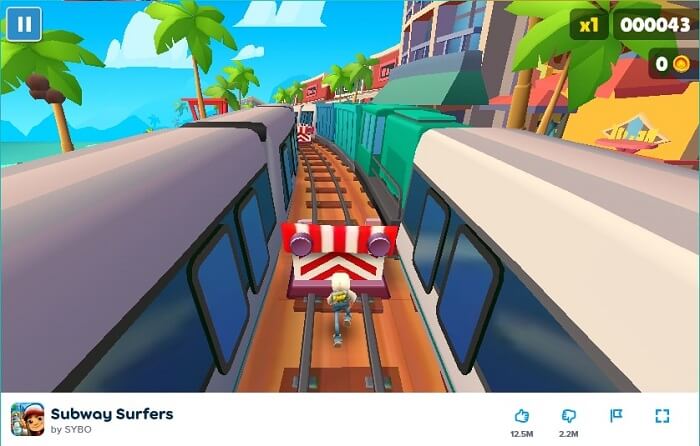 Additionally, you can finish tasks, goals, and challenges to get rewards and raise your score multiplier. Subway Surfers' vivid visuals, slick and enjoyable gameplay, and upbeat soundtrack will appeal to players of all ages and skill levels. Even though the gameplay is challenging, the game is incredibly enjoyable and prone to becoming a habit. It is the perfect Poki online game for casual gamers due to its vibrant graphics and captivating gameplay.
Read Also: Best Game Booster Apps
---
3.  Moto X3M
For those who enjoy racing games, the Moto X3M is an excellent Poki online game. Players must navigate through various obstacles and challenges on their motorcycles, with each level offering a unique set of difficulties. Realistic graphics and easy-to-use controls make it accessible for both casual and serious gamers. The game features pleasant graphics, amazing soundtracks, and realistic physics.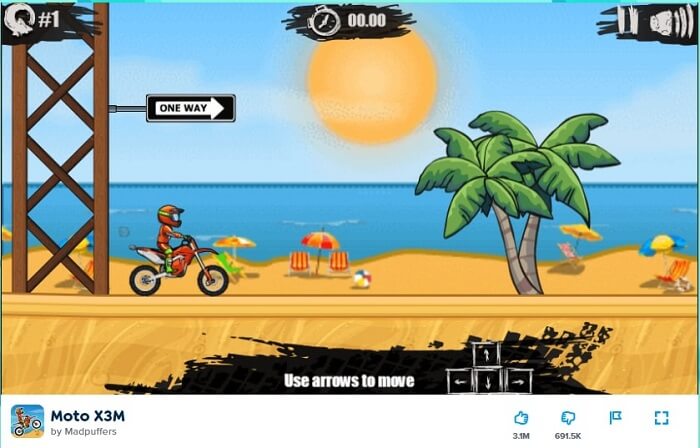 Additionally, it is one of the best Poki games that contains hundreds of levels with various themes and challenges. You can also get access to new bikes and riders with a variety of skills and riding styles. In recent years, the Moto X3M series—which also includes the Moto X3M 5 Pool Party, the Moto X3M Winter, and the most recent model, the Moto X3M Spooky Land—has grown in popularity. Every chapter offers special features and difficulties that are sure to keep you entertained. So start up your engines and prepare to sprint in the Moto X3M to the finish line!
---
4.  Stickman Hook
Stickman Hook is one of Poki's most entertaining arcade and physics-based games. In this Poki online game, you are in charge of a stickman who can swing between two points by means of ropes or hooks. You must avoid tripping over things and aim for the ideal trajectory if you want to cross the finish line. The game has easy-to-use controls, simple but vibrant graphics, and calming music. Additionally, it has countless levels of various sizes and shapes. For instance, you can swing in squares, triangles, circles, or even stars.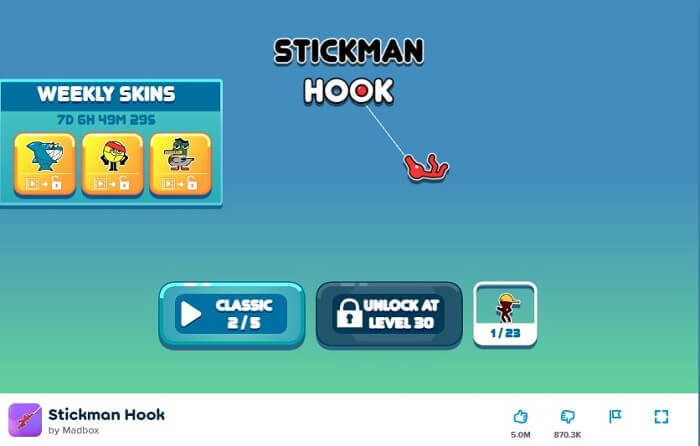 For your stickman, you can also unlock brand-new skins and outfits in a variety of hues and patterns. Stickman Hook offers a simple, straightforward single-tap control scheme, captivating visuals, and a gradually escalating level of difficulty that is sure to challenge even the most seasoned players. Stickman Hook is one of the best Poki games that is addictive and entertaining for people of all ages.
Read Also: Best Free Offline RPG Games for Android Phones in 2023
---
5.  Temple Run 2
Temple Run 2 is simple to start, but it's hard to stop. Temple Run 2 keeps the same simple controls that were present in the original game. But in order to enhance the excitement of the gameplay, this Poki online game adds brand-new difficulties and barriers. There are always new challenges, like zip lines, waterfalls, mine tracks, flaming jets, and sharper turns. New power-ups are also available to collect and use. They are activated by an energy bar that fills up as you collect coins.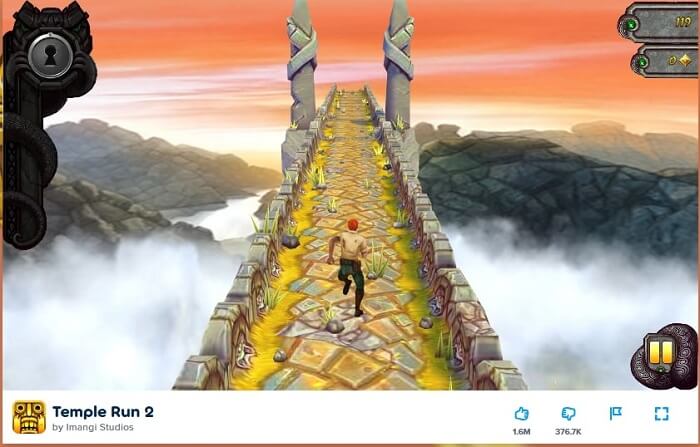 In an emergency, players may utilize the green gems they have gathered as they run. Or bought online to save the main character from certain death. For those who want a thrilling Poki gaming experience, Temple Run 2 is certainly the best Poki game to keep them entertained for hours. Players of all ages love this game because of its endless replayability and difficult obstacles.
---
6.  Bubble Shooter
In 1994, Taito released the well-liked arcade game Bubble Shooter, which is now available on Poki without charge. This Poki game requires players to aim for bubbles of the same color to form clusters of at least three. Which results in the clearing of the playing field. Gamers can use power-ups like bombs and fireballs to erase the bubbles more quickly. Bubble Shooter offers a vibrant graphical interface, 1000+ challenging levels, and delightful sound effects.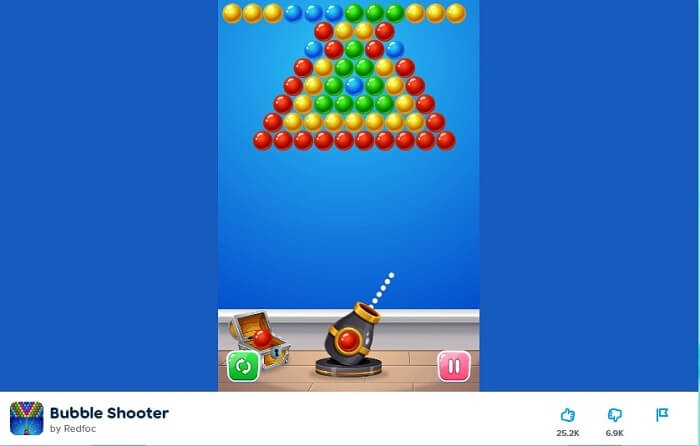 It is one of the best Poki online games, and it is suitable for all age groups thanks to its simple user interface. Bubble Shooter on Poki is a must-play game whether you are looking to kill some time or push yourself with some challenging bubble-shooting puzzles. It is a relaxing and enjoyable game for all ages that is simple to start but difficult to stop. So, take aim, fire, and break up all of the bubbles in this exciting online Poki game!
Also Know: Best Free Virtual Games to Play on Zoom 2023
---
7.  Cut the Rope
Cut the Rope is a physics-based online Poki game that is both enjoyable and addictive. In order to feed candy to the adorable Om Nom while also obtaining stars, you must cut ropes in this game. To cut the ropes in the proper sequence and at the appropriate moment, you must use timing, logic, and physics. Additionally, to get more points, you must also gather the stars that are hidden among the candy. Cut the Rope provides players with the assistance of power-ups and enhancements to overcome the stages while offering more than 600 unique levels, each with its own obstacles.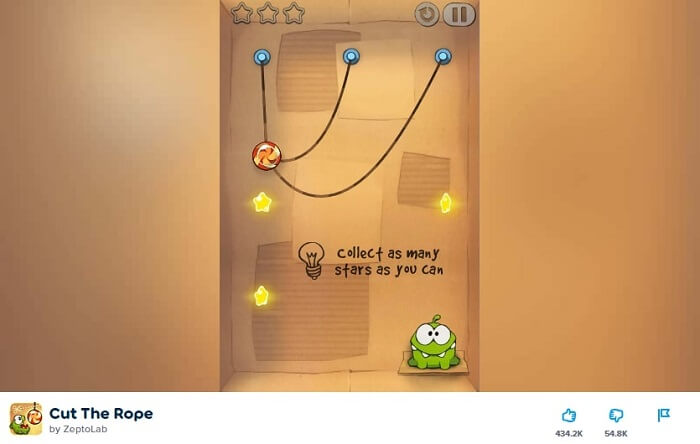 Cut the Rope is one of the best Poki games with an engaging user experience. It combines a rich visual environment with a melodic audio backdrop and simple controls. This Poki online game is a fantastic option for players of all ages. Regardless of whether you are a casual or ardent puzzle game player. So get ready to play Cut the Rope and solve some puzzles while feeding Om Nom!
---
Conclusion
Poki Games is a fantastic platform that provides a huge selection of games for players of all ages and interests. Everyone can find something they enjoy playing on Poki Games. Whether they are looking for an educational game, an action-packed Free Fire Poki game, or just something to pass the time. Playing games on Poki Games can enhance mental abilities, lower stress levels, and foster social connections, among other advantages.
So, if you have not already played on the platform, we urge you to visit Poki Games and get started right away! Poki Games is the ideal gaming website for players of all skill levels thanks to its user-friendly interface, large selection of games, and security features. Poki Games is the place to be, whether you are an experienced player or just getting started. So why are you still waiting? Let's start playing!
Author: Snehil Masih
Snehil Masih is a professional technical writer. He is passionate about new & emerging technology and he keeps abreast with the latest technology trends. When not writing, Snehil is likely to be found listening to music, painting, traveling, or simply excavating into his favourite cuisines.