One of the most devastating data loss scenarios is losing your precious digital photographs. Memories that cannot be recreated evaporate in a second and appear to have been lost permanently. So, how would you react in this situation?
Would you look for a solution to this problem or panic? In this case, using photo recovery software is the best course of action. Fortunately, there are numerous free photo recovery software programs available to help you recover deleted photographs on Windows 10. However, not all of the programs are worth trying. But there are a few that are worth a shot.
To assist you in the process of recovering digital memories, we have compiled the top free photo recovery software in this document. Proceed down the list until you find the right one.
7 Best Photos Recovery Software for Windows
There are several excellent choices for photo recovery software for Windows 11/10 users, but how can you decide which is most suitable for your requirements? In order to assist you, we have put together a list of the 7 best photo recovery software programs for Windows 11/10 based on their features, performance, compatibility, and user reviews. Let's find out:
1. Stellar Photo Recovery
Stellar Photo Recovery is one of the best photo recovery software programs that is specifically developed to recover deleted photographs, videos, and audio data. It can be recovered from hard drives, USB storage devices, and SD cards (Mini, Micro, SDHC, and SDXC). It includes a three-step recuperation technique that is easy for those with no prior experience to follow without having to read or watch an instructional video first.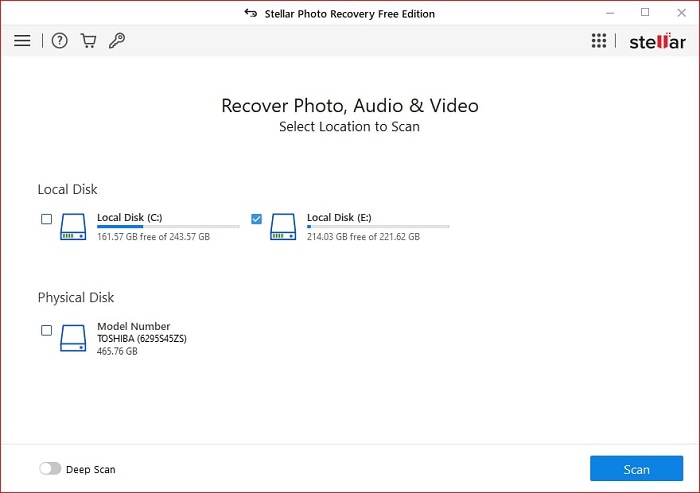 Stellar Photo Recovery differs from other free apps in that it has advanced features. This includes a deep scan for an in-depth search of disks, as well as customized file recovery solutions. It also has several useful capabilities like making a picture of a corrupt disc, resuming recovery later, saving a scan, dual monitor support, and more. Therefore, whether you are a beginner or an experienced photographer, the ability to repair corrupted photos and videos in the premium version of this free online deleted photo recovery tool is definitely worth the money.
Key Features:
It has the ability to repair corrupted images and videos.
An easy-to-use interface.
Can generate storage device images sector by sector.
Allows you to create your own file types.
Supports Unicode File Recovery.
Three-step recovery procedure.
Supports a wide range of image and video file formats.
Allows you to preview scan results in a variety of ways.
The free version has some limitations.
Scan speed is slower.
Also Read: Best Duplicate Photo Finders and Cleaners in 2023
---
2. Disk Drill Photo Recovery
Disk Drill, an adaptive data recovery tool, allows you to quickly and easily recover deleted photos. It includes a number of powerful scanning models that are designed to execute in the correct order to achieve deleted photo recovery online for free. As a result, Disk Drill provides exceptional performance in a user-friendly manner for beginners.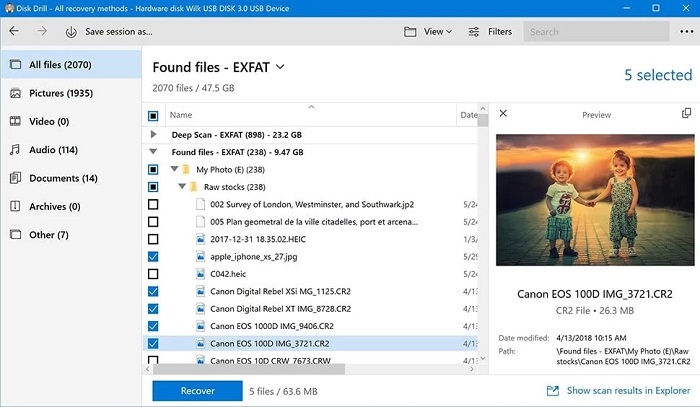 Disk Drill can effectively recover any image in any file type from any kind of storage media. You can preview lost images to ensure that you're getting the correct data. Disk Drill includes a variety of free disk utilities that you can use to better manage your data and protect crucial files. Due to all of these reasons and more, Disk Drill is among the best free photo recovery software for recovering deleted photos.
Key Features:
An easy-to-use user interface.
It allows you to have a preview of the files found before recovery.
Nearly 400 file formats are supported.
Tools for data protection are offered free of charge.
It has the capability of pausing, saving, and restarting scans.
500 MB of free data recovery (available exclusively for Windows).
Beginner-friendly user interface
RAW image restoration
Supports all widely used image file formats
Vast tutorials and knowledge bases
Recovers pictures from Android and iPhone devices
Corrupted photos or videos cannot be fixed.
Visit Disk Drill Photo Recovery 
---
3. EaseUS Data Recovery
EaseUS Data Recovery is a dependable and effective data recovery program for Windows and Mac. The people who developed it were successful in making the complex data recovery procedure simple enough for anybody to carry out. There are no menus with several layers and options that are so complex that you need a comprehensive manual in order to figure out exactly what they all mean.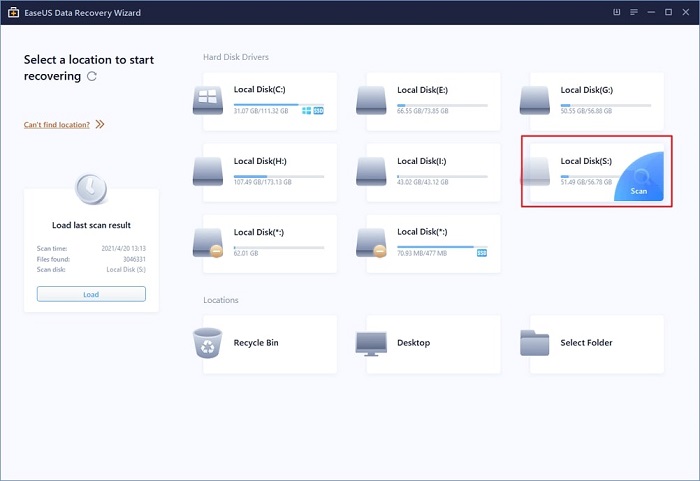 When you begin data recovery via this free photo recovery software program, you must first select a location to scan, such as a hard disk or a USB drive. One of the unusual folders you could select is the recycle bin. After that, simply click the Scan button to let EaseUS Data Recovery search for your files.
Key Features:
Data Recovery Wizard aids in the recovery of files from a computer, laptop, or removable storage device.
You can recover more than 1,000 different file types.
It supports a number of languages, including English, Japanese, German, and French.
Export or import the scanning results.
Preview all recoverable files.
User-friendly graphical user interface
There is an option to preview files.
Recover photos from computers and hard drives
Photo recovery from deleted, lost, or RAW partitions
Scan time is slow.
Only files smaller than 100 MB are eligible for preview.
Technical support is only available for paid versions.
Also Read: Best Photo Management Software in 2023
---
4. Recuva
Recuva supports the majority of file types and provides basic data recovery functionality. The free version has no major constraints and may recover a limitless number of images, which contributes to its popularity. Recuva is one of the best photo recovery software from CCleaner for recovering deleted files quickly and easily. The software can recover deleted media data from digital cameras, Windows computers, recycle bins, or MP3 players.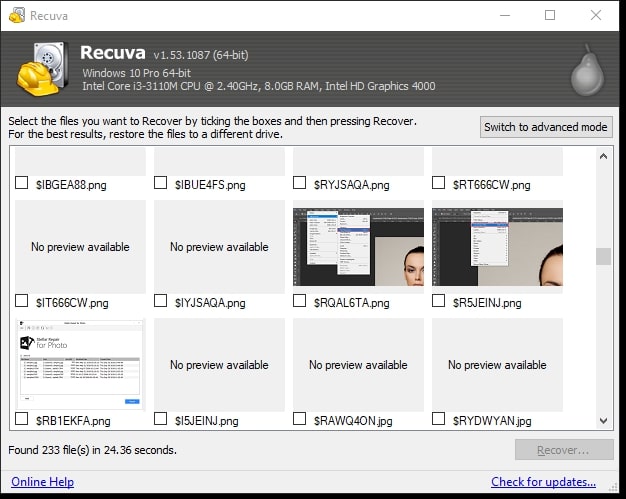 The best part about this free photo recovery software is that it can recover other data in addition to photographs. To get only the photographs, conduct the Scan exclusively for pictures, and the results will show within a few moments. Recoverable image file types include JPEG, PNG, GIF, and RAW. You can download this deleted photo recovery software for free on Windows 10/8/7, Vista, and XP.
Key Features:
support for virtual hard drives.
There is a deep scan mode.
Updates are carried out automatically.
It is safe to delete files.
A simple user interface
Quick scans
Free data recovery for an indefinite amount of time
Mediocre performance
Customer service is limited.
Stable development
---
5. Recoverit
Recoverit is one of the best photo recovery software packages available at this price. It works flawlessly with a wide range of storage media, such as hard drives, USB flash drives, memory cards, and camcorders. It is merely a three-step data recovery process with Recoverit: select, scan, and review the recovered files before getting them back. Its technical help is provided 24 hours a day, seven days a week.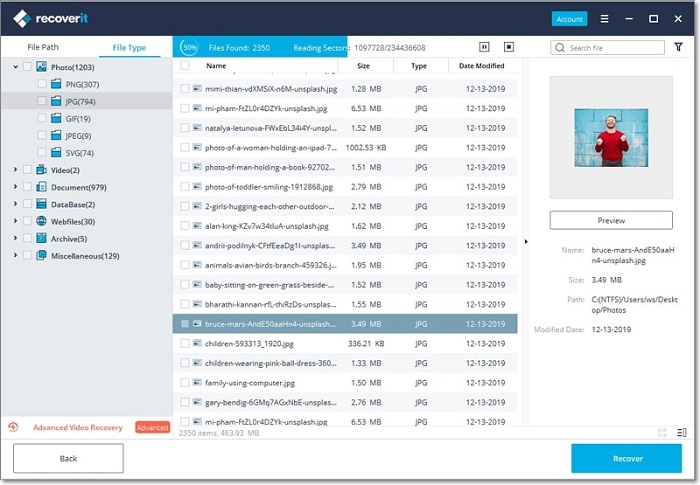 It is available in two versions: free and paid. To use all its advanced features and functionalities, you must upgrade to the premium version. The premium version also includes a 7-day money-back guarantee and some additional features.
Key Features:
Capable of recovering deleted images from a crashed computer.
It can recover video files in a variety of formats.
It can simultaneously recover multiple videos and photos.
Its technical support staff is available to users around-the-clock.
provides a preview before acting.
multiple image and file formats are supported
Deeper and more advanced scanning
Supports external hard drives
Safe to use
The free version only offers 100 MB of recovery space.
It takes time to scan.
---
6. PhotoRec
The next entry on our list is PhotoRec, which is a free photo recovery software available for Windows 10. The software can recover all types of lost or deleted images from both internal and external storage media.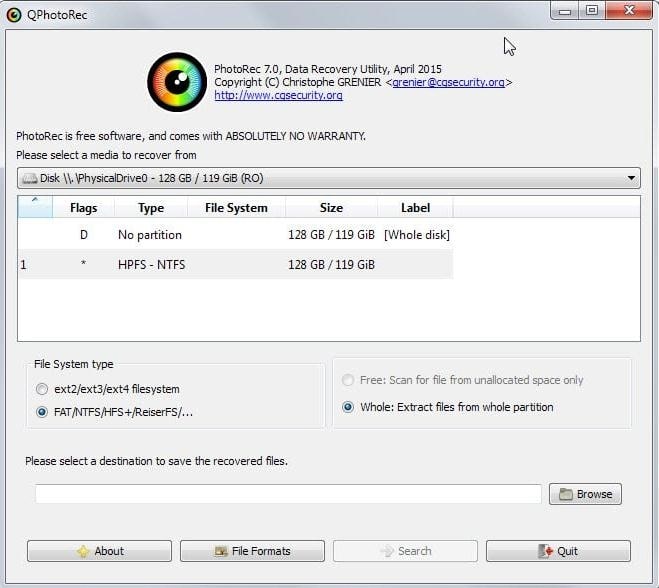 As a result, it is excellent software for recovering lost photographs from hard drives, digital cameras, CD-ROMs, and other storage devices. The cherry on the cake is that the software includes TestDisk, which acts as a partition recovery program for Windows PCs.
Key Features:
It can recover photos from a wide range of file types, including JPEG, Office, ZIP, HTML, PDF, and various graphic file types.
The use of the photo recovery software is totally free.
An additional tool for recovering deleted partitions.
Utilizes Read-only access to retrieve pictures from memory cards or drivers.
open-source architecture.
Free to use.
cross-platform foundation.
supports a variety of file formats.
compatible with various storage devices.
Poor customer support.
outdated user interface.
Complicated at times.
Also Read: Best Blur Photo Background Apps of 2023
---
7. Undelete 360
Undelete 360 is the next entry on this list. It is an excellent free photo recovery software for Windows PCs if you're looking for not only the recovery of lost images but also a variety of multimedia resources. The software is also capable of recovering multimedia content like documents, music files, messages, emails, and videos, as well as images.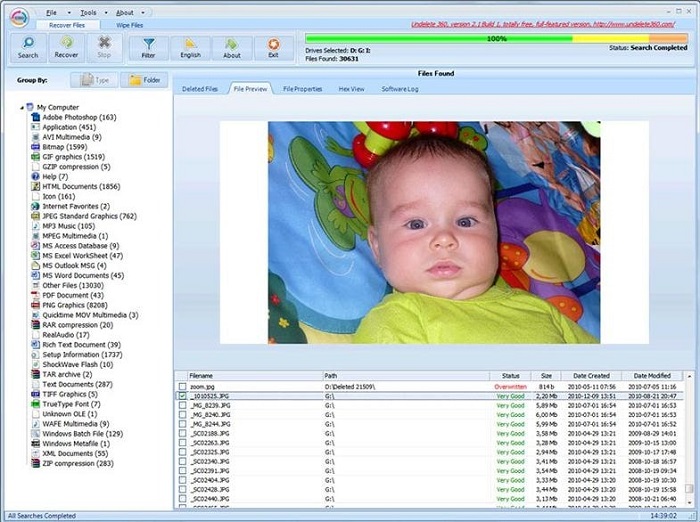 While evaluating this free online deleted photo recovery software, we noticed that the program's user interface is pretty amazing and vintage. The app has simple buttons for safely recovering lost images or other data.
Key Features:
offers two scanning options for thorough and quick photo recovery.
extremely compatible with a wide variety of file formats and system file types.
The software displays a preview of the scanning results prior to asking for confirmation of the retrieval.
Both novices and experts can use simple navigation.
Easy-to-use interface.
Smart recovery techniques.
Full access to the software during the trial period.
There is no need for renewal.
No regular updates.
Incapacity and misdirection paid version.
Only one OS is supported.
---
Conclusion
Losing photographs can be a terrible experience, but with the best photo recovery software, you can quickly and successfully recover your valuable memories. It is always recommended to use trustworthy and reputable photo recovery software to recover your photos safely and securely. We sincerely hope that our list will assist you in identifying the best photo recovery software program for your requirements!
Author: Snehil Masih
Snehil Masih is a professional technical writer. He is passionate about new & emerging technology and he keeps abreast with the latest technology trends. When not writing, Snehil is likely to be found listening to music, painting, traveling, or simply excavating into his favourite cuisines.