Check out this entire article to find out and know about some of the best tools that can help you find duplicates, or as natively called- the best duplicate photo finder in 2023.
The accumulation or collection of duplicates on your Windows device is one of the worst things you will ever face. Especially, when the duplicates are of images or photos, then this problem becomes even direr. Such duplicates generally get collected because of our habit of storing every memory. Images are one of the best ways to store new memories. That late-night beach way, that family trip to Argentina, that first basketball match of your kid, and many more. We click pictures at every event and generally store them in our devices' memory.
Sometimes, this habit of storing can also result in duplicates. We tend to forget about our actions and similarly, can also be whether we had previously stored the required images on the PC/laptop or not. To have no regret later, we anyway copy or move the images again in the system. This leads to the collection of duplicates.
It doesn't have to be this tough to find and delete these duplicates when the time comes. Duplicates result in the lack of free storage space, affected performance of the device, and various other problems. The perfect solution to these problems is to use the best duplicate photo finder.
While surfing around, you may find a ton of alternatives to the duplicate photo cleaner. But are these reliable? Not necessarily. Hence to help you get the best, we have brought together this article with multiple software that you can use as a duplicate image finder.
Top 13 Best Duplicate Photo Finder Software in 2023
For duplicate photo removers, it is now much simpler than ever before to locate and get rid of images that are identical to others. Without further ado, let's take a look at these duplicate image finder and cleanup programs for Windows 11/10 in 2023. Go through the list and learn which one is most suited for your Windows device.
1. Quick Photo Finder
Quick Photo Finder is the finest duplicate photo finder and cleaner software that you can use. If you want to have a photo library that is free of duplicates as quickly as possible, then using Quick Photo Finder is the way to go. This program, which is both easy to use and effective, not only helps delete unwanted duplicates of photographs that have a similar appearance but also frees up a significant amount of storage space that you were unaware you possessed. Know more about this duplicate image finder below.
Features of Quick Photo Finder:
Allows you to scan for duplicates in external devices.
The tool supports multiple extensions and formats of images.
You can get back a huge amount of storage space on the system.
You can use different filters to get the desired files and delete them if required.
The interface of the software is quite easy to use, even for beginners.
Single-click scanning feature for quick results.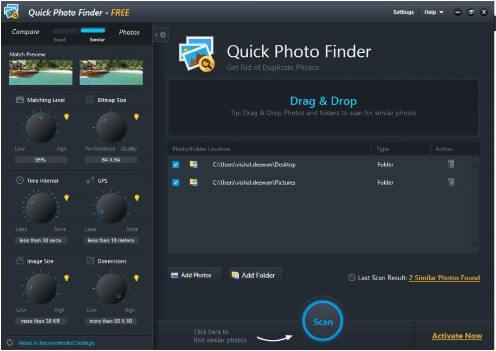 Download Quick Photo Finder Today!
---
2. Duplicate Cleaner 5
It is highly recommended that you install this best duplicate photo cleaner and removal program on your Windows PC as soon as possible if you are seeking for an all-in-one solution to remove duplicate photos, files, and folders. If this is the case, then read on. The trial version of the Duplicate Cleaner application allows users to test out all of its functions for a period of 15 days, although deleting files is restricted during this time. The professional edition may be used for either private or business purposes. This software's powerful search criteria are able to identify duplicate files regardless of where they are stored, even inside zip folders. Know more about this Duplicate Photo Remover below.
Features of Duplicate Cleaner 5:
You can download and use the tool on Windows 11/10/8/8.1/7 devices with ease.
Apart from the duplicate images, the tool also offers duplicate finding and deleting features for other files.
The interface of the software is quite easy to access and minimalist.
You can even preview the files in the scan results for better decision-making about deleting.
There are multiple filters that you can apply to the search results for better outputs.
The tool can even detect modified, rotated, or similar duplicates with ease.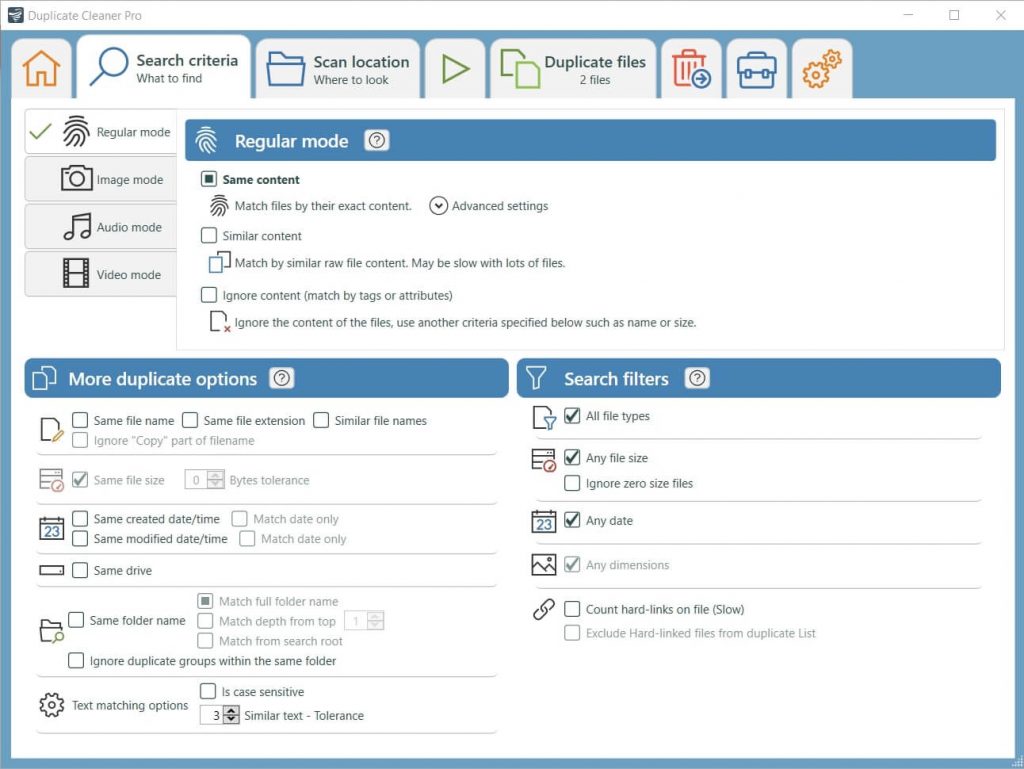 Download Duplicate Cleaner 5 Today!
Also read: How to Find and Remove Duplicate Files on External Hard Drive
---
3. Duplicate Image Remover Free
This is another fantastic piece of software that can delete duplicate photos and help you get the most out of your extensive picture album collection. The Duplicate Image Remover program will swiftly go through all of the images stored on your personal computer in an effort to locate any that are duplicates or exact replicas of one another. After that, it provides you the choice to save the images that are the most important to you and to remove duplicate files in order to regain the storage space that was lost. Know more about this duplicate picture finder below.
Features of Duplicate Image Remover Free:
The interface of Duplicate Image Remover Free is quite straightforward.
The software is beginner-friendly and offers multiple filters for image detection.
You can use the advanced features of the tool to look for the required duplicates fast.
The tool stores the duplicate search history for your ease. You can access the same as and when necessary.
There are multiple modes of finding and deleting the duplicates.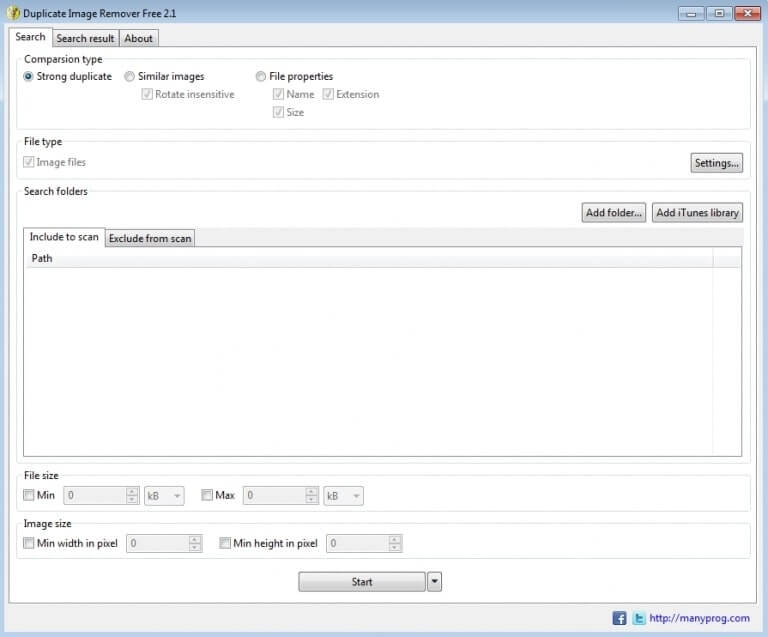 Download Duplicate Image Remover Free Today!
---
4. AllDup
AllDup is yet another piece of free software that may be used to locate and remove duplicate files from your personal computer, shared network, or even external storage media. You can use AllDup to do any of these things. The quick and savvy algorithm looks for duplicates of any material, whether it be images, audio, text, or movies. In addition, the powerful search engine gives you the ability to locate duplicates based on the following criteria. Know more about this best free duplicate photo finder 2023 below.
Features of AllDup
A portable version of AllDup is available for quick resolutions.
AllDup has the ability to find duplicates in internal, external, as well as cloud storage devices and platforms.
In addition to that, you may search for files with very similar names or photographs that are exactly the same.
You can download and use the tool for free of any cost.
The software allows you to set various filters and then get the desired results.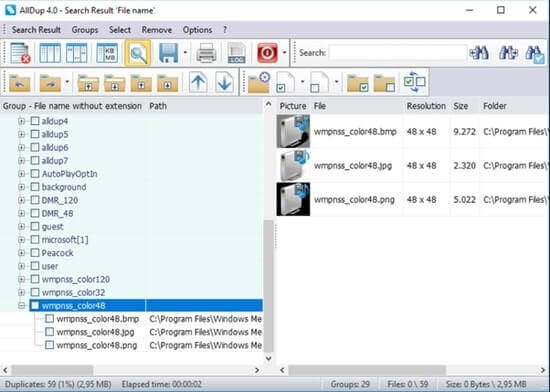 ---
5. PictureEcho
This is one of the finest duplicate photo finder and removal software programs available, and it can assist you in quickly locating and deleting selfies and other photographs that are identical to those that you already have on your device. With its lightning-fast and pinpoint-precise image similarity finder technology, it analyzes images perfectly and locates others just like them.
Features of PictureEcho
It is equipped with a multitude of effective picture deduplication tools.
You can examine your system for photographs that are duplicates regardless of the size, topic, or even backgrounds/filters.
PictureEcho is quite reliable and useful for graphics designers and image editors.
The tool supports duplicate finding features for multiple formats.
The software allows you to preview the files for improved decision-making.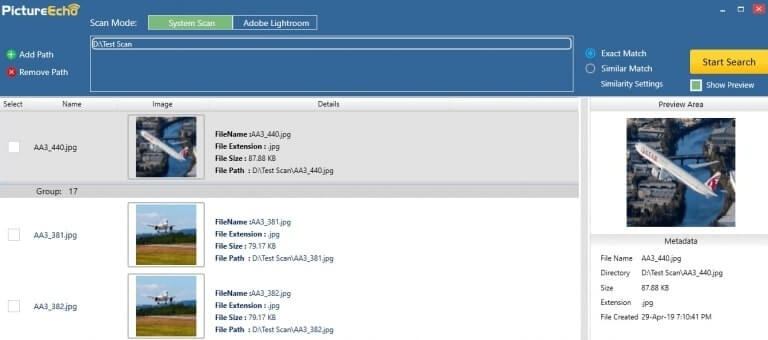 Also read: Top 17 Free PC Cleaning Software For Windows 10, 8, 7
---
6. Easy Duplicate Finder
The app, which lives true to its name, is a straightforward and efficient method for locating and removing duplicate images and photos. With Easy Duplicate Finder, the only thing you need to do is click on the button that says "start the scan," and the application will instantly begin organizing all of the duplicate photographs into groups for convenient and speedy administration.
Features of Easy Duplicate Finder
The tool offers the "CRC32 Checksum + File size" feature.
You can use Easy Duplicate Finder to look for similar images as well.
This duplicate photo finder program for Windows 10 comes with a variety of adaptable solutions
The tool offers options for managing duplicate photos, all of which will, without a doubt, make your job very simple.
You can install and use the tool on Windows 11/10/8.1/8/7 and other operating systems.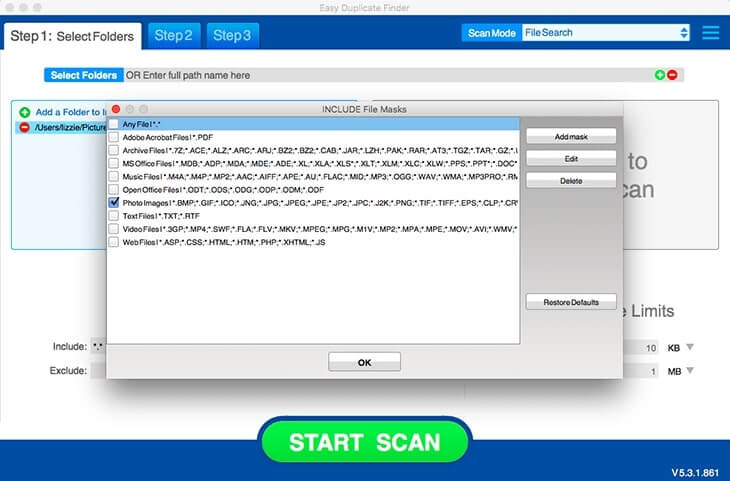 Download Easy Duplicate Finder Today!
---
7. Duplicate Photo Cleaner
Next on our list of the finest duplicate photo finder & cleaner programs is Duplicate Photo Cleaner, which has a multitude of appealing features such as Adobe Lightroom and Same Subject scan. This program was developed by Webminds, and it comes equipped with an amazing algorithm for content-based comparison of duplicate photos, which helps produce scan results that are very accurate. The following is a list of a few more commendable features that make this program one of the finest duplicate picture removers available for Windows-based personal computers. Know more about this Duplicate Photo Remover below.
Features of Duplicate Photo Cleaner:
With Duplicate Photo Cleaner, you get the feature to find and delete multiple duplicate pictures at once.
The tool looks for duplicates on your system very deeply and hence offers reliable results.
The smart algorithms of the software allow you to do anything and everything with duplicate images.
Duplicate Photo Cleaner is very advanced and offers a multilingual UI for your benefit.
The cross-platformed software is also available for Mac devices apart from Windows.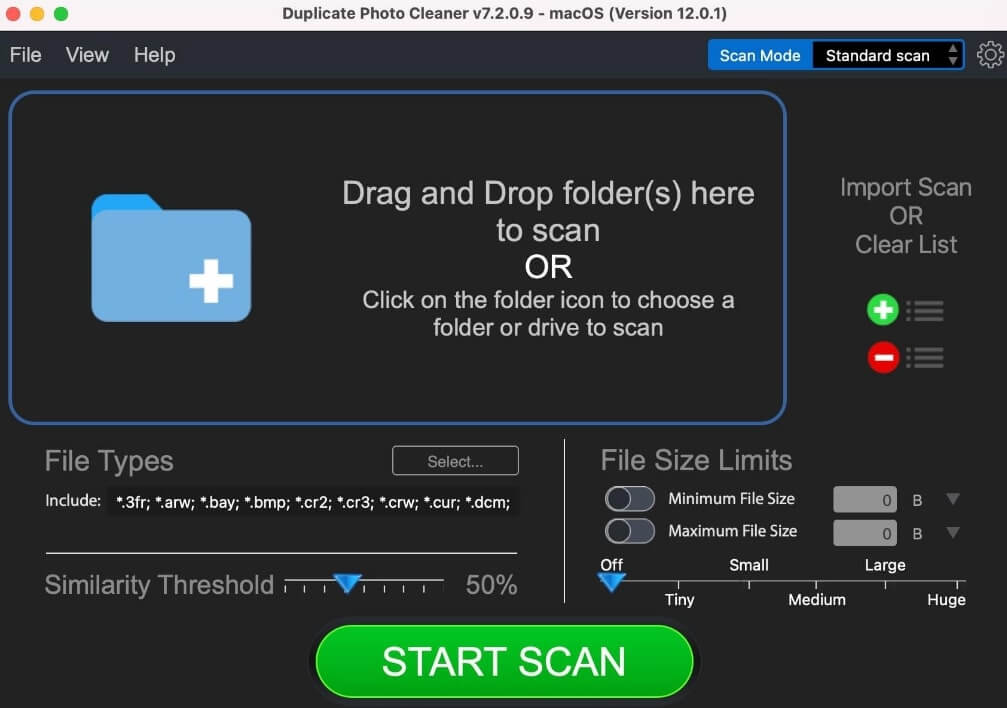 Download Duplicate Photo Cleaner Today!
---
8. Awesome Duplicate Photo Finder
Is the slow performance of your computer caused by the presence of garbage files and duplicate photos? Are you sick and tired of dealing with the storage management issue? Don't Stress About It Anymore! You may simply locate duplicate files that are stored in the thousands of folders on your computer with the assistance of Awesome Duplicate Photo Finder, which is a well-designed piece of software that is a duplicate image cleaner. Know more about this duplicate image finder below.
Features of Awesome Duplicate Photo Finder:
You can quickly remove unnecessary files from your digital gallery and free up significant amounts of storage space.
The app is quite lightweight and does not take up much of the storage or other system resources.
The app shows search results in various filters and extensions.
Awesome Duplicate Photo Finder's side-by-side duplicate result feature is quite amazing
You can use the software and look for duplicate images in various formats for free.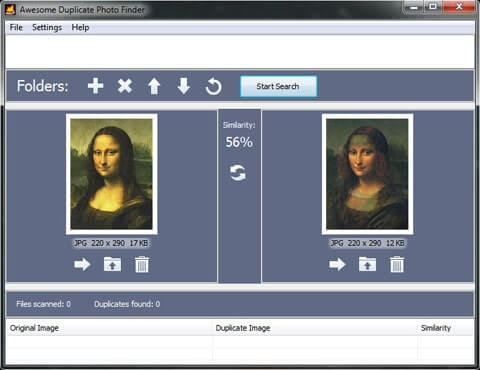 Download Awesome Duplicate Photo Finder Today!
---
9. CCleaner
The software known as CCleaner, which is produced by Piriform, is now in a prominent place on the list of finest duplicate photo finder and removal programs currently on the market. You may be scratching your heads right about now, wondering how a piece of software that optimizes and cleans your computer managed to make its way into this list. However, the vast majority of people are unaware that CCleaner has powerful skills that may locate and eliminate photographs that are comparable in order to optimize a digital collection. Know more about this best free duplicate photo finder Windows 10/11 in 2023 below.
Features of CCleaner:
Users are able to conserve crucial storage space on their computers by using the File Finder tool
The software allows you to rapidly locate duplicate files and subsequently delete the unnecessary ones.
The tool has multiple options, filters, and other easy-to-access features.
You can get rid of multiple photos at once using CCleaner.
Apart from the pictures, the tool also allows you to look for other kinds of duplicate data.
The user interface of the tool is multilingual and easy to use.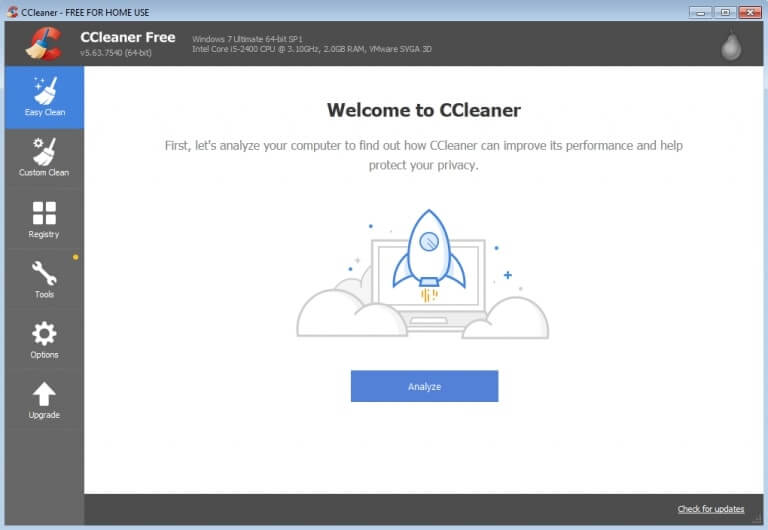 Also read: Best RAM Cleaner, Optimizer, and Booster for Windows 10 in 2022
---
10. Auslogics Duplicate File Finder
Have you been trying to arrange the many digital media collections you have and seeking the finest duplicate photo finder and cleanup for Windows 10? After that, you should go to the Auslogics website and download the program known as the Duplicate File Finder so that it may organize your music, movies, images, and other documents to make your computer more efficient than it has ever been. Know more about his duplicate picture finder below.
Features of Auslogics Duplicate File Finder:
This application allows you to pick the file types.
After scanning all directories, it gives a full list of duplicate files identified.
You can delete or retain any file you want with ease.
The software does not contain any type of ads or any other annoying pop-ups.
You can even use the tool to get back the deleted files with ease.
You can also use the Auslogics Duplicate File Finder to get rid of unwanted files.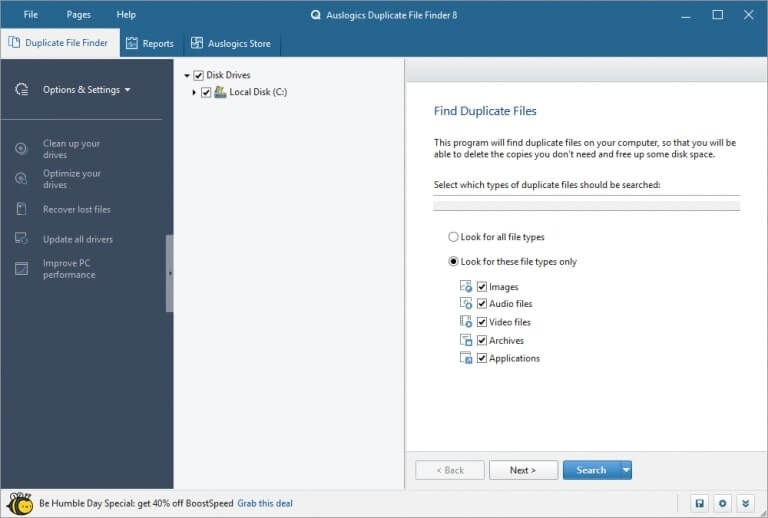 Download Auslogics Duplicate File Finder Today!
---
11. Glary Duplicate Cleaner
With its elegantly crafted user interface and user-friendly comparison options, Glarysoft's Duplicate Cleaner is easily one of the most effective duplicate photo finders available for Windows 10. Users are able to execute a comprehensive search for all sorts of duplicate files, such as Word documents, images, and music videos, with the assistance of this fantastic program, which is loaded with a large number of strong duplicate cleaning modules. Know more about this free duplicate photo finder below.
Features of Glary Duplicate Cleaner:
The software contains an integrated Ignore option to skip any type or number of files.
You can set the search filter and get the required results for the duplicates.
The interface of the Glary Duplicate Cleaner is multilingual.
With a single click, you can look for duplicates with the required criterion.
You can also use the Glary Duplicate Cleaner to delete duplicate documents, videos, and other files.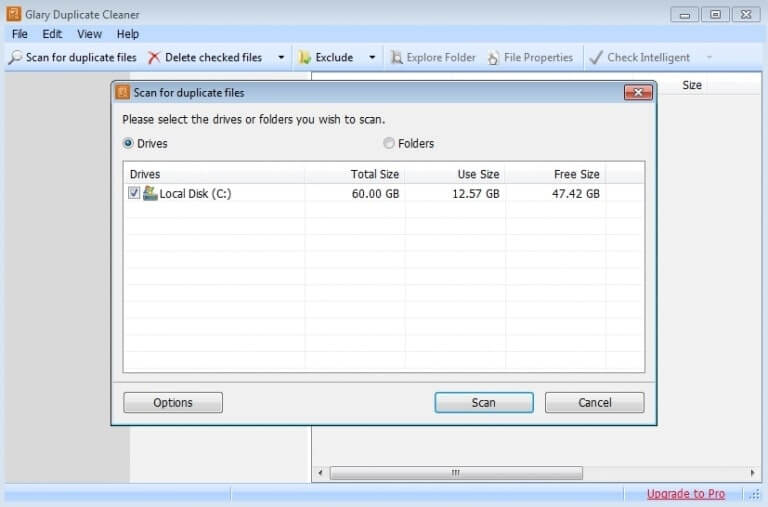 Download Glary Duplicate Cleaner Today!
---
12. DupeGuru
Hardcoded Software's dupeGuru is a free and open-source graphical user interface (GUI) tool that searches for and removes identical files from your hard drive. Images, music, archives, and documents are just a few of the formats that work with it. It's user-friendly because it comes with a variety of scan modes and functional configurations. The program also has a keyword filter that helps you zero in on specific documents.
Features of DupeGuru:
DupeGuru has a straightforward but archaic user interface.

It's possible to search for and remove identical media using the software.

You can tweak DupeGuru to your liking and easily achieve your goals.

The software's user interface is available in many different languages. These include Italian, Czech, Russian, Armenian, French, Chinese, German, English, and many more.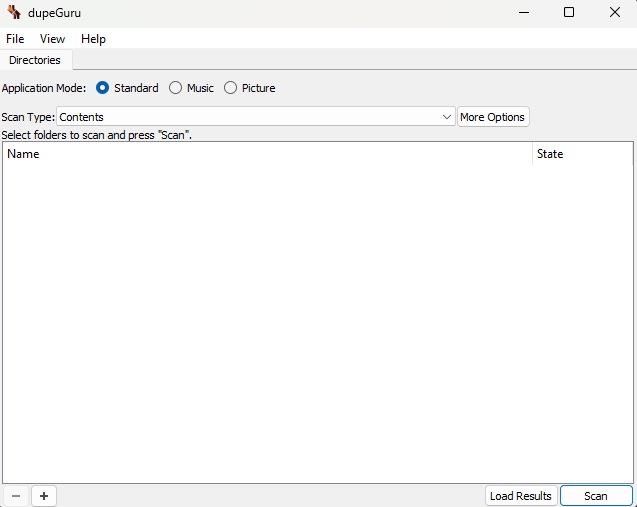 Download DupeGuru Cleaner Today!
---
13. Ashisoft Duplicate Photo Finder
Ashisoft Duplicate Photo Finder is the last name on this list. This is indeed an amazing tool and the best duplicate photo finder that offers both free and paid versions to users. With the help of the software, you can look for duplicates in HDD, SSD, and even cloud storage services. Apart from photos, the tool can also help you find duplicate videos, audio, and other types of files. 
Features of Ashisoft Duplicate Photo Finder:
The software compares different folders and then shows duplicates accordingly. 

You can add different files in the Protect Folders section to skip such files from the search. 

The tool works with an automatic selection assistant that automatically selects the best duplicates for you. 

You can even preview the images before deleting them.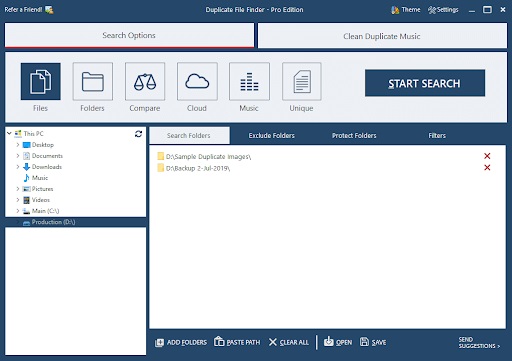 Download Ashisoft Duplicate Photo Finder Today!
---
Which Duplicate Photo Finder Did You Like?:
Each of the aforementioned duplicate photo cleaner software options provides users with an abundance of helpful image deduplication capabilities, which make it easy for users to locate and get rid of photographs that have been duplicated. We recommend that you utilize Quick Photo Finder because of its impressive mix of quick and accurate scanning results, sophisticated capabilities, and easy-to-use interface. This is the case even if you are still in the process of narrowing down your options for the best photo finder software.
Our post comes to a close here; if you want a picture library that is free of duplicates in a matter of moments, all you have to do is download your preferred duplicate remover right now.
Author: Snehil Masih
Snehil Masih is a professional technical writer. He is passionate about new & emerging technology and he keeps abreast with the latest technology trends. When not writing, Snehil is likely to be found listening to music, painting, traveling, or simply excavating into his favourite cuisines.