Are you fed up with scrolling through thousands of images stored on your computer or smartphone to locate the one you've been looking for? Are you having trouble backing up and organizing your photo collection? If so, you are not the only one.
It can be difficult to organize photos these days, as our photo collections are getting bigger and more complicated. In the age of digital photography, taking pictures is simple, but organizing them can be a really difficult task. This is where the best photo management software comes into play.
Using photo management software, you can organize all of your photos into folders according to the date, time, place, or any particular people you were with. A free photo management software program that is user-friendly can assist you in organizing photos from your phone or digital camera. So they are all kept in one location and are easy to find when you need them.
So whether you work as a wedding photographer professionally. Or simply trying to figure out how to arrange family photos. Photo organizing software could organize the photos you have and drastically simplify your life. So without further ado, let us explore the 7 best photo management software for PC in detail!
7 Best Photo Management Software To Use in 2023
Using the right photo management software, your digital pictures are simple to organize, modify, and share. In this article, we have listed the best photo management software. Pick the option that's most suitable for you so that it can help you with effective photo management.
1. Adobe Lightroom
Adobe Lightroom is regarded as the best photo management software currently available on the market. It provides users with an easy and user-friendly interface that enables them to organize, modify, store, and share photos quickly and effortlessly. Along with a variety of image formats, it includes extensive photo editing capabilities that let you change color, sharpness, tone, and more. As a result, you can quickly view and manage images from any device, such as smartphones, digital cameras, or scanners.
Lightroom not only has tools for managing photos, but it also makes it simple to construct great picture books with lovely layouts and styles. In order to facilitate speedy indexing and effective searching, you can also add captions, key phrases, and rankings to your photos. With a much greater learning curve than some of the other best photo organizing software on this list. Adobe Lightroom is a fantastic photo library manager with a huge variety of features.
Key Features
Photo Editing.
Lightroom Presets.
Photo Storage and Management.
High Resolution.
Share Photos.
---
2. Adobe Bridge
Another great piece of photo-organizing software from the Adobe Suite is Adobe Bridge. It includes a user-friendly interface similar to Lightroom that will let you easily organize, modify, and share your photographs. Batch processing of pictures is one of Adobe Bridge's outstanding capabilities. This enables you to quickly edit or add effects to many photographs at once, including color correction, formatting, resizing, and more.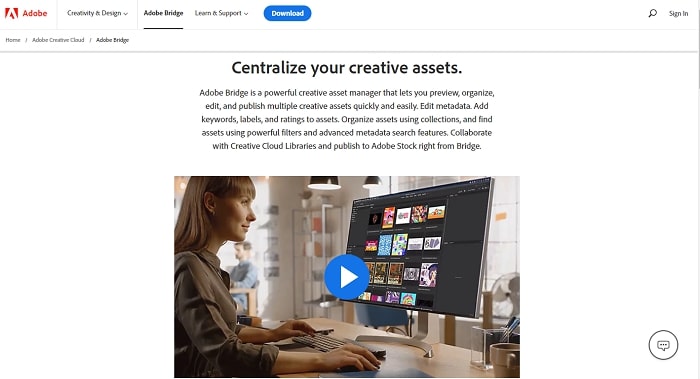 Additionally, Adobe Bridge provides advanced categorization and labeling tools that make it simple for you to keep track of all your photographs. For easy indexing, you may add tags, star ratings, and captions. Alternatively, you can use the integrated search function to identify photographs quickly using a specified set of criteria.  Bridge and Adobe Lightroom have very different ways of editing pictures. You can edit your photographs in Adobe Lightroom immediately from the app. You'll be directed to use Adobe Photoshop for image editing when using Adobe Bridge. Therefore, Adobe Lightroom is perhaps a better choice for you if you frequently edit images.
Key Features:
Photo management and organization.
Advanced Tagging and Searching.
Batch Processing.
Printing and Contact Sheet Creation.
Share Photos.
Read Also: Best Duplicate Photo Finders and Cleaners in 2023
---
3. Google Photos
Google Photos is extremely helpful and one of the best photo management software programs that can be used on desktops as well as smartphones. Since it is a cloud-based system, you can easily access all of your photos, videos, and albums from any location with an internet connection. Additionally, the app has smart features like facial recognition. Which makes it simple for you to arrange your library according to people, places, and things.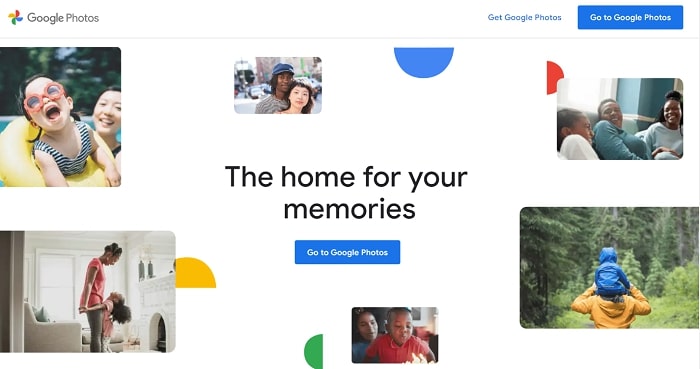 Google Photos is a fantastic photo organizing program that also has cutting-edge editing tools like filters and image retouching. With the help of its AI-powered search tool, you can quickly locate photos using keywords or even without any tags at all.  Furthermore, it is one of the best free photo management software. It effortlessly integrates with other Google services such as Google Home and Google Drive. Therefore, if you are already fairly deeply involved in the Googleverse or have other Google products in your home, it is a great option.
Key Features:
Facial Recognition for Library Organization.
Photo editing and retouching.
AI-Powered Search Tool.
Google Services Integration.
---
4. ACDSee Photo Studio
Another top-notch photo management software that makes it easy to share and organize digital images is ACDSee Photo Studio. It includes strong editing features and support for a variety of file types, such as RAW files. It can also be utilized to quickly batch-process photographs for expedient touch-ups and effects. Because of the simplicity and intuitiveness of the user interface. Both beginner and experienced photographers will find arranging their photo libraries easy.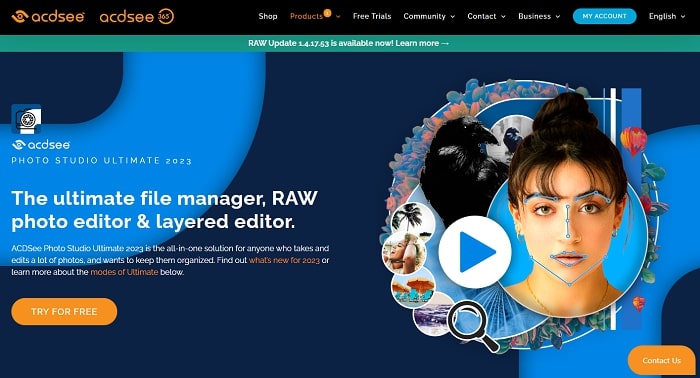 This free photo sorting software also provides sophisticated search features that let you easily locate the photos you require according to keywords, captions, ratings, and other criteria. ACDSee Photo Studio has printing options that make it simple to produce excellent prints or contact sheets from your images, along with its photo management functions.
Key Features:
Photo management and organization.
Facial recognition and face detection.
Batch Processing.
Printing Tools.
Filter the list of categories and keywords.
Compatibility with "Live Text."
---
5. Digikam
If you are looking for free photo management software, Digikam is definitely one of the best choices available. It's an open-source application that runs on Linux, Mac, and Windows and makes it simple to categorize, arrange, share, edit, and store your photographs. Digikam offers robust searching functionality in addition to photo management tools.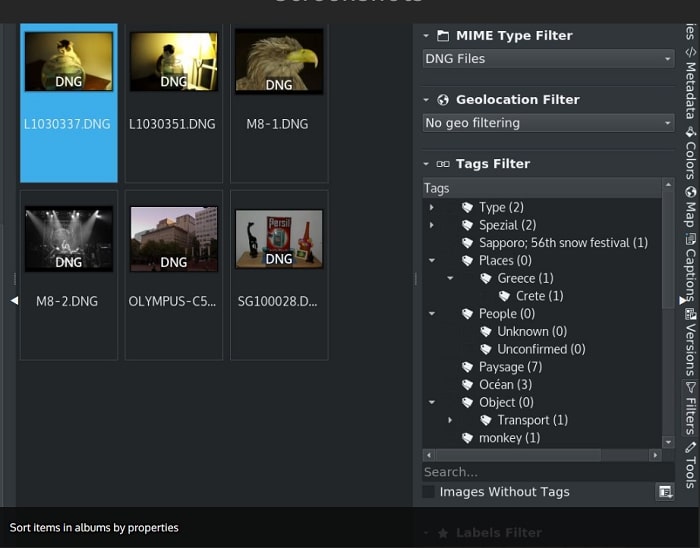 Photo searches can be done using tags, labels, ratings, dates, locations, and even particular EXIF, XMP, or IPTC metadata data. It can work with RAW photos and decodes these files using the LibRaw library. For cataloging purposes, Digikam can also manage video files, and it uses the QtAv and FFmpeg libraries for decoding. For anyone seeking a capable free photo management software on a tight budget, Digikam is a fantastic choice.
Key Features:
Photo Organizing and managing
RAW File Support.
Video File Management.
Batch Processing for Speedy Touch-Ups and Effects.
Advanced Searching Capabilities.
Filter Keyword and Category Lists.
Read Also: Best Business Process Management Software 2023
---
6. Magix Photo Manager Deluxe
Looking to manage your digital photos with ease? Magix Photo Manager Deluxe is the perfect solution! This photo-organizing software offers a wide range of helpful features, such as photo editing, sharing, and storage. Magix makes it simple to edit, resize, rename, and fix several photographs at once.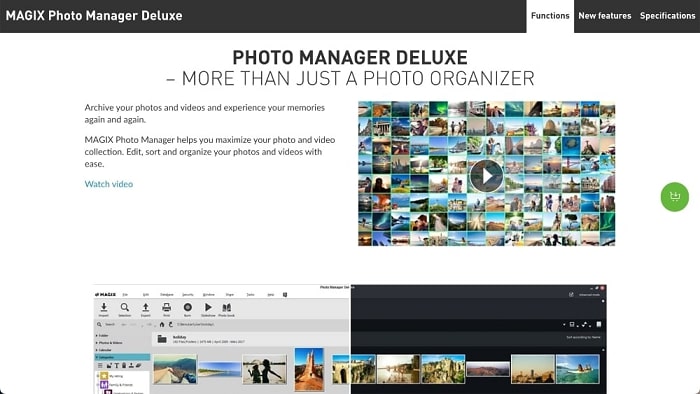 Additionally, it has sophisticated organizational and labeling options, enabling you to keep an eye on your photos and locate them easily using particular search parameters. For easy indexing, you may add keywords, star ratings, and captions. Alternatively, you can use the integrated search feature to find photographs with ease. If you're seeking easy-to-use, beginner-friendly photo organizing software, Magix Photo Manager Deluxe is a great option.
Key Features:
Organizer for photos and videos.
Photo Editing.
Cloud and Smartphone import
Filters.
Both RAW and AVCHD formats are supported.
Slideshow Effects and Templates.
Visit Magix Photo Manager Deluxe 
---
7. Movavi Photo Manager
Movavi Photo Manager is a great option if you're seeking user-friendly photo management software. It is built with strong tools, including batch processing for speedy touch-ups, customized tagging and sorting, and comprehensive search capabilities. Even video file management and RAW support are supported.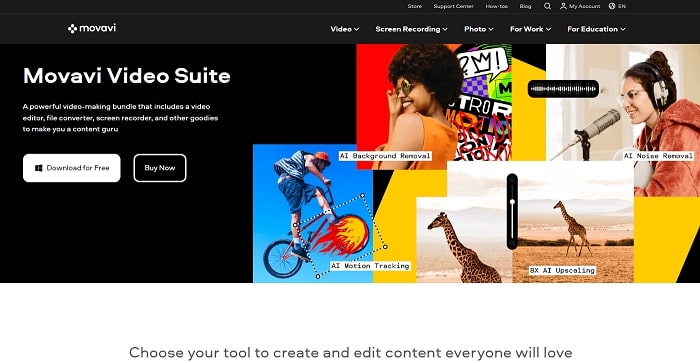 Your images are easy to arrange and find because of the simple user interface of this photo-sorting software. You can quickly search for photographs using tags or without tags at all by making a few clicks. You can easily batch-process your photographs to add filters, effects, or other alterations. Another fascinating function of this free photo management software is the ability to retrieve old pictures.
Key Features:
Personalized Tagging and Sorting
Advanced Search Features
Batch processing for speedy touchups
Video File Management
RAW File Support
Read Also: Designing & Engineering Software
---
Get Started with These Best Photo Management Software
If you want to keep your digital images organized and accessible, photo management software is what you need. Depending on your goals and budget, you have a variety of options to pick from, whether you're a professional or an amateur photographer.
So, we sincerely hope that this article helped you pick the best photo management software. Please leave a comment if you have any more queries or believe that we have missed any essential photo-organizing software from this list.
Author: Snehil Masih
Snehil Masih is a professional technical writer. He is passionate about new & emerging technology and he keeps abreast with the latest technology trends. When not writing, Snehil is likely to be found listening to music, painting, traveling, or simply excavating into his favourite cuisines.