Here is a list of some of the Best Business Process Management software for Windows devices that will allow you to smoothen the entire procedure with ease. 
Managing a business is not an easy task. Tons of effort and ideas come together to keep a business up and running. However, with the advancement of technology, the same is becoming quite easy for all. More and more online and offline tools are being brought about that make different tasks easy for businessmen to undergo.
The task(s) of a Business Process Management system or tool, revolves around the same as well.
What is Business Process Management Software?
Software designed for business process management, or BPM, may assist in defining, automating, and reporting on business processes designed to help firms become more efficient in meeting their corporate objectives. These tools are intended to assist organizations in enhancing the overall efficiency of their day-to-day operations by optimizing the procedures and workflows that they use.
BPM systems are used for the purposes of distinctly defining processes that extend over the whole of an organization's activities and then monitoring those processes. The automation of procedures is another possible use for these instruments. BPM systems' greatest strength is that they are able to take into account the overall picture of the whole organization.
Although they are adaptable enough to be utilized by any department, operations teams are more likely to choose to implement them. Integrations between BPM systems and CRM software are frequent since BPM systems might contain case management functionality.
BPM software and other solutions share features and functionality; thus, it is essential to have a solid understanding of the distinctions between the many options available.
Therefore, although business process management (BPM) systems and workflow management software both provide the capability to define and manage sequences of business activities and tasks, the former differs from the latter in that it gives users the ability to get a more comprehensive view of all of the processes that are taking place within your organization.
Although the workflow is a component of business process management, BPM is mainly concerned with task management and the manner in which individual activities that are more routine and less complicated may be completed.
Now that we have cleared the definition of the Business Process Management tools, let's head over to the list of the top 7 programs that you can try in 2023.
Top 7 Best Business Process Management Software
In the coming sections of this article, we will have a look at some of the best Business Process Management software. With the help of any of these tools, you can easily manage and control various aspects of your business. We suggest that you go through the entire list and the descriptions of the products before proceeding with anyone. The rest is up to you.
1. Oracle Business Process Management Suite
Oracle BPM Suite tops the ranking as the best program in this category. This is the best Business Process Management software. There are also reports and documentation of processes, as well as real-time measurements and predictive analytics. With the help of Oracle's BPM Suite, companies and IT departments can work together to streamline and improve their operations. Oracle BPM Suite's price is available only upon request, and there is no free trial available. Let's know more about this Business Process Management system from the features below.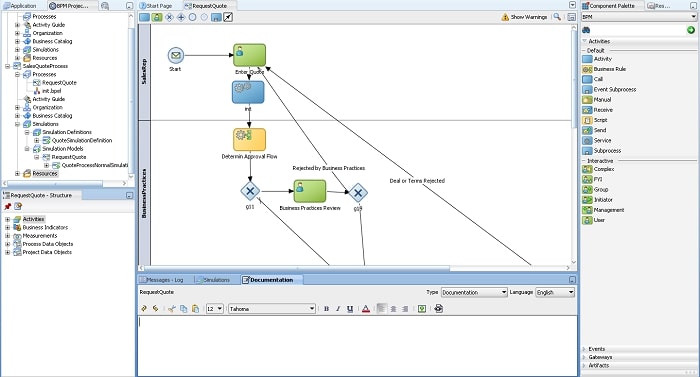 Features of Oracle Business Process Management Suite:
Oracle's long history of service bodes well for the company's level of knowledge.
You may want to seek elsewhere if you're hoping to integrate older tools or project management systems.
The assessment criteria stipulate the need for a comprehensive set of features and functionalities.
The biggest drawback of this suite is that it does not offer cutting-edge user experience (UX), usability (UX), or integration choices that are often included in new or developing technologies.
---
The next name on this list of the best Business Process Management software. According to our assessment criteria, Signavio is superior since it offers more than the competition. An application programming interface (API) and JavaScript allow for seamless integration. It would be great if there were more ways to connect with other apps. In addition to being totally web-based, other notable features include model validation, a unified dictionary module, value-chain modeling, and process mining. Let's try to find out why this platform is present on the list of Business Process Management tools from the features below.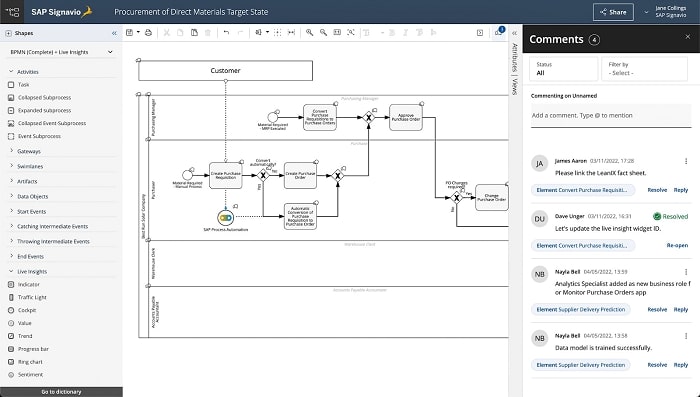 Signavio's prices are accessible upon inquiry, and the service also provides a free trial.
Sharing comments, evaluations, and critiques on models is also a breeze using this program.
Your company's ERP transition efforts will benefit from it.
Although the interface is a little archaic, the clever features more than makeup for it.
The Signavio Process Manager makes use of cutting-edge web technologies and smart process mining.
Also know: Best SaaS Software to Help With Content Creation
---
3. Quixy
Taking this list of the best Business Process Management software forward, we have Quixy as the next tool. This application is superior to the competition because of its many useful features, such as customer relationship management, project management, human resource management, expenditure management, service request management, and incident management. Quixy offers a wide selection of ready-made applications. Let's know more about this Business Process Management platform from the features below.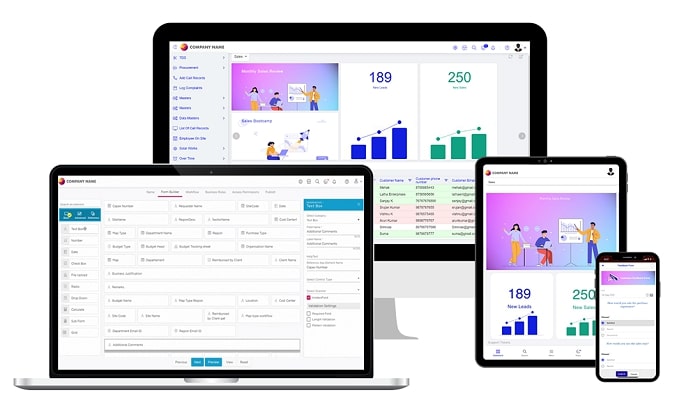 Features of Quixy
The project manager and their group may tailor the tool to their own requirements.
Users may automate processes and workflows using Quixy and create their own as needed.
On a yearly basis, Quixy costs $10 per user. You may try out the program risk-free for 21 days.
Using a simple drag-and-drop interface, users may create enterprise-level apps ten times quicker than with the old method.
It allows business users to automate procedures and workflows without the need for technical expertise.
Quixy is a business program that runs in the cloud and is easy to use.
---
4. Kissflow
The next name on this list of the best Business Process Management software is Kissflow. This system is compatible with a wide variety of others. All of the Google Apps, Dropbox, DocuSign, WebMerge, Salesforce, Oracle, and more are compatible. Features such as automated processes, project board creation, case flow management, and communication tools are available on the platform to assist with process management requirements. Kissflow performed well in Features and Functions because they provide a practical no-code alternative for your company. Let's know more about this Business Process Management system from the features below.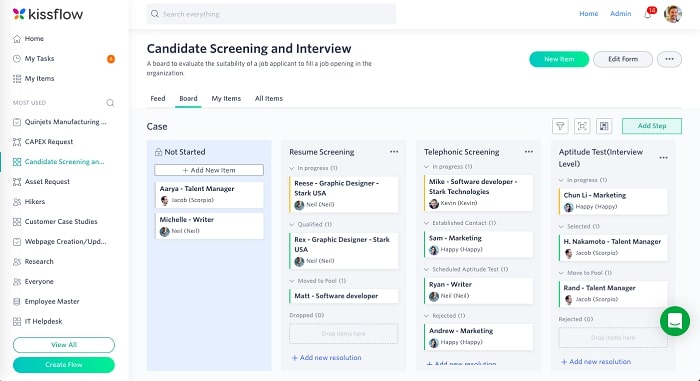 Features of Kissflow
It is not possible to use the program without an active internet connection.
More than 50 pre-built applications, such as Expense Reporting and New Hire Orientation, are at your disposal.
Real-time analytics, scalability in both users and data, and an intuitive interface are just a few of the features.
For up to 20 users, Kissflow costs $360 monthly and has a free trial.
It's a very prevalent business process management system.
Also know: Top Designing & Engineering Software
---
5. Pneumatic Workflow
Pneumatic Process Flow is the next best Business Process Management software. It provides tremendous benefits to the company. Both the platform's public API and manual process implementation fall under this category. Pneumatic Workflow is a powerful business process management solution that provides several entry points for initiating processes. With the help of Pneumatic Workflow, organizations may efficiently set up assembly lines to hand off activities in progress from one worker to the next.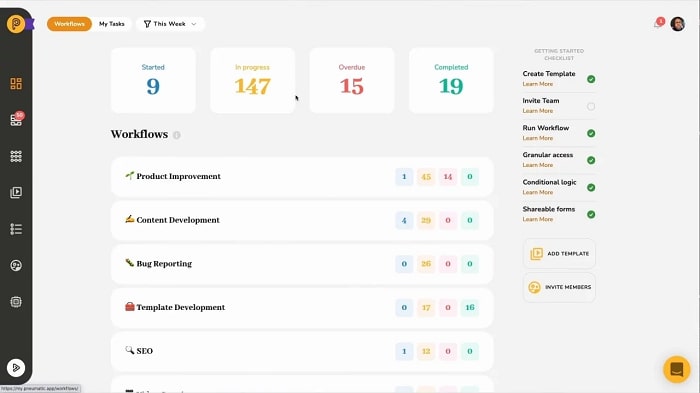 Features of Pneumatic Process Flow
The software may communicate with other programs by means of a freely accessible application programming interface (API) or by linking to a Zapier premium account.
Pneumatic's features include a standardized kickoff template, customizable process variables, and helpful tools.
Users may also choose from Pneumatics free template library, which has pre-built processes.
Pneumatic is software for managing workflows and automating processes. You may simply streamline processes and improve interdepartmental dialogue.
The tool's other well-known benefits include a decrease in human error and an increase in output.
---
6. Revver
One of the best Business Process Management software that's well known for its smart UI is Revver. With Revver's built-in collaboration features, team members can provide input and sign off on papers right there in the app. When it comes to corporate procedures, Revver's document management features aim to streamline administration and collaboration. When it comes to corporate procedures, Revver's document management features aim to streamline administration and collaboration. Let's know more about this Business Process Management platform from the features below.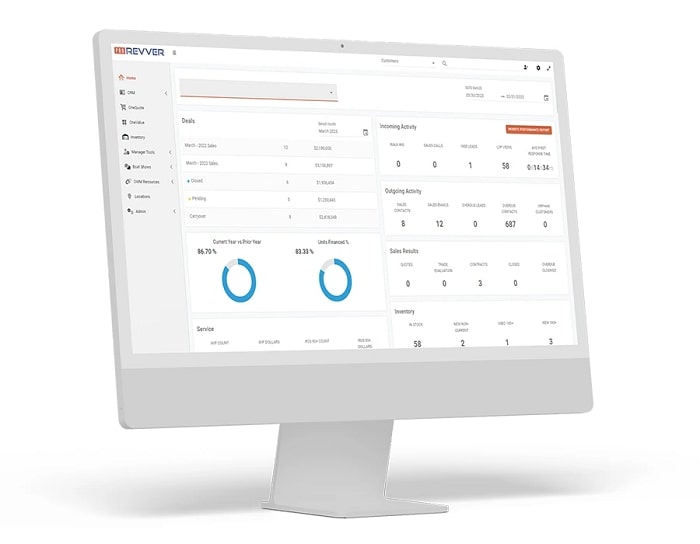 Features of Revver
Users may create subfolders and provide permissions to documents linked to certain procedures on the platform.
With Revver's process automation features, customers may optimize their processes and save time on routine chores.
Team members may feel more safe thanks to granular authorization settings.
Revver's price is available on demand.
When it comes to analyzing and optimizing business processes, cloud-based Revver is where it's at.
Also know: Best Ways to Manage Your Software Stack
---
7. BeSlick
The last name on this list of the best Business Process Management software is BeSlick. Reporting is the main focus of the system. The focus is on high-quality reports rather than extensive customization options because of this. All of this information is downloadable as a CSV for additional examination. Creating business processes is so simple that non-technical people can do it. When used as tasks, you may gather data and file uploads, and you can also use them to run training videos, links, and documents. Let's know more about this Business Process Management system from the features below.
Features of BeSlick
BeSlick plans begin at $10/month and increase in price from there based on the features you need.
I love the "my tasks" part! Whether a procedure or a simple reminder, such as a "check financial report," is the source of a task.
Easy snoozing, task reordering, and prioritization are all available.
For companies of all sizes, BeSlick provides a robust and user-friendly business process management solution.
It provides a drag-and-drop process builder based on standard flowcharts, complete with decision trees, loops, and relationships between individual steps.
---
Best Business Process Management Software: Listed
So, this was all we had to share related to the Business Process Management system. In the previous sections, we offered you some of the best alternatives that you can try in 2023 to manage your business. After extensive research, we compared some of the best apps and provided them to you. At least one of these apps or platforms will help you get the required ease of management.
If you want our help in any way, we are here for you. Ask your queries in the comments section below. We will provide you with the appropriate responses to the same in no time. Also, do let us know which one of the Business Process Management tools you liked the most. You are free to provide suggestions as well.
If you liked this article, do subscribe to our newsletter. Doing this will allow you to get instant updates related to the new additions to the blog page. Hence, you will always be up to date with interesting articles like this one on the best Business Process Management software. Support our work by following us on Facebook, Twitter, Instagram, and LinkedIn.
Author: Snehil Masih
Snehil Masih is a professional technical writer. He is passionate about new & emerging technology and he keeps abreast with the latest technology trends. When not writing, Snehil is likely to be found listening to music, painting, traveling, or simply excavating into his favourite cuisines.