Are you sick of cable TV and seeking a more adaptable and reasonable substitute? IPTV (Internet Protocol Television) may be the answer you are looking for. IPTV gives you access to a wide variety of channels from all over the world by allowing you to stream TV channels and on-demand content over the internet.
With the best IPTV player for Windows, you can watch your favorite TV shows, live TV channels, videos on demand, and much more. With the help of the IPTV player for PC, you can expand your options for entertainment by streaming any kind of TV show or movie very easily, regardless of where you are or where you belong. All you have to do is sign up and log in. After that, you can watch your favorite movie or TV show without interruptions.
But you need a dependable IPTV player for your PC to enjoy Internet Protocol Television. Making the best choice can be difficult because there are so many options. Because of this, we have put together a list of the 7 best IPTV players for Windows PCs so you can stream your preferred channels and shows. But before we move on to the list, let's first understand what an IPTV player is.
What is an IPTV Player?
IPTV (Internet Protocol Television) is a multimedia streaming service that operates on IP (Internet Protocol) networks. On their laptop and desktop computers, as well as their Android and iOS mobile devices, users may subscribe to IPTV and access all TV channels, VOD (video-on-demand) services, and live broadcasts, whenever they want. IPTV connects consumers to TV channels and other streaming media via IP-based networks. It supports both multicast (live TV) and unicast (video on demand) streams using a packet-switched network.
7 Best IPTV Players for Windows
Want to watch your preferred movies, TV shows, and live TV channels on a Windows or Mac device? Look nowhere else! This article includes the best IPTV players for Windows PCs that will turn your PC into the ultimate entertainment center.
1. VLC Media Player
If you want to watch IPTV on a Windows PC, VLC Media Player is a great option. For streaming online videos and television shows, it is like a superhero. It only takes a few clicks to start VLC, which manages your IPTV streams with ease and makes watching TV enjoyable. It is incredibly simple to use, and you can customize how it appears and functions. You can download this IPTV player for Windows to watch your shows without worrying because VLC also values your security.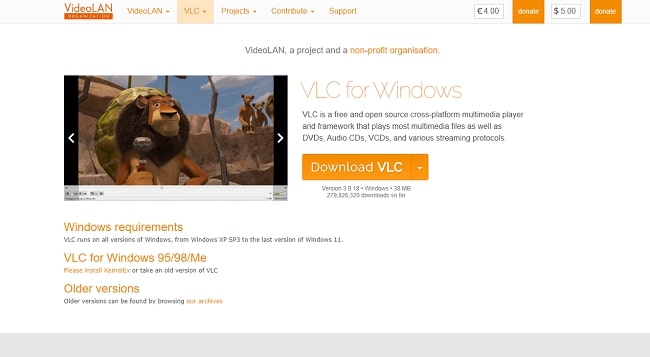 The VLC IPTV player for PC is like a complete entertainment package; it offers more than just IPTV. In addition to watching DVDs and playing music, you can also convert files to different formats. It is a multifunctional media player that is constantly prepared to enhance your viewing pleasure. VLC is free and keeps improving with updates, so you can count on a treat every time.
Key Features:
IPTV streaming is seamless on Windows, Mac, Linux, and mobile devices.
An easy-to-use interface for navigation.
Adjustable settings for a more personalized viewing experience.
Additional security measures for seamless streaming.
Multipurpose media player for music, movies, and more.
Regular updates to guarantee peak performance.
---
2. Kodi
Kodi is a complete home theater system that can help your Windows PC utilize IPTV to its fullest potential. You can stream movies, live TV channels, and even television shows with ease using a Kodi IPTV player for PC. It functions like a personal entertainment hub. You have control over your entertainment experience thanks to the user-friendly interface and numerous customization options.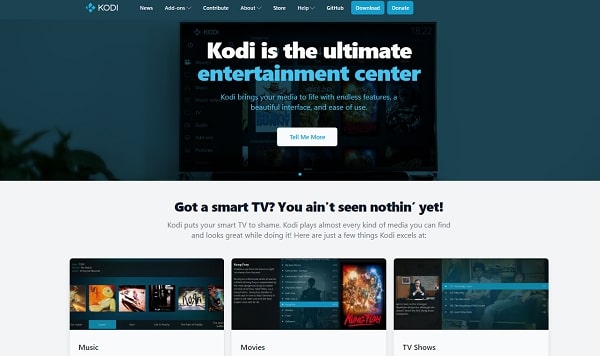 Due to its open-source design, Kodi is one of the best IPTV players for Windows PCs that can be customized to your tastes. You can install add-ons for Kodi to increase its functionality. Kodi's vast add-on library can satisfy any interest, whether it be documentaries, sports, or foreign content. Although Kodi provides an excellent multimedia experience, keep in mind that it does necessitate some initial learning. So, enter a world of carefully arranged content that is waiting for you to enjoy.
Key Features:
a wide variety of add-ons for customized content.
Channel integration and live TV streaming.
Synchronization across devices for a seamless experience.
Regular updates and Massive community support.
It provides the best cross-platform functionality.
The player is completely customizable, and you can easily change any aspect of it.
Also Know: How to Delete Playlists on Spotify: A Complete Guide
---
3. Simple TV
Simple TV is your one-stop shop for hassle-free entertainment on Windows PCs. SimpleTV, as its name suggests, aims to provide a simple and streamlined IPTV experience. With its simple controls and clean interface, you can quickly and easily explore a vast library of movies and TV shows.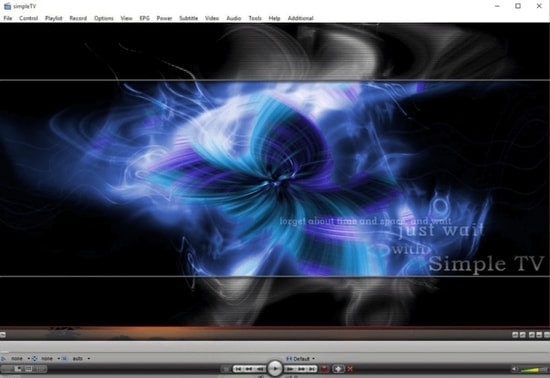 SimpleTV's charm lies in its simplicity, even though it may not have all the bells and whistles of more complicated competitors. It is ideal for people who want to get started with IPTV without being overrun by options. SimpleTV is a strong contender on our list of the best IPTV players for Windows if you are looking for a hassle-free way to watch your favorite shows.
Key Features:
Integration with EPG for simple scheduling.
Record programs and watch them whenever you want.
The emphasis is on usability and simplicity.
Perfect for people looking for a simple IPTV experience.
Adjustable brightness, contrast, and volume
Crop features and snapshot capabilities
---
4. Tivimate
Tivimate is one of the best IPTV players for Windows PCs, offering a great platform for online movie and TV show streaming. Its accessibility makes it usable at any time and anywhere, and its user-friendliness is a result of its limitless customizability options. A selection of premium features included in the APK file adds even more value to the quick and easy download process.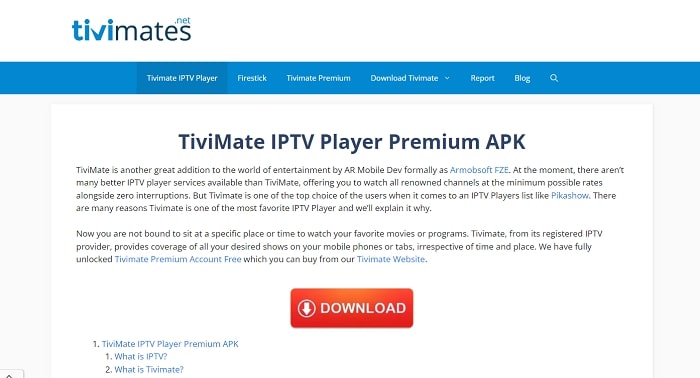 Tivimate's user-friendly design makes it simple to find and watch the content you are looking for. You have complete control over your TV schedule thanks to features like EPG (Electronic Program Guide) integration and multi-screen support. Tivimate IPTV Player for PC recognizes the value of aesthetics and provides a variety of themes that can be customized to fit your preferences.
Key Features:
The interface is simple and easy to use.
Quick access to favorite channels and programs.
EPG integration to make scheduling simple.
Support for multiple screens for flexible viewing.
Themes with personalization options.
Focuses on effectiveness and simplicity.
Also Know: Best Free iTunes Alternatives For Windows And Mac in 2023
---
5. Free TV Player
The Free TV Player application fulfills the wishes of those looking for a free IPTV player for Windows PCs. Windows users can enjoy a seamless streaming experience that includes live TV shows, TV channels, Internet radio, movies, and much more with the help of this elegantly designed smart IPTV player for PC.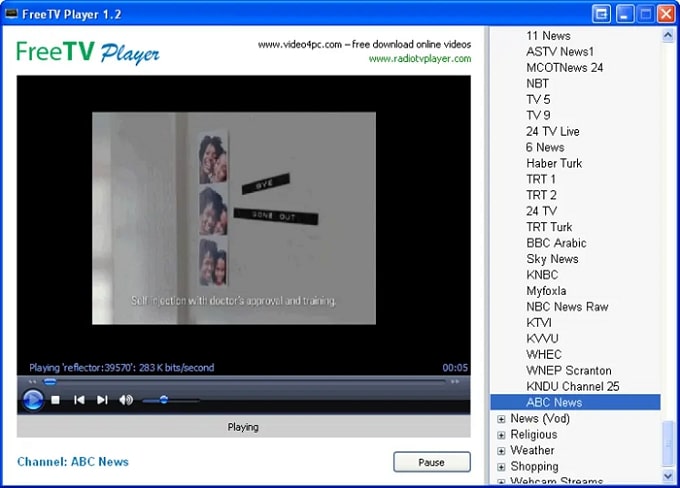 With this tool at your disposal, you can create a custom M3U playlist to watch live TV. To create an M3U playlist with this free player, simply launch it and enter the M3U playlist URL code provided by your IPTV service provider. So sit back and enjoy the live TV experience provided by one of the best IPTV players for Windows PCs.
Key Features:
An elegant smart IPTV player for Windows computers.
Internet radio, streaming movies, live TV channels, and TV shows.
M3U playlist customization for personalized content.
For easy access, download directly from the Microsoft Store.
The IPTV player for PC includes a list of available shows for streaming.
The free plan includes more than 40 channels.
---
6. ProgDVB
Prog DVB is one of the best IPTV players for Windows that has completely transformed how you enjoy TV on a Windows computer. Prog DVB provides you with access to a wide variety of diverse content by bringing together multimedia files, live TV streams, and recorded programs in one place. It operates on two separate interfaces and is renowned for providing users with a simple way to access digital content as well as a pleasant user interface.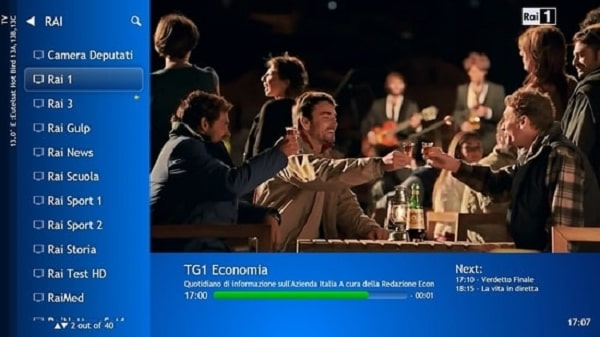 ProgDVB's feature-rich interface makes it simple to navigate through your playlists, record your favorite streams, and enjoy multimedia playback. ProgDVB's adaptability ensures that you are always in control of your viewing experience. Whether you are catching up on shows or discovering new channels.
Key Features:
Seamless combination of multimedia playback and live TV.
Easy management and organization of playlists.
Powerful recording tools for streams and shows.
Personalize your navigation with a customizable interface.
This IPTV Player for PC includes a plethora of features for a more enjoyable TV experience.
It includes Mosaic channel quick previews and a 10-band equalizer.
Also Know: Best Free Music Notation Software For Windows PC
---
7. Perfect Player
Perfect Player is a full-featured IPTV and media player solution for PCs. Essentially, it is one of the best IPTV players for Windows PCs, which gives you access to a large number of Internet-broadcast TV channels, as well as the ability to play local media files. Furthermore, it supports the generation of XMBC playlists as well as their opening. Once the installation is complete, navigating the software becomes remarkably simple.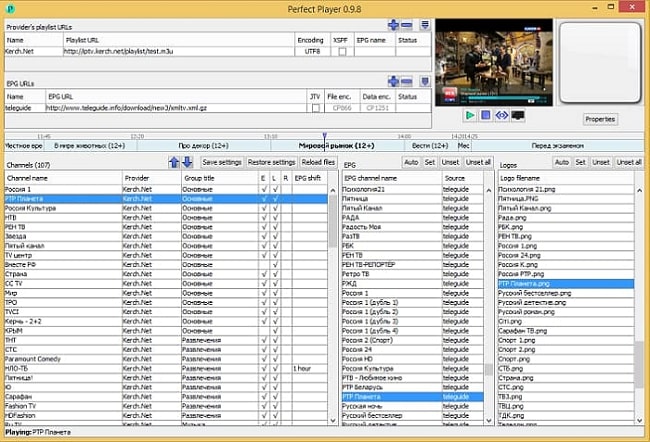 Using Perfect Player is similar to using a standard media player or TV, requiring no special knowledge. The application makes it easier to view subtitles and other on-screen elements. In this IPTV Player for PC, there are different methods of sorting the available channels. That includes renaming, grouping, and even hiding some options.
Key Features:
IPTV and media players with full functionality.
Access to a large number of Internet-based TV channels.
Play local media files with ease.
Support for opening and creating XMBC playlists.
Smooth navigation with an easy setup process.
Support for on-screen content and subtitles.
---
Conclusion
In the ever-changing landscape of digital entertainment, the search for the best IPTV player for Windows PCs has taken us through a variety of dynamic options. As we come to the end of this list of the 7 best IPTV players for Windows PCs. Keep in mind that your preferences and needs will ultimately determine the perfect player.
This wide range of options guarantees that there is an ideal fit for every Windows user's streaming journey, whether you prefer simplicity, customization, or a robust feature set. Take advantage of IPTV today to improve your entertainment experience! Stay tuned until we return with another intriguing tech story! Additionally, if you want to know what's going on in the tech world, do not forget to sign up for our Newsletter.
Author: Snehil Masih
Snehil Masih is a professional technical writer. He is passionate about new & emerging technology and he keeps abreast with the latest technology trends. When not writing, Snehil is likely to be found listening to music, painting, traveling, or simply excavating into his favourite cuisines.