If you want to play the radio on your smartphone, then this article will give you the top 7 best radio apps for Android mobile phones in the 2023 market.
Remember when we used to rest in our homes and fiddle with the radio's antenna to try to find a channel with something other than static? It seems like radio isn't as important as it used to be, especially for younger people. Even though streaming services like Spotify and Apple Music have grown a lot in the last ten years, many people still listen to free country music radio for songs, sports, news, and other things.
Even on the worst days, music can calm your mind and make you feel less stressed. To get through the hard times in your life, you need to have one of the best free radio apps. Not only that, but music is also a big part of celebrations and is hard for even the next generation to escape. So, here are some of the best Android apps that let you listen to the radio on your phone.
Top 7 Best Radio Apps For Android Smartphones In 2023
Here are some of the best-handpicked apps that will play free radio online on your Android devices.
1. TuneIn Radio
When it comes to audio, TuneIn is the only app you need. Thousands of stations broadcast anything from music and discussion to breaking news. TuneIn will list the most listened-to stations in your area, as well as those that focus on sports, news, and local programming. There are other international language radio stations available.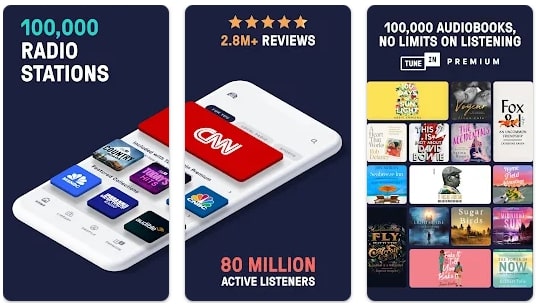 You may listen to the free radio online as well as a wide variety of podcasts on TuneIn, covering everything from technology and comedy to mindfulness and real crime. Marking individual radio and podcast channels as favorites make it simple to return to them at a later time and eliminate the need to go through all available options.
Key features of TuneIn Radio
Allows you to download both audiobooks and podcasts
More than 100,000 stations are available
Quick and simple app to use
Easy to search for a specific station
Offers a wide variety of podcasts
---
2. Radio Online
Free Radio Online provides an abundance of radio options, including hundreds of stations broadcasting in a variety of formats (from online to FM radio). It excels in delivering high-quality audio despite the speed of your internet connection. It's a basic radio app without a lot of bells and whistles, but it gets the job done when it comes to the basics.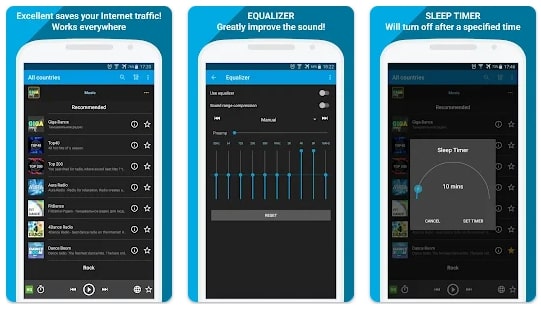 Psycho, Trance, Banda, Ranchera, Ska, Hip Hop, Dance, Metal, rock, Cumbia, Salsa, Reggae, Spanish Rock, K-Pop, J-Pop, Pop, and many more music genres are available within this free country music radio app. For a nominal cost, users can subscribe to Radio Online Pro and gain access to features like a sleep timer and the ability to record live broadcasts.
Key features of Radio Online
Allows you to make
24×7 availability
Sleep tracking feature to turn off the app automatically once you slept
The news provided is reliable and from trusted sources
Interface is customizable
Also know: Best Free Movie Apps for Android
---
3. My Radio
More than 50,000 shows, songs, and radio stations are available to you through My Radio. You may narrow your search to specific genres like talk radio, news, sports, and more, much like on TuneIn Radio. The interface is sleeker, resembling Spotify more than anything else.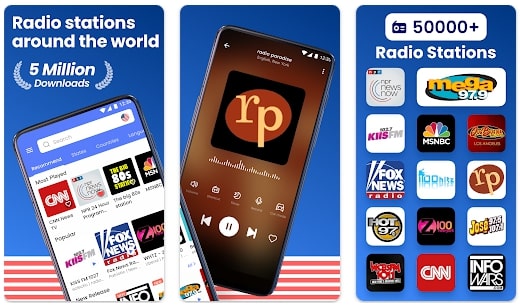 Using the app's Countries menu, you may search for stations and programs from all across the globe. From China to the United States, from Jamaica to Poland, you may tune in here. You can also search by genre, such as oldies, house, classical, pop, etc on this amazing free radio app.
Key features of My Radio
More than 50,000 online TuneIn radio stations
Free-to-use
High-level data safety and security
User-friendly interface
Alarm and sleep timer features
---
4. iHeartRadio
This radio app for listening to radio stations has the potential to be among the best of its kind. It offers the finest selection of music channels, radio stations, and podcasts available today. There are dozens of live radio stations and podcasts available on iHeartRadio. What's more, they stock an extensive library of playlists to suit any occasion or state of mind.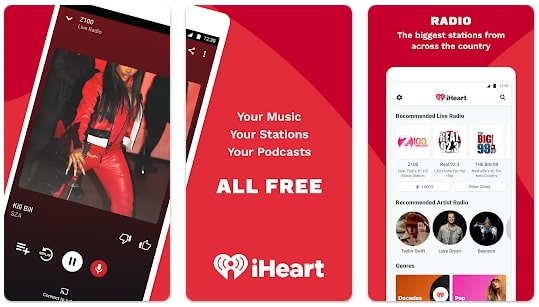 For music fans who also enjoy listening to the radio, it's almost like a one-stop shop. The Android app is not only aesthetically pleasing but also quite simple to use. Make custom radio stations using your favorite bands and songs. The iHeart Mixtape is another available option. You may customize weekly music recommendations with this tool.
Key features of iHeartRadio
Celebrity podcasts streaming
Allows you to make unlimited playlists
Offers you to create your own music stations
One of the best Podcast apps
Its library has millions of songs
Also know: Best Equalizer Apps for Android
---
5. AccuRadio
AccuRadio is one the best radio apps that simplifies finding, personalizing, and listening to music. There are over 50 different types of music available via the app's hundreds of music channels. In addition, AccuRadio lets listeners bookmark their preferred stations and track their listening habits.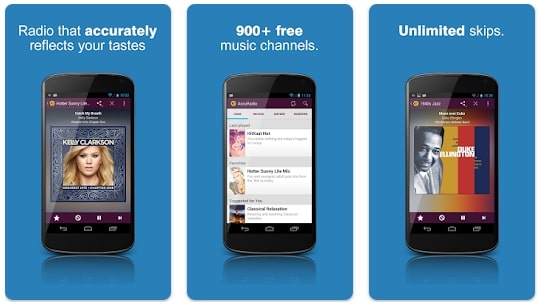 The app's settings allow users to restrict content from specific artists or playlists. AccuRadio gives users complete control over their music experience by allowing them to skip songs at will and block specific artists from playing on any of their channels. It also lets you rate songs and save your favorite channels, both of which you can then share with your friends.
Key features of AccuRadio
Customization is available
More than 50 different music genres
Provides HD-quality audio
Comes in the top 10 most-listened radio apps
Uses 32kbit/s HE-AACv2 audio streaming
---
6. VRadio
VRadio is a program that provides access to well-known radio stations from all around the world. With a few clicks, you may find and listen to your preferred broadcasts, or explore new ones. The VRadio interface may use some work, but it displays broadcasts from the country of your choice promptly and without a hitch.
At any time, you can switch to a different station by selecting its icon. Alternatively, you can select a new nation from a pull-down menu. You may use this fabulous radio app to listen to live radio, but you can also tailor your experience to your tastes by adjusting the volume, saving your favorite stations, looking back at what you've listened to recently, receiving personalized recommendations, and more.
Key features of VRadio
Android Auto feature to use in your car
Chromecasting facility
Free of cost
International Database
Easy-to-use
Also know: Best Music Players For Windows PC in 2023
---
7. XiiaLive
There is a wide variety of electronic, classical, hip-hop, and alternative music available on XiiaLive's extensive library. You can choose and bookmark a radio station from a wide variety of genres. The app also includes an equalizer and a sleep timer as extra features. Numerous podcasts cover a wide range of topics, including news, business, humor, and more.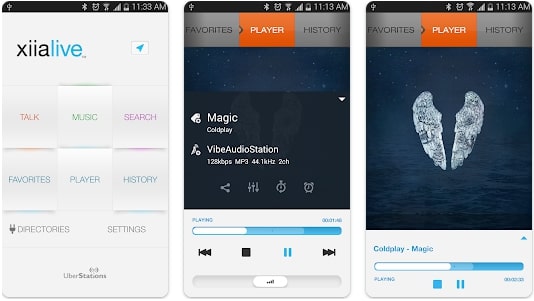 XiiaLive is the largest radio communications data supplier in the world, and it also happens to be one of the greatest FM radio apps. RadioReference is the largest and most active community of public safety communications professionals and amateurs around the globe. It offers a large library of customizable radio stations.
Key features of XiiaLive
Recording feature for later use
Available in 23 different languages
Over 50,000 radio stations
Supports numerous audio formats
Data guard option
---
Wrapping Up The Best Radio Apps For Android Users In 2023
When we all listened to the radio in the morning, things changed a lot. Now, you can listen to as many or even more stations on your own phone. With these radio apps, you don't need a radio to listen to your favorite stations and podcasts. You can listen to them wherever you are. However, if you want to add more apps to this list, share them in the comments section.
Author: Snehil Masih
Snehil Masih is a professional technical writer. He is passionate about new & emerging technology and he keeps abreast with the latest technology trends. When not writing, Snehil is likely to be found listening to music, painting, traveling, or simply excavating into his favourite cuisines.