Looking for free iTunes alternatives for your system? On this page, you can find a list of some of the best iTunes alternatives for Windows and Mac. Apple's iTunes completely changed the way we listen to songs, allowing us to create playlists, collect our favorite songs, and upload them to MP3 players.
Additionally, iTunes featured an abundance of entertainment choices that made it the best in its class. With the release of MacOS Catalina, Apple pulled out iTunes after nearly two decades and introduced Music, podcast apps, and TV in its place. To simplify the user experience and keep up with current trends in media consumption, the change was made.
But there were already several problems with iTunes, like inconsistent backup functionality, compatibility concerns, and long syncing times, which led many customers to search for iTunes alternatives.  There are a ton of best iTunes alternatives for Mac and Windows that allow for the management and transfer of iOS files. So, which application performs best and is a perfect alternative to iTunes? We've chosen the 7 best iTunes alternatives for Windows and Mac to manage and transfer data.
Best iTunes Alternatives You Should Use in 2023
You need to be a little more selective when looking for a replacement for multitasking programs like iTunes. Don't worry! Here, we have provided a number of easier, more reliable free iTunes alternatives that let you do much more than iTunes does, including managing songs, playlists, podcasts, photos, movies, and more across multiple devices. So, let's check out the list now.
1. MediaMonkey
MediaMonkey is without a doubt among the best iTunes alternatives for Mac and Windows. You can rely on it if you are concerned about managing your media files, especially your music. With it, you can easily manage tens of thousands of music and video tracks. Whether they are kept locally, in cloud storage, streamed from the internet, on a device connected to the network, or on a hard drive. You can organize the cluttered collection with little effort.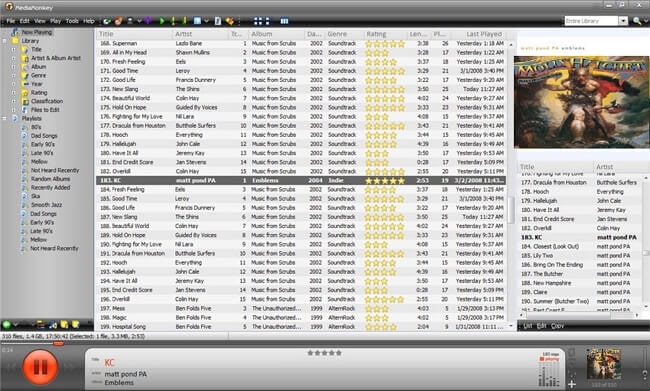 In addition to MP3, AAC, FLAC, OGG, AVI, WMA, MPC, ALAC, CDA, MP4, MPEG, WAV, WMV, and even PLS and M3U, MediaMonkey supports over 100,000 file formats. It can also tag missing metadata, eliminate duplication, function as a home multimedia server for DLNA devices, and sync video or audio and playlists with the Pad, iPhone, iPod, and various other devices, among other things. Spending more than $24.95 USD will grant you access to 5 Gold functionality. Which includes benefits like CD recording, auto-conversion, unlimited streaming, automatic organization, and more.
exceptionally adept at managing sizable music and video libraries
Easily arrange a disorganized library.
smooth interface.
supports audio and video conversion
supports a variety of file formats
Expensive.
You will need to install iTunes.
The interface is complicated
---
2. WALTR Pro
The time when you had to use iTunes' cumbersome file-transfer process is long gone. After Apple stopped supporting iTunes, WALTR Pro gained popularity and is currently among the best iTunes alternatives for Windows/Mac. Because it has a modern user interface and provides a straightforward yet hassle-free solution to transfer any data to your iPad, iPhone, or iPod via cables or WiFi.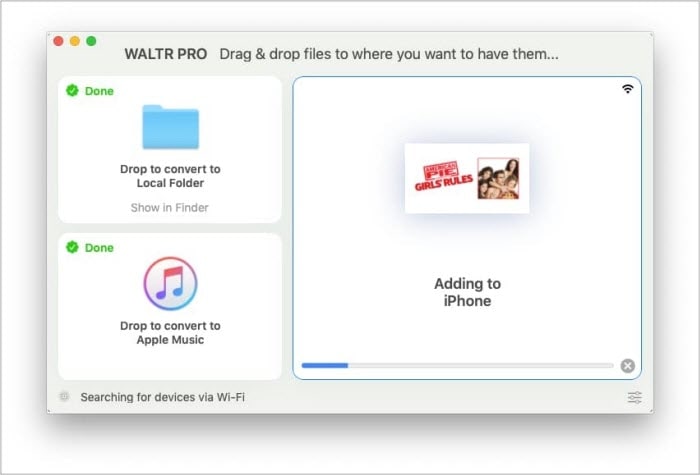 Additionally, you won't stress over the format compatibility problem. Whether it be audiobooks, music, videos, PDFs, or ePubs. WALTR Pro recognizes the files automatically, modifies the file format automatically, and enables playback on your iOS device. Simply drag the file and drop it onto the desired tile. And this iTunes Alternative For Mac/Windows will find the file, convert it, and send it where it needs to go. The monthly price for WALTR Pro is $9.95.
Uncluttered user interface.
It is quick and safe to transfer files.
Drag and drop to instantly convert files.
Supports a wide range of file types.
Compatible with a variety of Apple devices.
Limited trial period.
Comparatively expensive.
WiFi connectivity needs to be faster
Also know: WhatsApp Alternative Apps to Use on Android and iOS in 2023
---
3. MusicBee
The next entry on our list of the best iTunes alternatives for Windows 10 is MusicBee. More than a data transfer program, it functions as a music manager. So, MusicBee is a terrific option if you're seeking a free iTunes alternative for Windows to organize, discover, play, and synchronize your music across all of your devices. MusicBee has a simple UI compared to iTunes, which uses up computer resources. It has a 15-band equalizer, gapless playback, auto-tagging, DSP effects, and more. This enables you to organize your cluttered music library and enjoy uninterrupted music listening.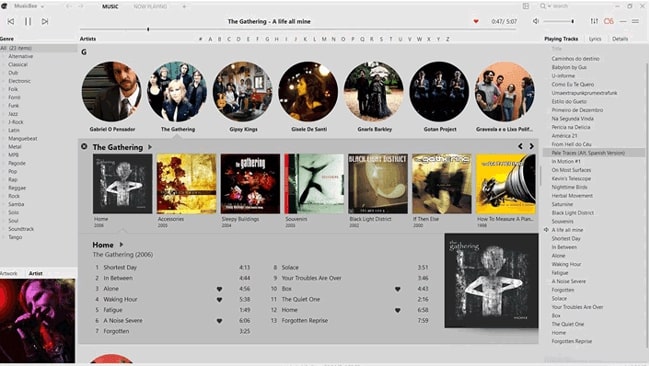 Because it integrates with Groove Music, web radio stations, podcasts, Soundcloud, logarithmic volume scaling, theme support, and other services, MusicBee is superior to iTunes in these areas. There are two ways to sync your audiobooks, podcasts, and playlists, as well as an instant audio format converter. But be aware that macOS does not support MusicBee. You should turn to other iTunes alternatives if data transmission is what you need to do.
highly adaptable.
strong music management functionality.
15-band equalizer
Web-based radio stations
Integration with SoundCloud
Logarithmic volume scaling
The only form of data transfer is music.
Available only on Windows.
Large files are difficult to handle.
UI/UX may be less intimidating.
---
4. WinX MediaTrans
With an easy-to-use interface, WinX MediaTrans acts as one of the best iTunes alternatives for Windows 10 and 11. In contrast to iTunes' problematic operation, constrained features, and varied failures during data transfer. Additionally, one-click installation, an easy-to-use interface, a speedy iDevice connection, and swift file transfers are all highly praised features. It provides a one-click method for safely transferring large media items from an iPhone, iPad, or iPod Touch to a computer. Including voice memos, ringtones, music, and videos.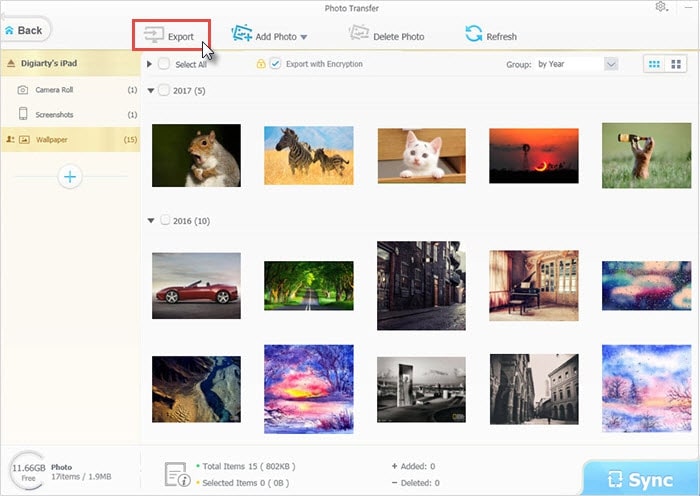 WinX MediaTrans delivers two-way sync and is more than just an iTunes alternative for Windows. It circumvents iTunes' authentication restriction by enabling the transfer of media from an iDevice to a Computer and vice versa without using iTunes or any of its components. It has music management capabilities that help you make playlists and change a song's title, album, and artist. In addition, it helps you get rid of unneeded songs and arrange music by genre. You can even add music from sources other than iTunes to your iPhone and convert any song into a ringtone in under 40 seconds.
Transferring iOS files is quick and reliable.
Simple to use.
Easily convert unsupported video, music, photos, and ebooks.
capable of handling iTunes purchases.
Use your iPhone as a USB drive.
You cannot access the DRM removal feature unless you upgrade to the full version.
available exclusively on Windows.
Organizing music could be improved.
Also know:TeamViewer Alternatives For Remote Desktop Access in 2023
---
5. Dr.Fone
The difficult backup procedure, the unjustified deletion of your iPhone's data, and other issues are frequently attributed to iTunes. Here, Dr.Fone steps in to rescue. For mobile apps that work with Windows, iOS, Android, and Mac, it truly serves as the best iTunes alternative. It supports restoring iPhones, creating backups, recovering deleted data from the device or an iTunes/iCloud backup, and transferring files (such as contacts, messages, images, and other files) between the PC and iPhone. It also fixes system issues.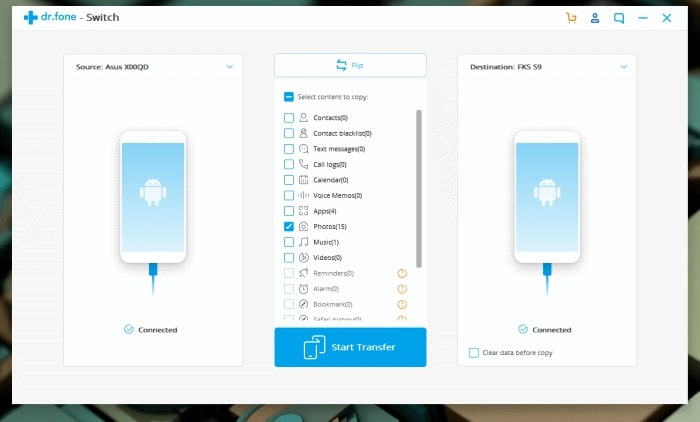 Dr.Fone emphasizes simplicity of use so that even a novice may readily access all functions, similar to other top iTunes competitors. Users can leave their computer's iTunes or iCloud open and let it handle the rest. However, the installation was rather slow throughout our test. Users couldn't change playlists, and data from iDevices loaded fairly slowly. And some unfortunate users discover that certain features won't function, and even the program attempts a forced shutdown sometime.
Recover deleted data.
You can easily backup and restore your device.
The capacity to run repair scripts
A yearly subscription is pricey.
Better file management tools are lacking
Unstable software
---
6. AnyTrans
AnyTrans is a powerful addition to the list of the best iTunes alternatives that offer more functionality than iTunes. It is a reliable solution for managing and transferring 27 different sorts of iOS data. Which includes music, pictures, videos, applications, WhatsApp chats, and other stuff, between your PC, iPad, iPhone, iPod, iTunes, and other devices. Additionally, it can make, edit, and organize music playlists as well as transcode videos to play flawlessly on iPad, iPhone, and iPod without any compatibility issues.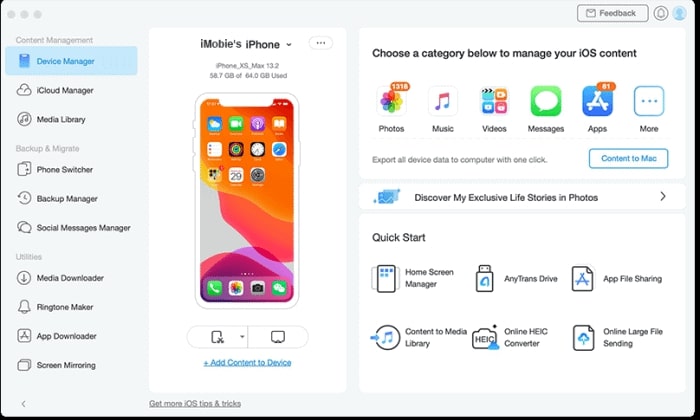 Additionally, you can use it to mirror and capture your iDevice's screen, back up vital data, make your favorite music your iPhone ringtone, and more. AnyTrans is made to be a convenient, user-friendly application. Starting prices for this iTunes alternative for Mac/Windows 1-year and lifetime plans are $39.99 and $59.99, respectively. Although the data backup performance of this best iTunes alternative is excellent, issues like no device recognition or file skipping may occasionally occur.
Encrypted data transfer.
Specific and two-way file transfer.
Stability and high speed.
You cannot include the iTunes library.
The paid version has access to all features.
Also know: Best Putlocker Alternatives To Use In 2023
---
7. CopyTrans
Another iTunes alternative, CopyTrans, focuses on making it simple to transfer ringtones, music, voice memos, playlists, podcasts, and videos from an iOS device to a computer or iTunes. It offers Classic Mode and Smart Backup options. With the first option, all videos, music, artwork, playlists, and metadata may be synced to the iTunes library at once, and duplicate content is sorted out. The second one offers a flexible option for file transfers, allowing us to export particular songs, videos, and playlists to iTunes or a designated location on a PC's hard drive. To put it another way, Smart Backup talks about how easy it is to transfer files, while Classic Mode seems more specialized.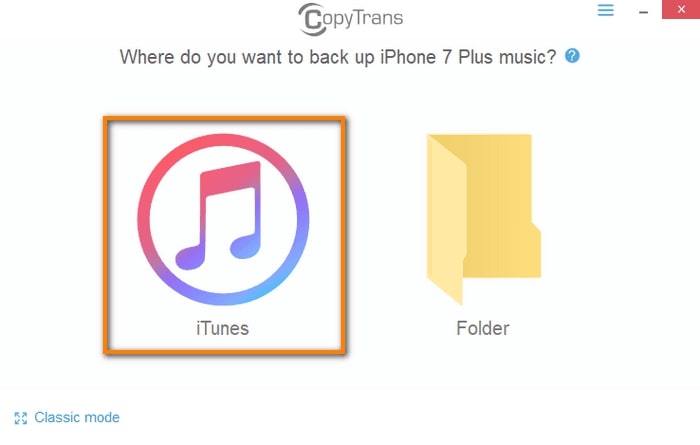 No matter what backup method we choose, file transfers are simple. Not only does this file transfer program work with hard drives, but it also satisfies the need to store media files from iDevices in the iTunes library. However, because it is a central control encompassing numerous pieces of software for, respectively, music management, photo transfer, and other activities, it might confuse someone. And if you perform batch transfers, it takes a long time to complete.
Music management is incredibly simple.
Adjust the ratings and meta tags.
Finding identical songs is simple.
almost all iOS devices are compatible
relatively difficult user interface.
The iPhone cannot be used to import data.
---
The Bottom Line
Even though iTunes is a great tool for the Apple ecosystem, there are times when you just cannot stand to be constrained by how it functions. Fortunately, there are many free iTunes alternatives for Mac and Windows on the internet. While some focus on managing and transferring music, others provide a robust multi-purpose package. Please add any more suggestions you may have for the best iTunes alternatives in the comments section below.
Author: Snehil Masih
Snehil Masih is a professional technical writer. He is passionate about new & emerging technology and he keeps abreast with the latest technology trends. When not writing, Snehil is likely to be found listening to music, painting, traveling, or simply excavating into his favourite cuisines.