Do you have trouble opening RAR files? Continue reading to find out the best RAR file extractor online for doing it quickly.
Have you ever downloaded a strange RAR file from the Internet or received one via email from a friend or coworker? If you have not used one before, you might be wondering what one is, but do not worry—it is not that difficult to understand.
A RAR file is a collection of files that have been compressed by the WinRAR program into a single, smaller file. The file extension .rar stands for Roshal Archive, which is a compressed, high-quality file that can be password-protected. In simple terms, a RAR file is like a large container for data that contains a number of separate folders and files. So, why use a RAR file? Because it minimizes the size of your folders and files while maintaining the full integrity of the content.
However, one would need a specialized tool for extracting and opening compressed files. This is where the need to download free RAR file opener software comes in. The online RAR file extractor software provides a simple and easy way to open compressed files and see what's inside of them. So, without further ado, let us look at some of the best free RAR extractor tools and their features so that you're able to choose the most appropriate one.
The Best Free RAR File Extractor Software To Use In 2023.
If you are wondering which RAR file opener best meets your needs. Here is our list of the best free RAR extractor programs that will make it simple for you to open all different types of zipped files.
1. WinZip
WinZip is the most well-known RAR file extractor application and is widely used to create and open compressed files. In addition to opening zip files, it also supports a wide variety of other file formats, including RAR, 7z, CAB, and ISO. Simply drag the file into the WinZip window, and it will begin to extract shortly. WinZip makes it very easy to share, decompress, protect, and compress your files.
It is the best zip file opener app that offers the ability to link a number of cloud storage services, including Dropbox, Google Drive, OneDrive, and others. This RAR file opener is free to download and use for 21 days without charge, after which the standard version is available for just $29.95. Furthermore, it supports mobile devices and is compatible with both Windows and Mac OS X.
WinZip Features:
It is compatible with many different zip file formats, such as ISO, 7z, RAR, CAB, and others
It encrypts your data using 128- and 256-bit keys to keep it safe.
You get access to cloud services like Dropbox, OneDrive, and Google Drive.
It makes file management and file splitting simple.
Fully compatible with a variety of smartphones as well as both Windows and Mac operating systems.

---
2. 7-Zip
7-Zip is open-source free RAR file extractor software that is available under the GNU LGPL license. The software can be used on any computer, whether personal or business, without requiring registration or payment. It provides a simple and organized user interface and employs vibrant button options to carry out operations like adding, deleting, testing, extracting, copying, etc.
Using 7-Zip, you can retrieve data from a variety of sources without copying and transferring it from one system to another. When working with large archive files on computers, this is one of the best methods. In comparison to other online RAR file extractor tools, 7-Zip provides a 100% higher compression ratio and supports files up to 16000000000 GB in size. By default, it generates archives in 7z format with the .7z file extension. It also works with other archive file types.
7-Zip Feature:
Integration with the Windows shell.
It has a file manager that allows you to manage your files efficiently.
You can run this tool from the command line.
Provides a plugin for FAR Manager, which is a program for managing archives and files.
More than 87 different languages can translate it.
The Lempel Ziv Markov Chain Algorithm (LZMA) and LZMA2 are used by 7-zip for compression.

Also Read: 7 Best Free Backup Software Tools for Windows and Mac
---
3. WinRAR
WinRAR is yet another widely used online RAR file extractor program. Because it produces RAR files, whereas the other tool does not, it is regarded as the best compression technique. It has options to repair damaged files, split archive files into different volumes, and password-protect files. Additionally, WinRAR effectively manages multimedia files. It uses a special compression technique to compress and decompress files. If you are concerned about security, 128-bit password encryption is also included in this RAR file extractor For PC.
This RAR file opener tool allows you to create, edit, and open compressed documents. The antivirus that is built in will ensure that you do not have to worry about corrupted data. Apart from RAR files, it also accepts files in the CAB, ACE, ZIP, Z, ARJ, UUE, and 7-ZIP formats. If you're interested in trying it out, you can download this RAR file opener for free and use it for 48 days before choosing to pay $29 for the full version.
WinRAR Feature:
It makes file compression quick and simple.
You can create a separate volume from the archive file.
For security, this tool employs 256-bit password encryption.
You can compress executable files and multimedia files using the compression algorithm it employs.
You can reduce transmission costs and disk space using WinRAR.
To manage your compressed archive, the software includes a wide range of integrated features.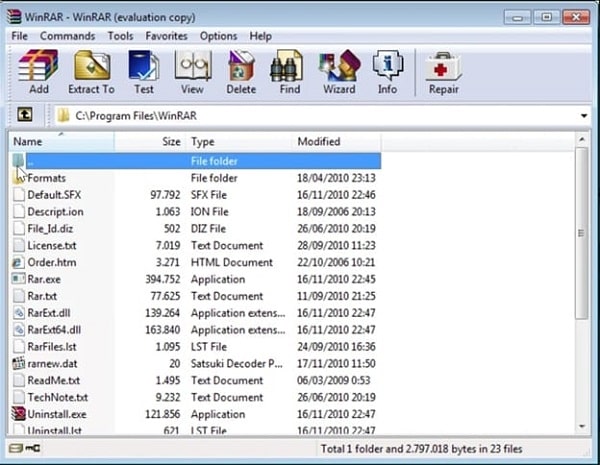 ---
4. PeaZip
PeaZip is yet another free and open-source online RAR file extractor tool. With support for more than 188 file formats, the PeaZip interface is incredibly simple to use. In addition, you can use efficient filters to only archive the right file types. There is support for every popular file format, including 7z, BZ2, XZ, TAR, ZIP, RAR, and GZ.
It is one of the best RAR file extractors For PC that offers functions like batch extraction, creation, and conversion of multiple archives, as well as file splitting, two-factor authentication, password protection, secure deletion, duplication detection, and testing and saving of task logs. It will offer a powerful encoding to fully conceal files from prying eyes. To put it another way, you will be able to work on multiple files at once and select only certain files to extract from others.
PeaZip Feature:
It is a user-friendly tool that is free of malicious software.
This app has a duplicate file finder.
This free RAR file extractor program can split the archive into multiple files.
To decide which sessions need to be archived, you can schedule archiving.
It allows you to compress files while using minimal resources.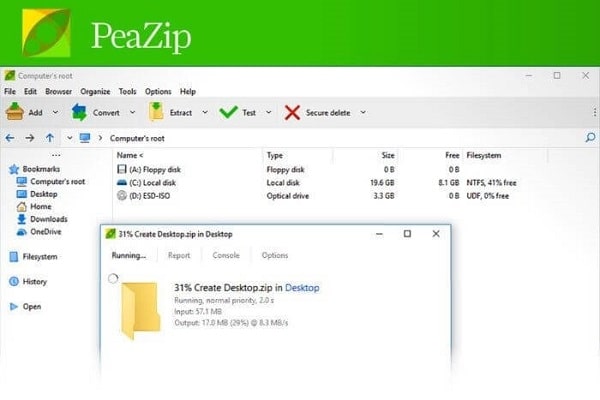 ---
5. Bandizip
Bandizip is a free RAR file extractor program for the Windows operating system. It can handle the most popular compression file formats, including RAR, ZIP, 7z, ZIPX, and others. It supports both large and small archive formats. Bandizip is a lightweight RAR file opener program that is easy to use, simple, and fast. It can automatically avoid corrupt archive files with bad compression thanks to a high-speed archiving function.
Additionally, you can utilize the "Fast Drag & Drop" feature to directly extract files into the folder. Bandizip is one of the best free RAR extractor tools that does not have any noticeably added malware or adware. For 7-optimum security, you can also use powerful encryptions like ZipCrypto and AES 256.
Bandizip Feature:
This application supports the Windows operating system.
It is open-source software.
Extract files in over 30 different formats.
You can compress archives with multi-volume and password protection.
Multi-core makes it possible to compress data quickly.
Using Bandizip, files bigger than 4 GB can be compressed.
This tool uses the AES256 encryption algorithm to provide security.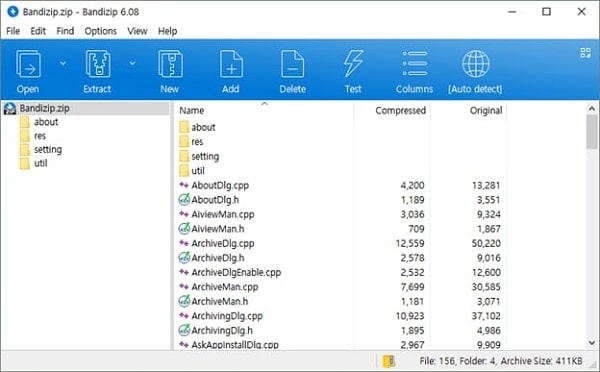 Also Read: Best Free Registry Cleaner Software
---
6. B1 Free Archiver
B1 Free Archiver is another open-source online RAR file extractor tool that is free and easy to use. It was designed to create compressed files and extract files from archives. It operates flawlessly on Windows, Linux, Mac, and even Android-powered devices. Also, it works with almost every format, including B1, ZIP, IPX, RAR, Z CAB, 7Z, and JAR.
B1 Archiver is compatible with password-protected and split compressed files. Simply install the app to start using it; it is very easy to use. Even with big archives, it is lightweight and accelerates quickly. The most advantageous aspect of this RAR file opener is that it provides both desktop and web tools. You can use either the desktop utility or (the online, web, the net) archiver to compress and decompress files online without downloading a code.
B1 Free Archiver Feature:
It works with Windows, Linux, Android, and Mac operating systems.
This RAR file opener program works with the B1, XPI, zip, 7Z, and jar file formats.
To protect privacy, it employs 256-bit AES standards.
You can quickly compress files using the software.
The software's source code is available for editing and sharing.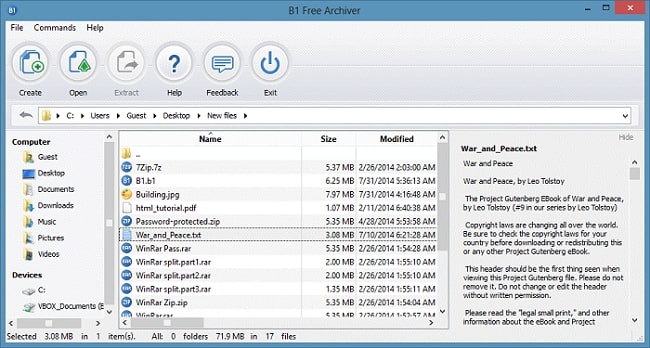 ---
7. Zip Extractor
Zip Extractor is a free RAR file extractor program that enables you to open ZIP files on a PC, iPhone, Android device, or Google Drive. You can use this tool to open, unzip, view, and download any particular file contained within the zip archive. ZIP Extractor is a completely Javascript web application. Everything is processed directly on your computer and in your web browser.
This RAR file opener has an easy-to-use user interface and supports many compression formats. However, it will only extract files to your Google Drive; not to your computer. You can extract numerous files simultaneously, and it offers simple options for sharing the extracted files with various people.
Zip Extractor Feature:
You can use this software to extract unzipped files from Google Drive.
Without extracting the entire file, you can preview and download files that are present inside the ZIP folder.
It facilitates file sharing among users of extracted files.
Supports password-protected files.
Open zip files using Google Drive or your computer.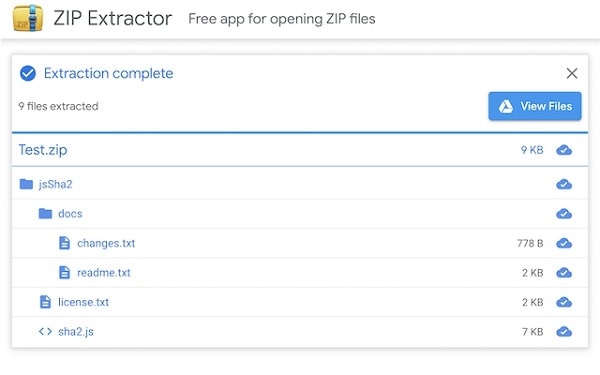 ---
Conclusion
These are some of the top RAR file extractors online you can choose from, when you want to compress, store, and share your large files. All of the aforementioned tools provide a distinct set of features without draining your system's resources in any way. Knowing which file format you need an extractor for will help you find the best RAR file extractor. Once you know what you want to accomplish, you can choose the RAR file opener program that will best meet your needs for file compression.
Author: Snehil Masih
Snehil Masih is a professional technical writer. He is passionate about new & emerging technology and he keeps abreast with the latest technology trends. When not writing, Snehil is likely to be found listening to music, painting, traveling, or simply excavating into his favourite cuisines.