Could you live without photos and videos of your wedding, your first child's birth, and other memorable events in your life? If all of your documents, spreadsheets, pictures, and videos vanished overnight, how would you feel? Even though it might seem dramatic, why take the chance? There could be multiple unwanted instances where you might lose your laptop, crash your hard drive, or accidentally delete crucial files.
Although, the process of backing up your data is not as exciting as it may sound. But it is impossible to overstate how crucial it is to back up your important data. Fortunately, there are some best free backup software options available that are designed to protect you from data loss.
These backup tools allow you to quickly and automatically set up multiple backups whenever you want to use them. These best backup software programs are able to completely automate the process, eliminating the need to remember anything and making it an unnecessary hassle. Instead, you simply select one of the below-listed free backup tools and set it up once. And then—ideally—forget about it until the day you actually need to use it. So let's dive into some of the best backup software.
7 Best Backup Software for Windows and Mac
There is a wide range of free backup tools available for both Windows and Mac users that can help safeguard your data and provide peace of mind. Let's check out the best free backup software programs for Mac and Windows. These tools provide a number of features to guarantee that your data is safely backed up and is easy to recover in the event of an accident or disaster.
1. EaseUS Todo Backup
EaseUS Todo Backup is a free backup software program that offers detailed instructions to help you back up and recover your files quickly and easily. The tool offers a one-click backup solution, ensures immediate recovery, and boosts productivity. It is a fantastic backup solution that will handle everything conveniently for you. Whether you need to carry out disk imaging tasks or safely store backups.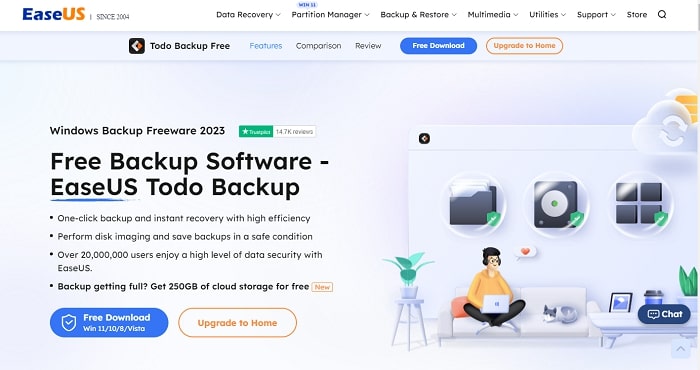 Nearly all of the features of the premium edition are present in the free EaseUS Todo Backup version. Although you can no longer have these backups triggered by different events, you can still run backups on a schedule. Most people will not miss this feature of open-source backup software.
Additionally, this holds true for data transfers between PCs, backups of Outlook, and command-line-driven backups. While having them all would be nice, their absence is not likely to have a major impact. EaseUS Todo Backup is more than sufficient for the majority of people out there, although a few features are only available in the premium version.
Features:
Cloud and local backups.
Transfer system.
Differential and Incremental backup.
Wipe the disk partition.
Email backup for Outlook.
---
2. Ashampoo Backup Pro 17
Ashampoo Backup is the perfect choice if you are looking for the best free backup software that is totally free to download and use. The wizard-driven interface walks you through the backup process step-by-step and is simple to use. You can backup specific files, an entire disc partition, or your entire system using Backup Pro 17. So that you can completely restore a PC after a crash or other traumatic event.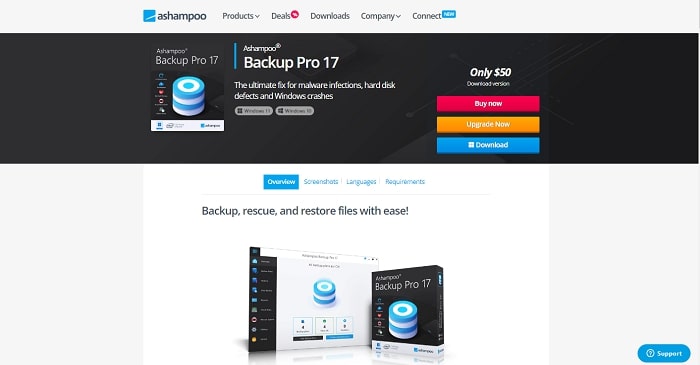 In addition, it is one of the best backup software with enhanced support for the locations where backups can be stored. These include the hard drive you are using at home, external hard drives, and a variety of cloud storage options like OneDrive, Google Drive, Dropbox, and any NAS.
Additionally, it works with OneDrive Business and Office 365. This free backup software also includes automatic backup verification, versioning, encryption, compression (7Zip/LZMA), and a scheduler to make sure backups occur at the most practical times.
Features:
Multiple backup options
Bootable rescue system
Unaffected by system failures and breakages.
Resource-efficient incremental backup options
Backup of data from hard drives and network drives
Multi-lingual support
Read Also: Best Free Photo Recovery Software to Recover Deleted Images
---
3. Cobian Backup
Cobian Backup is the best free backup software around, but it might be overwhelming for first-time users. However, if you are certain of the way you want to set up your backups, you can be sure that it will give you the necessary flexibility. Cobian Backup is capable of creating and scheduling numerous backup tasks. Additionally, files may be archived on a different local hard drive, a network location, or, if available, an FTP server.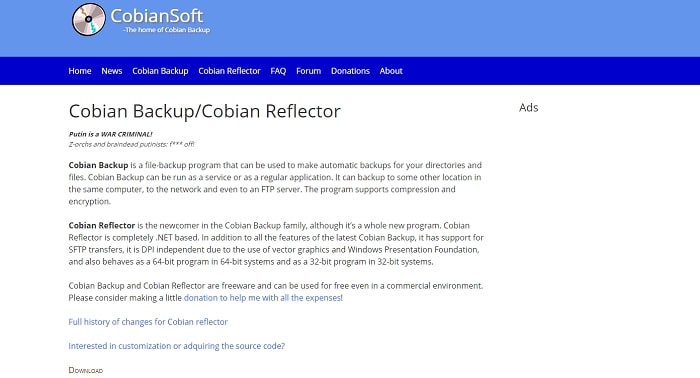 There is the option to run multiple backup jobs concurrently because it's capable of backing up to several locations at once. Additionally, with the optional encryption option, you can protect your data and compress backups to save space.
When it is time to restore data, Cobian Backup fails. You have to figure out how to copy files back into place, decompressing and decrypting them first if needed, since there is no straightforward wizard to automate the process. Still, this is one of the most comprehensive and best backup software for backing up your most important data.
Features:
FTP Backup
Robust encryption
Backup simultaneously at various locations.
Differential and incremental backup.
---
4. Paragon Backup & Recovery
Paragon Backup & Recovery's free community version does an outstanding job of simplifying the backup process. The user interface is simple to understand and offers step-by-step instructions for the numerous backup tasks you must perform frequently.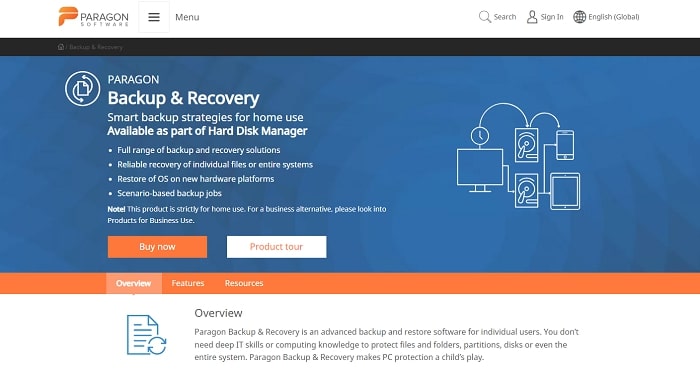 With this open-source backup software, you're able to back up your entire machine, a partition, particular folders, or files according to their precise location and category. Once that is done, all you need to do is choose the backup type you want to make and set a schedule. Afterward, let the software take care of everything by itself. But that is not all; this is not just a backup tool, as the latter part of the name implies.
In addition to a powerful CD or USB-based recovery system, Paragon Backup & Recovery is a complete set of data management tools. Even if Windows won't boot, there are programs that can be used to recover your data. Everything is extremely impressive. Once you have created a free account, this free backup software is outstanding.
Features:
Create a recovery disc
Copy disks
Version control
Partition disks and volumes
Easy-to-use interface
Read Also: Best Free Registry Cleaner Software In 2023
---
5. Acronis Cyber Protect Home Office
Acronis Cyber Protect Home Office is one of the most feature-rich, potent, and user-friendly free backup software available. Disc imaging (hard drive cloning), backup, and antivirus are all included in the single program. Despite being the most affordable, the Essentials tier still offers a number of backup options.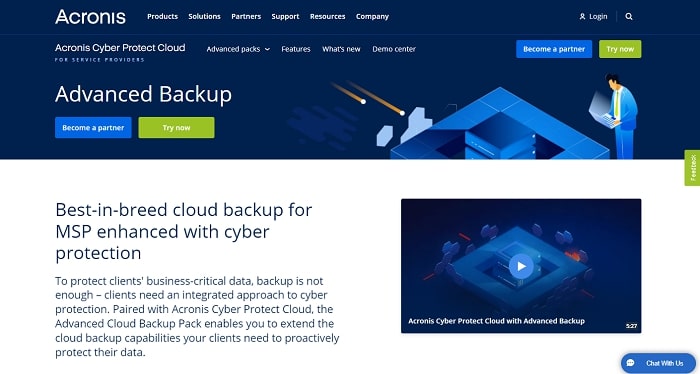 You can either back up the entire machine, or you can pick and choose which specific files and folders to back up. Similarly, recovery options let you pick which files to manually restore if you do not want to recover everything. You can access the files by looking for backup copies of them on your local hard drive and in the cloud. The files are encrypted end-to-end for security.
Additional features of this best free backup software include backup status notifications, and the ability to restrict Wi-Fi backups to certain networks. Additionally, it also includes other features such as ransomware protection, active disc cloning, Backup Statistics, Activity logs, and the Survival Kit.
Features:
Cloud and Local backup
Complete system image backup
Supports almost all file extensions
Office 365 backup
Disk cloning
---
6. FBackup
Do not let FBackup's unattractive interface deter you from using it. Although it lacks some features compared to programs like Paragon Backup & Recovery. The backup utility is functional underneath the unattractive exterior. FBackup is one of the best free backup software programs that offers a choice of wizard and advanced modes.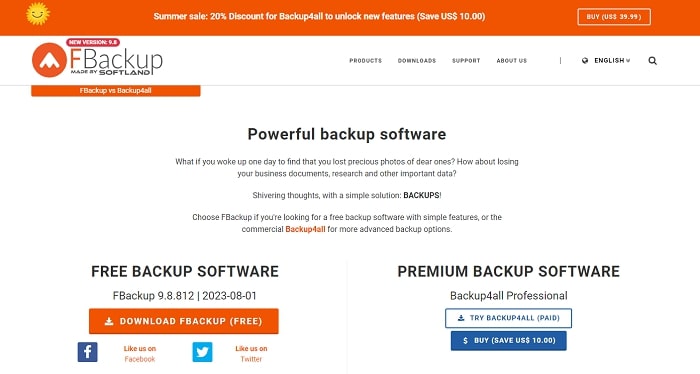 Regardless of the option you select, it is simple to create backup jobs that include files and folders and save them to Google Drive, network drives, removable storage devices, or local drives. It is possible to schedule backup maintenance. Although there are in-program advertisements urging you to purchase Backup4All, they are thankfully not overly intrusive. So hopefully, you will be able to ignore them if you are not interested.
A few features are missing from the program's free version, but depending on your needs, they might not be significant. FBackup is definitely worth looking into if you do not need encryption, FTP backups, email notifications, or incremental backups.
Features:
Mirror backups
ZIP64 supports up to 2 GB
Local or network backup
Password protect files
Online backups
Read Also: Best Revo Uninstaller Alternatives To Use In 2023
---
7. Internxt
Internxt is a fantastic cloud storage option to think about because of its reasonable pricing plans, user-friendly interface, and dependable support. Despite lacking some of the more sophisticated features found in Dropbox and OneDrive. The advanced security features and dedication to privacy will appeal to individuals and companies that place a premium on security.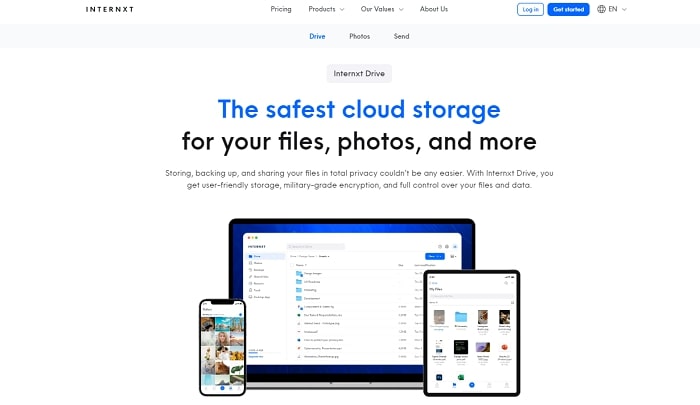 The basic free plan from Internxt provides 10GB of storage. However, the word "up to" is heavily stressed. All accounts come with a 2GB allowance, but additional storage can be added for no additional cost by carrying out specific tasks. Which includes downloading the company's app, signing up for its newsletter, and referring friends.
In addition, both individuals and businesses can choose from seven other pricing tiers.  We give Internxt high marks for its selection of functional features, including its user-friendly interface. Which the majority of users will recognize immediately. Additionally, a few other beneficial features of this best free backup software include the option to backup folders to another location on your computer, and the free out-of-plan virus and password tools.
Features:
Zero unauthorized access to your data.
End-to-end encryption via the AES-256 encryption protocol.
Open-source and verifiable on GitHub.
Available on all platforms.
Easy-to-use interface
---
Final Takeaway
Although there are many choices for the best backup software available on the market to protect your data. However, you can choose one that provides more security and is well-known for being dependable. To continuously protect your workstation or files, you must install reliable backup software for Windows workstations and servers.
We are here to help if you need any recommendations for the best free backup software. Comment below with any questions you may have. We will help you in every way possible. Join our blog's newsletter to receive more of these guides and stay up to date.
Author: Snehil Masih
Snehil Masih is a professional technical writer. He is passionate about new & emerging technology and he keeps abreast with the latest technology trends. When not writing, Snehil is likely to be found listening to music, painting, traveling, or simply excavating into his favourite cuisines.