We all require the best photo viewer because people frequently take photos of and post updates about everything that occurs in their lives. Additionally, we require a dependable way to view the pictures. The default built-in programs frequently lag or do not have enough features. That's the reason why we need a third-party image viewer for Mac. We have compiled a list of the best image viewers for Mac in this blog post to take the place of your default program.
An image viewer allows you to look at and modify your pictures. Each of the apps on the list below has a special set of features and characteristics. With the help of this article, you can select the most sophisticated free image viewer for Mac based on your requirements. Whether your goal is to view images, edit photos in bulk, or work with various image types. So, without further ado, here are the best photo viewers for Mac that you should download in 2023.
7 Best Free Photo Viewers For Mac
An image viewer will be very helpful if you want to view and edit your images. The options below each have unique features and abilities. In this post, you will find the best Photo viewer for Mac that will satisfy all of your needs. Whether you are looking to enhance your photos, carry out batch photo editing, or work with different file formats. So here you go:
1. ApolloOne
ApolloOne provides users with a quick, effective, and feature-rich platform to browse through the photo galleries on their Macs. Simply install the application, then double-click a picture to view and modify it on ApolloOne. It is one of the best Photo viewers for Mac that allows you to rotate, flip, and mirror images with just a few mouse clicks. Additionally, it has the ability to change the font size and display EXIF data. You can also directly share photos on Twitter, Facebook, Airdrop, and other platforms.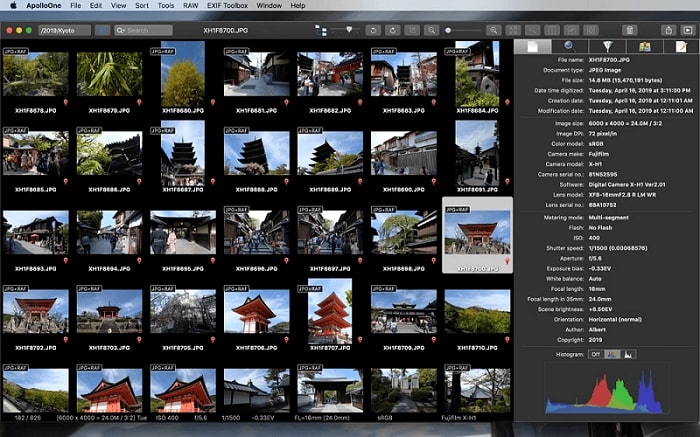 Features of ApolloOne:
A straightforward user interface with a HUD display to optimize the area for viewing images.
Includes built-in transitions for creating slideshows.
Import images from SD cards, perform bulk resizing, renaming, and exporting, and change image formats.
Using the file filter option, you can look for specific images.
It is able to play GIF animations.
Integrated transitions to create a slideshow.
Read Also: Best Photo Management Software in 2023
---
2. XnView
XnView is an excellent free image viewer for Mac that helps you manage and edit images. It is an all-in-one photo editing program that is straightforward to use and comprehend and offers a number of image viewing modes, including fullscreen, thumbnail, and filmstrip. Additionally, slideshow and slide-by-slide photo comparison modes are available for viewing images. Users can edit photos by cropping, resizing, adding effects, and more, as well as viewing EXIF data. If you also want to edit the images' metadata, this can be one of the best photo viewers for Mac. XnView MP can be used to batch convert and resize a number of images.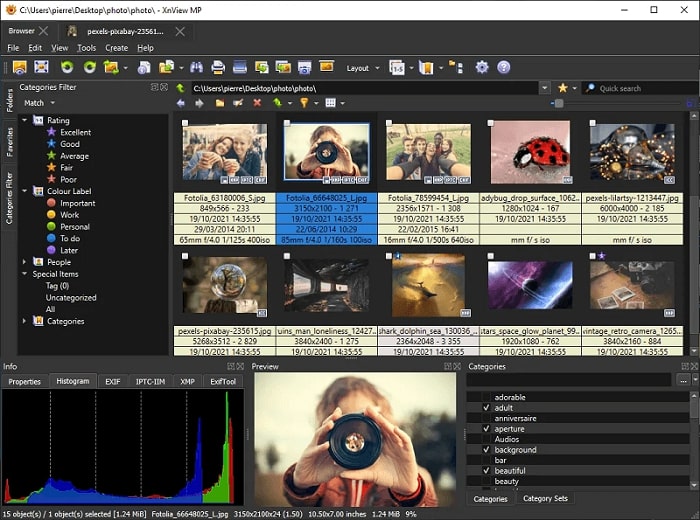 Features of XnView:
Use XnView to view EXIF, IPTC, and XMP metadata.
Cut pictures without sacrificing quality.
Resize, rotate, crop, and change the brightness, contrast, and other settings.
Apply effects, change the colors, and add filters.
Enables you to change the color palette and depth.
---
3. Movavi's Picverse Photo Editor
Movavi's Photo Viewer is a great option for photographers who value quickness, effectiveness, and productivity. You can easily look up and find photos taken on a particular date, in a particular location, or with a particular tag. This batch image editor has a user-friendly interface, more than 100 filters, and multiple languages. This free photo viewer for Mac makes it simple to organize and manage multiple images on your system.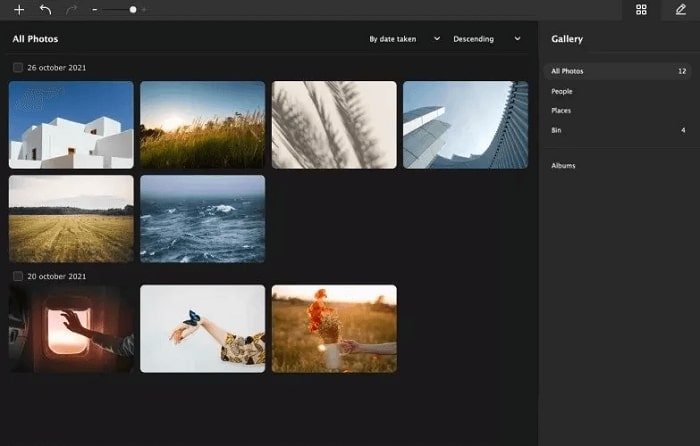 Features of Movavi Photo Viewer:
Supports more than 60 different image formats.
Enables the use of compressed file types like JPG and PNG as well as RAW camera images.
Automatic photo enhancement and restoration using artificial intelligence.
Quick background removal for images.
Reduces digital noise in low-light images
Read Also: Best Free Photo Recovery Software to Recover Deleted Images
---
4. qView
Due to the fact that it is open-source software, qView stands out from the rest of the best image viewers for Mac on the list. It basically means that using this image-viewing app is free and that you do not need to purchase a plan or subscribe to one. Apart from that, the minimalistic design of qView's user interface makes it incredibly simple and handy for both experts and novices to use. Surprisingly, the app does not compromise functionality for simplicity. Users can perform simple tasks here, such as rotating, mirroring, and viewing EXIF data, among other things. Additionally, If you are using this free image viewer for Mac, do not forget to use the many customizable keyboard shortcuts as well.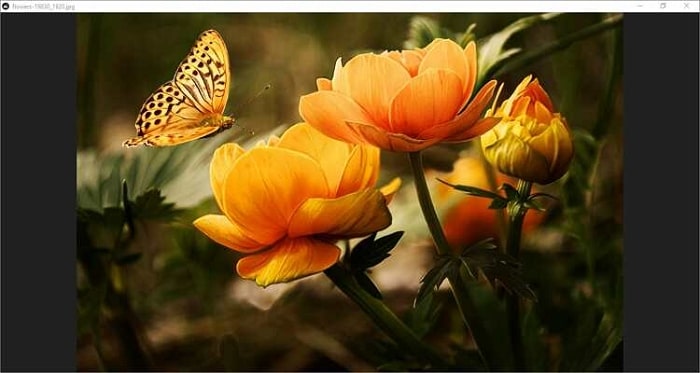 Features of qView:
GIF animation controls
Preloading in multiple threads, rotation, file history, and mirroring
Support well-known image formats like BMP, png, jpg, tiff, gif, and web.
streamlined interface
---
5. Lyn
Lyn is an attractive photo viewer for the Mac that is quick and lightweight and works with macOS 10.9 or later. Following the installation of Lyn, you will get a free 15-day trial period during which you can choose whether or not to buy the app. Lyn offers a multitude of image-editing features with an incredibly versatile and simple user interface. This is the best image viewer for Mac that enables you to locate the desired images and use them as necessary. The tool's fullscreen mode enables you to compare the images and perform a variety of other tasks. You can also alter the brightness, color temperature, EXIF data display, contrast, and even the conversion of images to black and white.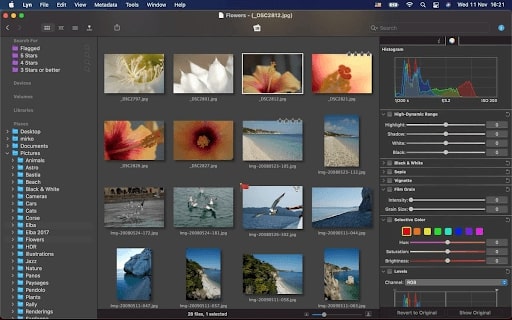 Features of Lyn:
Supports all commonly used file formats, as well as raw and HDR images,
Directly exporting or sharing your photos to services like Dropbox, Flickr, etc.
Enables viewing of images and adjustment of brightness, contrast, and other settings.
You can use drag and drop to change an image's geolocation on a map and check the EXIF data for each image.
It also includes some more editing features to modify brightness, exposure, color temperature, highlight, and more.
Read Also: Best VPNs For Mac
---
6. Phiewer
On this list, Phiewer is undoubtedly the best image viewer for Mac. This widely used app is simple and quick to use to manage your images, videos, and audio recordings. The application also provides straightforward controls and keyboard shortcuts for speedy operations and allows users to view pictures in fullscreen mode. It is a free photo viewer for Mac that works with many different image formats, including TIFF, HEIC, HEIF, etc. Additionally, there are options to rotate, add effects, and view EXIF data. The best part is that viewers are able to view slideshows by simply pressing the play button.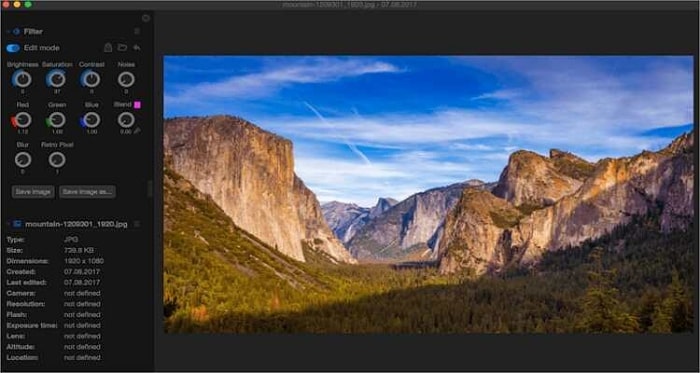 Features of Phiewer:
Provides the ability to create slideshows with music and transition effects
Reads RAW images and supports well-known camera models.
It includes a straightforward control panel with numerous quick access buttons for browsing, rotating, playing, pausing, switching to fullscreen, the information panel, and many other functions.
Supports a variety of file types, including JPG, RAW, NRW, CRW, TIFF, and PNG.
Includes a feature that allows you to browse your folders and play your media files.
---
7. Photo Mechanic
Photo Mechanic is the last option on our list of the best photo viewers for Mac. It is a lot more than just a viewer. The program allows you to browse, organize, manage, export, customize, and do a variety of other things with photographs. Using this free image viewer for Mac, you can simply map out and label the metadata and other features of the tool. The best aspect is that you can initially download and test the program for free to see how it works. Then, if you enjoy the tool, upgrade to the commercial version.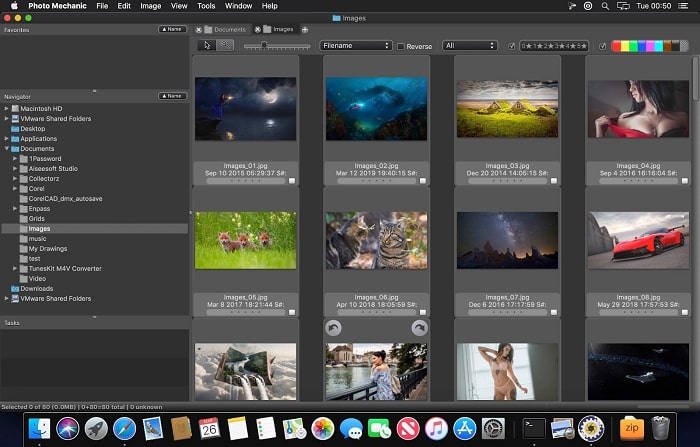 Features of Photo Mechanic:
GPS data can be used to add city, state, and country metadata to your photos.
It integrates with cloud-based sharing services like Photo Shelter and Flickr.
Edit and update several pictures in bulk while adding information
You can use watermarks as well.
Retrieves pictures from numerous memory cards, which speeds up the editing and selection process.
Read Also: Best Duplicate Photo Finders and Cleaners in 2023
---
Key Takeaway
Despite the fact that viewing pictures might seem like a straightforward task, many people have different requirements for the photo-viewing app they use. In this article, we have covered the best photo viewers for Mac, which offer a variety of options for specialists and special situations. See which of these free image viewers for Mac best suits your needs by trying them out. In the comments section below, you can request additional assistance or make suggestions. If you enjoyed reading this article, sign up for our newsletter to receive regular updates on our most recent articles.
Author: Snehil Masih
Snehil Masih is a professional technical writer. He is passionate about new & emerging technology and he keeps abreast with the latest technology trends. When not writing, Snehil is likely to be found listening to music, painting, traveling, or simply excavating into his favourite cuisines.