In recent years, Artificial Intelligence (AI) has made great strides, revolutionizing numerous industries. The voice generation industry is one in which AI has had a notable impact. You might be shocked to learn that online AI voice generators are responsible for the majority of the media content you frequently consume.
You can assume that a good portion of it, including sales, training, and instructional videos, was produced using the best AI voice generators. This includes internet audio and IVR recordings. Furthermore, AI speech has advanced significantly since its origin. And the machine-like, monotone accents of the past have made way for the dynamic, emotive, and uncannily human-like voices of the present.
Online AI voice generators may transform written text into realistic, authentic human speech, improving how humans engage with technology and communication. Below, we'll look at some of the best AI Voice generators, the things they can do, and why you should use them.
10 Best AI Voice Generators In 2023
The market now offers a wide variety of the best free AI voice generators thanks to the development of superior AI and voice synthesis technology. This article will examine the 10 best AI voice generators that have become well-known for their outstanding performance and adaptability.
1. Murf.ai
One of the most well-liked and outstanding free AI voice generators on the market right now is Murf. With the help of this adaptable tool, users can easily turn text into voiceovers, narrate information and more. It is especially useful for software developers, bloggers, podcasters, trainers, and other industry experts because of its wide range of applications.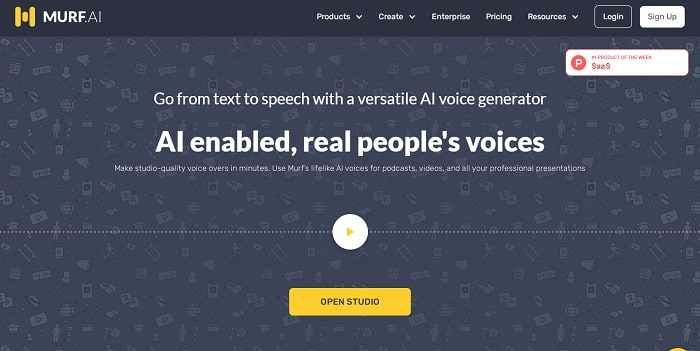 Murf makes it simple and time-efficient to create voices that seem natural. These voices may be used in practically every industry, creating endless opportunities. Murf provides a wide range of options to meet a variety of demands with a large library that includes over 110 sounds in 15 distinct languages.
The platform's intuitive online interface makes it simple to upload and download voice recordings. Before creating the final file, you can listen to their audio and make changes to the settings. Murf Studio also enables you to make presentations or films on the platform that include background music, voiceovers, and other elements.
Key Features of Murf.AI:
Uncluttered and spotless interface.
More than 20 languages and 120 voices are available for text-to-speech.
Voice filters include use case, gender, age, tone, and other criteria.
Import large documents, articles, and scripts.
A set of project-starting templates.
Provides voiceover integration for Google Slides.
---
2. Lovo.ai
Lovo.ai is a renowned AI-powered voice and text-to-speech tool that has received recognition for its outstanding results. This free AI Voice generator stands out as one of the most reliable and user-friendly platforms, able to generate voices that closely imitate the nuances of actual human speech.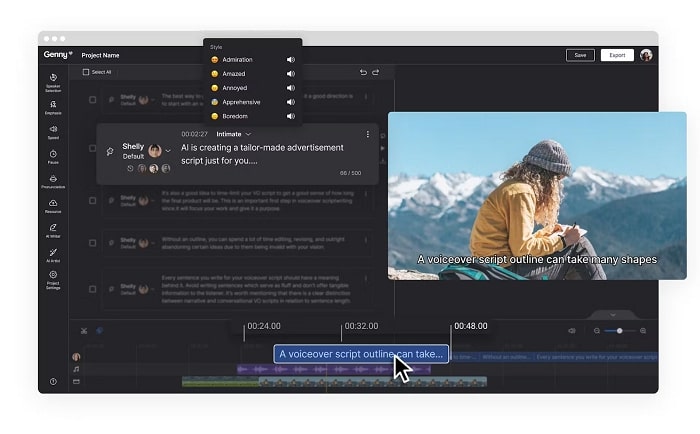 A wide range of businesses, including banking, entertainment, financial services, educational institutions, gaming, films, news, and more, have effectively used the platform. To satisfy the changing demands of these businesses, Lovo.ai is constantly improving its speech synthesis models. As a result, it has drawn considerable interest from prestigious organizations all over the world and established itself as a pioneer in the field of voice synthesis.
Genny gives content producers the ability to edit their videos while simultaneously creating human-sounding voices of stunning quality. More than 500 AI voices, speaking more than 150 different languages, and displaying a wide range of emotions, are available through Genny.
Key Features of Lovo.ai:
There are more than 500 different AI voices.
Professional producers can use granular control's emphasis, pitch control, and pronunciation editor tools.
video editing tools that let you create voiceovers while you are simultaneously editing videos.
Nonverbal cues, sound effects, free music downloads, stock images, and videos are all included in this extensive resource database.
Support for 150+ languages.
Also Read: Best Free Voice Changer Software for Mac in 2023
---
3. Play.ht
Play.ht is a robust artificial intelligence text-to-speech engine that uses AI to produce voices and audio content from IBM, Google, Microsoft, and Amazon. Users of the program are able to download voice-overs as WAV and MP3 files and use them to turn text into real voices.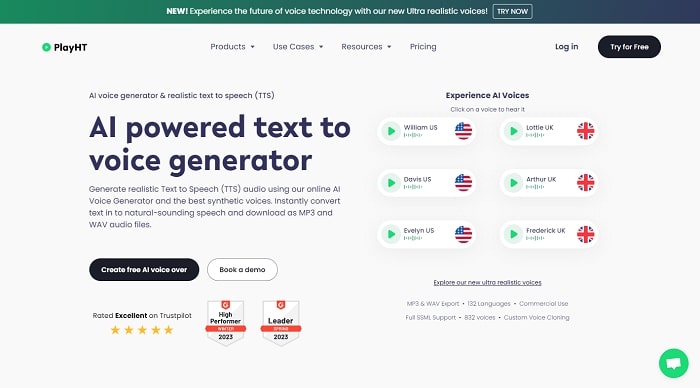 Users of Play.ht can effortlessly import or input text, which is then instantly converted into a real human voice, and select from a variety of voice varieties. The audio output may be improved even more by making use of features like SSML tags, different speech patterns, and personalized pronunciations.
Major companies like Comcast and Verizon trust Play.ht, demonstrating its dependability and standing in the market. To make it even easier to share your audio recordings, Play.ht offers a podcasting option.
Key Features of Play.HT:
There are over 907 AI Voices.
Personalize and employ emotional ways of speaking.
Use various voices to create voiceovers that resemble conversations.
Adjust emphasis, pauses, rate, and pitch as needed.
Reuse and save customized pronunciations.
Listen to and preview the text before converting it to speech.
---
4. Listnr
Listnr is an AI-powered voice generator that provides some of the best AI voices on the market. Thanks to Listnr's huge voice collection, you can create voiceovers for a range of applications, such as online courses, educational videos, and advertisements.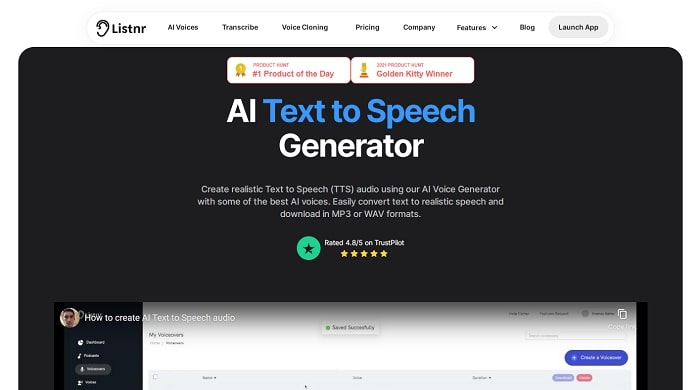 Along with voice creation, Listnr offers a dashboard for podcast recording and editing. By just inputting a link, it enables the creation of audio versions of internet articles or blog posts. You can adjust the speech style, speed, pronunciation, and sound quality using their user-friendly interface.
The audio content produced by Listnr can be shared on a variety of social media sites, including YouTube, Instagram, and TikTok. Additionally, Listnr gives programmers who wish to incorporate their solutions into apps access to their TTS API.
Key features of Listnr:
75+ languages and 600+ different voices.
5 distinct voice styles.
Cutting-edge text-to-speech editor.
Unlimited audio embeds on external websites as well as downloads and exports.
Efficient voice cloning service.
Hosting, recording, and editing of podcasts.
---
5. Synthesys
With the help of Synthesys, you can create audio, digital art, video, and AI avatars. Give Synthesys a try if you're interested in making videos without being seen by others. You can create videos generated by AI employing their library of virtual avatars in addition to their AI voices, which are available in over 140 different languages and come in 254 voice variations.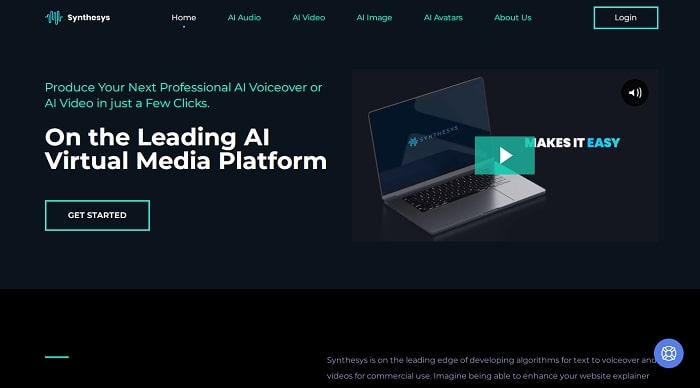 Their user-friendly AI generation interface makes it simple to browse a variety of voice actors and select the best one for your project. Combining audio samples, improving pronunciation, and adding word substitutes for words, numbers, and other special characters are all possible.
With the help of the Human Synthesys Studio feature, it's possible to create videos with avatars that resemble people. These avatars may be used to contribute to demonstrations, videos, and other Synthesys tool applications.
Key Features of Synthesys:
Unlimited downloads of voiceovers.
Upload your voice to make a voice copy of it.
140 Languages as well as 374 voices.
Lip-syncing AI video technology.
35+ human voices.
Create your own AI avatar or choose one from a library.
Also Read: Best Call Center Software in 2023
---
6. Speechify
Speechify can transform written content into top-notch, natural-sounding speech. It can change the voice's speed and choose from a range of voices and accents, among its many other features.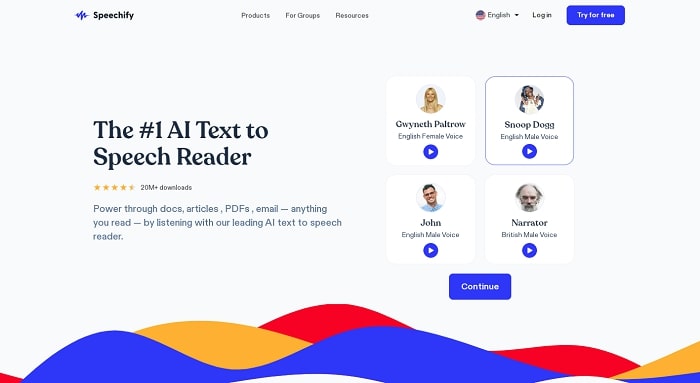 Speechify also has the ability to highlight the words as they are readable if a visual element is what you would like. It is offered as a smartphone app for Apple and Android devices and has a web-based user interface. Due to its ability to ingest papers from numerous sources, Speechify is especially popular among instructors.
Along with reading PDFs, emails, and eBooks, you can upload a photo that contains text and have Speechify read it back to you. As a whole, Speechify is a flexible and strong AI tool for creating voices, reading text, and conveniently listening to it.
Key Features of Speechify:
50+ high-quality voices.
advanced tools for highlighting, taking notes, and importing.
advanced user interface.
Suitable for Apple and Android mobile devices as well as Chrome.
Screenshots with audio and text.
To increase productivity, alter the listening and playback speeds.
---
7. Resemble.AI
Resemble AI is perfect for you if you want to utilize your own voice yet are interested in employing AI for voiceover jobs. It is one of the best free AI Voice generators through which you can upload, type, or talk and create your own AI voice using the web-based platform, which is created from your genuine voice.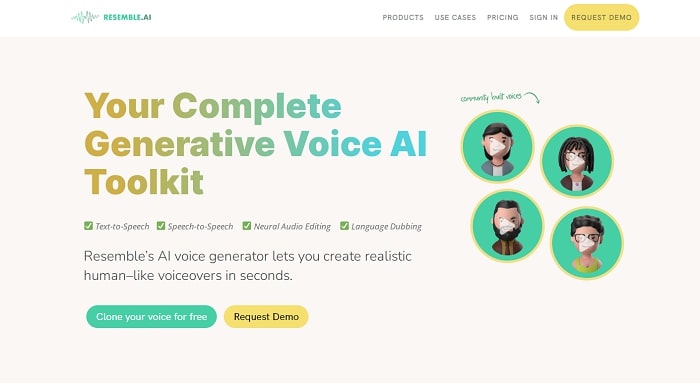 While it does offer a variety of sounds that you're able to choose from, Resemble AI can assist you in creating a voice that is truly distinctive. Using text or your own speech, you can produce your own AI voice. You may generate unique and localized audio for your next piece of content using their editor, which enables you to add accents, emotions, and language conversions.
Key Features of Resemble.AI:
Support for more than 24 different languages.
Unlimited users, projects, and audio downloads are available.
Quickly duplicate your voice online.
Use uploaded audio files to generate and design unique AI voices.
Create your own AI-generated voice using the voice actor marketplace.
Improved emotion management for generated voices.
---
8. Clipchamp
Clipchamp is one of the best applications for employing AI voice generation when making films. The editor gives you the option to trim, import, record, and merge video clips from the comfort of your web browser. In addition to editing videos, their text-to-speech feature enables you to enter text and produce AI-generated voice-overs for your media projects.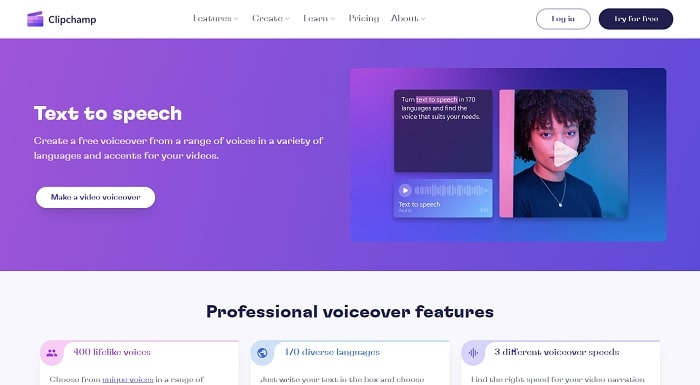 After entering your written content in the editor, the sound that was produced can be altered in terms of speed, cut, and clipping. You may also employ your voice to provide captions to help you make films that are accessible to your audience.
Clipchamp lacks the most advanced editing and application features because it is not a platform for creating solo AI voices. However, the platform can help those who want the option of AI-generated voiceovers for their videos.
Key Features of Clipchamp:
70 different languages, 170 voices.
Control voice speed, pitch, style, and volume.
The speaker Coach feature provides immediate feedback to help voiceovers improve.
An intuitive online video editor.
There are a huge variety of video templates available.
Creates real-time captions to improve the readability of videos.
Also Read: Best Free Music Notation Software For Windows PC
---
9. Speechelo
Speechelo is one of the best free AI Voice generators that can turn any text into a voiceover that sounds like a real person. The text-to-speech algorithm also allows you to choose the tone for interpreting the text, supports 24 different languages, and adds accents to the voice.
Speechelo enables users to transform any text into voiceover in only three easy steps and supports Windows, Android, Mac, Chrome, and Linux platforms. The tool is frequently used for instructional films, sales videos, and many other types of videos.
Key features of Speechelo:
Text can be read in three different ways: normally, joyfully, and seriously.
Long pauses and breathing noises.
More than 30 real voices.
the capacity to alter pitch and speed.
web-based text editor.
---
10. Speechmaker
Speechmaker is another fantastic choice for people looking for a top-notch online text-to-voice generator. It only takes three easy steps to create a voice-over.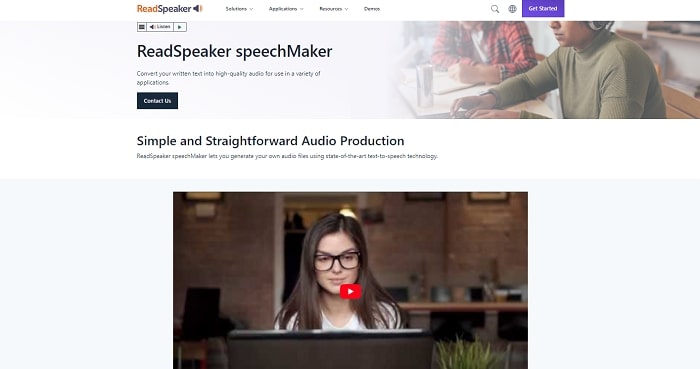 After entering the user's information and the script, Speechmaker analyzes the data and generates natural speech that can be downloaded and previewed. The online AI voice generator adjusts the voice's tone and pitch in accordance with the script.
Key features of Speechmaker:
auto-save function
More than 50 top-notch voices in more than 20 different languages
User-friendly
Authentic voices that sound like people.
---
Key Takeaway
Businesses, content producers, and individuals can all greatly benefit from these best AI Voice generators. These programs offer a quick and effective approach to producing speech that sounds real because of their numerous customization choices and realistic voices in several languages.  This is by no means a complete list of the various applications that support AI voice generation.
However, based on their qualities and characteristics, we have attempted to select the best. It's an exciting new world, and as artificial intelligence (AI) technology continues to advance, we have no doubt that these tools, along with others, will continue to advance.
Author: Snehil Masih
Snehil Masih is a professional technical writer. He is passionate about new & emerging technology and he keeps abreast with the latest technology trends. When not writing, Snehil is likely to be found listening to music, painting, traveling, or simply excavating into his favourite cuisines.