In today's digital world, providing excellent customer support is important for the success of any business. Call centers play a necessary role in enabling effective communication between companies and their customers.
Hence, to improve customer satisfaction and streamline operations, it's important to utilize reliable call center software solutions.
So, in this article, we will explore the top 7 CRM call center tools available in 2023. Each software offers unique features and benefits to suit various business needs.
Hence, this list will make it easier for you to choose the right solution for enhancing your customer support services. So, without further ado, let's dive in.
List of 7 Best Call Center Software
Here are a few of the best call center management software that can help you in managing your customer engagement smoothly and effectively.
1. Freshdesk
Freshdesk is a user-friendly cloud-based CRM call center system that can be controlled from a single interface. It improves the experience of your customers across all the various communication channels.
Moreover, Freshdesk allows you to automatically pass incoming calls from the set channels to your correct team member. Also, this call center software supports a user-friendly voice bot and IVR technology. Hence, the platform allows you to give your customers 24/7 voice support.
Freshdesk also makes it easier for you to calculate the performance of your call center based on real-time data. Also, it comes with low business-friendly price levels. Therefore, Freshdesk is a cost-effective option for handling customer support operations.

---
2. Five9
Five9 is another virtual call center software that you may try. The Five9 Call Centre system includes administrative, common platform, outbound, and inbound features. It uses AI to provide a customized consumer experience. Moreover, it can deliver over 100 different report types.
Additionally, it offers 24/7 email, phone, and customer portal service to customers. Also, it offers call recording, real-time reporting, historical reporting, data import, and cloud API features.
With Five9, you can handle sales calls from a single, user-friendly dashboard. Also, you can easily communicate with your clients using the platform of their choice.
Furthermore, this call center management software also offers various advanced features. Such as the live chat function, outbound dialer, agent scripting, and call recording. The platform can also be customized according to the workings of your sales call center.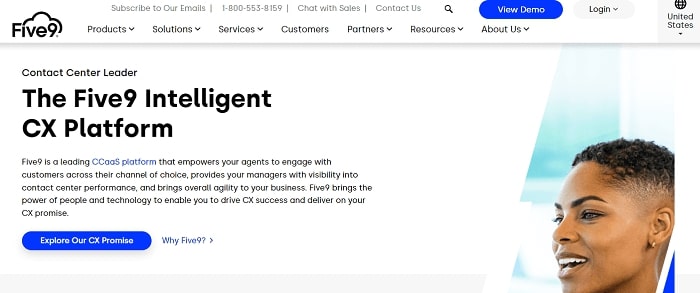 Also know: Best Free Voice Changer Software for Mac in 2023
---
3. Zendesk Talk
Zendesk is a useful and best call center software for small businesses wishing to enhance their phone customer care and assistance. It has a user-friendly layout, powerful features, and integration abilities. Hence, it's a great CRM option for organizations.
Another advantage of Zendesk Talk is that it provides effective and customized customer care options. Hence, this is a good advantage for small companies.
Moreover, the program includes call routing and automatic call distribution tools. It makes sure calls are routed to the proper person with the necessary expertise and skills. Hence, small companies can avoid phone transfers and lengthy customer hold times, saving time and resources.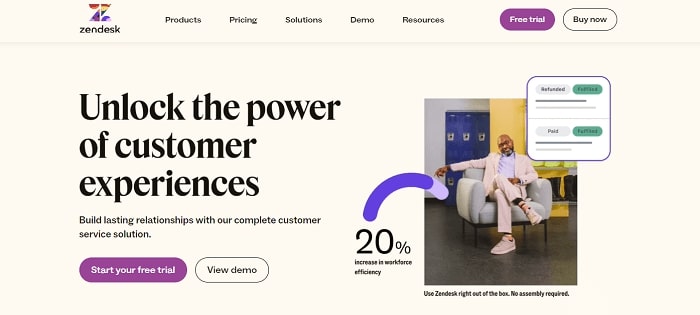 ---
4. Talkdesk
Talkdesk is one of the most popular virtual call center software free for businesses. It provides intelligent routing tools like IVR, ACD, Ring Groups, etc. Moreover, it offers unlimited call recording functionality.
Talkdesk offers a power dialer and enhanced voice features. On top of that, it has an advanced network architecture. Talkdesk also offers an outbound dialer.
TalkDesk is among the top CRM call center tools for enterprise-level companies. It can handle a big number of agents and calls. Moreover, it offers a user-friendly interface. This makes it simple for agents to use and enables Salesforce routing.
Also, it comes with AI voice analytics, detailed reporting, and real-time context recording. Hence, this makes it simple to collect insights from and enhance agent productivity and client satisfaction.

---
5. RingCentral
RingCentral call center software enables small companies to simplify their communication processes. It improves customer service and boosts productivity.
RingCentral is a reliable and affordable option for small businesses wishing to enhance their outbound and inbound calling capabilities. Moreover, it offers scalable and flexible solutions to companies.
RingCentral's all-in-one plan, also known as RingCentral MVP, includes texting, video, and phone. Additionally, this call center software is free and provides a separate plan just for the phone facility.
Moreover, RingCentral offers outbound calling features. It enables small businesses to call customers while working remotely through their company phone numbers. Hence, this guarantees that calls are placed from a professional phone line. And also helps in establishing credibility and confidence with customers.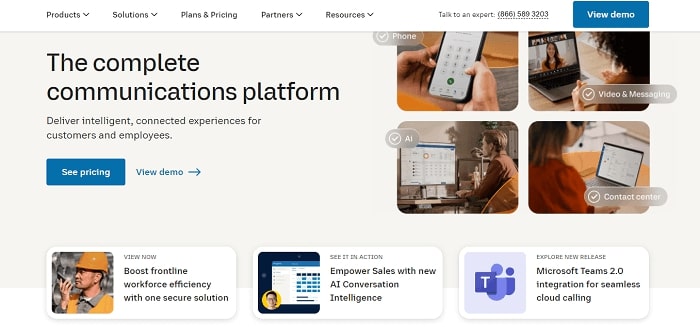 Also know: Best Equalizer Apps for Android
---
6. CloudTalk
CloudTalk provides intelligent cloud-based best call center software that can handle both customer service and sales calls. Automating the dialing process enables the sales team to dial more quickly and close more deals.
Additionally, customer care representatives can handle more calls with IVR and smart routing to maintain high customer satisfaction.
All the CloudTalk plans to provide access to the web dashboard. Also, to the iOS and Android mobile apps and Windows & Mac applications. Moreover, it provides native interfaces with CRMs, help desks, shopping carts, Zapier, and APIs. Hence, this assists companies in maintaining data synchronization.
Also, this simple-to-use web-based panel provides detailed information about your customers before your team contacts the customers. This helps in better understanding the customer and creating the leads.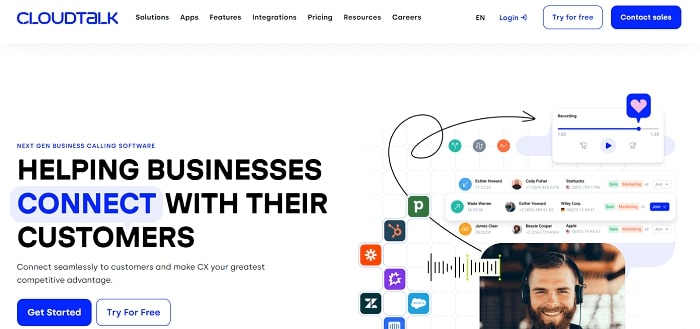 ---
7. Convoso
Convoso is a web-based CRM call center software. It offers the necessary features like calling, Voice broadcasting, SMS, email, Conversational AI agent, and Ringless voice mail.
Also, it comes with some advanced features as well. Such as dynamic scripting, various dealing modes, flexible dashboards, workflow dialing, etc.
Convoso is made to support small businesses in enhancing their marketing and sales efforts. Also, it offers predictive dialing, automatic lead distribution, call recording, and real-time analytics. Hence, with the help of this call center management software, businesses can enhance productivity. And also simplify their outbound dialing processes.
With the help of this application, you can effectively manage outbound call campaigns, and automate repetitive operations. Also, you can improve the quality of your calls by recording and analyzing customer calls. Additionally, the program offers real-time reporting and analytics to assist companies in monitoring performance and making data-based decisions.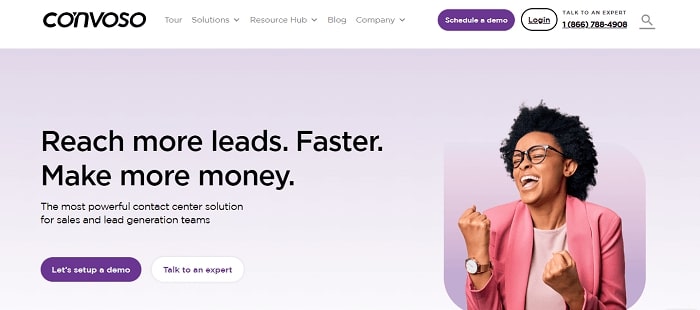 Also know: How to Fix Skype Microphone Not Working on Windows PC
---
Closing Lines: 7 Best Call Center Software in 2023
To conclude, it is a very competitive market for customer support companies. Hence, implementing the right call center software can make a good difference in enhancing customer experiences. And also improving overall operational efficiency. Hence, we hope the above list helped you in picking the right call center software-free solution for your business. They offer robust features and capabilities to meet the diverse needs of businesses in 2023. Lastly, let us know your views on the same in the comments section below.
Author: Snehil Masih
Snehil Masih is a professional technical writer. He is passionate about new & emerging technology and he keeps abreast with the latest technology trends. When not writing, Snehil is likely to be found listening to music, painting, traveling, or simply excavating into his favourite cuisines.