If you are like most business owners, you are probably always looking for ways to improve your content marketing strategy. You may have tried a few different things, but you're still not seeing the results that you want. Maybe it's time to try out some new software! In this blog post, we will discuss six great SaaS software that can help with content creation. These software can help you prepare your videos, write better content, design beautiful visuals, and track your progress so that you can see what is working and what isn't.
But before we look at those tools, it's important to have a look at what you need to consider before choosing a SaaS for creating your content.
What to Look for in a SaaS Software to Help With Content Creation
There are a lot of software programs out there that can help with content creation, but not all of them are created equal. Here are ten things to look for in a SaaS software that will help make content creation easier and more efficient:
Ease of use: The software should be easy to use and understand. It should have a user-friendly interface that makes it simple to find the features you need and get started creating content.
Flexibility: The software should be flexible enough to allow you to create content in the way that works best for you. It should offer a variety of features and options so that you can customize it to fit your specific needs.
Integration: The software should easily integrate with other tools and systems that you use. This will make it easier to manage your content and keep everything organized.
Cost: The software should be affordable and offer a price that fits your budget
Support: The software should come with good customer support in case you have any questions or problems
These are just a few of the things to look for in SaaS software that can help with content creation. When you find software that has all of these features, you'll be well on your way to creating great content more efficiently.
6 Best SaaS Softwares For Content Creation In 2022
1. HappyScribe- Tool for Adding Subtitles To Your Videos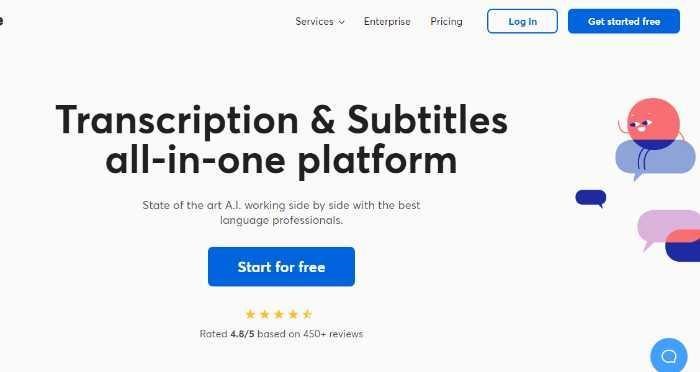 If you are looking for software that can add subtitles to videos or transcribe them, then HappyScribe is the right choice for you. It is a cloud-based application that offers both free and paid plans.
HappyScribe is available in many languages, which makes it perfect for international users. It also offers a wide range of features, including automatic punctuation, collaboration tools, multiple export formats, and interactive editors. Moreover, the software has no limits on uploads. You can upload files of any length and size.
You can also integrate HappyScribe with your Youtube channel, Zapier, and many more. All the files uploaded to HappyScribe remain private and they are protected, so you don't have to worry about their security and confidentiality.
2. Canva- Graphic Design Software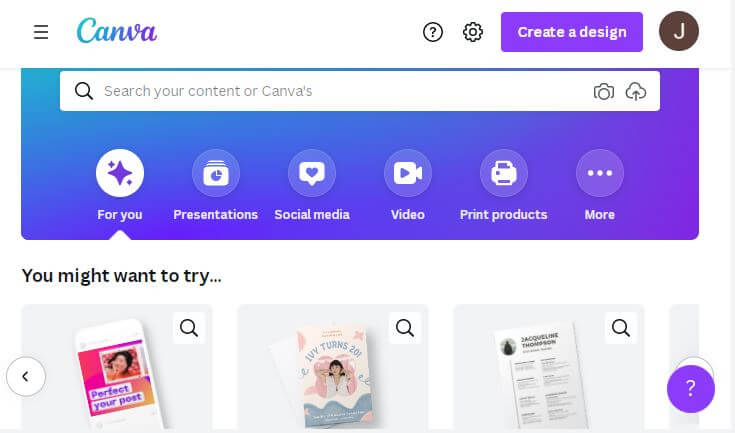 Canva is a great software for creating visuals. You can create infographics, logos, and even social media images. Canva is easy as it has a user-friendly interface.
Canva has other key features like:
Easy to use: Canva is extremely easy to use, even if you have no prior experience with graphic design. The interface is intuitive and the tools are straightforward.
Flexible templates: Canva offers a wide variety of templates for different types of designs, so you can create any kind of design you need
High quality: With Canva, you can be sure that your designs will look professional and high quality
Affordable: Canva is very affordable, especially compared to other professional graphic design software. You can sign up for a free account or upgrade to a paid account if you need more features.
Collaborative: With Canva, you can easily collaborate with others on your designs. This is perfect for businesses that need to design together.
Canva's easy drag-and-drop tools make it quick and easy to create high-quality designs
You can upload your own images, or choose from Canva's library of over two million stock photos, illustrations, and icons
Canva's text editor lets you add custom fonts, resize text, and change line spacing with just a few clicks
With Canva's advanced filters, you can easily edit photos to create beautiful graphics for your blog posts or website
If you're looking for easy-to-use, affordable, and high-quality graphic design software to create your graphics' content, then Canva is the perfect choice for you!
Also read:- Top 4 Designing & Engineering Software
3. Hemingway-Tool For Improving Your Writing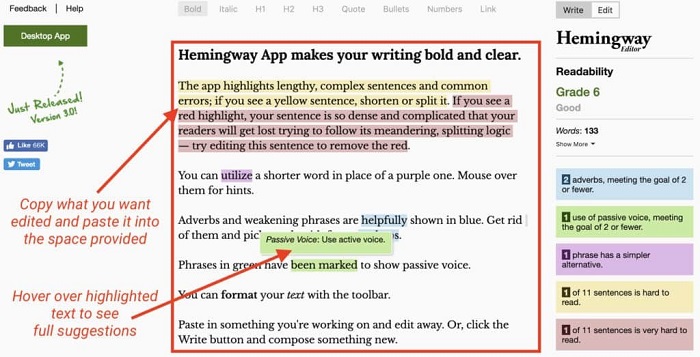 Hemingway is a great tool for improving your writing. It will help you identify errors in your grammar and style so that you can fix them before publishing your content.
Here are some of its features:
It highlights long, complicated sentences and suggests ways to simplify them
It identifies common errors such as adverbs, passive voice, and jargon
You can see how many words you've used and set a target number of words for your piece
It breaks down the reading level of your writing and shows you where you can make it simpler
It helps you spot adverbs. Adverbs are often unnecessary and can make your writing weaker. Hemingway highlights them in green so you can revise with confidence.
It shows you where you can simplify your language. Use simple words and short sentences to make your writing clearer and easier to read. Hemingway will show you which parts of your text need work.
It tells you when you should use active voice. Passive voice makes your writing sound weak and unclear. Be assertive and use Hemingway to find areas where you can strengthen your writing.
4. Google Documents-Create and Collaborate on Online Documents
Google Docs is a word processing program that allows you to create and edit text documents. It is a free online application that you can use without having to download or install any software on your computer. Google Docs is part of the Google Drive suite of applications, which also includes Google Sheets (spreadsheet), Google Slides (present
Though many people know that Google Documents is only a tool for creating and sharing documents online, most don't know that there are some hidden features that make content creation even easier.
Here are five interesting features in Google documents:
Use the Research tool to quickly find information without leaving your document. Just click Tools > Research
Insert special characters with ease using the Special Characters tool. Just click Insert > Special Characters
Add extra spaces between paragraphs with the Space Between Paragraphs tool. Just click Format > Line spacing > More options… and then enter the amount of space you want in the "Before" field
Create a table of contents automatically by clicking Insert > Table of contents.
Get more done with keyboard shortcuts. Just press Ctrl+/ (Windows) or Cmd+/ (Mac) to see a list of all the available shortcuts.
Also read:- 8 Ways to Manage Your Software Stack
5. Pixelixe- Branding And Graphic Design Tool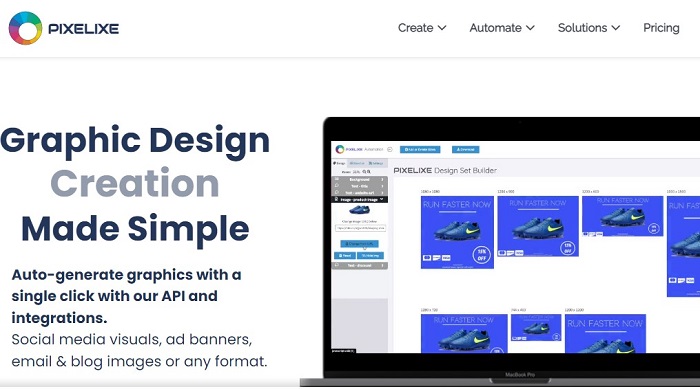 Pixelixe is a powerful online branding and design software that makes it easy and affordable to create a professional-looking brand for your business. You can create a custom logo, design your website, and create marketing materials all in one place.
With Pixelixe also, you can easily create high-quality images and designs that will make your website or blog stand out from the crowd.
If you're looking for a way to improve your web graphics or brand or simply want to try something new, Pixelixe is definitely worth checking out. With its easy-to-use interface and wide range of features, it's perfect for both beginners and experienced designers alike.
If you're not sure where to start, Pixelixe offers a variety of templates and tools to help you get started. And if you need some inspiration, you can browse through the designs of other businesses in their gallery.
6. Wave.Video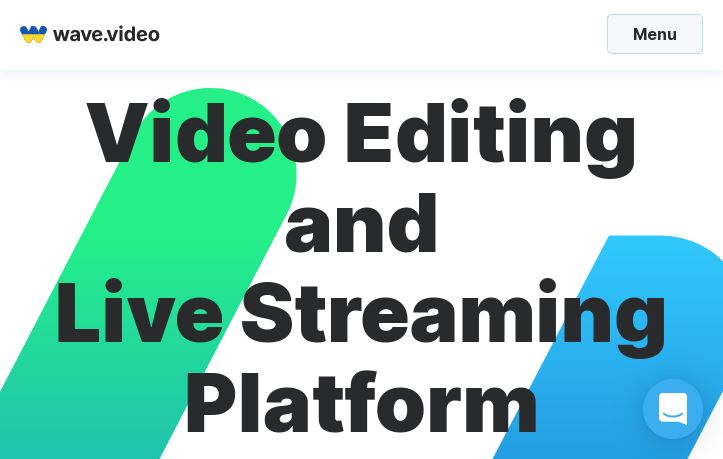 Wave.video is a video editing tool that is making waves in the industry. It is simple to use and has a wide range of features that make it a powerful tool for creating videos.
One of the best things about Wave.video is that it is very user-friendly. Even if you have never edited a video before, you will be able to figure out how to use it with ease. The interface is clean and easy to navigate, and the tools are all clearly labeled so you know what they do.
Another great thing about Wave.video is that it has a wide range of features for creating videos. You can add text, images, and audio to your videos, and there are also a variety of transition and animation effects that you can use. This makes it easy to create professional-looking videos that will engage your audience.
One downside of Wave.video is that it doesn't have as many features as some of the other professional video editing tools on the market. However, this isn't necessarily a bad thing, as it means that the tool is more focused on simplicity and ease of use.
If you are looking for a video editing tool that is simple to use and has a wide range of features, Wave.video is the perfect choice for you.
Conclusion
These six software options should help take your content creation efforts up a notch. If you're looking for more ways to improve the quality and effectiveness of your content, you can always do more research and you will be able to get a lot of resources to make your content creation simpler.
Author: To The Verge Team
Our aim is to chase the future, innovations, and the latest trends of all things tech. We love to interact with industry experts, understand their diverse and unique perspectives, and spread their ideas.