Are you fed up with spending hours creating presentations that aren't successful in captivating your viewers? Well, no need to worry anymore! Leveraging artificial intelligence's capabilities is a simple choice in today's technologically advanced and rapidly evolving world. And when an AI presentation maker is able to assist you in creating outstanding presentations, why not take advantage of it?
So, rather than wasting time creating presentations, let the best AI presentation makers handle the tedious tasks. Because of this, you can spend more time expressing your point more clearly to your audience.
The AI presentation maker's algorithms streamline the entire process, enabling your business to create outstanding marketing presentations in just a few short minutes. AI presentation tools ensure that presentations are engaging and visually appealing, in addition to improving presentation quality.
AI-powered presentation-maker tools are the solution if you're a professional trying to create effective advertising campaigns or an influencer on social media trying to captivate viewers with stunning presentations and AI voices. In this article, we'll look at the 10 best AI presentation makers that can make great presentations for you quickly and easily.
10 Best Free AI Presentation Maker Tools in 2023
Say goodbye to boring slide shows and welcome enthralling presentations that will amaze your audience. Explore the world of the best AI presentation makers to find the top ones that will elevate your presentations to new levels. So without further ado, let's start.
1. Synthesia
Synthesia is one of the best AI presentation maker tools used to build professional presentations. Synthesia's AI-powered avatars enable users to create presentations in a more captivating and aesthetically appealing way.
The software can create videos that mimic a presenter delivering the topic by using text-to-speech technologies and realistic avatars. This can increase the presentation's overall impact and efficacy, making it more polished and interesting for the audience.
You don't need to be a skilled editor to create effective presentations with Synthesia. Simply select your preferred template from a large selection of well-created video templates. It provides a personal plan for $30 per month, or users can upgrade to an annual subscription for a total of $300, offering a financially advantageous choice for recurring subscribers.
Synthesia features:
Lifelike AI Presenters.
Automatic Script Writing.
Video Templates.
Language Support.
---
2. Decktopus
Decktopus is an invaluable AI presentation creator tool for businesses looking to make presentations that are not only incredibly professional-looking but also visually stunning. The program makes use of an AI deck builder to assist you in creating a variety of content, such as presentations, fashionable portfolios, mail signature links, sales funnels, proposals, and more.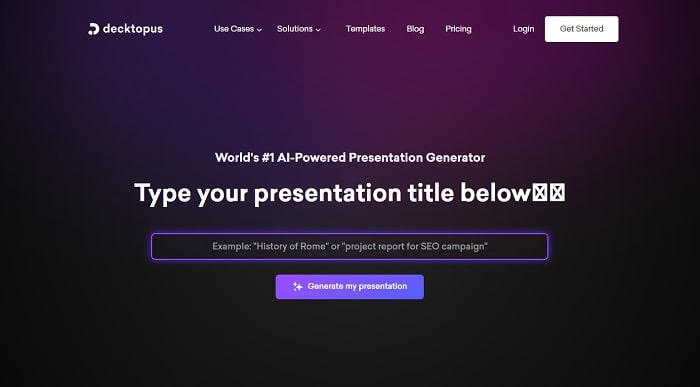 This platform offers tens of presentation and slide template choices that you may select from and customize. Additionally, you can alter your presentations using the wide variety of colors, themes, and fonts available. When your presentation is complete, you may create a link using your own domain or in PPT and PDF formats and share the information with the intended audience.
Additionally, Decktopus has integrated forms that let you collect data inside presentations and make them interactive. This makes it easy for the viewers to contact you, offer suggestions, and evaluate your work.
Decktopus Features
Seamless Collaboration and Sharing
Analytics
Presentation Tips
Royalty-free Visuals
Visually Appealing Templates
Voice Recorder.
Webhook Integration
Read Also: Best Free Video Editing Software
---
3. Simplified
You can put an end to the laborious process of creating engaging presentations with the aid of the Simplified AI Presentation Maker. Using this cutting-edge technology, it is simple to create visually stunning and powerful presentations because it combines artificial intelligence with an intuitive design.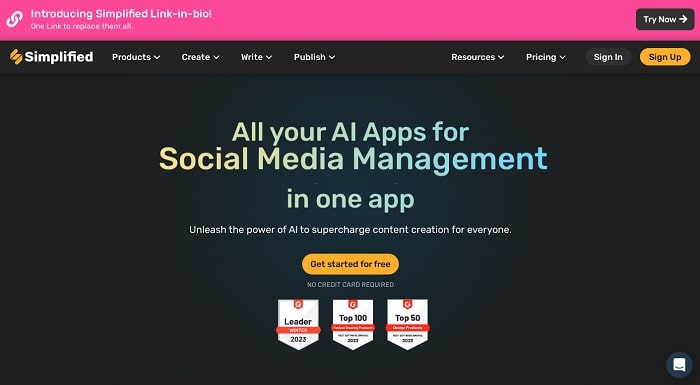 The adaptable tool serves academics, professionals, and anybody else looking to create slides with strong visual appeal.
With more than a million users, Simplified is one of the top AI content generators that can assist you in producing animations, text, video, social media posts, and, yes, presentations.
The artificial intelligence will create a custom presentation for you with just a single topic input. You may fine-tune the presentation until it is ideal by customizing it to your tastes and allowing cooperation between you and your team. You have the creative freedom to create stunning designs using everything from text and fonts to colors, graphics, and even sounds.
Simplified Features
AI-Driven Design
Intuitive Interface
Time-Saving Solutions
Collaboration Made Easy
Accessible Anywhere, any time
---
4. Designs.ai
Designs.ai combines artificial intelligence and machine learning technologies to give its users the ability to create, edit, and scale content. It is a complete Agency-as-a-Service platform that has every AI presentation tool you could possibly need to streamline workflows, lower expenses, and increase efficiency.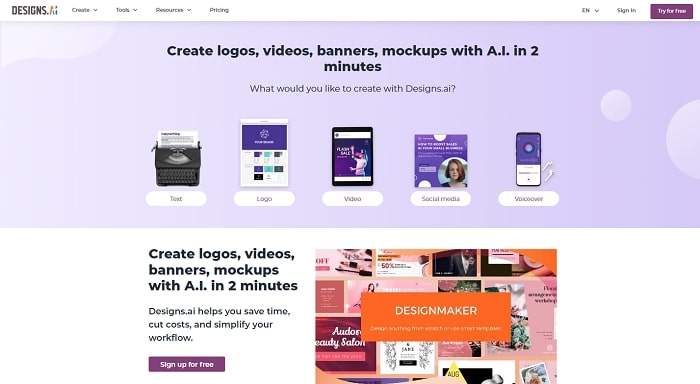 This software's AI video editing and production tool, which transforms posts, text scripts, and articles into amazing, fully-edited videos in more than 20 languages, is one of its best features. Your videos can be automatically adjusted and optimized for YouTube, Facebook, TikTok, and Instagram.
The AI logo maker on Designs.ai is yet another fantastic tool. This free AI presentation maker program analyzes the data about your brand to produce hundreds of gorgeous logos in a matter of seconds. Additionally, you may choose from over 10,000 icons and export the logos in a number of different file types, including PDF, SVG, JPEG, and PNG.
Designs.ai Features
50+ Natural-sounding voiceovers.
Vast Content Library.
Easy Project Collaboration.
Brand Kit Integration.
Cloud Hosting and Storage.
Intuitive User Experience.
Online-based Software.
---
5. Presentations.ai
Presentations.ai is an AI-powered program that allows you to instantly turn your thoughts into slides. All you have to do is enter a prompt or choose a template, answer a few questions, and it's done! Alternatively, you can choose to copy and paste text from a webpage or document to quickly transform the draft into a deck.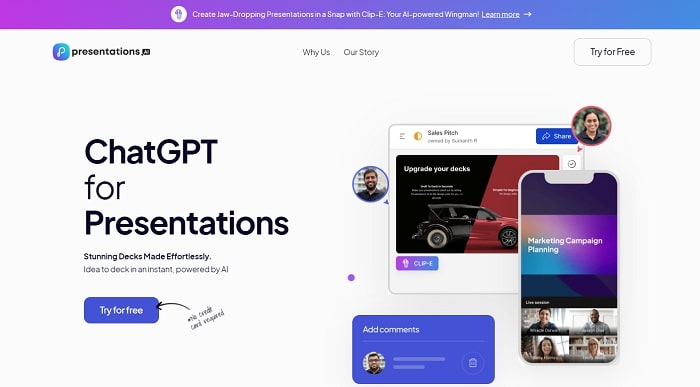 With the help of Presentations.ai, you can choose from a large number of pre-designed templates and slides that are designed to present your ideas effectively on demand. Additionally, this free AI presentation maker supports live interaction with remote teams. You receive a centralized location to assign work, monitor presentations, and get real-time feedback. Additionally, you can limit your team's access to material and ask others to collaborate with you on particular documents.
On the other side, your remote workers can collaborate in real-time to edit, host meetings, and discuss ideas. They can also contribute feedback in the form of comments and responses to the slides and assignments you have been given.
Presentations.ai Features
Slide Analytics.
Text Editor.
Shareable Links.
Multi-device Compatibility.
Live Collaboration.
Antifragile Templates.
Follow-up Action Plan.
Read Also: Best AI Voice Generators in 2023 [Updated 2023 List]
---
6. SlidesAI
SlidesAI is a cutting-edge AI-powered tool designed to simplify the procedure for making presentation slides. Slides.ai can quickly turn any text into a polished presentation with visually appealing graphics by utilizing advanced algorithms.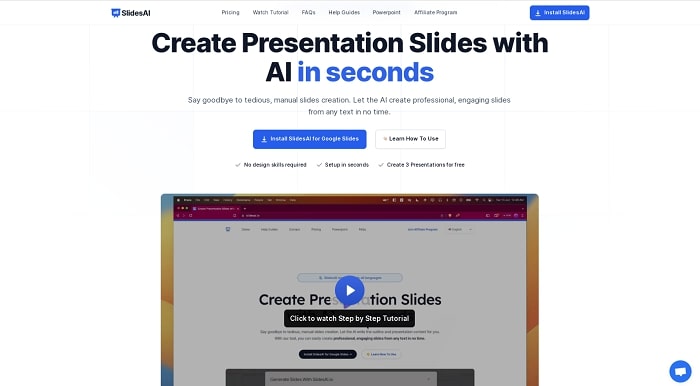 This free AI presentation maker provides a user-friendly interface, so users may input their desired text by either writing it or pasting it from another source. Once the text has been added, users can alter how their presentation looks by choosing from pre-made color schemes and styles of fonts or coming up with their own distinctive style.
Based on the provided text, the AI creates a structure and presentation content as it analyzes the input. Before submitting the project for completion, users can evaluate their presentation and implement any necessary changes. Users can easily build captivating presentations with SlidesAI while saving hours of tedious manual labor.
SlidesAI Features
AI-Powered Text to Presentation.
Customizable Design.
Time-saving.
Easy to Use.
Google Slides integration
No Google Workspace Account is required.
Responsive Customer Support.
---
7. Beautiful.ai
Beautiful.ai is your secret weapon for compellingly expressing your ideas in order to grab attention and increase productivity. To assist you in organizing your ideas and bringing your brand story to life, this cloud-based AI presentation creator tool brings the principles of excellent design into action in real-time.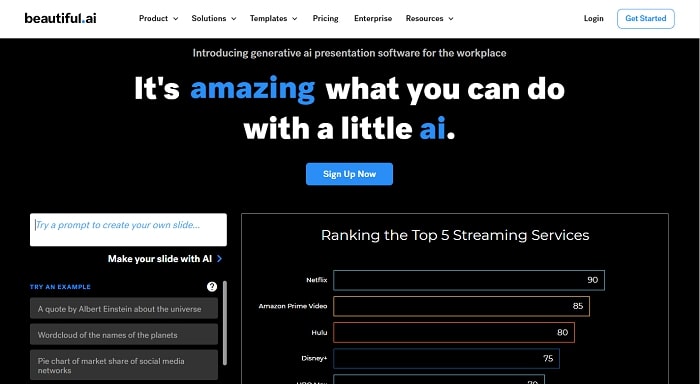 The innovative templates provide multiple built-in layout options. It allows you to quickly create new layouts and shift between different ways of visualizing content. Additionally, the platform's adjustable themes, fonts, and colors help you maintain brand coherence.  A slide library is also available on Beautiful.ai if you need a little push to get the ideas flowing. There, you can look for pre-existing content and presentation layout designs. Additionally, this platform offers powerful data visualization tools, such as dozens of specially created diagrams, charts, and graphs, to help you maintain control over every aspect.
Beautiful.ai Features
60+ Customizable Smart Slide templates
Advanced Sharing Options.
Easy Exports to PowerPoint.
Viewer Analytics.
Easy Slide Updates.
Multi-device Support.
Automatic Animations.
---
8. Kroma.ai
You can produce content for almost anything on Kroma.ai, including investor update templates, product development roadmaps, and a ton of AI-powered presentation tools, including pitch decks for funding. Its hundreds of expertly made presentation decks are adaptable and have the ideal amount of structure, allowing you to confidently propose, pitch, and convey your ideas.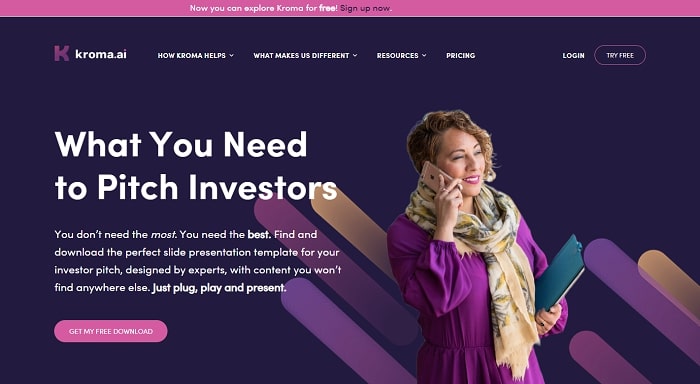 Additionally, Kroma.ai enables you to quickly and aesthetically arrange data into charts and graphs for easier study and visualization. The Grab and Go material is one element that further distinguishes Kroma.ai from its competitors. The feature offers consumers ready-to-use content that only needs very small adjustments. All you have to do is add the branding, download it, and you're ready to go. Moreover, this free AI presentation maker allows you to access a high-resolution library fully packed with icons, images, and videos.
Kroma.ai Features
Data Visualization Tools.
Unlimited Image, Template, and Video downloads
Expert Decks.
100,000 Presentation Tools.
Email Support.
Millions of Creative Assets.
Fully Packed Library.
Read Also: Best Video Quality Enhancer Software in 2023 (Free)
---
9. Pitch
The Pitch includes all the AI presentation tools you require to accomplish any goal you have in mind, whether it is producing conference keynotes, professional-looking presentations, sales decks, or project plans. This AI presentation creator tool creates outstanding presentations quickly by striking the ideal equilibrium between flexibility and aesthetic restraints.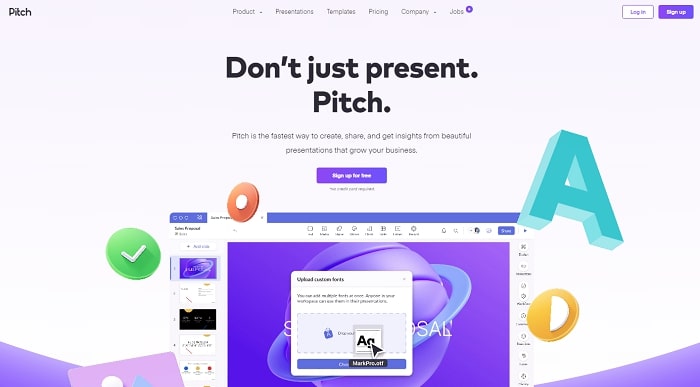 You can unleash your inner designer with its clever formatting and simple editing tools, which will help you make modifications more quickly and produce presentations that look good. Pitch lets you insert movies into your presentations to give the subject more life.
This free AI presentation creator also incorporates Giphy, Randfetch, Unsplash, and Band Icons8, providing you access to millions of pictures for your slides. To maintain consistency and adhere to the approved brand style, you can customize your presentation slides with the most recent colors, fonts, and layouts.
Pitch Features
Video and Image Library.
Presentation Analytics.
Unlimited Presentations.
Custom Links.
PDF and PowerPoint exports
Custom Templates and Fonts.
---
10. Sendsteps
Sendsteps is a one-stop, AI-powered platform that makes it easy to develop interactive presentations. You may conduct live presentations with the help of this program, which also works well for interactive meetings online and as a teaching tool. Through a variety of tools, including live polls, interactive word clouds, and Q&A sessions, it enables speakers to communicate with their audience.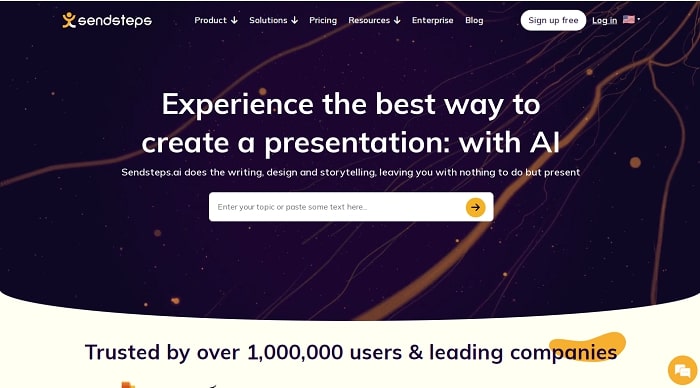 The platform's AI presentation maker creates a fully interactive presentation. You can now generate presentations 10 times quicker, which will save you time. To ensure improved privacy and security, the AI presentation creator makes use of data management procedures that depend on complete transparency and industry-best standards.
All user data and information is protected using strong end-to-end encryption techniques, and only authorized, well-trained internal staff members have access to it. You can access all the interactive and engagement tools with Sendsteps' seamless integrations with the programs you already use, including PowerPoint, Microsoft Teams, and the Google Slides App.
Sendsteps Features
Easy Moderation.
Unflinching Support.
Insightful Analytics.
Comprehensive Question Format Choices.
Multiple Channels for Receiving Responses
Tons of Presentation Templates.
---
Conclusion
The top free AI Presentation maker tools are here to completely change how you carry out corporate marketing and communication. To make great presentations, you don't need to use conventional presentation software anymore.
These AI Presentation maker tools can assist you in creating interactive and captivating presentations utilizing algorithms for machine learning and artificial intelligence to hook your audience, whether you need to make professional-looking presentations or use social networking graphics.
No more wasting time on presentation design. Check out the aforementioned best free AI presentation makers carefully and choose one that will enable you to meet your needs for business presentations.
Author: Snehil Masih
Snehil Masih is a professional technical writer. He is passionate about new & emerging technology and he keeps abreast with the latest technology trends. When not writing, Snehil is likely to be found listening to music, painting, traveling, or simply excavating into his favourite cuisines.