Want to upgrade the video quality of your movies but aren't sure where to begin? Read this article to learn more about the best video enhancer online for enhancing the quality of video and audio.
These days, high-resolution video viewing and sharing experiences are quite important. But what happens if the video quality is low? Also, what if the video is excessively unstable or dark? Or is there some audio turbulence captured in the video? Overall, the concern is how the video quality can be improved in these circumstances. The answer is straightforward: we take advantage of the best video enhancer software for improving video quality.
The process of improving video quality has become simpler and faster with the advent of specialized free video enhancer software. These online video enhancers can also enhance the resolution, luminosity, and clarity of films taken using video cameras, smartphones, or webcams. However, it also provides a vast array of other capabilities, such as color optimization and noise reduction.
These free video enhancers online make it easy to develop high-quality content with no need to have a specialist in post-production thanks to modern technologies. Therefore, ensure to utilize these free video quality enhancer solutions if you want to turn ordinary movie clips into movies that look professional without engaging in a tedious editing process. Some of the best free online video enhancer programs and tools for improving video quality are listed below:
7 Best Free Video Quality Enhancer Software in 2023
We have carefully selected a list of the top 7 free video enhancers online. There is something here to meet your particular demands and budget, whether you are an expert video editor or a beginning creator. Let's look at it!
1. PowerDirector
One of the best video enhancer software you can find online is PowerDirector, which can help you improve video quality. You may occasionally want a video quality booster when you are on the go. PowerDirector is one of the top video enhancers online if you're using a smartphone or tablet with iOS or Android. It has received Editor's Choice recognition from the Google Play Marketplace and has more than 100 million downloads.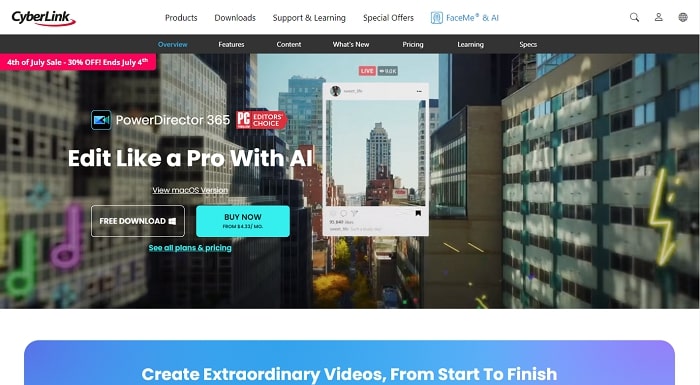 Although PowerDirector is a professional-grade video enhancer online, it is available for free download and use. Editing a multi-track timeline, a visual effects editor, integration with blue and green screens with chroma key modifying, voiceover capabilities, and a variety of effects are among the features. A photo editor is also included in the program. If you already use a photo editor for iOS or Android, you might be able to delete it to free up some space.
Features of PowerDirector:
You are able to import 8K videos.
Color distortion in a clip can be fixed.
It enables 1:1 video output ratio production.
enables you to import and edit video clips taken with the camera.
It can make shaky videos more stable.
It offers many pre-made templates.
This online video enhancer provides effects for both slow motion and fast motion.
---
2. Filmora Video Editor
Filmora is a good option if you're seeking an economical desktop video enhancer online. You have the option of paying $70 annually or $109 for a lifetime license. There is also a free version available, but it adds a watermark to your footage and prevents you from using the app store to access the extensive collection of effects.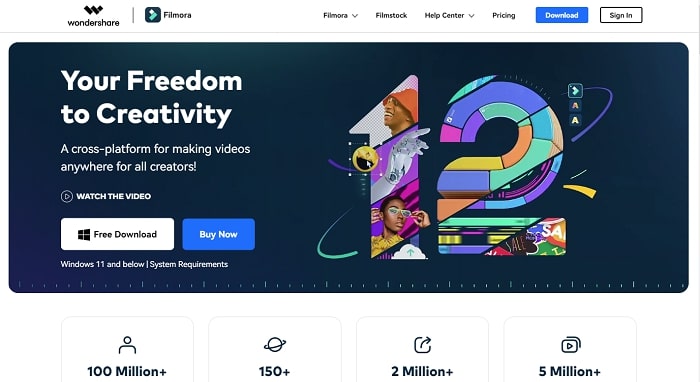 The tools in Filmora are a terrific way to create better-quality videos. Controls for stabilization, brightness, contrast, color, and saturation can improve your video. Countless overlays, visual effects, and header templates are also available. And last, a variety of formats for videos are supported. You can export your videos in a format that is suitable for uploading to sites like YouTube and Vimeo.
Features of Filmora Video Editor:
A variety of video editing tools.
Stabilization of shaky video.
Improved sound quality with an audio filter.
Keyframing.
Adjustments to color.
Video and audio effects.
Also know: Top Designing & Engineering Software
---
3. Pinnacle Studio
Look for Pinnacle Studio Pro if you use Windows and want to enhance the quality of a video. Once you transfer them to Windows, the program is effective at improving movies from both the iPad and the iPhone. Pinnacle Studio Pro was formerly a native iOS program, but now that it is accessible on Windows, it has enhanced functionality that is compatible with iPhone videos.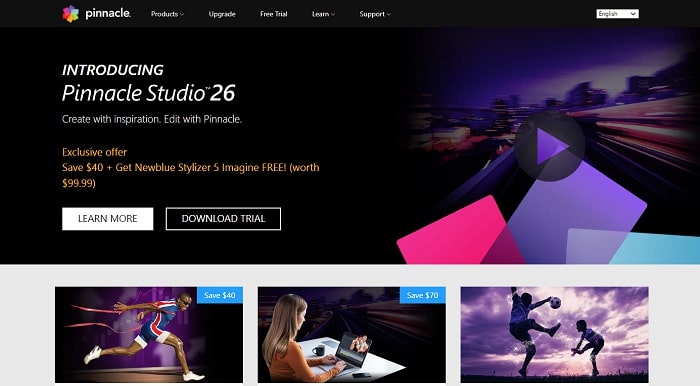 Pinnacle has a long history of creating video editing software. Pinnacle Studio is one of the best video enhancers online. It includes audio editing, picture-in-picture and pan-and-zoom effects, individual frame editing, speed and transition settings, and more. In contrast to alternative editing applications, Pinnacle Studio guarantees cinema-grade productions without a challenging learning curve.
Features of Pinnacle Studio:
In both 4K and HD formats, you can effectively edit video across tracks.
It offers 360-degree video editing.
You can edit, zoom, rotate, and crop videos.
You can split-screen videos using this free video enhancer program.
Any video camera that can record video can be edited.
---
4. Topaz
Topaz Video Enhance AI, a powerful upscaling program produced by Topaz Labs, intelligently raises the quality of videos to a maximum of 8K with the aid of cutting-edge machine learning technology. In addition to upscaling videos, this free video enhancer online is capable of a number of other editing chores, including cutting, denoising, deinterlacing, slow-motion effects, and restoration. The tool gives users complete freedom when it comes to enhancing the quality of videos with extraordinary precision and quality.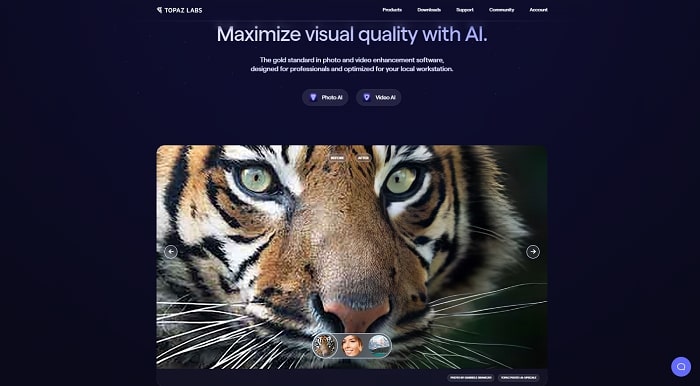 Due to its extensive video training, it enables precise and efficient repairs. Regardless of the original source of the film, Topaz can be used to identify mistakes and shortcomings, make tweaks to colors, sharpen hazy areas, and reduce flicker. The built-in AI engine can correctly identify these issues, resulting in high-quality, organic results.
Features of Topaz:
Machine learning technology.
Upgrading videos to 8K resolution.
Tasks such as upscaling, trimming, slow motion, denoising, and others.
Thousands of videos to train you.
Also know: Best Blur Photo Background Apps of 2023 (Android & iPhone)
---
5. Lightworks
Lightworks provides an excellent alternative to video editing for people with a variety of skills. The wide range of features it offers, such as 10-bit export, motion graphics, and advanced tilting, make it an amazing tool for anyone who needs it in their arsenal. Even better, it accepts plugins like TotalFX and NewBlue, which can add a unique flair to users' very challenging tasks.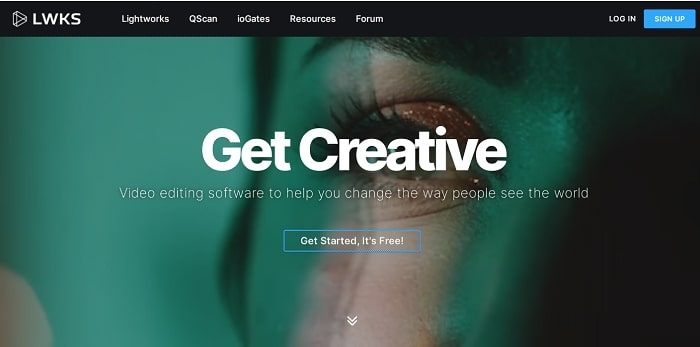 Lightworks offers a pro edition as well that comes with the specialized capabilities professionals require to finish difficult assignments if the basic version isn't quite up to the task. With this software at their disposal, streamers, movie makers, and content creators will be fully prepared to take what they have in mind and bring it to reality with effective yet user-friendly editing tools.
Features of Lightworks:
Supports the plugins for NewBlue and TotalFX.
The pro version upgrade option.
Advanced motion graphics and titling.
---
6. Shotcut
ShotCut is an excellent choice for people who enjoy video editing and are looking to make high-quality videos on a tight budget. Users can produce excellent results with little effort thanks to the powerful features offered by this open-source free video quality enhancer, which are typically only found in more expensive software.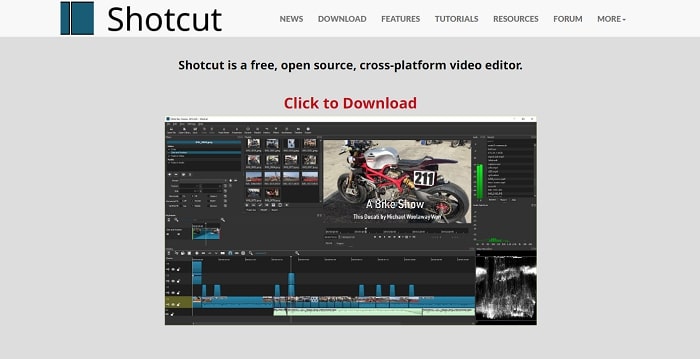 The addition of special effects, such as fish-eye and blur adjustments, can be advantageous for any project, and utilizing Shotcut makes the process comparatively easy. The ability to export 4K quality videos is now more accessible than ever, providing exciting new possibilities for your projects. Try ShotCut right away to get started creating stunning videos quickly and effortlessly.
Features of Shotcut:
SDI and HDMI inputs.
Webcam and screen recording.
Streaming over a network.
JACK and Pulse audio, an IP stream, and an X11 display.
Special effects are like a blur.
Also know: Best Free Music Notation Software For Windows PC
---
7. HitPaw
If you want to improve your films, HitPaw Video Enhancer AI is the ideal choice. It makes use of three different models, including the animation model, the denoise model, and the face model, to significantly increase the videos' quality using AI technology.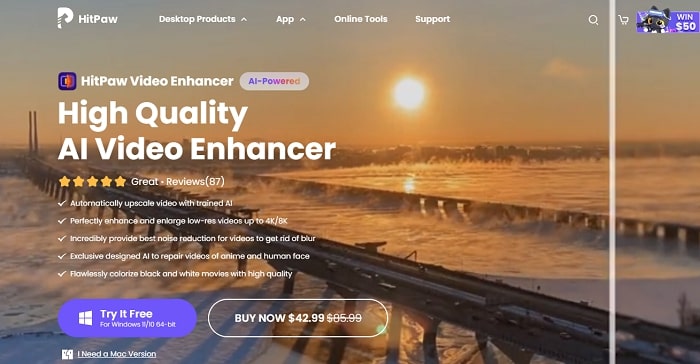 The Denoise Model helps to brighten and clean up the low-light and generally subpar video. The Animation Model refines and colors vintage anime clips to make them appear more realistic on high-definition displays. Last but not least, the Face Model retouches each frame of the video's portraits by changing the brightness, color saturation, and contrast.
Features of HitPaw:
Upscaling videos quickly with AI technology.
Video noise reduction.
Wonderful videos of anime and people.
Brings up the video resolution to 8K.
---
Conclusion
And there you go – the top 7 free video quality enhancer and upscaler that can turn your movies into works of art! These tools can assist you in producing work of a professional caliber, whether you're making videos for social networking sites, producing movies, or simply documenting moments with loved ones.
These high-end free video quality enhancer programs can also be advantageous to videographers and editors who devote themselves more seriously to the movie-making business because they provide limitless creative opportunities. If you have any further suggestions or want to contribute to the list above, submit them in the comments section that follows.
Author: Snehil Masih
Snehil Masih is a professional technical writer. He is passionate about new & emerging technology and he keeps abreast with the latest technology trends. When not writing, Snehil is likely to be found listening to music, painting, traveling, or simply excavating into his favourite cuisines.