If you are annoyed with Diablo Immortal crashing on the PC, you should read this article to fix the problem effortlessly.
Diablo is among the most thrilling action-packed multiplayer games. And Diablo Immortal takes the excitement several notches up. But when the Diablo Immortal keeps crashing on the PC, it seems disheartening to many fans of the game.
If you are also one of those disheartened gamers, we are here to help you fix the Diablo Immortal keeps crashing issue on PC quickly and easily.
However, before troubleshooting the problem, let us first discuss a bit about its causes. If you know why the Diablo Immortal keeps crashing on Windows, solving the problem is not a tough challenge. Therefore, below we list the possible reasons Diablo Immortal is crashing on PC.
Why Diablo Immortal Keeps Crashing
Following may be the causes behind the Diablo Immortal crashing on PC.
Interference from the gamepad or controller
You need an updated graphics driver
Crucial game files are missing or corrupted
Overlays making the game malfunction
A mismatch between your PC's specs and Diablo Immortal's requirements
Above, we looked at the core reasons Diablo Immortal crashes on the PC startup or in the middle of a gaming session. Let us now focus our attention on the solutions to the problem.
---
Quick and Easy Fixes to the Diablo Immortal Keeps Crashing Issue
If Diablo Immortal keeps crashing on Windows PC, you may apply the following tried and tested solutions to fix it.
Fix 1: Ensure your PC matches the game's requirements
All games have some system requirements that a computer must meet to run the game smoothly. Hence, when Diablo Immortal keeps crashing on your PC, you should take a look at your computer's specifications and make sure that they fulfill the game's conditions.
Below we share Diablo Immortal system requirements and steps to view your PC's specifications so that you can match them.
System requirements of Diablo Immortal OS: Windows 7 / 8 / 10 / 11
CPU: Intel Core i3 / AMD FX-8100
GPU: Nvidia GeForce GTX 460 / ATI Radeon HD 6850 / Intel HD Graphics 530
RAM: 4GB
Display resolution: 1920×1080
Steps to check PC's specifications
Right-click the Windows icon and select the Settings

Choose the option to view the System


Select About from the options available in the left panel of the system window.
Now, you can view all the details about your computer.
Also Read: How to Fix Skywalker Saga Keeps Crashing on PC
---
Fix 2: Check and solve the problems with game files
Some game files are crucial for the smooth functioning of the game. If these files are missing or become corrupted, Diablo Immortal keeps crashing on the PC. Hence, below is how to check and fix these file problems.
Launch the net launcher.
Choose Diablo Immortal from the available list of games.
Select the settings/gear icon located near the Play button.
Click on the option to Scan and Repair the game files.

Begin Scan for corrupted and missing game files.

After the scan is complete, check whether these steps were able to fix the Diablo Immortal keeps crashing problem or not.
Also Read: How to Fix Raft Keeps Crashing on Windows 11,10,8,7 PC
---
Fix 3: Turn off the Discord overlay
Overlays make it easy for you to handle multiple tasks like gaming and chatting simultaneously. But they also interfere with the game's normal functioning and lead to issues as Diablo Immortal keeps crashing on PC. Hence, below we share the step-by-step way to disable the overlay.
Launch Discord on your computer.
Select the gear (settings) icon from the bottom-left corner.

Choose Game Overlay from the section available on the left to toggle off the Enable in-game overlay Button.


Now, exit Discord and check whether you need to try more solutions or the above steps are the fix to Diablo Immortal keeps crashing issue.
Also Read: How To Fix Random Valorant Keeps Crashing on Windows
---
Fix 4: Make sure your graphics driver is up-to-date (Recommended)
You may check any post on this blog related to gaming issues, outdated drivers will be listed as one of the top culprits behind the issue. Having updated drivers prevents and solves most of the problems, including Diablo Immortal crashes on PC startups. Thus, it is the solution we strongly recommend to get rid of the issue you are experiencing.
You can update the drivers traditionally via Device Manager/manufacturer's support or much more conveniently through one of the best driver updaters like Bit Driver Updater.
We update drivers automatically through Bit Driver Updater. This software, in addition to updating drivers with just a click, provides many benefits like backup and restoration of drivers, driver download speed acceleration, automatic scans, and much more.
You can also experience this incredible software from the link below.

Once the software gets installed, it takes only a few seconds to display all the outdated drivers. You may Update All of these to the newest version with just a single click.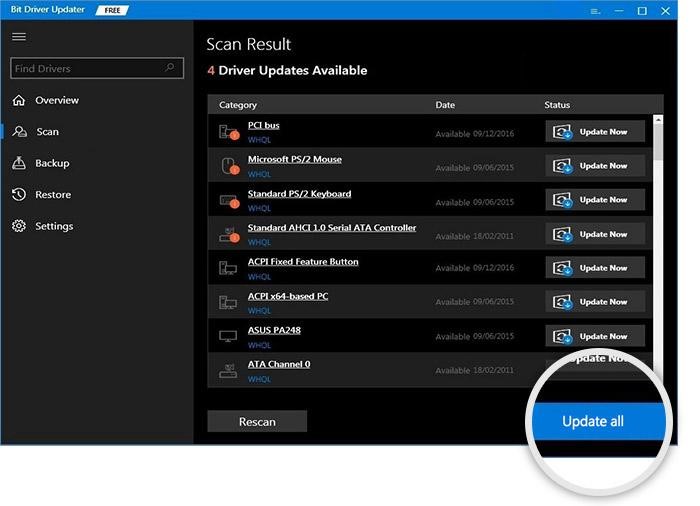 If you wish, you may use the Update Now feature to download and install the latest graphics driver individually.
However, it is recommended to update every old driver to make the computer perform superbly.
---
Fix 5: Unplug conflicting peripherals
It is very unlikely that you will try this last solution as the above fix solves the problem for almost all users. But if you happen to reach here, the issue might be a conflicting gamepad or controller. Sometimes, a connected gamepad or controller interferes with the working of your game, causing problems like Diablo Immortal keeps crashing. Therefore, you may try unplugging the peripherals such as the controller, USB devices, or wheel to fix the Diablo Immortal keeps crashing issue.
---
Diablo Immortal Keeps Crashing Issue Fixed
Through this article, we discussed how to fix the Diablo Immortal keeps crashing problem on Windows PC. You may start troubleshooting from the beginning and stop at the solution that works the best in your case. However, you may update drivers with Bit Driver Updater directly if you wish to save time and effort. If you know other more effective ways to get rid of Diablo Immortal crashing on PC, we will be glad to know them through the comments section. Lastly, we hope you will continue reading our blog for more tech fixes and updates.
Author: Snehil Masih
Snehil Masih is a professional technical writer. He is passionate about new & emerging technology and he keeps abreast with the latest technology trends. When not writing, Snehil is likely to be found listening to music, painting, traveling, or simply excavating into his favourite cuisines.