SMS marketing is still regarded as one of the most effective channels out of all the numerous marketing communication channels. What's more fascinating is that SMS marketing has a staggering opening rate of 98%, which is much higher than the standard click-through rate of SMS marketing, which is around 80%. SMS is unquestionably an everlasting way to communicate. Customers favor working with businesses that are in frequent communication with them.
For your company to scale its marketing initiatives and close more prospects, SMS marketing software is a necessity. You can reach clients through one of their most private touch points—their mobile number—with the aid of bulk SMS marketing software. You can segment your receivers depending on their responses, send transactional emails, promote product launches, and make offers using SMS marketing software.
However, businesses may find it difficult to select the best free SMS marketing software for their needs. So in this article, we have compiled a list of the 8 best SMS marketing software tools you can use to increase your audience's level of engagement. But before we proceed, let's understand what SMS marketing software is.
What is SMS Marketing Software?
SMS marketing software is a specialized application used to automate and simplify text message-based promotional efforts and maintain client phone numbers. It gives companies all the tools they need to plan, organize, and carry out successful SMS marketing campaigns.
With the help of these best SMS marketing platforms, organizations can manage subscriber lists, automate messaging workflows, personalize messages, and send bulk SMS to their targeted audience. Businesses may connect customers, send time-sensitive offers, and increase engagement and conversions by using text message marketing, which makes use of SMS's high engagement rates as well as direct communication.
Best SMS Marketing Software in 2023
Thankfully, there is a wide range of free SMS marketing software that can accommodate various business requirements and industries. Below, you'll find a list of some of the best SMS marketing software.
1. Textedly
With the help of Textedly, companies of all sizes may send their clients bulk text messages. Textedly is one of the best cloud-based SMS marketing platforms. You can build, manage, and monitor your SMS marketing campaigns with ease thanks to its user-friendly dashboard. You may notify your customers of deals, updates, and notifications using Textedly. When it comes to requesting customer evaluations on websites like Facebook or Google, Textedly shines at SMS marketing.
Businesses may send customized messages to their consumers urging them to post reviews on well-known review platforms by using Textedly's SMS campaigns. The software enables personalized messages that contain particular links to the company's review pages, thereby making it simple for clients to go straight to the required website. Businesses can monitor the success of their review request campaigns and modify their strategies as necessary thanks to Textedly's advanced analytics and tracking tools.
Key Features
Data collection features such as Name, ZIP, Address, etc.
SMS surveys as well as text-to-join
Inbound multimedia messaging for the best possible customer interaction
Comprehensive reporting and analytics in real-time
Special SMS marketing advice and guide
integrations with Google Sheets, Hubspot, Shopify, Slack, etc.
---
2. SimpleTexting
SimpleTexting is a flexible and one of the best SMS marketing platforms that enable companies to communicate efficiently with their clientele through SMS communication and marketing. With a new local or toll-free number and SimpleTexting, you can communicate with your customers in a two-way. By using time-waiting and time-received filters, you can streamline customer support.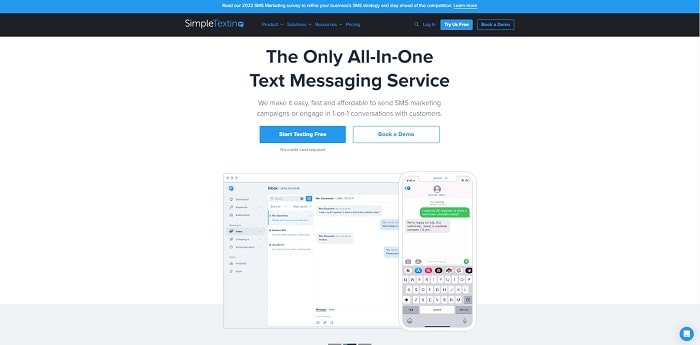 In addition to the recipient's information gathered from your CRM, you can add notes to a chat and organize each conversation and its historical data in an organized way. You plan out when and how often your texts will be sent. This free SMS marketing software enables you to schedule your messaging cycle months ahead of time.
Key Features
Functionality for team collaboration and creative task assignment
Different phone numbers for the same account
Easily rememberable shortcodes
Delete inactive numbers from contact lists
customer segmentation and personalization
Transfer of unused credits to the following month
Also know: Best Call Center Software in 2023
---
3. Omnisend
Omnisend is among the best SMS marketing platforms for creating customized campaigns, managing customer segmentation, and monitoring consumer behavior. SMS messages can be made specifically for a group of people or even a single customer. With the help of Omnisend, you can communicate with clients at crucial junctures in their purchasing process, such as when they subscribe to a list, make a purchase, or leave their cart empty.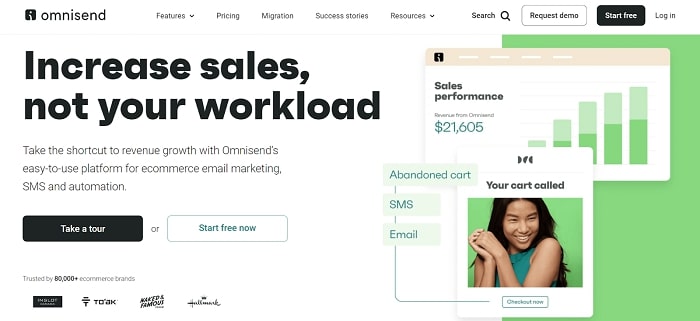 Customers globally can be easily reached because of the software's support for all country codes. It is great for companies that want to send time-sensitive messages because Omnisend's SMS for one-off campaigns removes the requirement to set up a recurrent campaign. It uses a subscription-based SMS credit system that lets users top up or deactivate as needed.
Key Features
Customers and subscribers may receive both SMS and MMS.
It is simple to gather subscribers thanks to the text-to-join feature.
Organizing the campaign's text messages
Using drip campaigns, subscribers can receive automated, late text messages.
Through its integration with Gorgias, 2-way SMS is accessible.
100+ eCommerce tool integrations
---
4. Trumpia
Trumpia works for several companies, including 7-11, Costco, Volvo, and Goodwill. It is a cloud-based text automation platform that supports SMS, email, and voice messaging. Trumpia enables you to gather useful information from your bulk text messaging campaigns using shortcodes. Trumpia is a complete SMS marketing software that enables companies to design personalized client journeys.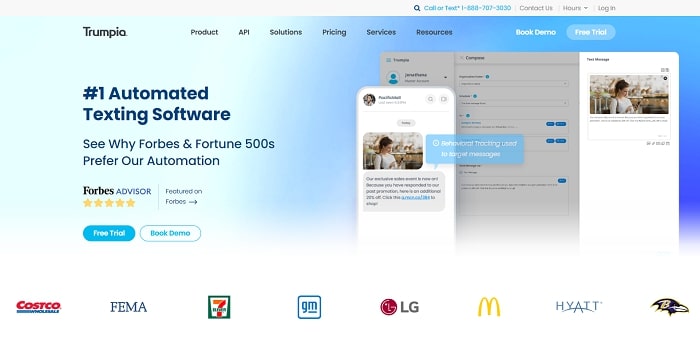 Businesses may use Trumpia to build customized SMS campaigns according to consumer preferences and behaviors, enabling them to send targeted messages at the appropriate times and via the appropriate distribution channels. This platform offers automation, segmentation, and customization features. Trumpia additionally enables you to tailor your mass SMS marketing campaigns according to the information the recipient has shared (for instance, their name) and how they have interacted with your CRM. Trumpia uses conversation threading to record marketing communications, which results in a thorough conversation trail of all customer communications.
Key Features
Data collection automation to create highly segmented lists
Adaptive lead scoring and targeting for excellent personalization
platform with multiple features (SMS, MMS, email, etc.) to reach more people
Keywords and QR codes for simple customer opt-in
Salesforce and Zapier integrations
Automated texts with pre-written scripts for opt-ins or sign-ups and drip campaigns
---
5. EZ Texting
EZ Texting is a simple platform that enables advertisers to track links, add images to messages, and send SMS to subscribers according to keyword groups. However, it lacks the ability to send video messages and needs more linguistic assistance. Additionally, the setup might be time-consuming, and users cannot examine analytics on the most affordable version.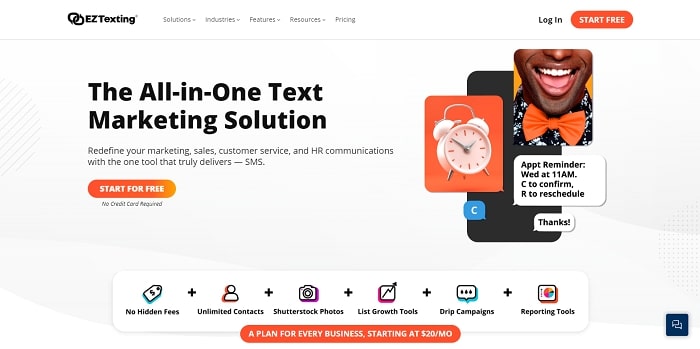 The cost of EZ Texting is divided into four tiers, with users having the option of making monthly or yearly payments. The price categories are Launch ($20/month for a maximum of 500 connections), Boost ($60/month for 500–2,000 contacts), Scale ($100/month for 2,000–50,000 contacts), and Enterprise ($3,000/month for 50,000 connections and up). Overall, it is a user-friendly platform with many features based on your company's needs. You can also download its mobile app. Additionally, customers can find a wealth of useful content in its Resource Center, from guides with best practices to video product tours.
Key Features
Keywords for generating leads and opt-ins
Utilizing specific shortcodes and link shorteners
Individualized customer interaction
CRM system integrations using Salesforce or tools like Zapier
Automated responses, notifications, and alerts for appointments or emergencies
SMS templates and web sign-up forms
Functions of polls, surveys, and competitions
Also know: Best Free Video Editing Software
---
6. TextMagic
One of the best SMS marketing software programs, TextMagic, is simple to use and lets you send notifications, alerts, and approvals. With the help of bulk SMS marketing software, you can communicate with your leads, employees, and suppliers in multiple ways. Additionally, TextMagic offers a special Email to SMS capability that lets you text customers from emails.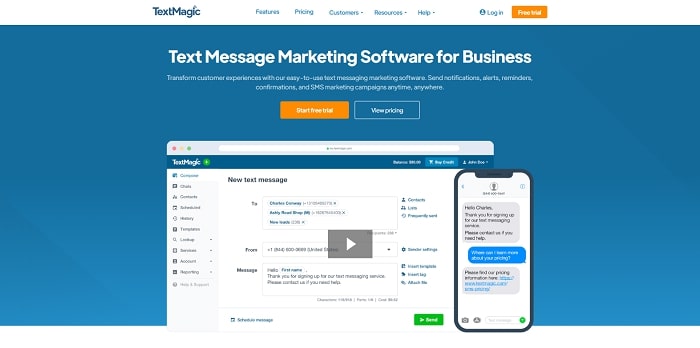 Additionally, you can incorporate the SMS gateway API into your current program.  You may carry out extensive marketing campaigns and send bulk texts to over 200 countries using TextMagic. Additionally, with a Pay-as-you-go mechanism, it is one of the more affordable SMS marketing software you could find.
Key Features
Around 1,000 mobile networks in over 200 countries are available worldwide.
Extra security with two-factor authentication
Team member sub-accounts
Invalid carrier identification and phone number
templates for text messages
Zapier-based Integration.
---
7. SlickText
No matter what business you are in, Slick Text acts as one of the best free SMS marketing software programs that can meet your needs for text marketing. The one-on-one account method is one of the software's standout features for SMS marketing. The company's agents are eager to get in touch with each organization in order to comprehend all of their particular requirements and support their growth.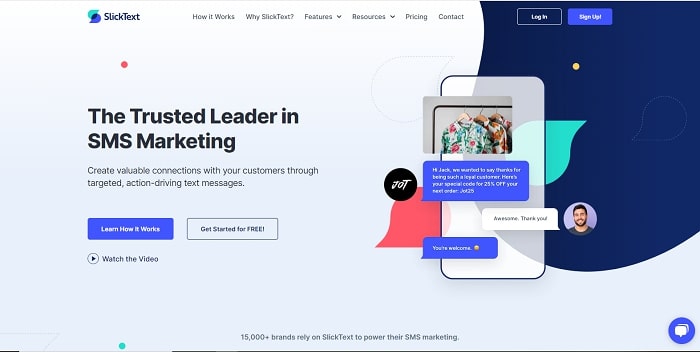 In order to prepare their clients for success, they also provide a library of informative SMS marketing tools. Additionally, they pride themselves on providing excellent customer service and provide a variety of chat alternatives for anyone who may need assistance. It serves as a mobile-friendly solution that offers platform users a free mobile app.
Key Features
SMS and MMS group text messages can contain up to 1600 characters.
Scheduling text messages and automated responses
Drip campaigns to automate sending subscribers' delayed text messages
Interacting with customers through two-way text messaging
Double opt-ins and opt-in links
integrations with Facebook, Shopify, Zapier, etc.
No-cost text message receiving
Also know: Best Free Voice Changer Software
---
8. Salesmsg
To make it easier for you to send, receive, and manage text and phone conversations online, Salesmsg offers two-way, simple, scalable business messaging and calling alternatives. Salesmsg is a simple SMS marketing software that is one of the most straightforward—but also the most reasonably priced—on this list. It is great for local and small companies across Canada and the USA.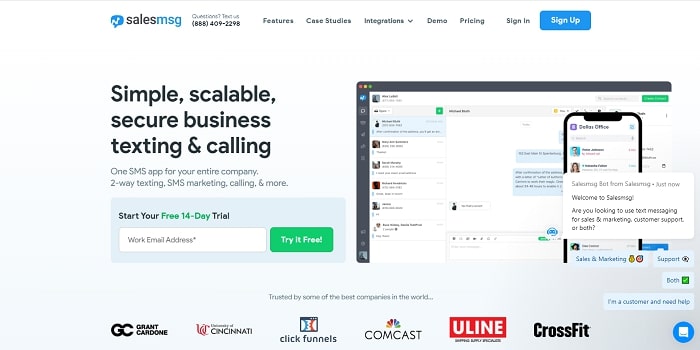 Salesmsg makes it simple to communicate with leads by providing emoticons, scheduled messages, discussion notes, and segmentation options. With just a few tabs on the user interface, Salesmsg's user interface is simple to use and makes navigating simple. It is, in essence, scalable SMS marketing software that has numerous integrations for automating processes and saving time.
Key Features
numerous integrations and more than a thousand via Zapier
Combining data solutions to achieve excellent personalization
1-click canned responses that are also available after hours
Integration with calendars to expedite appointment booking
Call forwarding for clients who would rather speak with you right away
Utilizing tags to segment lists
---
Key Takeaway
There are a number of outstanding options available when it comes to selecting the best SMS marketing software for your company. These free SMS marketing software programs provide distinctive features and functionality that are tailored to various business requirements.
These software choices offer a strong basis for carrying out successful SMS marketing campaigns, regardless of whether automation, personalization, analytics, or integration features are your top priorities. Businesses can communicate with their audience, encourage conversions, and succeed in marketing in today's mobile-centric environment by utilizing the power of SMS.
Author: Snehil Masih
Snehil Masih is a professional technical writer. He is passionate about new & emerging technology and he keeps abreast with the latest technology trends. When not writing, Snehil is likely to be found listening to music, painting, traveling, or simply excavating into his favourite cuisines.