With more than 2 billion active users every month, WhatsApp is undoubtedly one of the most popular and extensively used messaging apps. Nevertheless, after it made recent modifications to its privacy policies and terms of service, a lot of users began searching for a different option. In this article, we will help you pick the best WhatsApp alternative that you can use in 2023.
WhatsApp has always been well-liked for three reasons: it's simple to use, it offers everything that most individuals need, and it protects your data. End-to-end encryption is a welcome addition, especially given Facebook's inconsistent history of protecting its customers' privacy.
But it seems as though things are beginning to shift. With the recent terms of service modifications made by WhatsApp, Facebook would have access to the metadata that WhatsApp stores in order to operate and enhance Facebook's service. Due to this, users have deleted WhatsApp and started looking for alternatives that do not try to access their data. So here are the 10 best WhatsApp alternatives you can use in 2023 if you want to switch to a more private or secure messaging app.
10 Best WhatsApp Alternative Apps
Despite being one of the most widely used messaging apps, WhatsApp has issues. Regardless of whether you're concerned about privacy, going somewhere where WhatsApp is prohibited, or for any other reason. As a result, we have put together a list of the best alternatives to WhatsApp.
1. Signal
There is no surprise that Signal is the best alternative to WhatsApp if you've been looking for one. It is much safer, and it boasts excellent privacy. As a result, Elon Musk and Edward Snowden have endorsed Signal. The Signal is managed and owned by a non-profit organization that also includes WhatsApp co-founder Brian Acton and cryptographer and anarchist Moxie Marlinspike.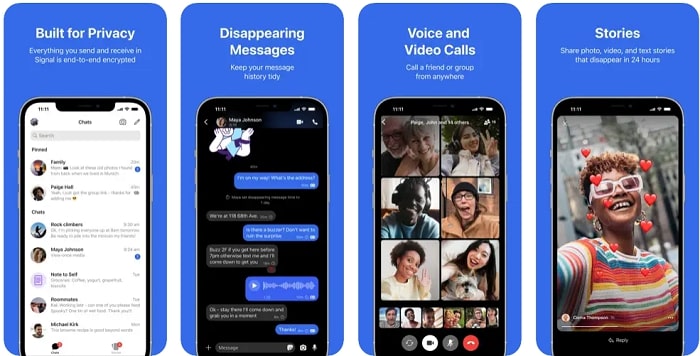 It offers SMS, group calls, and video conferences and is cost-free. Fortunately, it also enables self-destructing messages. The best aspect of Signal is that it uses end-to-end encryption, a feature that is also present in WhatsApp. As a result, you will receive WhatsApp-like security without Meta's involvement.
Every day, Signal conducts security inspections. However, it does not offer a backup option. It does have an export feature that enables manual data backup and data transfer to another device.
Key Features:
It includes end-to-end data encryption.
Completely free and without any advertisements.
high-quality audio and video.
Quick and simple.
The option for a dark theme.
Download Now: iOS | Google Play
---
2. Telegram
Telegram could be another obvious choice if you were looking for the best WhatsApp alternative. The owners are well-known Russian brothers Pavel Durov and Nikolai. The brothers gained popularity when they released Vkontakte, an alternative to Facebook.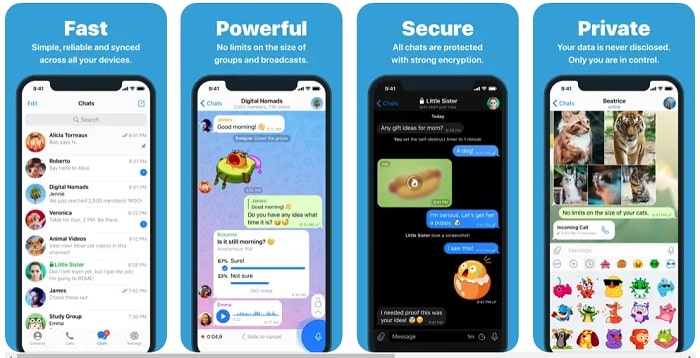 Telegram is considerably more advanced than WhatsApp. For instance, it offers a cloud-based service. This enables you to access your messages from a computer or mobile device. It also has unlimited and extensive file-sharing capabilities. Telegram employs two types of encryption. While Telegram supports end-to-end encryption for private chats, it leverages server-client encryption for group chats.
Additionally, this program has the ability to delete texts after a predetermined amount of time. Additionally, if the sender deletes a message, the recipient will also delete the message from their device. The fact that it syncs all of your messages across all of your devices is what makes it so unique. A better user interface and cloud services both contribute to data protection.
Key Features:
Instant text messaging.
video conferencing.
File sharing capability.
Group Video Calling feature.
Share documents, pictures, and videos.
Encrypted and disappearing messages.
Download Now: iOS | Google Play
Also know: Putlocker Alternatives To Use In 2023
---
3. Viber
Viber is another one of the best apps like WhatsApp. This program was first made available in 2010, then Rakuten revived it as Rakuten Viber roughly four years later. It has a lot of functions and is one of the most popular WhatsApp alternatives.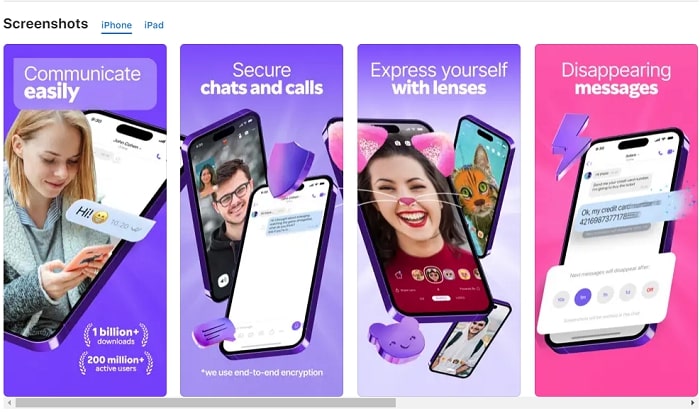 For instance, Viber, which also uses end-to-end encryption, brags about the data security it provides for texts, calls, and any shared media. Additionally, there is support for numerous devices, and the photographs you store on your devices will remain protected. Unfortunately, WhatsApp does not offer this feature.
Additionally, it has the Viber Out function, which enables you to call non-Viber users internationally at a low rate. You have the option to backup data to Google Drive with Viber, which also supports stickers, voice, and video calls. It also includes games that you can play inside the app.
Key Features:
End-to-end Data encryption
Group Chat Feature.
Make international calls to Viber users and others.
Self-Destructive Messages
Utilize Lenses, GIFs, and Stickers to Express Yourself
Download Now: iOS | Google Play
---
4. Threema
You can also switch to Threema, which is another best app like WhatsApp. This program was created in Switzerland and is highly concerned about data security. Every message is encrypted end-to-end, and after transmission, messages are quickly destroyed on the server.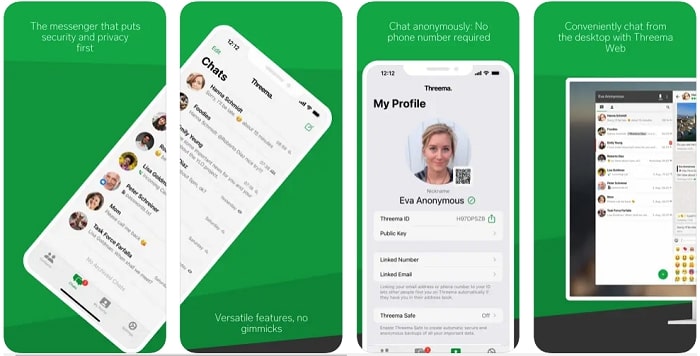 This application does not keep any metadata, which is another fantastic feature. In addition, Threema will provide you with a voting tool for survey administration. Additionally, it has PIN locks on all of your private chats because it is far more concerned about data security.
In contrast to other browsers that store your data on servers, Threema maintains all of your data on your phone. However, Threema isn't available for free download. To use this program, you must pay a fee.
Key Features:
It includes a PIN lock.
It does not keep any metadata.
Enables the encryption of phone calls.
Emoticons and stickers.
Share your location.
Download Now: iOS | Google Play
---
5. Discord
Try Discord if you're seeking a messaging program that works similarly to WhatsApp. The platform is much more than just a place to chat. You can browse several servers in Discord that catch your attention. The best feature of this program is the ability to share your screen with others. It also provides audio and video conversations, file sharing, etc.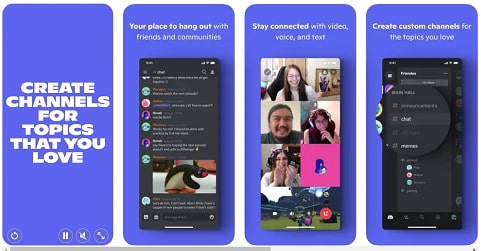 Again, it includes integrations from Twitch, Spotify, YouTube, Battle.net, Steam, Xbox Live, and Reddit, among other services. If you want a group with more than 10 people, you can start your own server or a group with that many people.
This is the best alternative to WhatsApp you can get if you want something that can handle all your messaging needs. Unfortunately, Discord no longer offers a way for you to back up your data. Instead, you will need to manually transfer your desired data using third-party apps.
Key Features:
Enables you to share videos with your friends
The entry-level edition is cost-free.
Outstanding bot integration
Designed for group discussions
Download Now: iOS | Google Play
Also know: TeamViewer Alternatives For Remote Desktop Access in 2023
---
6. Skype
Without a doubt, Skype is one of the best corporate chat programs out there. Due to Microsoft's support, Skype has surpassed all other business chat programs.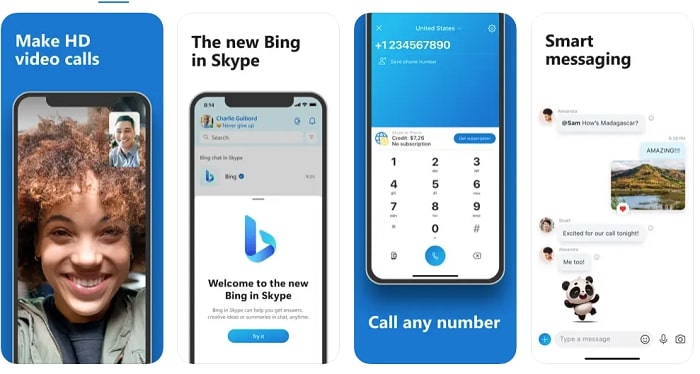 As a result of its reputation as a commercial platform, Skype has made little headway in terms of private conversations. Indeed, when it comes to making numerous video and voice calls, Skype ranks as one of the best chat programs available.
Despite the fact that the majority of other applications do not offer group video conversations, the few that do frequently slow down when you add over 3 or 4 individuals. Use Skype rather than WhatsApp or any other chat app if you frequently make video calls with your relatives and friends.
Key Features:
End-to-end data encryption.
SMS Connect.
Calling directly from a phone number.
Chat, voice, and video calls.
Share documents, pictures, and videos.
Download Now: iOS | Google Play
---
7. Wire
Wire is another choice that originates from Switzerland, a country known for its strict privacy rules. It is an encrypted messenger with a standard assortment of chat capabilities. It supports file sharing, GIFS, and all the other features you love about WhatsApp while allowing text, voice, and video chat.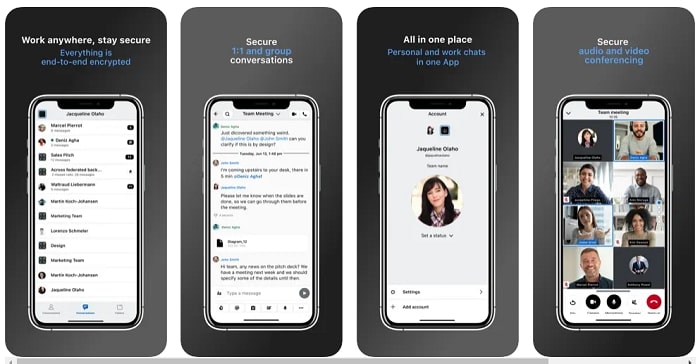 It enables several accounts for instances when you need to maintain your communications private, unlike WhatsApp, and it can sync between devices. Although it relies on the Signal protocol employed by both Signal and WhatsApp, Wire's open-source encryption technology, termed Proteous, is regularly audited to ensure its security.
Although there is a premium tier for corporations, Wire is free for desktop and mobile users.
Key Features:
Data synchronization.
Audio and Video calling.
File sharing feature.
Screen sharing.
Instant messaging.
Download Now: iOS | Google Play
---
8. LINE
You can also use LINE, a widely used cross-platform messaging program with a ton of features, as an alternative to WhatsApp. The app has similar capabilities to WhatsApp, including end-to-end encryption, compatibility with both audio and video chats and messaging, and more.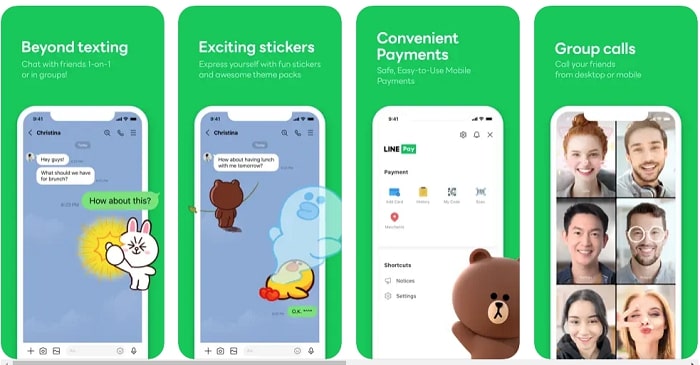 When compared to WhatsApp, it also offers a number of distinctive features, including LINE Out, a sticker store, the cool Keep feature, and more. The program also has a timeline where you can view updates on your status and picture modifications made by your friends.
Additional helpful LINE features include a passcode lock, LINE Pay for payments, message filtering, themes, and more. Without a doubt, LINE is a powerful and feature-rich chat program, but sometimes it might feel a bit bloated.
Key Features:
Voice Calling.
Video calling.
Video and image sharing.
Instant messaging.
Simple user interface.
Download Now: iOS | Google Play
Also know: Best Flash Player Alternatives [Latest 2023]
---
9. Wickr Me
Wickr is a secure and best WhatsApp alternative app that allows you to restrict who can view your messages and for how long. In order to ensure that your discussions will remain secret, the software also deletes any traces of messages after a predetermined amount of time.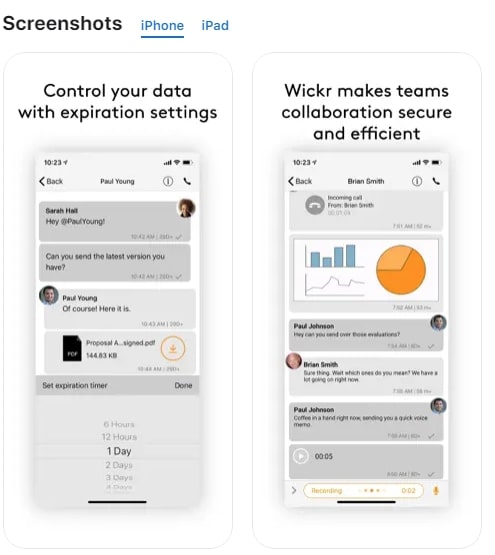 Additionally, it replaces all previously deleted Wickr content on your device. Since the app's secure desktop version was released in 2014, it is now simple to synchronize your messages across different devices.
In terms of security, Wickr encrypts every discussion, and each device creates a new key for every new message, making sure that only the intended recipient has access to the content. In addition, they remove any metadata associated with the content that was transmitted over the network.
Key Features:
Device-to-device encryption
Chat privately with up to 10 users.
You can register on Wickr Me without providing a phone number or email address.
Configurable Expiration Timer
File sharing, audio, video, and chat
Download Now: iOS | Google Play
---
10. Kik
Kik is one of the most widely used messaging platforms, like WhatsApp. The primary difference is that you don't have to register with your number. Kik does not require a phone number to carry out the registration procedure, as WhatsApp does. It will give you a special ID after it is prepared, so you can talk with other Kik members.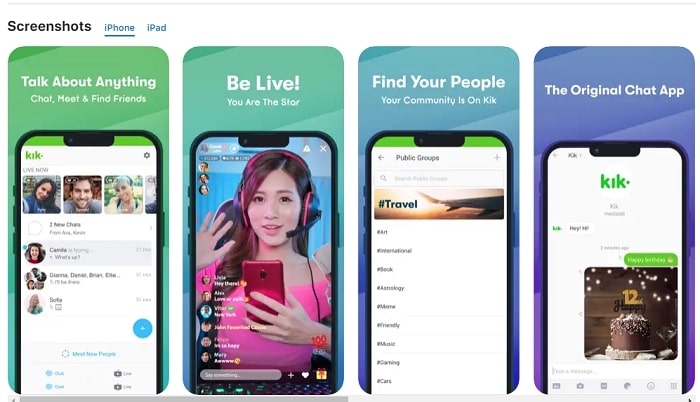 It supports bots and accommodates all message requirements. Additionally, you can utilize bots to play quizzes, obtain trend advice, and get news. Kik does not keep messages on the server for backup purposes. Therefore, it will be difficult to retrieve past messages if you want to. You can either use third-party software or screenshots to accomplish this.
Key Features:
does not request contact information
enables you to customize your data
accessible without charge.
Download Now: iOS | Google Play
---
Key Takeaway:
We've come to the end of our list of the best WhatsApp alternative. While some of these options provide comparable features to WhatsApp, like group chat, and end-to-end encryption, others stand out from the competition by having special features.  It is crucial to thoroughly weigh the features and usage policies of each messaging app before selecting the one that best suits your interests and values. Therefore, having a variety of messaging applications is usually a good idea, so you can pick the one that works best for you.
Author: Snehil Masih
Snehil Masih is a professional technical writer. He is passionate about new & emerging technology and he keeps abreast with the latest technology trends. When not writing, Snehil is likely to be found listening to music, painting, traveling, or simply excavating into his favourite cuisines.