This guide will assist you in discovering how to improve your typing skills by employing the best typing software for your PC.
Life is all about written or verbal communication. Nowadays, having a basic knowledge of typing is essential for time management and productivity. In the good old days, only stenographers, secretaries, and typing professionals working in various departments could communicate in writing or by typing. The situation has significantly changed with the invention of computers. The majority of interaction with others takes place via typing. However, as your typing abilities advance, you'll be able to deal with written communication more quickly and accurately.
Typing software with entertaining drills and activities helps you remain inspired because learning how to type can seem like a lengthy and monotonous procedure. You can see how far you've gone in your training by using software that monitors your speed, accuracy, and progress. Learning how to type more quickly and accurately on a computer keyboard is made simple and easy by free typing software.
The best typing software for PC will provide you with timed exercises, instructions on ergonomics, and accuracy training. You may improve your typing by creating smart goals that take into account your skills and shortcomings and help you develop muscle memory. In this post, we have listed the best typing software for PC. So read on to discover more about the free typing software!
7 Best Free Typing Software in 2023
Typing software assists you in enhancing your typing abilities through a variety of challenges and tips. The majority of the apps are designed to aid users in learning to type quickly. Let us look more closely at some of the best typing software for PC in this section:
1. Typesy Typing Software
Touch typing specialists created Typesy, one of the most prominent tutors on the market. To help you improve and further increase your efficiency and precision, it mixes typing games, workouts, instructional videos, and real-time progress monitoring. The typing software, which is appropriate for children, students, and professionals alike, will evaluate your ability level and offer targets to set a personalized starting point.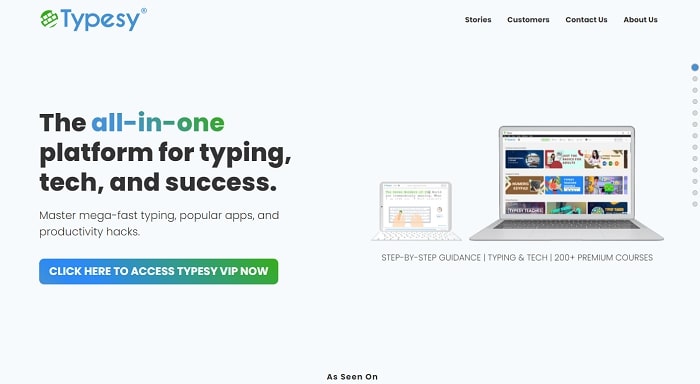 Lessons and activities in typing are based on authoritative information websites, such as Wikipedia. Alternatively, they may be manually created, shared, or altered to suit the personal tastes of the pupils.
Typesy uses seven learning methodologies along with a ton of entertaining games and exercises to teach you how to type more quickly. Users can also keep track of their progress and remain inspired. The strong administrator interface for parents and teachers setting up classes of 4 – 30 students is an addition to the homeschool edition and includes employer-recognized certification.
Features:
Web-based program.
Encourages critical thinking.
From beginner to expert level, there is one platform.
ages-appropriate video games with narrative goals.
Suitable for children.
Monitors each person's development.
Auto-adjusts based on skill set and progress.
---
2. Typing Instructor
Typing Instructor is an engaging and creative program for typing. It helps learners of all skill levels—beginner, intermediate, and advanced—by utilizing entertaining arcade-style games. While this tutor is appropriate for all ages, it has been specially created for children. Stronger keyboard proficiency might also be beneficial for more seasoned typists.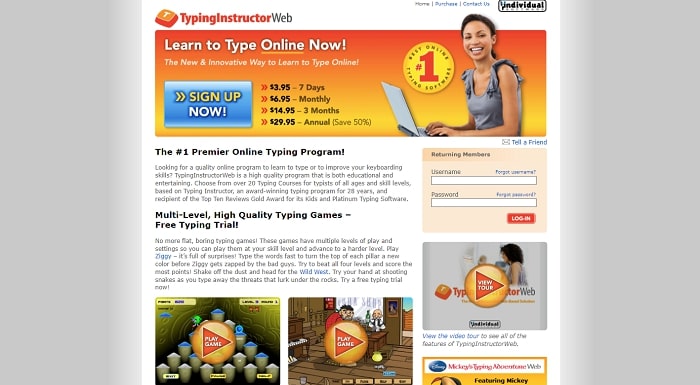 Typing Instructor includes 36 experiences with 3 destinations and 20 instructive typing themes, including a safari vacation or space exploration. Students can design their own unique typing tutorials. You can use typing exams to hone your typing abilities while also enhancing your speed and precision with game-style learning.  Results are precise and immediate. The results will highlight a student's strengths as well as areas that need improvement.
Features:
Runs online.
Typing instructions with real-time feedback.
It is both instructive and entertaining.
Depending on your abilities, there are 20 typing courses to choose from.
High-quality, multi-level typing games.
Engrossing keyboard practice exercises.
Certificates in typing.
Also know: Top Designing & Engineering Software
---
3. Kaz Typing Tutor
With Kaz Typing, which interferes with accelerated learning, children can acquire typing skills in just 90 minutes. This ground-breaking innovation, which uses the brain balancing technique to improve learning capacities, is supported by science. This tested strategy uses 11 words in five simple phrases to appeal to the senses of sound, touch, and sight. This trains the brain on how to utilize both hands symmetrically and concurrently.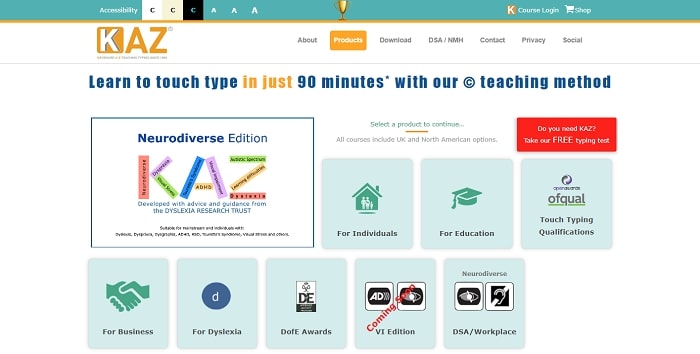 For children from the tender age of six to maturity, KAZ Typing Tutor is an appropriate program. A Speed Builder component is included to improve typing speed. The Self-Test tool enables the student to test their abilities and demonstrate improvement with accurate data. Five courses make up the KAZ typing software, which can teach you how to use a computer keyboard from A to Z in about 90 minutes. You will likely need four hours to learn the entire keyboard, including exercises. To hone your abilities and increase your accuracy, you can always return.
Features:
Accelerated Learning method (which utilizes all three senses at the same time).
Keyboards, accents, and vocabulary support for the US and UK.
Available in the dyslexia edition.
Training for speed and accuracy using previous data.
Learn everything in five courses.
SEN enabled (sound, text, and audio description).
Family Edition supports up to 5 user accounts.
There is a junior edition available.
---
4. Mavis Beacon Teaches Typing
Mavis Beacon is a user-friendly typing software for children as well as adults. It is powered by UltraKey and employs a simple 7-step process. In order to do this, set up your own goals and concentrate on one thing at a time. Before pursuing the next objective, you should enjoy the one you've already attained.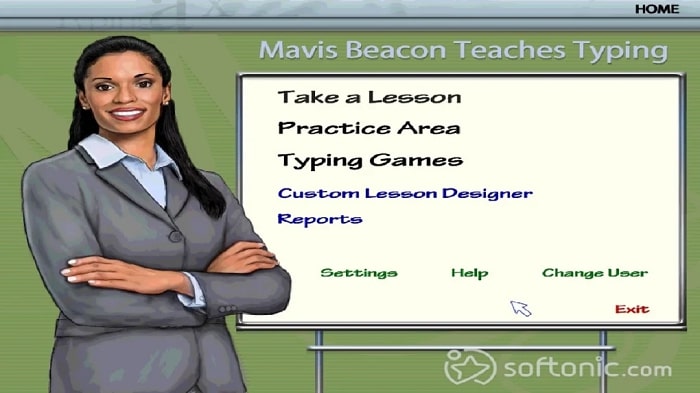 With step-by-step video instructions, the Mavis Beacon typing program teaches students the fundamentals of typing. With more than 100 skill assessment tools and timed assessment techniques, the student's performance is displayed. To fit your time, speed, skill, and style, it has 12 styled interfaces and 18 tutorial videos.
In contrast to other typing courses, Mavis Beacon Teaches Typing is available in three different editions: Family, Kids, and Personal. To ensure you get the most out of the product, each has special drills, teaching methods, and suggestions.
Features
430 lessons, tests, and exercises.
16 multi-level, arcade-style games.
Import MP3 files and type your own music.
Monitoring and reporting progress.
Mac OS X and Windows are compatible.
Authentic new certificates of completion.
Also know: How to Fix Keyboard Keys Typing Wrong Characters in Windows
---
5. KeyBlaze Typing Software
KeyBlaze is one of the best typing software for PCs, manufactured by NCH Software. For those looking to develop new abilities or improve those they already have, it is ideal and highly advised. Courses start with learning fundamental ideas, like mastering the house keys, and advance as you get better at each skill.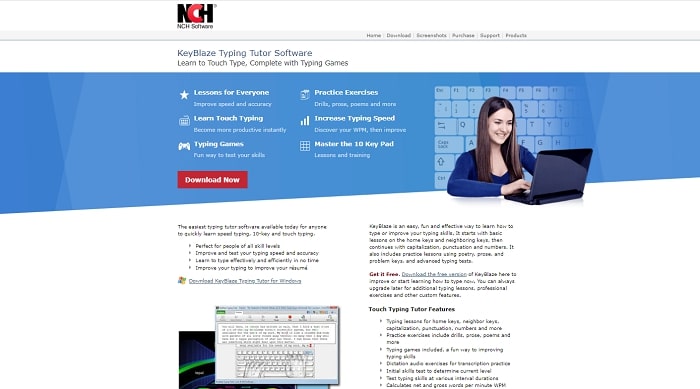 You can assess your present proficiency using KeyBlaze's first start-up typing exams, establish goals, and achieve them with typing courses and game-style training. Learn how to place your finger accurately and use capitalization and punctuation correctly. The dictation audio exercise can help students practice their transcription abilities. After finishing the course, students can print their certificates.
KeyBlaze is a typing software for Mac and Windows computers. Both of these versions of typing software are free to download from the website. However, the user interface, aesthetics, and technology seem to be rather outdated.
Features:
Typing video games.
Exercises involving dictation.
Simple to use.
Users can view graphs and scores to track their progress.
To evaluate progress, a skills test is administered at the beginning.
Certificate for future use.
It is possible to measure both the gross and net words per minute rates.
Set targets for your word count.
Instructions for proper finger placement.
---
6. Typing.com
The free typing lessons provided by Typing.com are useful for all levels of typists, including beginners, intermediate typists, and experienced typists. Nothing can divert your attention while you're listening to a lecture. You can concentrate on the computer's keyboard, which displays the characters you must press and the correct fingers to use. You'll get training on tech proficiency and job preparation in addition to the standard typing drills. You can learn to touch-type computer code with the help of another lesson plan.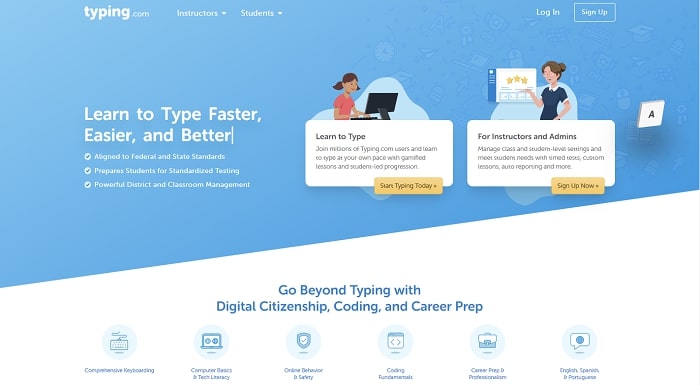 Typing.com records your problematic keys and provides training to help you become more proficient. It provides six distinct typing assessments that allow you to evaluate your accuracy and speed. Your most recent 30 test results are saved, so you can see how you've improved. The 249 accomplishments and badges you can get throughout your typing trip serve as additional motivation.
Through a variety of typing exercises available on Typing.com, you can improve your typing skills. One such exercise is a type of choose-your-own-adventure game where the outcome depends on the choices you make. Other games like Tommy Q: Zombie Defender and Keyboard Jump also make the exercises more enjoyable.
Features:
Full-scale keyboarding.
Complete School and District Administration Tools.
Tech Literacy & Computer Fundamentals.
Safety & Online Conduct.
Basics of Coding.
Career planning and professionalism
Multilingual- English and Spanish.
Tech literacy and Computer basics
Adaptable lessons.
playing games, taking tests, and participating in lessons.
Effective Reporting.
Syncing and SSO with Google, ClassLink, and Clever.
Standardized testing preparation.
Also know: Best Video Quality Enhancer Software in 2023 (Free)
---
7. TypingClub
TypingClub is gamified typing software with a user-friendly interface. While gradually picking up new skills, you'll find yourself continuously striving to win badges and improve your game scores. A three-day trial of the ad-free Premium version is available, and it includes more game types, themes, and reports.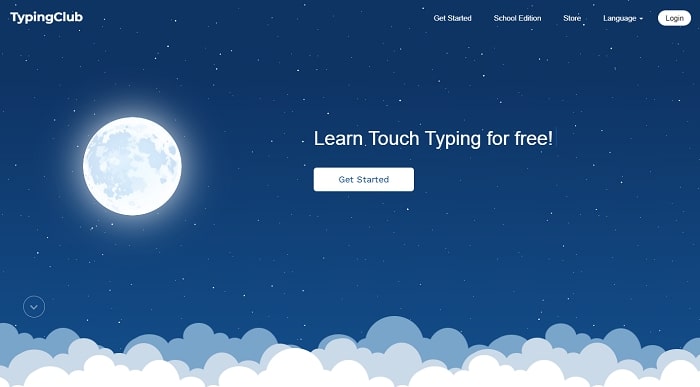 Over 670 lessons make up the main lesson plan, and they all build on one another. If you already have intermediate typing skills, you can take an assessment of placement to skip some of the previous levels. Lesson plans are available in nine different languages, for both left- and right-handed typing, and for K1, first-, and third-grade children specifically.
A statistics page displays several graphical representations and calendars to demonstrate how your precision and speed have changed over time. Color-coded graphics show you how to use each keyboard key and finger effectively. While you increase your typing speed and precision, TypingClub is a fun, easy-to-use typing instructor that does a great job of keeping you inspired and interested.
Features:
Guide to good hand posture
Stars, Levels, and Badges
Interactive experience
Voice Over.
Typing Playback
100% online
Multilingual
---
Conclusion
It would seem that you need to get better at typing if you're looking to download free typing software. The first factor to take into account when choosing the best typing software for your needs is the specific area you need to get better in. Whether it's for a new profession or simply to enhance some important life skills.
You can reduce your options by being clear on how you'd like to use your software. Are you quickly exhausted and would prefer a "gamified" learning environment? Or do you like to put in the effort necessary to complete regimented activities that give you the impression that you are learning? Opt according to your choice. Please feel free to use the comments area below to contact us with any questions or recommendations.
Author: Snehil Masih
Snehil Masih is a professional technical writer. He is passionate about new & emerging technology and he keeps abreast with the latest technology trends. When not writing, Snehil is likely to be found listening to music, painting, traveling, or simply excavating into his favourite cuisines.