Drawing with a traditional pen and paper is fine, but since digital arts have become so popular, it's going to be the norm in the future. For aspiring or experienced digital artists, drawing software for the PC is an important tool to create digital drawings. The best free digital art software and apps provide the ability to create, modify, and sometimes publish finished pieces of art that include diagrams, sketches, and other types of art.
With a wide range of integrated tools, effects, and colors, free art programs enable users to produce realistic works of art that can be exported into various file formats. There are a wide variety of free drawing programs available online. But if you are looking for the best free drawing software for PC, you have come to the right place. In this article, we will discuss the 7 best free digital art software programs. All of these free drawing apps include a variety of tools and built-in features that make it simple to create the desired piece of art.
7 Best Free Drawing Software For PC
Drawing software is a valuable tool for digital artists. Thus, selecting the appropriate tool becomes crucial for both the flow and the imagination. There are numerous best free drawing software options that provide a wide range of features for both novice and expert users. So let us get started and learn about the best free drawing apps available in 2023.
1. Krita
Krita is a powerful free drawing software that is available for Windows, Linux, and macOS. It has a user-friendly interface with various customizable brushes, pencils, inks, and watercolors. That can be used to create stunning digital artwork. Krita also has advanced features such as layer masks, HDR painting, and a wide range of color models. Krita is popular among both digital artists and animators, and its user-friendly interface makes it a great option for beginners.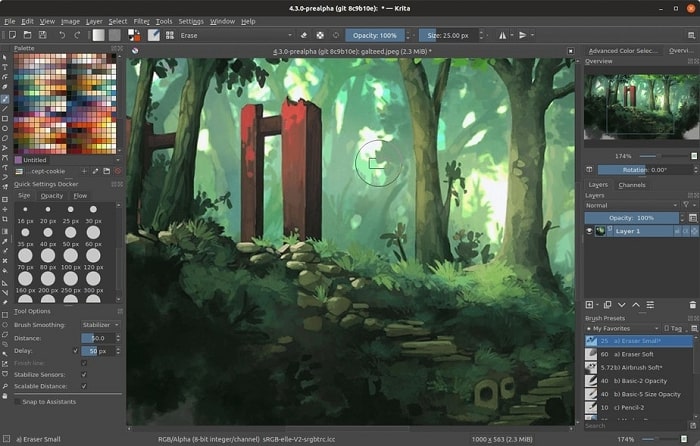 Key Features of Krita:
The drawing software includes more than 100 brush options.
It includes a versatile color selector feature.
This free drawing software includes a Bezier tool for creating professional lines and curves.
Workflow switching is accomplished by modifying the panel layout.
The software also includes an advanced smart patch tool.
Smart and distinctive 9-brush engines.
Support for HDR images
Supports PSD files.
Professional Wrap-around mode.
High customization.
Enhanced OpenGL increases canvas size and speed.
Text editor that is difficult to use.
There may be some lag after updating.
Also Know: Best Designing & Engineering Software
---
2. Inkscape
Inkscape is a vector graphics editor that is a great option for those who want to create logos, icons, illustrations, and other types of graphics. It is available for Windows, Linux, and macOS, and it is free and open-source software. Inkscape has a variety of tools for drawing, editing, and manipulating vector graphics. It is one of the best free drawing software options for those who prefer the precision of vector graphics, and its open-source nature means it has a strong community of developers and users.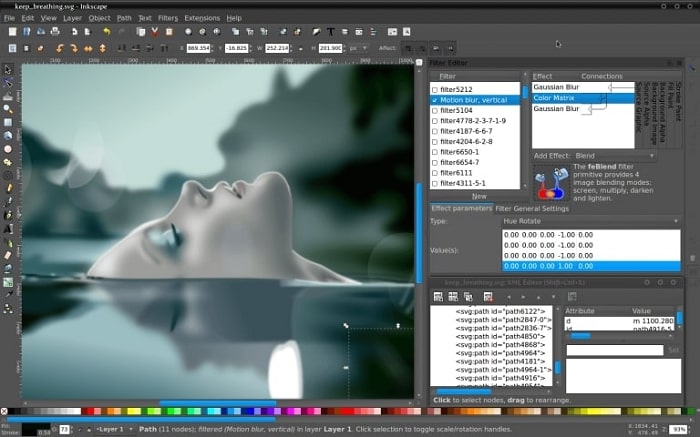 Key Features of Inkscape:
It comes with lots of sophisticated calligraphy, pencil, pen, and drawing tools.
This free drawing program supports a variety of file formats.
Includes some advanced text tools.
This drawing software for PCs also includes bitmap tracing.
Editing and creating files in the SVG format.
Wide variety of vector management tools.
Supports a variety of file formats.
Enhanced speed
Fantastic global community.
Not suitable for extremely skilled designers.
Unorganized Interface.
Lack of adaptability in text tools.
---
3. GIMP
GIMP (GNU Image Manipulation Program) is a free and open-source image editor that is available for Windows, Linux, and macOS. It is one of the best free drawing software because its expert-caliber features make it simple for users to edit their illustrations or build new ones from scratch. GIMP offers excellent tools for professional image editing, including color adjustment, automatic image enhancement, programmable brushes, filters, cloning, and a lot more.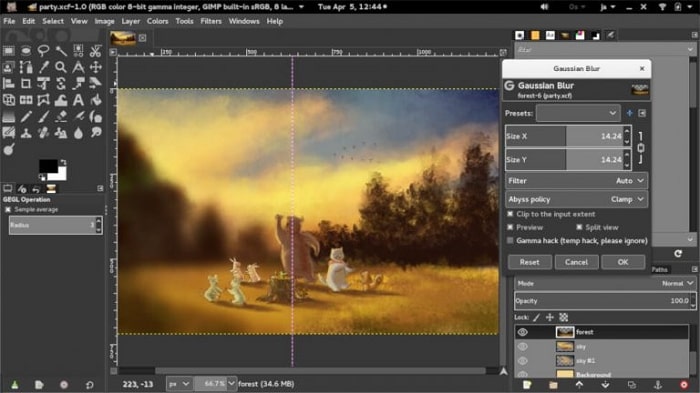 Key Features of GIMP:
It contains a full suite of painting tools such as brushes, airbrushes, pencils, and clones.
It is one of the best free drawing apps with advanced image manipulation capabilities.
Includes elements like loading and saving animations.
The smudge tool, burn tool, dodge, healing brush, fuzzy select tool, and other professional features are available for image editing.
Customizable user interface.
Compatible with more than 100 plug-ins.
High customization.
Provides extensibility through customized plugins.
PSD support.
Enables virtual file loading and saving.
For new users, the user interface is confusing.
Also Know: Best Fusion 360 Alternatives in 2023
---
4. MediBang Paint
MediBang Paint is one of the best free drawing software for PC, that offers a variety of brushes and backgrounds, as well as cloud storage for easy access to your artwork. MediBangPaint also has a feature for creating comic panels and speech bubbles, making it a popular choice among comic artists. MediBangPaint includes a free cloud upload tool that allows you to save space on your device and easily transfer your artwork between devices.
Key Features of MediBang Paint:
It allows you to work on multiple pages at the same time and save them all in one location.
You can quickly add files from other programs and devices.
This free drawing program includes a stabilization tool to help you draw with shaky hands
In this free drawing program, perspective grids are available to you so you can create crisp backgrounds.
Simple Interface.
Versatile brush presets.
Supports multiple platforms.
PSD file support.
The app launches with obtrusive advertisements.
---
5. SketchBook
SketchBook is another best free drawing software developed by Autodesk for creating amazing art/ drawings. This free drawing program offers an attractive interface that provides the user with enough space to create their artwork. SketchBook offers a variety of brushes and customizable features, such as symmetry and perspective guides. It can be the ideal drawing software for product designers, architects, automobile designers, and industrial designers.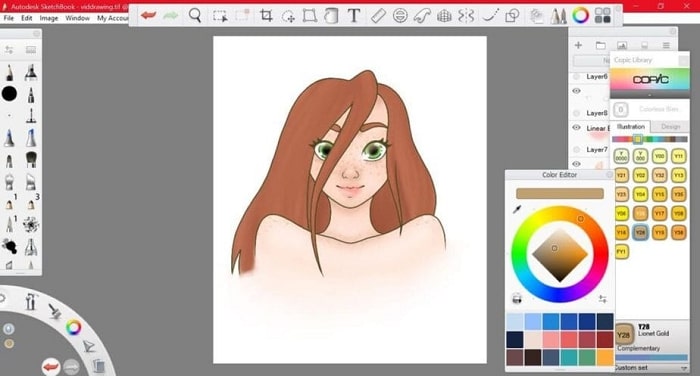 Key Features of SketchBook:
This free drawing software accepts a variety of file formats, such as JPG, BMP, TIFF, and BMP.
Because it is cross-platform compatible, you can utilize this free art program on a variety of platforms.
It has almost 190 customizable brushes.
While you draw or paint, the software predicts your next step, saving you a lot of time.
There are a lot of brushes.
It is possible to add many layers.
Every device has a lot of working space.
Almost every device is compatible.
This software is not suitable for novices.
License subscription for the organization.
Also Know: Best Augmented Reality Software For Interior Design
---
6. MyPaint
MyPaint is also among the best free drawing software with a highly flexible and versatile brush engine, unlimited canvas size, smooth brush flow, clutter-free Fullscreen mode, and many more features. It provides layer management, pressure-sensitive drawing, and fundamental color modifications. With MyPaint's endless canvas, users may create artwork without being constrained by the size of the canvas. Furthermore, MyPaint has an intriguing tool called Notepad, which allows you to experiment with different brushes before using them to paint.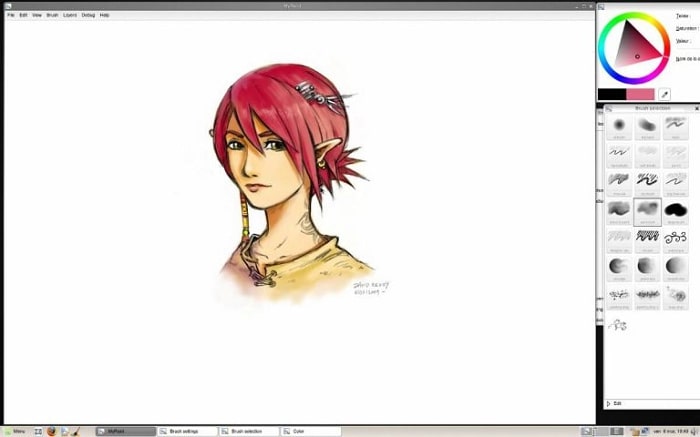 Key Features of MyPaint:
With MyPaint's full-screen mode, you can see even the smallest details.
An extensive selection of painting tools are available in this free drawing program to assist you in producing your artwork.
To improve the process, shortcuts are simple to implement.
The drawing software gives you an endless canvas size, allowing you to create any type of art you like.
Color-coded gamut masking wheel.
Dynamic brush collection.
Unlimited size for the canvas.
An interface that is easy to use.
Slow undo functionality.
No animation equipment.
---
7. Artweaver Free
ArtWeaver is a full-featured free drawing app with a large selection of realistic brushes, an easy-to-use interface, extra editing filters, and a strong capacity to deal with layers. It provides a selection of tools and brushes for making digital art, such as pastel, oil, and watercolor brushes. A variety of effects and filters are available in Artweaver Free to help you improve your artwork. It also enables online collaboration with other artists in a team setting.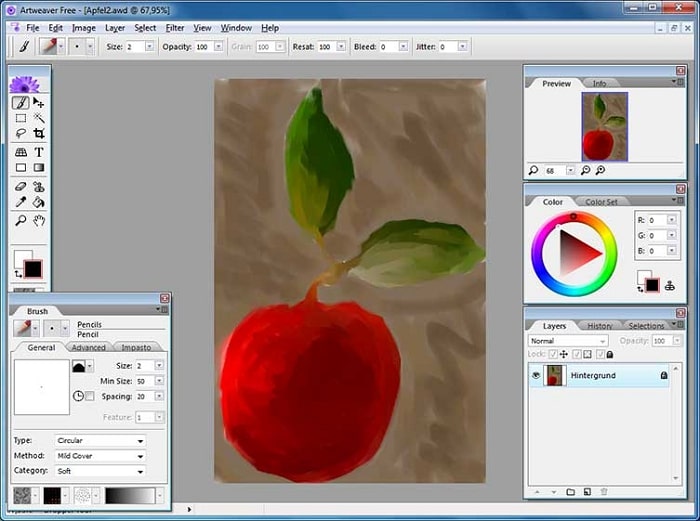 Key Features of ArtWeaver Free:
You can choose from a wide variety of realistic brushes in this free drawing program.
It has a flexible and user-friendly interface.
This free drawing program lets you save "events" that represent your preferred painting style.
Functionality for group working across a LAN or the Internet.
Incredible realistic effects.
Flexible brush editor.
Tools for artistic editing.
Program suited for children.
Logical user interface.
Less extensive text features compared to others.
---
Final Takeaway
Drawing software and apps serve the primary function that artists need for their work and passion. However, each application has a special feature that might be useful to you but not to other artists. In light of the work you do and the tools you require, you can select the one that is best for you. We hope that these best free drawing software for PC meet your needs. If you have any questions, feel free to ask them in the comments section. Additionally, sign up for our newsletter to get more of these enlightening and practical articles.
Author: Snehil Masih
Snehil Masih is a professional technical writer. He is passionate about new & emerging technology and he keeps abreast with the latest technology trends. When not writing, Snehil is likely to be found listening to music, painting, traveling, or simply excavating into his favourite cuisines.