The use of CFD software has completely transformed how engineers and designers approach fluid dynamics and heat transfer problems. The Computational Fluid Dynamic Software (CFD) simulates the behavior of fluids and gases through complex mathematical equations, making it an indispensable resource for professionals and organizations alike.
Thanks to this technology, you can easily calculate your design's efficiency under any condition, all from the convenience of your computer. This not only saves you valuable time and effort but also brings a new level of efficiency to practical problem-solving. However, in the past, physical testing was the only option, which was costly and often led to numerous recalls and failures.
However, with free Computational Fluid Dynamic Software, you can quickly identify and solve potential issues, streamlining the design process and facilitating smoother production. There are many best free CFD software options available, each with a unique set of features and capabilities. In this article, we will explore the 7 best CFD software programs for 2023. But first, let's take a closer look at what CFD is and how it can benefit you.
What is CFD?
The field of Computational Fluid Dynamics (CFD) relies on numerical calculations and data structures to analyze and solve complex fluid flow problems, such as density, velocity, and chemical composition. CFD software is an essential tool for conducting this analysis, allowing engineers to integrate the best flow concepts into product design early on and ensure efficient performance in various conditions.
The free Computational Fluid Dynamics Software simplifies the analysis of intricate fluid flow issues that involve interactions between fluid-solid, liquid-gas, or fluid-fluid. It successfully solves physical laws derived from algebraic equations that represent partial differential equations with sophisticated solvers. Analysts and engineers rely on computers to carry out these computations and simulate the way fluids move and interact with surfaces.
Thanks to sophisticated computers or supercomputers, accurate solutions can be obtained quickly, even for the most challenging problems. Thanks to its sophisticated features and potent tools, free CFD software is a trustworthy method for analyzing fluid flow issues and making sure that products operate effectively and without interruption. There are several free CFD Software programs that can be used to simulate different fluid dynamics and heat transfer issues. So without further ado, let us take a look at some of the best CFD software tools available.
1. OpenFOAM
OpenFOAM is the ultimate open-source free CFD software that offers an extensive range of CFD solvers. With OpenFOAM, you get the best features to solve even the most complex fluid flow problems, such as turbulence, chemical reactions, solid mechanics, heat transfer, electromagnetics, and acoustics.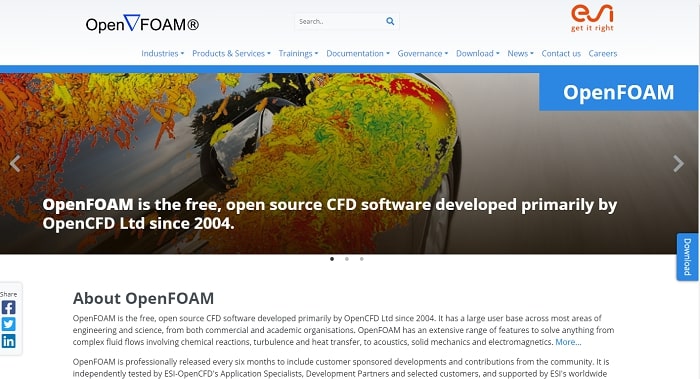 OpenFOAM is continually evolving thanks to its developer community, which regularly contributes to its development and incorporates customer-sponsored developments to release new versions every six months. This free Computational Fluid Dynamics Software undergoes rigorous testing by ESI-OpenCFD's app specialists, select customers, and development partners to ensure quality assurance. The software is validated and verified through hundreds of unit tests daily.
OpenFOAM is compatible with different operating systems, including Linux, Windows, and macOS. It includes a thorough user manual that teaches users how to operate the program, including solvers, compilation, mesh generation, models, etc. Additionally, it is one of the Best CFD Software programs that has a productive bug-tracking system that enables users to find, document, and resolve bugs.
---
2. Ansys
Ansys is undoubtedly the best free CFD software program that every design engineer should know about or use. Its CFD simulations offer high computing power and accurate results that have been validated for their quality. It meets the requirements of diverse businesses and industries.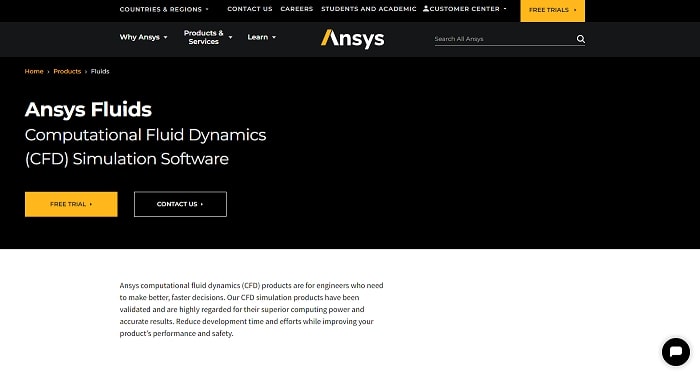 The CFD tools are easy to use and effective, assisting you in enhancing the performance and safety of your product while speeding up the development process. Ansys provides highly effective, industry-grade solvers that guarantee few to no errors. It also offers a fantastic chance to innovate and create optimized products.
This free Computational Fluid Dynamics Software has several functionalities, such as mechanical, fluent, DesignModeler, AIM, and Workbench. Ansys has the tools you need to accomplish your objectives, whether you need to carry out efficient in-flight icing simulations or increase the efficiency of the internal combustion (IC) engine. This free CFD software is easy to use and well-designed to help you save time and boost your productivity.
---
3. Autodesk CFD
Autodesk CFD is excellent CFD software that enables engineers and analysts to intelligently forecast how liquids and gases will behave and flow. It lessens the need for numerous physical prototypes to obtain a comprehensive understanding of fluid flow for design effectiveness. Before putting a design into production, you can compare them in order to comprehend the fluid behavior within them using Autodesk CFD.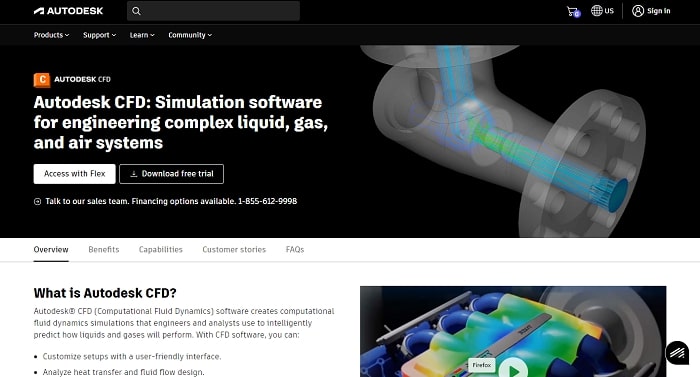 With the aid of this free CFD software, you can optimize the distribution of pressure for flow control purposes and resolve equations for all solid-solid to solid-fluid heat transfer models. To enable CAD modification and simplification, you can connect Autodesk CFD to Fusion 360. To solve large models with flexibility, you can additionally utilize geometry and mesh automation for mesh sizing and perform numerous calculations on high-performance computing (HPC) servers, either remotely or locally.
For MEP and architectural applications, Autodesk CFD enables you to make the design more efficient for increased building efficiency. You can create custom equations that produce visual results to simulate different types of flow phenomena like sloshing, spilling, and waves. You can simulate how gases and liquids interact as well.
---
4. Simcenter
If you're looking for the best CFD software, look no further than Simcenter by Siemens.  It provides a quick and accurate way to simulate a variety of engineering issues involving fluids, structures, and associated physics. The software can assist designers, CFD engineers, and researchers in analyzing complex fluid flow issues and applying the learned knowledge to create ground-breaking products.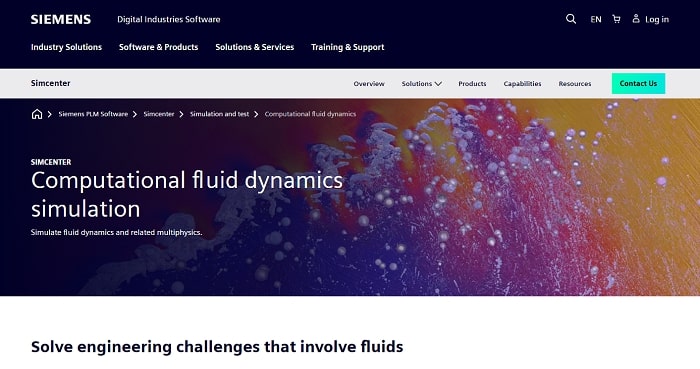 This free CFD software can easily simulate problems with multiple moving and interacting parts by using overset meshing, mesh morphing, or a combination of both of these techniques. Moving mesh features can be used for steady-state or transient simulations, as well as parametric studies. This makes it simple to swap out or move around objects while researching various design configurations.
To accurately meet a variety of simulation needs, Simcenter CFD software offers the ability to simulate with Eulerian and Lagrangian models. This Computational Fluid Dynamic Software is the first commercial engineering simulator to include a DEM feature for numerical flow simulation. To make sure the product performs well under a variety of operating conditions, it aids in the analysis of how turbulent flows interact with reacting flows.
Also Know: Best Free Video Editing Software For Windows PC
---
5. SimScale
When it comes to cloud-based CFD software, SimScale is the best option. SimScale offers cloud-based CFD software that enables you to use online simulation to test, validate, improve, and iterate your designs. You do not need to be concerned about computational power limitations, high costs, or accessibility issues because the software provides all the processes in a web browser.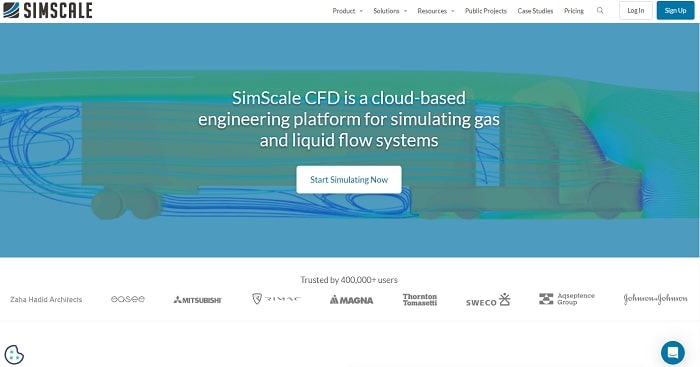 SimScale's CFD software addresses the issue of transient simulations, which require more effort and resources to yield reliable results. To deliver unmatched speed and high accuracy, this GPU-based solver uses the Lattice-Boltzmann Method (LBM). SimScale supports a variety of turbulence modeling methods, including Smagorinsky, hybrid SST-IDDES, k-omega SST, and SST-DDES. The application allows for accurate simulations of both compressible and incompressible fluids, which helps in the development of safer and more effective products.
SimScale's CFD software uses precise numerical techniques to solve challenging fluid flow equations. As a result, it can be used to design airfoils, ducts, valves, and other aeronautical components. Additionally, for transient and steady simulations, it functions for both turbulent and laminar flows. As a result, this free Computational Fluid Dynamics Software is helpful for designing pipes, cleanrooms, smoke propagation, and cyclone separators.
---
6. CFD Module
The CFD Module software from Consol is a fantastic tool for creating models and solving them in order to study fluid flow systems. Additionally, this free CFD software is applicable to systems that incorporate both single-phase and multiphase flows, as well as systems that combine physical phenomena and fluid flow. The CFD Module offers resources for simulating the fundamentals of various fluid flow analyses, including thin-film flow, flow in free or porous media, compressible and incompressible flows, laminar and turbulent flows, and flows in incompressible and compressible media.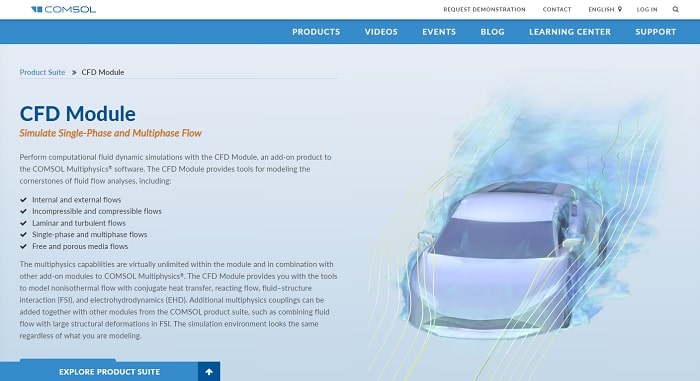 These capabilities are implemented in the software through structure flow interfaces for the definition, analysis, and solution of problems related to steady-state and transient flow in 2D, 3D, and 2D axisymmetric. Additionally, it provides specialized functionality to address problems with high-Mach flow, rotating machinery, and non-Newtonian flows.
The CFD Module allows you to analyze flow issues simultaneously by modeling reacting flows and conjugating heat transfer within the same setting. In addition, it is one of the best CFD software programs that provides additional multiphysics capabilities. This involves interaction between fluids and structures, which you can turn on by fusing the program with other Comsol modules.
---
7. Altair
When it comes to advanced CFD modeling, Altair is the top choice. Altair has a wide range of tools that can assist you with any task, including advanced CFD modeling and the investigation of thermal or fluid effects on your design. This free CFD software offers a number of scalable solvers and potent CFD pre- and post-processing software to test the performance of the entire system and thoroughly examine individual components. With its extensive analysis capabilities for heat transfer, non-Newtonian materials, flow, and turbulence, Altair CFD employs a Navier-Stokes solver.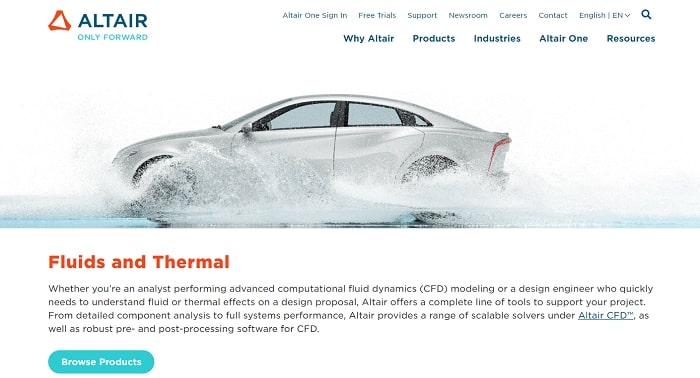 It can provide you with a reliable, precise, and scalable solution regardless of the topology and caliber of the mesh elements. Its cutting-edge technology combines GPU-based computing for high performance with optimized energy and financial efficiency. As a result, you can simulate complicated models on a single server and determine the aeroacoustics of rotating devices like e-motors, renewable energy sources, and cooling fans.
For the purpose of forecasting flows around intricate geometries in complicated motion, Altair employs the Smooth Particle Hydrodynamics (SPH) solver. Furthermore, its Discrete Element Method (DEM) tool precisely simulates and studies the behavior of granular materials, including powders, grains, fibers, and coals.
Also Know: Best Video Quality Enhancer Software in 2023 (Free)
---
Conclusion
The above-listed software are some of the best free CFD software available. They all have unique features and are suitable for simulating various fluid dynamics and heat transfer problems. They are easy to use and provide a wide range of solvers for different applications. Hence, they are highly recommended for anyone interested in CFD simulation.
Author: Snehil Masih
Snehil Masih is a professional technical writer. He is passionate about new & emerging technology and he keeps abreast with the latest technology trends. When not writing, Snehil is likely to be found listening to music, painting, traveling, or simply excavating into his favourite cuisines.