You just can't escape the craze of NFT at the moment. Everyone is talking about these digital assets, which isn't surprising, especially when you hear a lot of news about artists who have earned millions of dollars selling their NFTs.
NFTs have skyrocketed in the past year alone when you analyze the market. According to DappRadar, trading in NFTs blew up from $100 million in 2020 to an unbelievable $22 billion in 2021. And the combined value of the top 100 NFTs sits become $16.7 billion. As the figure looks promising, it is essential to know what NFT is and how can you make an NFT?
An NFT is something that many artists are exploring these days as a possible new way to earn money. According to the Nonfungible.com report, over $15 billion in direct and secondary sales on the Ethereum blockchain in 2021, up from $67 million just one year prior. But NFTs are more than a new way to sell your artwork. They can secure ownership of digital assets, provide access to new communities, and even used to register ownership of real-life items.
It must also be recognized that the success of artists like Beeple, who sold his NFT collection for $69 million, is rare. Nevertheless, most NFT art sells for similar prices as you would expect good art to sell for. The big difference is that digital artists can now earn royalties on future sales.
With so much to gain from NFTs, it's worth learning how to make and sell an NFT. So below, we take you through the step-by-step procedure to create your own NFT.
How To Create And Sell An NFT: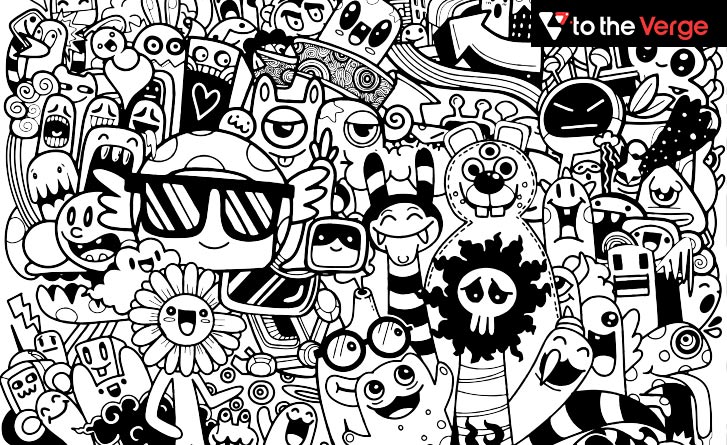 Creating your own NFTs it's surprisingly easy. First, you will have to make or mint your NFT. Then, to create an NFT of your artwork, you need to choose an NFT platform and a payment wallet. Finally, you'll need to pay fees and receive any payment if you are lucky enough to sell your NFT. 
You can use any online platform available in the digital market to make and sell an NFT. Some popular NFT auction platforms include OpenSea, Rarible, SuperRare, Foundation, Nifty Gateway, BakerySwap, VIV3, Axie Marketplace, and NFT ShowRoom. So without any ado, let's start with a step-by-step process to create and list your NFT on a marketplace.
1. Buying Cryptocurrency To Fund Your Wallet
To create and sell an NFT, you will require cryptocurrency in your crypto wallet. In addition, all the NFT auction platforms will need to pay upfront to 'mint' an NFT, which is the procedure that converts your artwork into a non-fungible token. Generally, payment will be made in cryptocurrency, which means before you earn any cryptocurrency by selling an NFT of your work, you will have to buy some to cover the fees.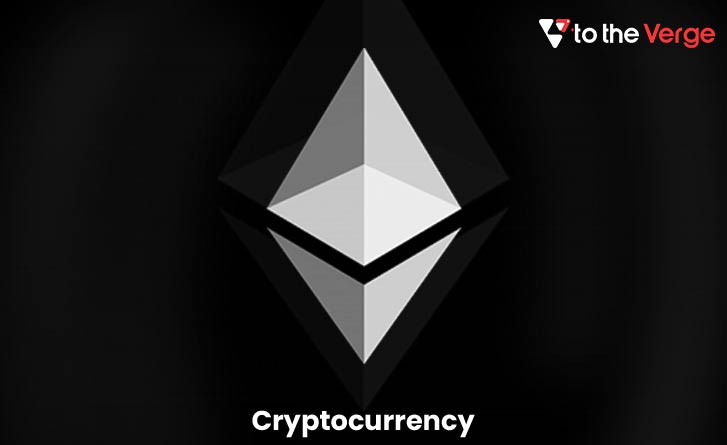 Ether (ETH) is the most commonly accepted currency as it is the native cryptocurrency of the open-source blockchain platform Ethereum, in which the NFTs were first launched. However, some platforms are also starting to take other payment formats and create NFTs using different blockchains.
If you already own some ETH, you need to ensure you have it in a digital wallet, which you need to connect to your preferred NFT platform to make and accept payments. If you don't have currency, there are many cryptocurrency exchanges available where you can purchase ETH or other currencies. Still, the fastest and most straightforward option is generally to buy ETH directly with a digital wallet of your choice.
Here we will use MetaMask, which is available as a browser extension and mobile app, to exemplify the procedure. However, if you wish to use a different service or already have a digital wallet and are familiar with how it works, you can directly jump to step 4. Otherwise, we will learn how to set up your wallet and buy ETH in the next step.
2. Creating Digital Wallet To Pay For Your NFT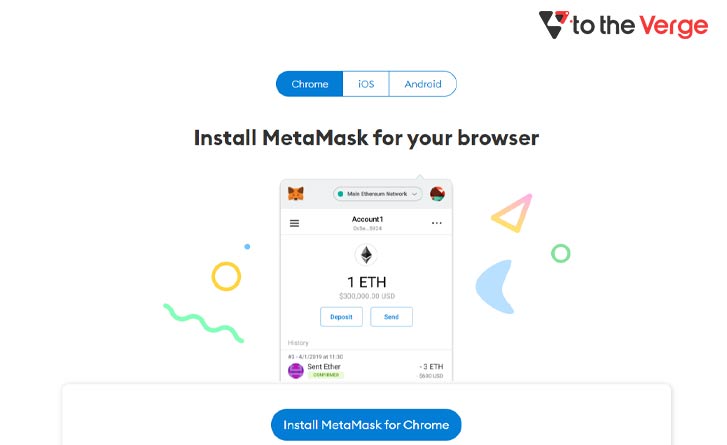 To create a digital wallet with MetaMask, which is required to make and sell an NFT, you will need to download it from the website. As we are using a desktop computer, we will choose to install the browser extension.
You will be asked to confirm that you wish to 'create a new wallet and seed phrase.' (Seed phrase is a list of words that keeps blockchain information). Click on Yes, then simply agree to the terms, create a password, and navigate some security measures. Ultimately, you have your account set up.
3. Adding Cryptocurrency To Your Wallet
Once you have established your MetaMask wallet or any digital wallet, you will be required to add some ETH to it. If you don't own some ETH already, you'll need to buy some by clicking on the 'Buy' button and choosing the option 'Buy ETH with Wyre.' 
You will be directed to a screen where you can use either a debit card or Apple Pay to buy ETH. Of course, if you'd rather not part with any money yet, you can leave this stage until later. Additionally, you will need to check your selected NFT platform's fees to know how much you have to buy. Just be aware that, like bitcoin or Ether, the value of cryptocurrencies can vary hugely.
4. Connecting Your Wallet To An NFT Platform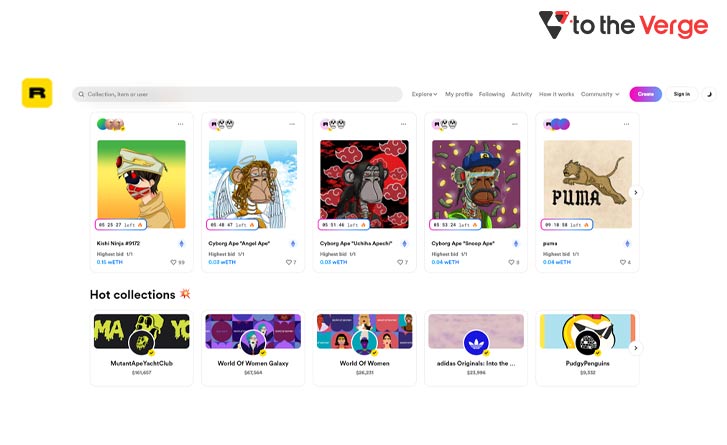 Most digital wallets work in the same way. So, whichever wallet you have chosen, you need to connect it to the NFT platform that you will use to sell the NFT. We will be using Rarible for reference, but you can select any NFT platforms available in the market. The process is usually similar for every platform.
Open Rarible.com and click on the 'Connect wallet' button at the right corner of the screen. On the next screen, you will be asked for your wallet provider, which is MetaMask in our case. Next, a popup will appear to allow you to connect your wallet with Rarible. Click on 'Next,' then 'Connect.' Next, accept the terms of service, and confirm you are above 13 years old.
5. Uploading The File, To Develop into An NFT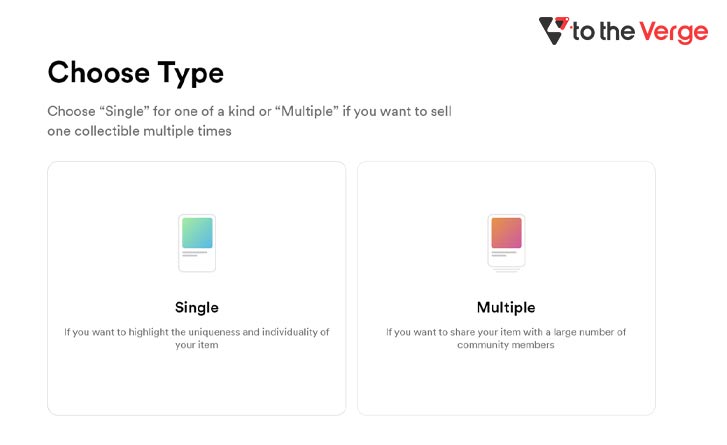 Now that you have a wallet connected with ETH to make payments, you are all set to know how to make and sell an NFT. Now, click on the' Create' button at the top right of the Rarible site. Then, you will be prompted to create a single, one-off work or sell the same item multiple times. Choose any of the options as per your preference. Next, you need to upload the digital file you want to make into an NFT with any file formats such as PNG, GIF, WEBP, MP4, and MP3 files. The file size should not exceed 30MB.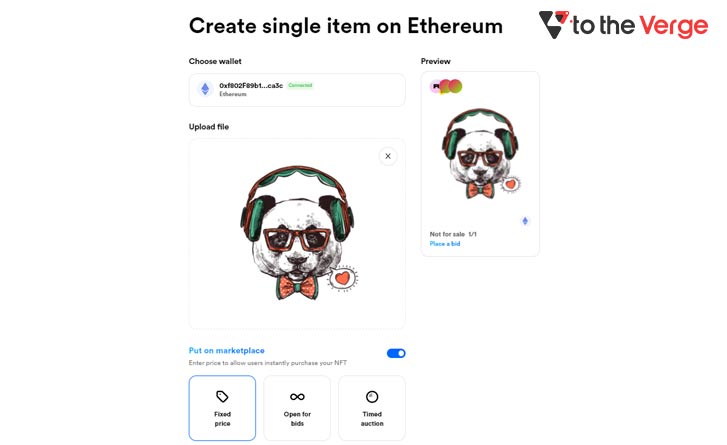 6. Setting Up An Auction For Your NFT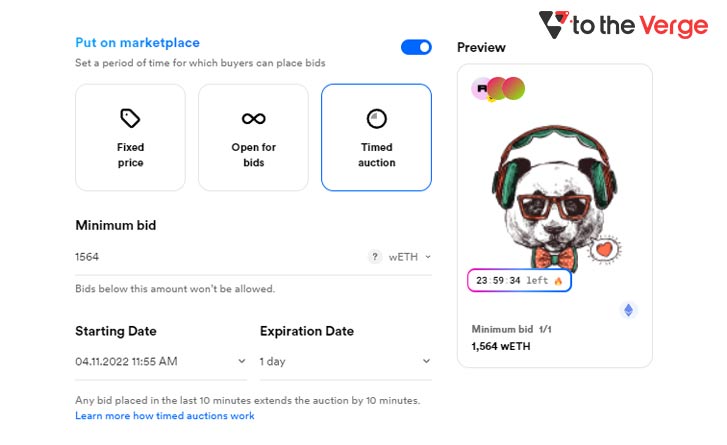 Proceeding to the next step of the form, you need to choose how to sell your NFT artwork. There are three options to choose from. 'Fixed price' will allow you to set a price and sell your NFT instantaneously. The 'Unlimited Auction' option will allow people to make bids until you accept one. And Lastly, 'Timed auction' is an auction that only lasts for a set time.
Next, you get an option to 'Unlock once purchased.' This allows you to provide your buyer with a complete, high-resolution version of your artwork with any additional material via a personal web page or download link.
7. Adding Description Of Your NFT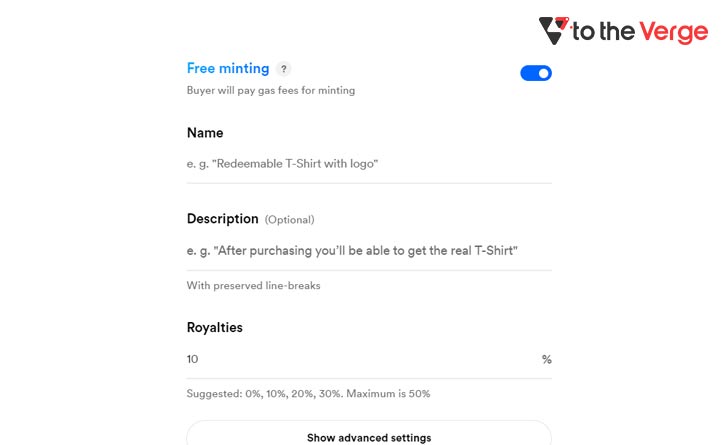 You can now add a title and description to your listing. You are then asked about the percentage of royalties you wish to claim on any resale of your artwork in the future. 
Again, this is a balancing act, as a higher percentage will obtain you more money per sale in the long run, but it will also prevent people from reselling your art in the first place as they will be less expected to make a profit for themselves. Finally, you are almost done with an optional field to add your file's properties.
8. Paying The Listing Fee To Sell Your NFT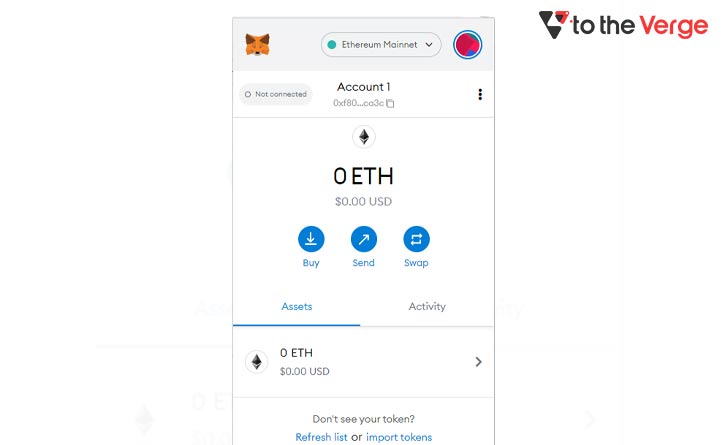 Finally, click on 'Create Item,' You will be requested to connect with your wallet by paying the listing fee. If you have insufficient funds in your wallet, Don't worry! You won't have to start the whole process again. Instead, simply click on the wallet icon in the top-right corner of the screen, and you will be given an option to add funds directly within Rarible. 
So, if someone buys your NFT, you will have to pay a commission fee on the NFT sale, along with a transaction fee to transfer the money from the buyer's wallet to your own.
The Bottom Line
When you hear about how to create and sell NFTs, it actually appears excessively complex or impossible to get in the market. But with some in-depth research, diligence, and creativity, it's more achievable than it looks. And who knows, if you play your cards right, you might join the million-dollar NFT club someday!
Author: Snehil Masih
Snehil Masih is a professional technical writer. He is passionate about new & emerging technology and he keeps abreast with the latest technology trends. When not writing, Snehil is likely to be found listening to music, painting, traveling, or simply excavating into his favourite cuisines.