Is Your Huion pen not working properly? For an easy solution, see this simple troubleshooting guide. Huion is a Chinese company that develops drawing tablets and styluses. It is renowned for offering both novice and expert users an affordable selection of styluses and graphics tablets.
In addition, they make some of the greatest stylus/graphic tablet products available. Among these, the Huion Pen is one of the most widely used products. Huion pen is a specialized stylus pen used by hand-painting specialists, painters, and animators to create designs on a graphic tablet. Unfortunately, your Huion pen may occasionally have problems, preventing it from working while drawing on the display tablet.
If your Huion tablet pen not working as it should be, there could be a number of reasons for it, including outdated drivers and compatibility problems. However, you won't need to worry because we will show you how to fix the "Huion Pen not working" Issue.
However, you should first perform a few simple checks before you start working on the problem:
Install the Huion tablet drivers properly by following the directions in your user manual.
Make sure your PC and graphics tablet are connected properly (either via wireless mode or wired mode).
Consider using a different USB port to connect the wireless receiver or USB cable.
Verify that you have correctly positioned the battery in your Huion digital pen.
Confirm that your pen and the tablet you are using are compatible.
A few easy troubleshooting actions when the Huion pen is not moving the cursor were outlined in the checklist above. However, they might not have addressed every Issue, so we firmly advise you to consult the tablet or Huion pen user handbook for additional crucial information.
5 Simple Fixes For The Huion Tablet Pen Not Working Issue
Let's get straight to the point now. Here are five solutions for the Huion pen pressure not working problem. Get through the list of fixes until you discover the one that helps you resolve the Huion Pen not working Issue for you.
Solution 1: Reboot Your Computer.
Restarting your computer is the simplest way to fix the Huion pen not working problem. This may help with some frequent issues. So, if you run into this problem, try not to get upset. Just restart the computer. Next time the Huion pen might function effectively when you use it.
However, please move on to the next solution if it still doesn't work to resolve the Huion tablet pen not working Issue.
---
Solution 2: Deactivate Sleep Mode
You must ensure that Sleep Mode is turned on in order for the Huion pen to function. Many claims that the Huion pen not working Issue starts as soon as they wake up the computer from sleep mode, as this can temporarily cause the device driver to stop functioning.
You can follow the instructions below to turn off the sleep mode.
To access Settings, press Win + I.
Choose the System category.
Click on Power and sleep in the left pane. Next, select Additional power settings in Related settings in the right pane.
In the Power Options Control Panel, click the Change plan settings button beside your chosen plan.
To make the computer sleep, select Never.
To save the settings, click on the Save changes button.
Restart your system and make sure that your issue with Huion pen pressure not working in SAI and other tools is resolved or not. Then, proceed to the next troubleshooting step; if you still face the same Huion pen not working Issue.
Also know: How To Fix AMD Radeon Software Not Opening On Windows PC
---
Solution 3: Activate the Option Support TabletPC
Huion introduced the Support TabletPC functionality to address compatibility difficulties. You should also try turning on this option if your Huion tablet pen is not working.
Make sure your PC is linked to the Huion tablet. Then, from the bottom-right corner of the screen, select the tablet icon by clicking it once.
A command window will appear. The Support TabletPC option must then be checked, and the changes must be saved.
You can now restart your computer to see if the Huion pen pressure, not working Issue has been fixed or not. Then, try using the next solution; if none of the above fixes were unable to resolve the Huion pen not working Issue.
---
Solution 4: Turn off Windows Ink
Windows 10's Windows Ink feature enables users to use external pen devices with the operating system itself. They occasionally don't function as planned, though, which may be due to improper configurations or compatibility problems. So this is how you do it:
To open the search box on your keyboard, simultaneously hit the Windows key and S. Next, enter "Notepad" and select the Notepad program.
Type "UseSystemStylus 0" into Notepad after it has opened.
Next, save the file in the location below as PSUserConfig.txt.
C:\Users\<username>\AppData\Roaming\Adobe\Adobe Photoshop CC 2018\Adobe Photoshop CC 2018 Settings
Launch the interface for the Huion tablet driver. After that, select the Stylus Pen tab and disable Windows Ink. After finishing, select Apply > OK.
Please note that if you disable Windows Ink, some of the features in your drawing program might not work. You'll have to re-enable Windows Ink in that case.
The screenshot seen above is from the updated Huion tablet driver interface. If you use the earlier version, you won't see this Enable Windows Ink option.
Restart the Photoshop app and check whether your pen functions properly.
Lastly, when you are still unable to get this Huion pen not working Issue is fixed. You can follow this most effective solution below:
---
Solution 5: Update Your Latest Tablet Driver
A corrupted or outdated o tablet driver is another possible cause of the problem where the Huion pen not working. In other words, the tablet is dysfunctional because of driver issues, not your pen.
You can typically install the latest tablet Driver on your computer using the CD that came along with the tablet. After the updated Driver is successfully installed, you can use the Huion digital pen without any problem. However, if Huion has not yet updated the latest Driver on that CD, the Driver that you obtain in this manner can be out of date and incompatible with your hardware or software.
Upgrade your tablet's Driver to the most recent version to fix the outdated driver issue. There are two options for doing this:
Automatic Driver Update (Recommended): This option is the fastest and most straightforward choice. Regardless of whether you're a computing novice, it's simple to complete everything with a few mouse clicks.
Updating Your Drivers Manually: You will require some computer technical expertise and perseverance since you must search online for the appropriate Driver, then download and carefully install it.
Also know: How to Download & Update XP-Pen Drivers (2023)
---
Automatically Driver Update
The driver update process may be challenging for some folks. Therefore, Bit Driver Updater can automatically update your tablet driver if you are short on time, have computer ability, and have the patience to do so manually. Bit Driver Updater will detect your system information and locate the appropriate drivers on its own.
Therefore, installing Bit Driver Updater takes care of everything; you don't have to make an effort to know what is your computer's operating system, and you don't need to take the chance to download and install the incorrect Driver. Furthermore, you don't need to bother about making an error. Here's how to go about it:
Install Bit Driver Updater.

Launch Bit Driver Updater and select the Scan Now option from the menu. Then Bit Driver Updater will scan your machine to identify any problem drivers.

When you click on the Update All button, you will be offered to upgrade to the Pro edition in order to install the most recent versions of all the out-of-date or missing drivers on your system automatically.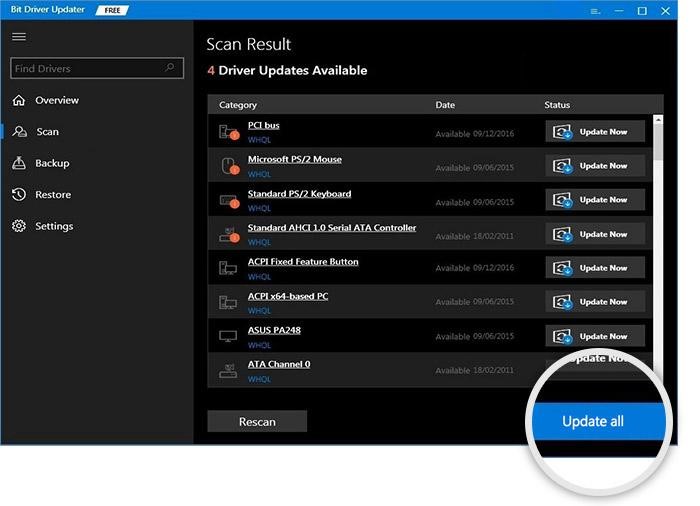 And that's all you need to do!! Additionally, you can also update the outdated Driver manually.
---
Manually Update Your Driver 
Huion regularly updates the latest tablet drivers. You can download and install the Huion Driver you require by visiting the support website of Huion, choosing the Driver for your specific Windows edition (such as 64-bit Windows 11), and then downloading the Driver on your own. The following are the steps:
Uninstall the old Huion drivers, which were previously installed on your system, before installing the newest ones.
To browse the support website of Huion, Click here.
Look for your tablet model from the list. 2 clickable icons may be found beside Driver when you move your cursor over your tablet. Choose the left icon if you use Windows and the right-clickable icon if you use a Mac.
Click the appropriate icon beside Instruction: based on your operating system, if you wish to obtain the user manual.
Once the Driver has been downloaded, open the folder where it was saved. Typically, a compressed folder will be seen there. Extract the compressed folder after that.
Depending on the model of your tablet, the folder name may vary.
Double-click the on.exe file found in the extracted folder after you've extracted the file.
To download the latest Driver, follow the on-screen instructions.
Restart your computer after finishing everything for the adjustments to come into effect.
Please check to determine if the Huion digital pen functions properly and whether the Huion tablet pen is not working Issue is fixed or not after updating the tablet driver.
Also read: Wacom Pen Not Working on Windows? Here's How To Fix It
---
Conclusion
After thoroughly investigating the Huion Pen Not Working issue, the solutions mentioned above have been offered. Hopefully, this guide has helped you fix the problem with your Huion tablet pen not working. Please feel free to leave a comment below if you have any more inquiries or suggestions.
Author: Snehil Masih
Snehil Masih is a professional technical writer. He is passionate about new & emerging technology and he keeps abreast with the latest technology trends. When not writing, Snehil is likely to be found listening to music, painting, traveling, or simply excavating into his favourite cuisines.