Lighthouse Labs, a Montreal-based cryptocurrency firm, has secured $7 million in venture investment before the summer rollout of its search engine for the Metaverse. The platform aims to offer interoperability to a wide range of virtual environments. The cash received will grow the company's personnel, extend its alliances with virtual worlds, and keep developing its platform, which is set to release in the summer of 2022.
Accel, BlockTower, and Animoca Brands led this seed round financing round of funding.
Lighthouse allows players to search a database of all live events in metaverse games such as The Sandbox and Decentraland and look for where users themselves are in such virtual environments.
The company's strategy is consistent with metaverse notions dating back to the summer of 2021 when the metaverse was imagined as a single big, interoperable environment rather than enclaves of isolated ecosystems.
Because most of the information for these ecosystems isn't available to the public on-chain, the platforms must collaborate with Lighthouse to be accessible in its database. Lighthouse is unclear whether every closed metaverse will be open to their search engine, but funding from companies like Animoca Brands shows that certain projects are already on board.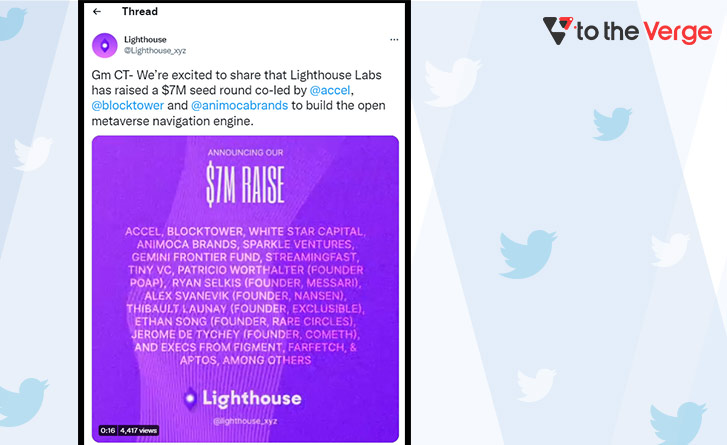 Lighthouse, founded by Justine Massicotte and Jonathan Brun, aims to overcome this challenge by simplifying spatial web discovery and movement. Its platform, which will be available this summer, will allow users to search for locations, events, artists, experiences, and even friends across and inside virtual worlds. Beyond search, Lighthouse will provide a gateway where users can view trending activities, form a circle of people to explore the metaverse, discover where their NFTs (Non-fungible tokens) may be used, and follow the action of certain companies and creators.
Before starting Lighthouse, Jonathan Brun was Entrepreneur in Residence in White Star Capital's Digital Asset Fund, and Justine Massicotte was head of the Query Suggest engine at Coveo, a publicly listed business search firm with global operations.
"If you're fascinated about the metaverse but don't know where to begin, Lighthouse will be the place to go," says Jonathan Brun, Lighthouse's co-founder and CEO.
Jonathan further added, "Right now, metaverse discovery seems more like gaming, where you have to bounce from one game to the next to locate stuff, than it does like the internet, in which you can access anything from a single point of access." We believe that through creating Lighthouse, walled worlds will eventually combine to become more similar to the web. We've all witnessed how far openness norms and principles have driven our digital lives with the web. We are certain that Web3 virtual worlds will band together to support our ambition of making the open metaverse searchable."
Author: To The Verge Team
Our aim is to chase the future, innovations, and the latest trends of all things tech. We love to interact with industry experts, understand their diverse and unique perspectives, and spread their ideas.