Cryptocurrency, to a great extent, is not an unfamiliar word anymore. Whether for investments or how the future of money is being imagined or as a gateway to the metaverse, crypto is talked about as a means and a method to explore the unexplored horizons of technology and finance.
A simple definition of cryptocurrency would describe it as a virtual digital currency based on blockchain technology.
Cryptocurrencies are generated and acquired through crypto mining, a process that requires complex mathematical problems to be solved and rewards miners with crypto tokens. However, it consumes a lot of electricity and is costly. These high power-costs project crypto mining as a less lucrative space for individuals, which is reasonable. But should it keep one from exploring cryptocurrencies and tapping into their revenue potential?
Some companies have understood the gap between the supply of miners and demand of crypto and therefore utilize crypto mining as a business opportunity. Crypto mining is necessary to keep the blockchain running; it involves validating transactions on a platform's blockchain network. Therefore, several crypto mining companies are leading the space.
Investing in the stocks of top crypto mining companies can allow individuals to gain exposure to these digital assets without being directly involved in the time-consuming and expensive venture. This article brings a list of top crypto mining companies to invest in if one wants to begin exploring the crypto space.
Argo Blockchain PLC (ARBK)
Argo Blockchain is a United Kingdom-based cryptocurrency mining company. It focuses on using renewable resources to power mining technologies and has more than 24,000 mining machines in the US and Canada with a hundred percent carbon-neutral footprint.
The company, founded in 2017, has the vision to transform and democratize the global financial ecosystem for a more equitable and sustainable world. At the same time, its mission is to power the world's most innovative and sustainable blockchain infrastructure.
The company recently shared its design of a custom-cooling system built to run the miners more efficiently and optimize their productivity. Agro Blockchain ensures to firmly abide by its core values of innovation, integrity, agility, empowerment, and resiliency with initiatives and projects like the custom-cooling system it will deploy in its Helios facility.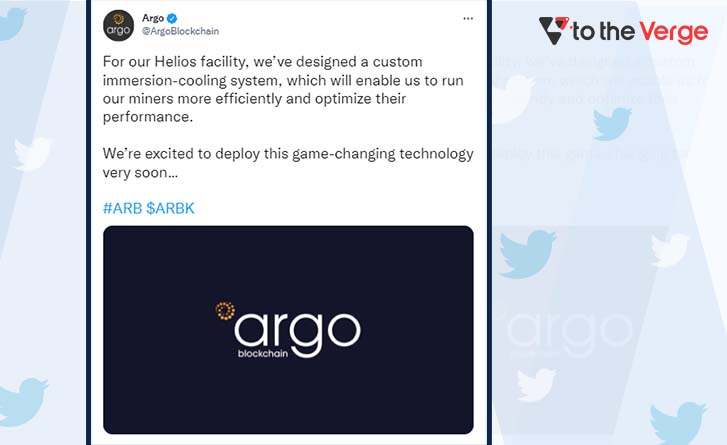 According to its recent revenue report, the bitcoin mining company earned revenue worth $26.0 million in the third quarter of 2021. In addition, it mined 597 Bitcoin and Bitcoin Equivalents for the same period.
Bitfarms Ltd. (BITF) 
Bitfarms Ltd. is one of the world's largest publicly traded bitcoin mining companies. Headquartered in Canada, the company was founded in 2017. It provides computing power to crypto networks such as Bitcoin and obtains payments by securing and processing transactions as part of its services.
Since crypto mining requires a lot of electricity, Bitfarms mining facilities are powered by hydroelectricity to mine coins, making it considerably sustainable by reducing its carbon footprint.
Recently the company shared its mining production update got the fourth quarter of 2021 on Twitter, according to which a total of 1,045 bitcoins were mined at an average production cost of $8000/BTC.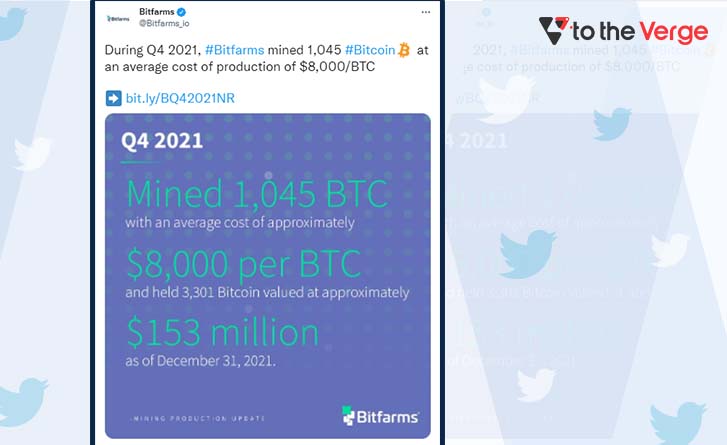 Compared to prior periods, the company's revenue has been up 388% to $169 million for 2021. With a market cap of $603 million, Bitfarms will expand its operations further as it has bought land to open a new bitcoin mining facility in Canada.
BIT Mining Ltd. (BTCM)
BIT Mining Ltd. is another sustainable crypto mining company that primarily operates machines for bitcoin mining. The company was founded in 2001 and is headquartered in Hong Kong. BIT Mining serves more than 2 million users globally and offers experienced construction and operation teams at low-cost supply and data centers.
It has two data centers globally, one in Hong Kong, which has a processing capacity of 1.4MW, and a 150MW Asgard data center in Ohio, the US, which is in progress. The mining site in Hong Kong is focused on Ethereum mining. At the same time, a total of $23.14 million worth of investment has been made to develop the data center in Ohio.
Besides mining machine hosting services, the company also offers mining machine repair, maintenance, and sales. In addition, it aims to power Defi, the Metaverse, and NFTs by Ethereum mining.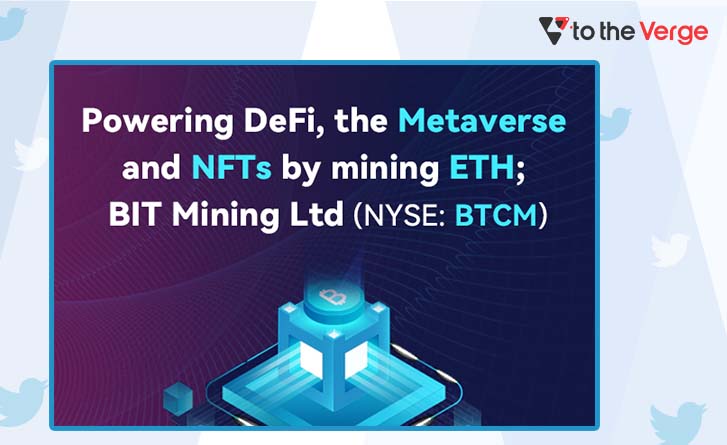 CleanSpark Inc. (CLSK)
CleanSpark is a United States-based company in bitcoin mining and energy technology focusing on solving modern energy problems. It also aims to provide sustainable energy solutions to support blockchain technologies.
Its sustainability efforts entail purchasing renewable energy credits and deploying distributed energy systems onsite at scale facilities. The distributed energy systems or DES encompasses an array of generation, storage, energy monitoring, and control solutions.
CleanSpark is one of the oldest energy and bitcoin mining companies. It was founded in 1987 and is headquartered in Nevada, United States. In early February, it released its financial results for the first quarter of the 2022 fiscal year. CleanSpark posted a net income of $14.5 million; its revenue rose eighteenfold compared to the year-ago quarter.
In February 2022, its monthly production of Bitcoin was 276, and the total BTC holding as of 28th February was 494.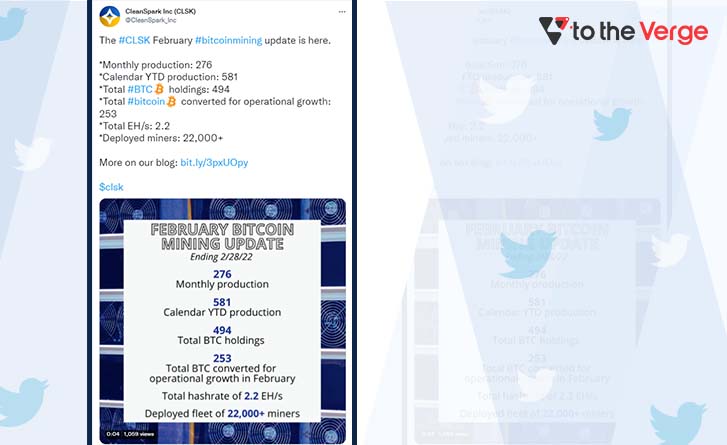 Canaan Inc. (CAN)
Canaan is a company based in China that provides high-performance computing solutions. The company's primary focus is to research and develop advanced technology such as Artificial Intelligence chips, algorithms, architectures, SoC (system on chip) integration, and chip integration.
It has significantly contributed to the bitcoin mining sector by introducing computational advancements in the industry. Canaan invented the world's first application-specific integrated circuit, i.e., ASIC-powered bitcoin mining machine, in 2013.
According to the company's recent financial report, the total computing power sold for 2021 was 22.3 million Thash/s. The total net revenue was $782.5 million, and the gross profit was $447.3 million.
In January 2022, the company announced it had entered into strategic collaboration agreements with crypto mining firms in Kazakhastan, on which the CEO, Mr. Nangeng Zhang, said, "The deployment of over 10,000 mining machines not only deepens our collaboration with leading local mining farms but also marks our great strikes in our cultivation of the Bitcoin mining business. As we expand our involvement further down the Bitcoin value chain, we are enhancing the depth and width of our global presence while solidifying our business operations. Joining hands with mining firms, we are excited to leverage each of our respective strengths and resources to maximize profits and capitalize on the growth of the digital assets industry."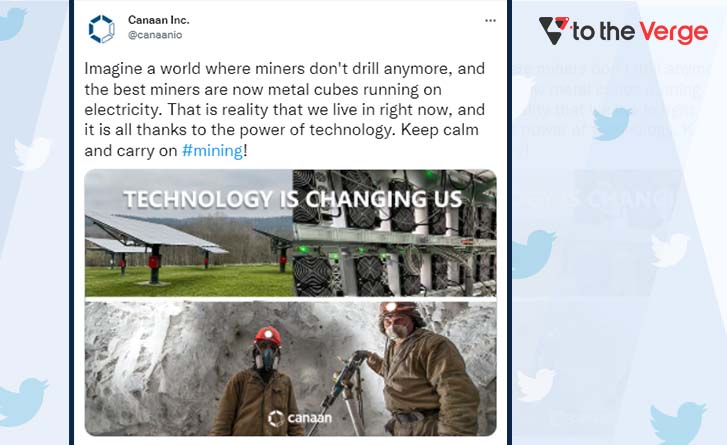 HIVE Blockchain Technologies Ltd. (HIVE)
HIVE Blockchain Technologies is a cryptocurrency mining company based in Canada that explicitly links the blockchain sector to traditional capital markets. Its data centers are located globally in Canada, Sweden, and Iceland. In addition, the company is into bitcoin mining and ethereum mining.
Founded in 1987, HIVE Blockchain Technologies uses 100% green energy, making it a sustainable mining company for the present and future. Green energy is used to mine Bitcoin and Ethereum; it is therefore committed to an ESG strategy for bridging the blockchain and cryptocurrencies to the traditional capital market.
According to the company's news release, 244.4 BTC and 1,814 ETH were produced in February 2022. Moreover, its ethereum mining capacity also increased from 4.56 to 4.88 Terahash during the same month.
The publicly traded crypto mining company recently shared on Twitter its revenue over the last four quarters, showcasing a gradual improvement in its revenue momentum. From March 2020 to December 2021, the revenue rose by 34.8 million.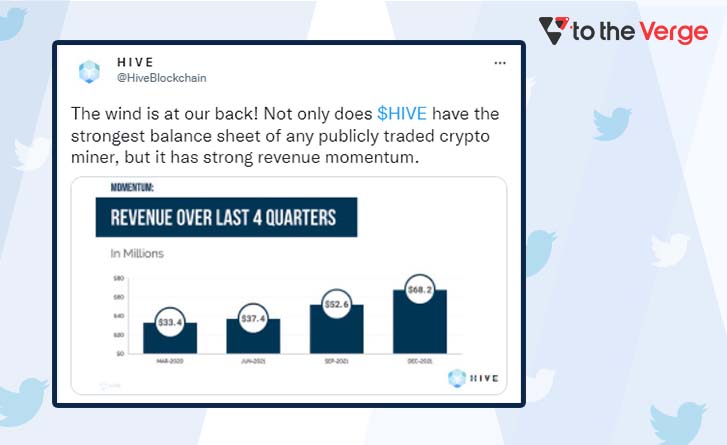 HUT 8 Mining Corp (HUT)
HUT 8 Mining Corp is a Canada-based crypto mining company. It has three digital asset mining facilities and five multi-tier data centers for housing high-performance computing. Primarily focused on blockchain, Web3, and bitcoin mining, the company is experienced in operating in various crypto market conditions with diverse types of mining equipment to adapt to different levels of market volatility.
The mining centers of the company are environmentally friendly and use wind energy and other green energy options, in addition to gas-fueled power, which makes it another sustainable cryptocurrency mining company.
According to the fourth financial quarter results of 2021, the company achieved annual revenue of $173.8 billion. Moreover, its Bitcoins holding increased by 100% in 2021 to 5,518. The company has a market cap of $921 million.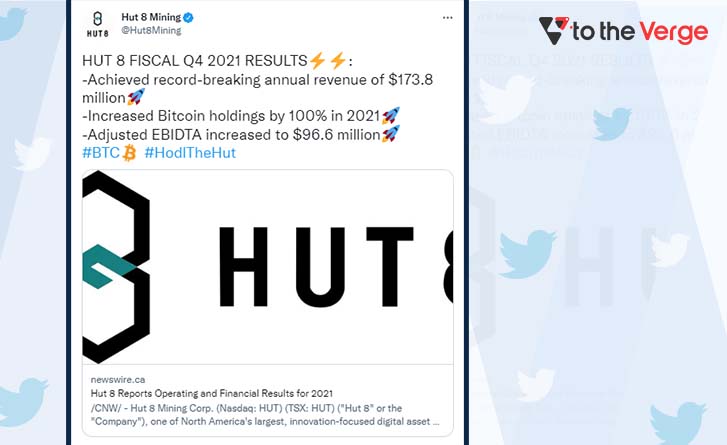 Marathon Digital Holdings Inc. (MARA)
Marathon Digital Holdings is a crypto mining company based out of the US. The company's primary focus is blockchain technology and generating digital assets. It also aims to increase the computing power required by miners to mint new crypto coins, verify transactions, and increase the hash rate. These steps would measurably improve Bitcoin production.
The company was founded in 2010. It controls its hash rate, the cost of electricity, and corporate expenses. As a result, the company enables the investor and interested parties to gain exposure to Bitcoin in their portfolio without directly dealing with the complications of holding the asset.
In the Fiscal Year 2021, the revenue increased to $150.5 million from $4.4 million in 2020. In addition, the company produced 3,197 self-mined Bitcoins in the same fiscal year.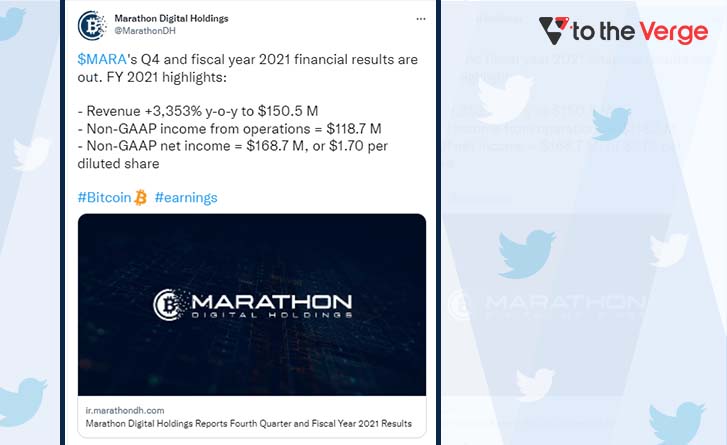 Riot Blockchain Inc. (RIOT)
Riot Blockchain is one of the largest publicly traded bitcoin mining companies that also hosts mining equipment for institutional clients through its subsidiaries. In addition, it designs and manufactures electrical equipment solutions for Bitcoin mining are also offered by the company through another subsidiary.
The company was initially founded in 2000 but existed by the name Bioptix. However, it was only in October 2017 that Riot Blockchain was formed when the company shifted its primary focus field to Bitcoin and general blockchain technology.
For the year that ended on 31st December 2021, the total Bitcoins mined by the company stood at 3,812. In addition,  the total revenue stood at $213.2 million, and the income from bitcoin mining was $184.4 million.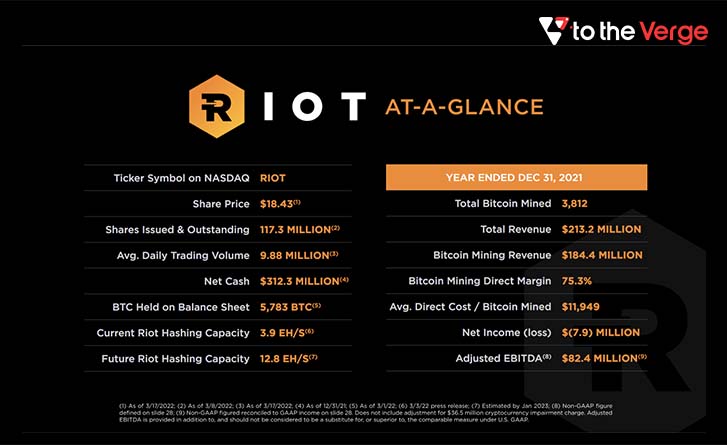 Summary 
Cryptocurrency can be a lucrative investment field during the present times. However, if individuals wish to understand the workings and benefit from the industry from afar, they may begin with investing in the stocks of crypto mining companies. Blockchain technology, Bitcoin mining, and Ethereum mining could be the following extensive investment areas. Moreover, most of these are powered by green energy, making them sustainable crypto mining companies. Looking at the financial performance of the top nine crypto mining companies can give one a fair idea about the industry.
Author: Snehil Masih
Snehil Masih is a professional technical writer. He is passionate about new & emerging technology and he keeps abreast with the latest technology trends. When not writing, Snehil is likely to be found listening to music, painting, traveling, or simply excavating into his favourite cuisines.