Despite having the Realtek HD Audio Manager installed on Windows PC, one can face various sound-related problems while streaming songs, movies, and TV shows. Thus, the below guide discusses several ways to download and reinstall Realtek HD Audio Manager in Windows 11, 10, 8, and 7.
Realtek's High Definition Audio Manager is one of the most popular sound card driver applications, dedicated to providing users with high-quality sound/audio solutions to consumers.
The program comes packed along with the Realtek HD Audio Driver preinstalled to help users manage sound, playback, and speaker/microphone settings on Windows computers. Moreover, there's an option to Realtek Audio console to edit the effects and settings of the Audio or sound manager. However, if you find Realtek HD Audio Manager missing from the taskbar or computer, then various issues like latency, poor sound quality, and delay in audio output may arise on your Windows desktop or laptop.
To help you get rid of your troubles, we have prepared a detailed Realtek HD Audio Manager Download and Reinstall guide. Hence, without further ado, let's straight away jump to the guide to fix any sound or audio related issues caused by the Realtek Audio Manager.
Best Way to Download Realtek HD Audio Manager for Windows 10, 11, 8, 7
Before we start the discussion, here is one of the best and safest ways to deal with the outdated audio drivers i.e., Bit Driver Updater. It is a fully automatic driver updater tool. Through this tool, you can get the latest driver updates quite hassle-free. Plus, this driver updater has the capability to accelerate the performance of the system by up to 50%. To get this amazing utility for free hit on the download button below.
And, if you want to know more about it then follow the write-up till the end.
How to Download & Reinstall Realtek HD Audio Manager on Windows 10,11,8, 7
Below are the most straightforward ways through which one can download, reinstall, and update Realtek Hd Audio Manager and fix problems related to it.
Way 1: Download & Reinstall Realtek HD Audio Manager via Windows Device Manager
To fix any issues related to bad sound quality, you can simply reinstall Realtek Audio Manager using Windows in-built utility tool Device Manager. Since it is a manual task, you might have to wait a long time and perform several boring steps to achieve the end result.
Below are the step-by-step instructions on how to download Realtek HD Audio Manager again on Windows PCs using Device Manager:
1: In the search bar, search for "Device Manager" and select the topmost result to open it.
2: In Device Manager, click on the "Sound, video, and game controllers" category to expand it.
3: Right-click on the Realtek High Definition Audio Device and choose the "Uninstall device" option from the context menu.
4: Once the uninstallation process gets complete, restart your computer.
5: Now again navigate to the Device Manager and click on the "Action" tab.
6: Select the "Scan for hardware changes" from the drop-down menu.
 7: Windows will then automatically reinstall the Realtek HD Audio Manager software along with the latest audio driver updates.
Finally, restart your system and check if that helps resolve the inaccessible/missing Realtek Audio Manager problem.
Read Also: AMD High Definition Audio Device Drivers Download for Windows 10, 8, 7
---
Way 2: Manually Download Realtek HD Audio Manager for Windows 10, 8, 7
Security loopholes and software bugs in the Realtek High Definition Audio Manager application can often result in various audio glitches and hamper your streaming experience. Thus, follow the simple steps below to download Realtek Audio Manager for Windows 10, 8, and 7.
1: Go to the official Realtek website.
2: Download the Realtek HD Manager application by clicking on the suitable link.

3: Once the Realtek Audio Manager for Windows 10 download process gets complete, double-click the setup file to launch the installation wizard.
4: Follow the on-screen steps to finish the installation procedure.
---
Way 3: Automatically Download Realtek HD Audio Manager Driver for Windows 10, 8, 7
To reinstall Realtek HD Audio Manager on Windows 10, you need to update the audio driver software. Updating audio drivers to the latest version allows Realtek audio devices to properly communicate with your PC which may, in turn, result in delivering high-quality sound/audio solutions.
Considering this, the quickest and safest way to update Realtek HD Audio Manager is to use Bit Driver Updater. If you don't want to go through the lengthy and complicated steps to update device drivers, then Bit Driver Updater is your best bet.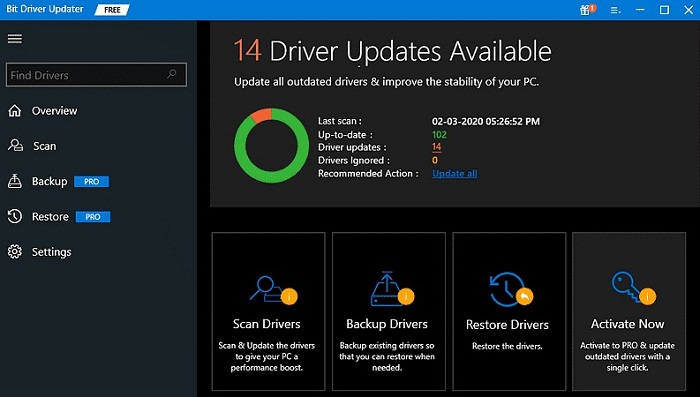 It is one of the best software available on the web that helps users download drivers on Windows PC with a single click of a button. Moreover, the program is available for download for free.
Once the Bit Driver Updater is successfully installed, you can simply follow the below steps to download Realtek HD audio manager driver software on your Windows PC.
Launch the Bit Driver Updater application.
Click on the "Scan Drivers" option.
From the scanning results, select the faulty Realtek device and click on the "Update Now" button to update Realtek HD Audio Manager to the latest driver version.
---
Pro Tip:
If you are facing issues such as Realtek HD audio manage missing, etc check if it is enabled on your device. Here are the steps check and Enable audio manager for PC
Open Task Manager on your PC. (Ctrl+Shift+Esc)
Move to the the tab Startup. And find Realtek HD Audio Manager.
Right click on it and select the option Enable
Read Also: [Solved] Install Realtek HD Audio Driver Failure Error on Windows
---
Frequently Asked Questions (FAQs)
Q1. What is a Realtek audio manager?
It is an audio driver that comes with DTS, Dolby, & Surround Sound support. The audio manager helps users to configure the speaker system as per their requirements. In addition, a feature of the software i.e room correction makes the adjustments possible for each and every speaker.
Q2. How to use Realtek HD audio manager?
Open the Task Manager on your Windows device using the shortcut keys Ctrl, Shift, and Esc altogether. Navigate to the Startup tab and right click on Realtek HD Audio Manager. Select the option Enable and Restart your PC to apply updates.
Q3. How to install Realtek audio manager?
Download the Realtek HD audio manager Windows 10, or other device using any of the above methods. To make the process of driver updates automatic and simple use the automatic driver updater tool Bit Driver Updater. Double click on the downloaded driver file and follow the on screen steps to install.
Q4. How to open Realtek HD audio manager windows 7?
Your Realtek HD Audio manager is automatically installed with the Realtek HD audio driver. To find you audio manager for PC open the Control panel and search for Audio manager.
---
Conclusion
So that was all about downloading and reinstalling Realtek HD Audio Manager on Windows 10, 8, and 7. If you need any suggestions about which solution to try first, then we would recommend you to begin with Bit Driver Updater. This program helps resolve all driver-related concerns and elevates your PC's performance to new heights. Lastly, if you have any further queries, feedback, or ideas, do let us know them via leaving a comment below.
Author: Snehil Masih
Snehil Masih is a professional technical writer. He is passionate about new & emerging technology and he keeps abreast with the latest technology trends. When not writing, Snehil is likely to be found listening to music, painting, traveling, or simply excavating into his favourite cuisines.