Today's tech industry is racing toward something that might be a third stage of the internet, i.e., Web 3.0. It's on everyone's tip of the tongue these days. It's also true that no one really knows what exactly Web 3.0 is.
There have been numerous debates and discussions among various tech enthusiasts about Web 3.0, such as what will be the future of Web 3.0? How will it be beneficial? How it is linked with crypto? etc. Although Web 3.0 is still in its development phase, the future seems reassuring since several influential tech organizations have started investing in Web 3.0. For example, investors shoveled $30 billion into startups premised on it last year.
And talking about cryptocurrency, Jan Hartmann – head of the strategy in Banxa, stated, "We're anticipating that 2022 will be another sensational year for crypto, where we will notice enduring mass-market adoption like the advancement of NFT utility and further progress in GameFi. Additionally, for web3, we're seeing more interference from web2 applications, specifically in social media and content. So rather than usernames and passwords, we'll also be more adapted to use a web3 wallet as our portable login across web3 applications.
Web 3.0 is undoubtedly the hottest buzzword in the tech industry. Yet the term is unstructured irrespective of its fast-paced development. Moreover, its meaning often varies depending on who's speaking about it. In this article, we will focus on how Web 3.0 and crypto are linked.
How Is Web 3 Linked With Crypto
Talking about what Web 3.0 is, Jeremiah Owyang describes Web 3.0 as a power shift into people's hands. He stated, "the people are in command of their data, identity, and monetization."
Andreessen Horowitz, a venture capital firm that is betting big on web3, said, "Crypto is not only the future of finance but, as with the internet in the early days, is poised to alter every element of our lives." 
In addition, Chris Dixon, general partner at venture capital firm Andreessen Horowitz, defines web3 as "the internet owned by the builders and users, orchestrated with tokens." And a token is like an ownership deed for a small piece of the internet, whether that's an object in a video game or anything someone else might value, like art."
Dixon added that development with blockchain technology will drive businesses to be interoperable and "provide individual property rights – the ability to possess a part of the internet." However, Skeptics argue that the mechanisms at which Web3 is based on their advocacy of decentralized technology from a user perspective are disingenuous.
Read here about the Future of Blockchain in Web Development
Facebook's rebrand as Meta, accompanied by the tech giant's renewed support of cryptocurrency, likely pushed Web3 ideas about blockchain and decentralized technology into the mainstream, said Brian McCullough, host of the "Techmeme Ride Home" podcast.
"Web 3.0 is a repackaging of specific technologies," McCullough told CBS News. " Traditional crypto never grows into currency; NFTs became this cultish item, and VR has been 'the next big thing' for years. Web3 is a brand that combines all these concepts into a plausible whole."
David Marcus, the former head of Novi, tweeted, "I've never felt this connected to a community of builders like the crypto/web3 one." In addition, Alex Bouaziz, CEO and co-founder of payroll software firm Deel, told CNBC, "People will want to work on what they see as the most thrilling and state-of-the-art developments in the technology space, and at present, that is crypto and Web3."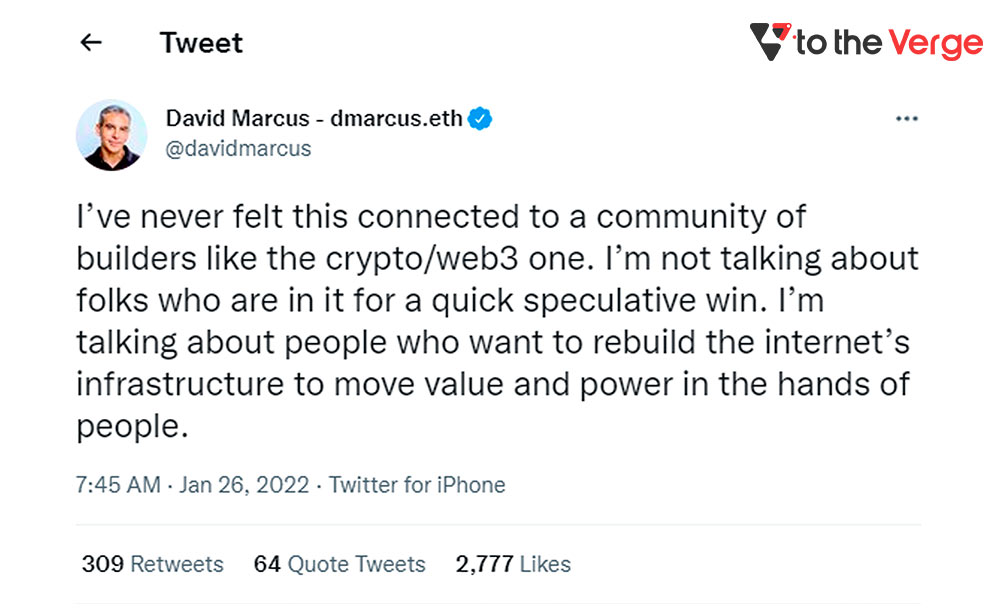 The future also seems quite impressive as we can see huge investments from many tech industries. For example, according to Blind, a social network for tech professionals, bitcoin exchange Coinbase provides as much as $900,000 a year for software engineers. In addition, investment into crypto companies has surged, meaning they've got much more money to spare on profitable compensation packages for big appoints. According to one survey, Blockchain startups raised a record $25 billion in venture capital last year.
But Web3 has drawn criticism from some big names, such as Twitter co-founder Jack Dorsey argues it's too centralized and controlled by a handful of venture capitalists. At the same time, Tesla CEO Elon Musk sees it as more of a "marketing buzzword" than reality.
Crypto And Web3 Skepticism
Stephen Diehl, a software engineer in the financial sector, has researched and written extensively on crypto and Web3 and believes blockchains are a solution in search of a problem. He stated that cryptocurrencies aren't currencies. They are more like unregulated securities connected to shell companies.
Diehl sees cryptocurrencies as Ponzi schemes and considers them a form of gambling. Additionally, Soatok Dhole, a security engineer, and cryptographer believe that Web3 is fake decentralization. And Nicholas Weaver, an astrophysicist and computer scientist, says Web3 is a con job.
A move in public sentiment, combined with several well-researched articles providing technical, historical, and logical reasons for people to reconsider Web3 and crypto, are helping skeptics finally get the word out.
Previously, crypto was not easily accessible to the mass market due to its complexity and insight of unpredictability. However, opinions have started to change as more accessible crypto products, such as stablecoins, crypto-enabled debit cards, or Defi products, come onto the market.
Bottom line 
Even with the increased skepticism, the crypto and Web3 space continue to proliferate. Only time will tell if we will have a new decentralized blockchain-based paradise or if the skeptics were correct all along.
Podcaster McCullough stated, "A new form of cryptocurrency could become the metaverse's currency. NFTs and digital items could be our clothing, identities, and status signifiers. And VR could be beyond just a side alley of gaming." 
He described. "At the moment, Web3 tech is still primitive. However, it's possible that blockchain tech accompanied by AR and VR could become the next big thing.
Author: Snehil Masih
Snehil Masih is a professional technical writer. He is passionate about new & emerging technology and he keeps abreast with the latest technology trends. When not writing, Snehil is likely to be found listening to music, painting, traveling, or simply excavating into his favourite cuisines.