Shiba Inu, a decentralized virtual currency created in August 2020, has announced its new metaverse SHIB. The metaverse will be a culmination of Shiba Inu's history as a community that will be displayed virtually in a layer of visuals, showcasing the innovation and unity of the Shiba Inu Ecosystem.
SHIB: The Metaverse project will entail all the tokens, namely, $SHIB, $LEASH, and $BONE. In addition, these crypto tokens will play an essential role in different phases as the project is rolled out. As a result, the community members will have numerous interaction opportunities, future choices, and creative ways to immerse themselves in the SHIB metaverse.
A new domain, SHIB.io, will be launched through which the community members can access Shiba Inu's metaverse, and the future expansion of all the projects will take place on the new domain. It will become the official website of SHIB and the Shiba Inu community.
The SHIB metaverse will feature 100,595 plots of land. These will include public lands available for purchase, besides some of the land parcels locked for use as avenues, boulevards, and roads on common grounds, which can be purchased by virtual currency or crypto tokens.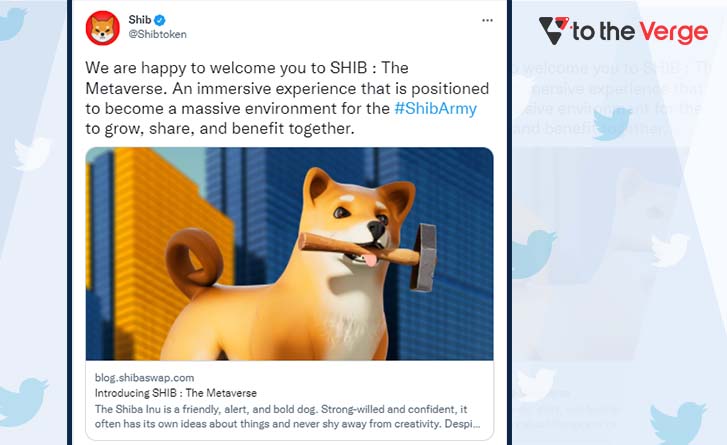 The introductory phase for SHIB: The Metaverse will unlock 36,431 plots of land. In addition, the preliminary stage will reveal a part of four different districts, which entail the Growth District, the Defense District, the Technology District, and the Currencies District.
Moreover, the land parcels have been categorized into four tiers according to their location in the SHIB metaverse. Tier 4 is called Silver Fur and has 17,030 lands, Tier 3 is called Gold Tail, and it has 7,356 lands-parcels; Tier 2 is called Platinum Paw with 5,714 lands; Tier 1 is called Diamond Teeth, and it has 2,024 grounds. Apart from these four tiers, 4,307 land parcels have been kept as Private Locked HUBS.
The metaverse will accept Ethereum for land purchases instead of the Shiba Inu Ecosystem Token because the collected funds will be used to pay for further developments in SHIB. Consequently, the team thought to use a neutral crypto coin that it could sell into stablecoins to pay for all the resources.
According to the team, this project is an excellent opportunity to generate passive income and rewards for the Shiba Inu ecosystem.
Author: To The Verge Team
Our aim is to chase the future, innovations, and the latest trends of all things tech. We love to interact with industry experts, understand their diverse and unique perspectives, and spread their ideas.