Realtek high definition audio driver is the software which interfaces between the Windows 10 operating system and the Realtek audio system to produce wonderful sound effects from the speakers or headphones.
Therefore, to avail the latest features of the Realtek audio software and to ensure that the audio system functions smoothly, the Realtek HD audio driver has to be kept in an updated state at all times. In addition to this, you can also add the Realtek Audio console to your system to alter the effects and settings of your audio device.
If you are wondering how to download Realtek audio drivers for Windows 10, then this blog is going to help you understand this perfectly.
---
Realtek High Definition Audio Driver Download Techniques:
You can download and install Realtek HD audio drivers for Windows 10 using the following methods.
Method 1. Download Realtek audio driver from Realtek's Official Website
So, if the Realtek HD audio driver is giving you trouble then you can visit Realtek's official website to download the most updated version of it so that your sound system becomes fully functional again.
Step 1. Visit the Realtek drivers download page and download the most recently available version of the Realtek sound drivers for Windows 10.
Step 2. After downloading the driver package, double click on the driver installer file.
Step 3. This will kick-start the installation process and you would need to just keep following the on-screen pop up instructions till you reach the end and click the "Finish" button.
Step 4. One final step would be to reboot the Windows 10 system to wrap up the installation process.
---
Installing Realtek Sound Drivers for Windows 10 with Device Manager:
If somehow the above technique of installing the Realtek audio driver has failed, then you can use the Device Manager tool to install the driver effectively.
Step 1. Go to the Device Manager and expand the Sound, video and game controllers component.
Step 2. Right click on the Realtek high definition audio driver to choose the Update Driver Software option.
Step 3. In the next prompt, choose the latter option called "Browse my computer for driver software."
Step 4. Then, click the option of Browse in the next on-screen prompt and select the setup.exe file.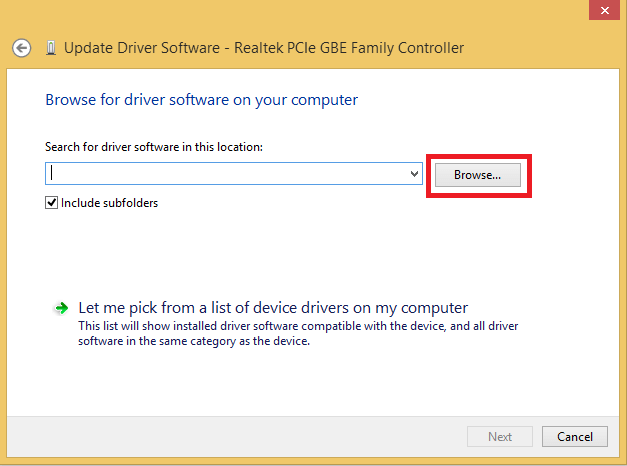 Step 5. After this, keep following other on-screen instructions (if applicable) and finish the installation of the Realtek sound drivers for Windows 10 PC.
Read Also: How to Reinstall and Update Audio Sound Drivers on Windows 11,10, 8, 7
---
Method 2. Download Realtek Audio Driver with Windows Update
If the above steps seem too cumbersome then you can utilize the in-built Windows Update service to download and update Realtek high definition audio drivers on your Windows 10 PC.
Though this is a manual method as well but with this method you can eliminate the risk of downloading incompatible or wrong drivers for your system as Windows will find the right drivers for your system.
Following are the steps that you can perform to install Realtek HD audio driver with Microsoft's Windows Update service.
Step 1. First of all, click the Windows Start icon and type settings in the search box.
Step 2. Click the Windows 10 Settings app to launch it.
Step 3. As a new window opens, you will see a number of options in front of you. Click the Update & Security option.
Step 4. You will see a number of options again on the left panel view. Click on Windows Update.
Step 5. Finally, on the main window, hit the Check for Updates button.
Step 6. Wait for sometime to let Windows install the available updates and give your system a quick restart.
Read Also: How To Fix Realtek Audio Issues in Windows 11, 10
---
Method 3. Go the Automatic Way to Download Realtek Audio Driver
If you have been in search of a one-stop solution for maintaining your system drivers, then get the best driver updater tool for your WIndows computer. Bit Driver Updater is a highly recommended tool which is equipped to perform all the necessary updates for the device drivers working on your system including the Realtek high definition audio driver.
Some Praiseworthy Features of Bit Driver Updater:
It is enabled with one-click update feature to save your time.
Scanning feature helps to precisely detect old and faulty drivers automatically.
Scans can be scheduled to update and maintain the device drivers over a prolonged period of time.
Backup & Restore feature helps to save a copy of existing drivers before updating the drivers.
Technical assistance from a team of experts is available round the clock.
Large driver database offers genuine and latest driver versions for your system.
The tool has a simple interface.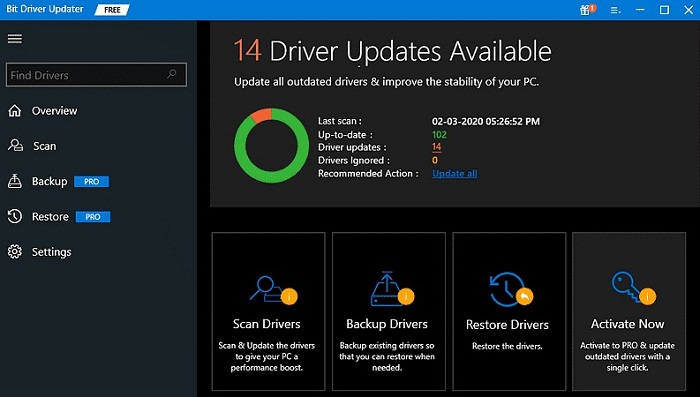 Steps to Update Realtek HD Audio Driver:
Step 1. Download and install the tool by clicking the provided download button.
Step 2. Then, scan the computer to find the erroneous drivers.
Step 3. Further, click the "Update" button to install the driver updates.
Step 4. Lastly, reboot the system to let changes become effective immediately.
---
Bonus Tip: Reinstall Realtek HD Audio Manager
If your Realtek high definition audio driver Windows 10 is corrupted or has some missing files uninstall and reinstall the driver. The first step to this is to remove the existing drivers from your device. Here's how it can be done:
Click the Windows and X keys together. Open Device Manager.
Expand the category for Sound, video, and game controllers.
Right click on your Realtek audio driver Windows 64 bit and click on the Uninstall option.
In the next window that prompts confirm the removal of the realtek HD audio manager driver.
Restart your Windows device to apply the update and then use any of the above methods to install the latest Realtek Audio driver Windows 10, 11, or older version devices.
Read Also: Fixed Realtek Audio Console Cannot Connect to RPC service
---
Frequently Asked Questions:
Q1. How do I know which Realtek driver to Download?
Depending upon your system specifications and the model download the latest Realtek high-definition audio drivers. Use the official website to manually download drivers if you have the time and patience. Else, switch to the automatic driver updater software Bit Driver Updater to update all the system drivers with a single click.
Q2. Where to Download Realtek Audio drivers?
If you have the technical skills, time, and patience to find the correct drivers and install them on your PC use the manual method. Download the latest driver update from Realtek's official website. Alternatively, a simpler method to update Realtek or any other driver is by using an automated driver updater software i.e Bit Driver Updater.
---
Wrapping Up:

Downloaded Realtek High Definition Audio Driver
This is how you can download, install, and update Realtek high definition audio drivers successfully on your Windows 10 system and enjoy listening to music, watching movies and playing games on your PC without any hassles.
The Realtek audio system is quite preferred worldwide by users because of its ability to provide high-quality DTS, Dolby, and Surround Sound to Windows computer user's.
It even offers many interesting features to customize the sound quality and be a DJ on your own. Therefore, having updated Realtek sound drivers for Windows 10 is indispensable to continue enjoying magnificent audio from your computer.
You can drop your comments, suggestions, and questions in the comments box below. Also, follow our page on social media and subscribe to our notifications and newsletters for more information and updates.
Author: Snehil Masih
Snehil Masih is a professional technical writer. He is passionate about new & emerging technology and he keeps abreast with the latest technology trends. When not writing, Snehil is likely to be found listening to music, painting, traveling, or simply excavating into his favourite cuisines.